So another fabulous Learn to Letter session at our October meeting with 38 people with brush pens in hand, eagerly lettering!
A photo of the evening's class with Edmonton's own Kelly Klapstein.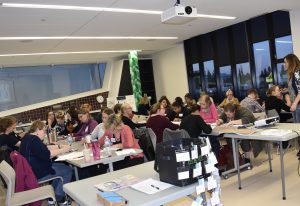 Thank you Kelly for coming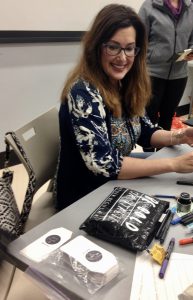 out to our meeting and
for your great instruction.
Kelly was kind enough to donate to our monthly draw. Here is the winner with Kelly. Congratulations!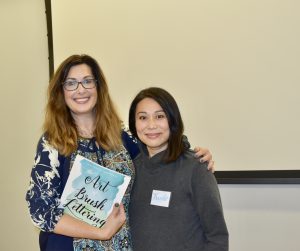 And, all of this following on the heels of the Wonderful Folded Pen with Kerri Forster on the 29/30 weekend. Letters, laughter and learning filled the 12 hours of instruction. Click here If you wish to see more about Kerri's workshop.
Two people received the "Write On" Wendy bursary for this workshop. This is a fund set up from proceeds of a garage sale of a former member's calligraphy cache that we helped set up, price and work the sales. We received 50% of the profits to manage a fund to encourage new members to attend workshops.
If you are a new member you will receive a coupon for the bursary. Register at full price. Hand your coupon to the registrar and you will receive the bursary cheque at the workshop.
Amplify
Volunteers for the ECS were at Amplify in St. Albert on October 13th. This is a youth festival and we were honoured to be included in it. We will earn a fee for the Society. A few pictures from the festival work.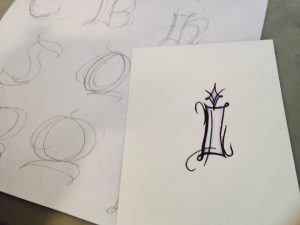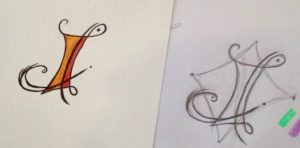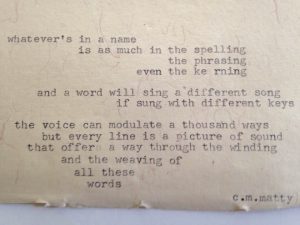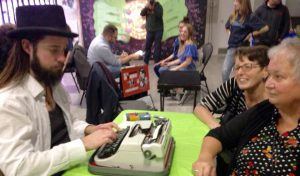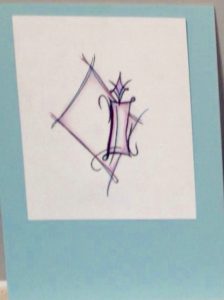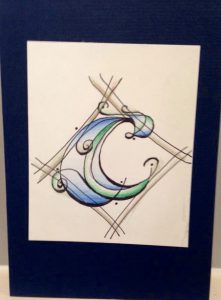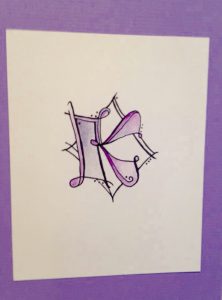 Thank you to our hardworking treasurer and audit team. The books are in good order and the audit report was passed at the Oct. 3rd meeting.
3 Bags Full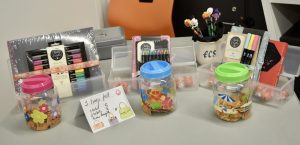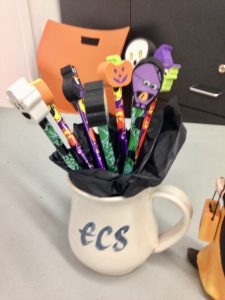 Also, thanks to Cathy, Edwina, Margret and Kathy for moving into important roles with our in-house fundraiser (3 Bags Full) and setting up the Mail art exchange coming in February and the rebirth of a dynamic supply source to come.
Special thanks to Alvelyn and Cynthia who worked their fingers off doing membership and greeting all our Eventbrite people…well done!
And to the 'lift and load' people who setup and takedown the room with such speed and efficiency…truly amazing to see everyone do their part. Thank you.
The Bylaw changes and Society renewal are just about to be put in the mailbox… got to decorate an envelope…and the EAC application process begins soon.
If you have donated your time and talent to the community with your calligraphy, please send the who, why, where, what and how many details to Trina, Gail or Jeanine. The more specific you can be, the better.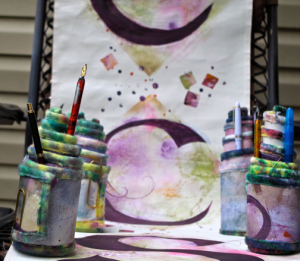 Pen rolls made from our old fabric banner were created during the summer. They sell for $20.00. Watch how they are used at the next meeting by those of us who now own them. So perfect for keeping your tools handy and not cluttered on your workspace.
November 7th
Link: Lettering on Black reference sheet.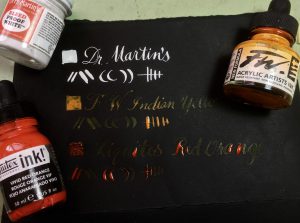 ECS is looking forward to working with one of Edmonton's Lettering Artists, LynnAnn Babuk, at our November 7th Meeting. LynnAnn has studied this art form extensively and is the former President of the Edmonton Calligraphic Society. She is currently a free lance Calligrapher in Edmonton where she teaches classes and creates many forms of Calligraphed Art.
The Letters and Lines (show and share) is "Elegant Envelopes". Make one or 6 or bring some that you have received. Get practiced for our Mail Art Exchange in 2019.
Please look at the website frequently. There is always something new and improved.
And the site we sponsor on Facebook…Calligraphy in Edmonton…wants your posts. It is a place to share info but not for advertising or sales. Simple rules.
And now lots of fun things to look at from our last meeting.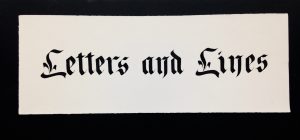 Theme was Scary Stuff: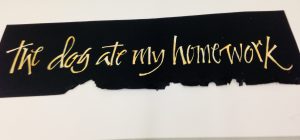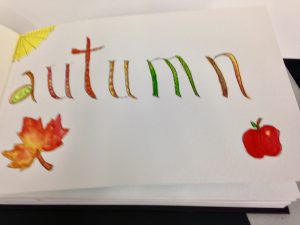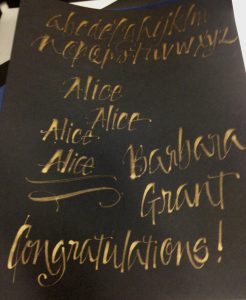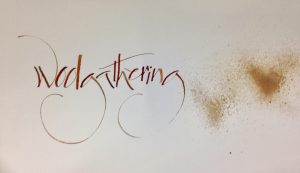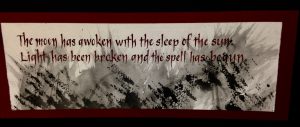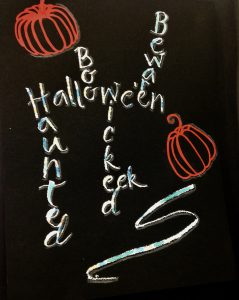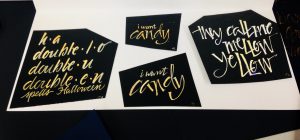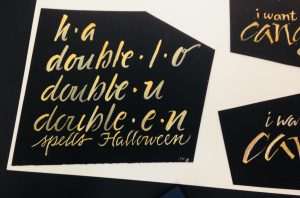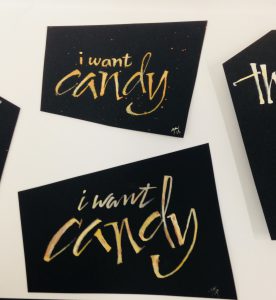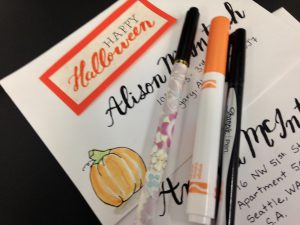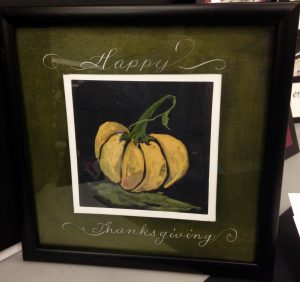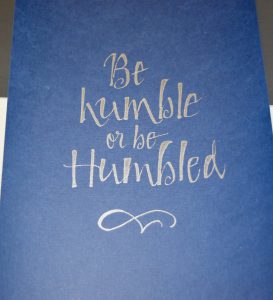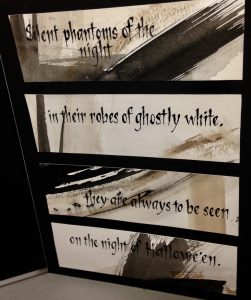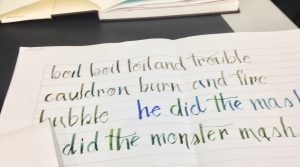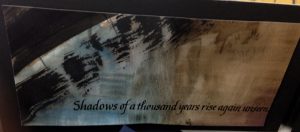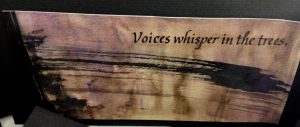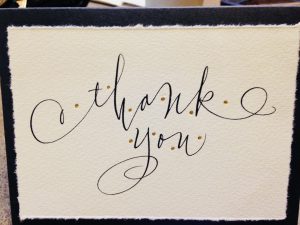 A lovely thank you note from Julie Widman to Gail Fournier.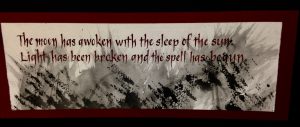 Upcoming Classes:
Sally Towers-Sybblis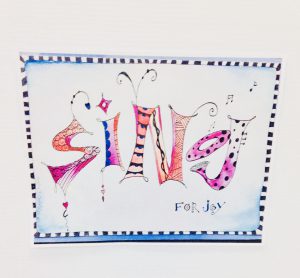 Heather Held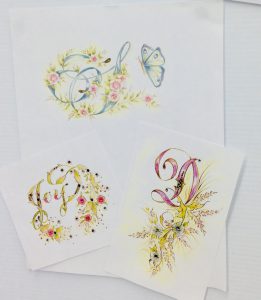 The evening's class with Edmonton's own Kelly Klapstein.