Give the gift of handwriting!
Digital gift cards are a great way to give friends or family Getty-Dubay® products.
About the Writing Program
The Writing program is an innovative program that aims to preserve, teach, and nurture the use of handwriting in elementary schools in Edmonton, Alberta and the surrounding area.
Over the course of several hours of instruction, students of any age and their teachers will be given instruction in printing, cursive Italic handwriting and lettering arts. The Writing program was developed at the request and suggestion of local parent groups and the Edmonton Arts Council..
Rationale for the Writing Program
The Writing program is designed to further enhance the education curriculum, to equip students with cursive and lettering arts skills that may be advantageous to them, both personally and professionally, over the course of their lives. Indeed, the benefits of a working knowledge of cursive writing and lettering arts are many!
Current MRI-based medical research shows that handwriting engages more quadrants of the brain than typing, and that brain engagement is even greater when one is creating new scripts.
Professionally, there is an increasing demand for and interest in penmanship and lettering arts, both in hobbyist and corporate settings.
For more information on the Getty-Dubay curriculum.
To order books and materials: www.allport.com/gdp
Order internationally at handwritingsuccess.com (retail) Ingram (wholesale)
The Getty-Dubay Apps are now available on the App Store.
The Writing Program Curriculum
The Writing program follows the Getty-Dubay curriculum.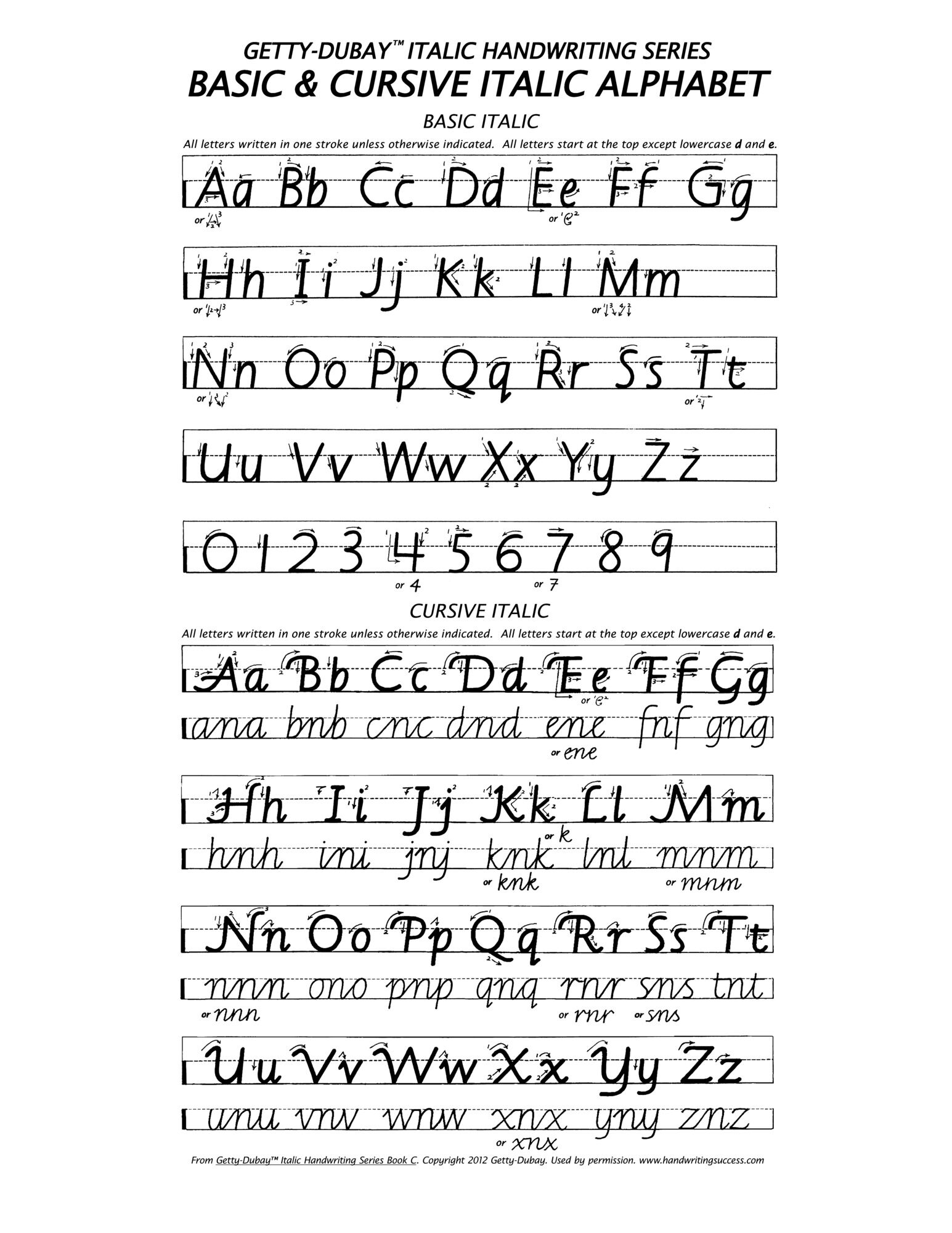 The Edmonton Calligraphic Society supports the use of the Getty-Dubay Italic Handwriting Series, which spans Kindergarten to Grade Six. It is a rich curriculum, filled with opportunities to co-teach such things as grammar, letter-writing, and the history of handwriting. All these and many more topics are thoughtfully embedded in the writing exercises and drills. Students are taught to self-correct (formative self-assessment), and work begins with a standard pencil.     
We have been offered a unique opportunity to bring to Edmonton and surrounding area the awareness of this better kind of cursive. The availability in Canada of the new Getty-Dubay Italic International Editions makes it possible to fulfill this mission. 
If you are interested in a two-hour "hands-on ' presentation from our ECS members, please contact us through our website. 
Working with a group of about 12 people will allow adequate time to preview sample workbooks and to have instruction in writing the letter forms in this handwriting style. Each participant will be provided a workbook-style folder for use in the class. Legibility and mastery will improve with practice over time. We recommend 20 minutes per day until you are comfortable modelling cursive italic in your classroom. 
Members of ECS are also available to provide private tutoring/coaching to elementary or high school students. Classes are custom-designed to meet the needs of the individual learner. Please contact us through our website to be referred to an experienced handwriting teacher.
Find out why handwriting is what it is…and what it can be. 
Our Handwritng History 
Queries to our website, calls from schools and parent groups, and the suggestion from Edmonton Arts Council led the members of Edmonton Calligraphic Society to form a small ad hoc committee that perused many handwriting curriculums. Looking for letter forms that were logical and legible, and where ease of mastery was critical, our group chose the Getty-Dubay Italic curriculum.
We acquired copies of this K-6 curriculum and designed the writing program to try to be of assistance to schools hoping to take on a special project. We showcase the books at all of our outreach events, and our members are offered an introductory class at no cost.
In summer of 2019, members of the society assisted with a review of all the books, to ensure they were compatible with a Canadian market. Our credit appears in the Teaching Manual for the International Edition released in the last few months.
Members are constantly keeping abreast of new research in handwriting, and are regularly in discussion with experts in the field. Members of ECS are offered small group instruction in this handwriting style at their request and the availability of instructors. They may bring friends and family to these events at a cost of $20.
For further inquiry please contact edmcalligraphy@gmail.com.