NEXT MEETING: October 6, 2021
7:00 PM MDT via ZOOM
Instructor: Bill Kemp
Lettering Style: Weaver Writing
(The supply list and exemplars were
sent a week before the session,
along with the Zoom link.)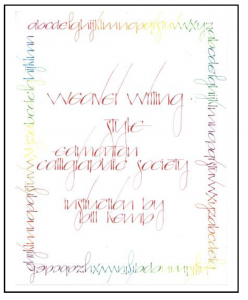 Letters and Lines Theme for October – "Reconciliation"
Carolyn (Awanáánaakíí) Wagner is an adopted member of the Kainai nation, is a pipecarrier and Indigenous knowledge-keeper. She is a multi-media artist who enjoys volunteering and sharing her expertise in art and craft. She holds a B.A.(Hons) in Native Studies from the University of Alberta, a Horticulture Technology Diploma from Kwantlen Polytechnic University, and is currently working on a Master of Arts in Interdisciplinary Studies (Cultural Studies) from Athabasca University. Carol currently lives in Parkland County with her husband and three small dogs. She is a member of the Edmonton Calligraphic Society. Her Letters & Lines Prompt document is here: Oct. Prompt.
Membership Update
Our 2021-22 year began on July 1, but we continued to allow those who hadn't renewed their memberships to participate in September's monthly program on Zoom. As of September 30, you will no longer receive email notifications from us. Thanks to all who have signed on for our new year of exciting sessions. If you have not renewed, here is the website link to register through Eventbrite (Canadian or US/International):
Membership
Meeting Your ECS Volunteers
A couple of weeks ago, our new Envelope Exchange Coordinator, Catherine Harris, was here in Edmonton to visit her son, so I invited her and Jeanine for a patio visit on a sunny afternoon. I asked Catherine to send me a little 'blurb' to introduce herself to our ECS membership, so you'll know who is responsible for our fun Envelope Exchange! Her reply follows: "It has been such a joy for me to be part of The Edmonton Calligraphic Society! I live in London, Ontario, where there is no calligraphy guild. I wanted to learn calligraphy and connect with fellow calligraphers but wasn't sure how to go about it. Then, on a visit to Edmonton about 4 years ago I took a workshop Jeanine Alexander was teaching on Blackletter, which started my lettering journey. Through that experience I found out about ECS and then joined the guild in 2019 when Covid and Zoom opened up online opportunities! On a recent trip to Edmonton I had a wonderful visit with Gail and Jeanine…tea, cookies and of course talking about calligraphy! It has been a pleasure to learn and grow and meet new friends through the guild. Looking forward to what comes next!"
Catherine Harris
Envelope Exchange Coordinator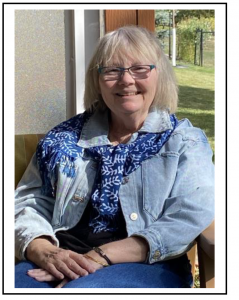 SEPTEMBER LETTERS AND LINES THEME -Pens, Papers, Books (Back to School)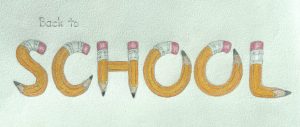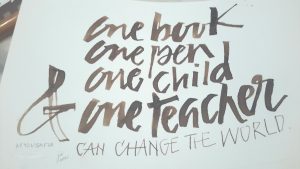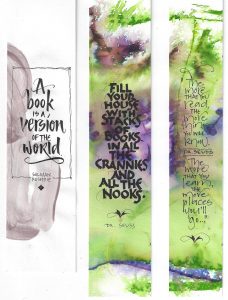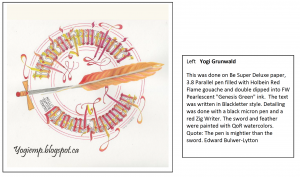 Monthly Lettering Prompt – Neuland, Fall Haiku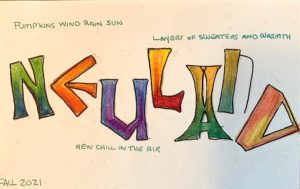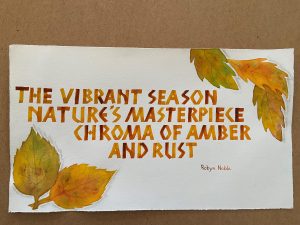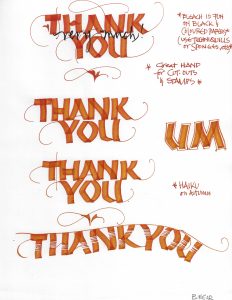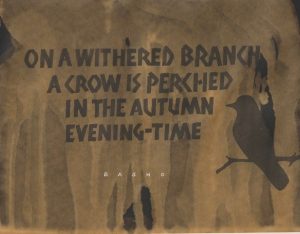 Roberta Grosland used the photocopying on black paper & bleaching technique Violet demonstrated in her Neuland session.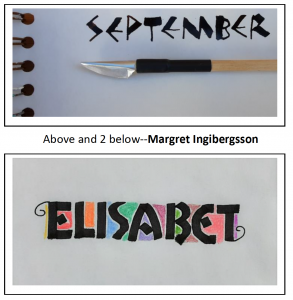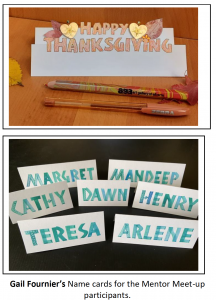 Barbara with the Paint Spot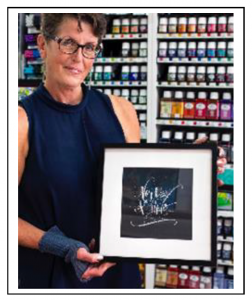 Last month, Kim Fjordbotten, owner of our local Edmonton art store, The Paint Spot, https://paintspot.ca/, invited the Edmonton Calligraphic Society to do a demo using some of their materials. Barbara Keir, a longtime ECS member, agreed to meet and do some calligraphy. There are several calligraphy-related posts on their Instagram site: The Speedball Handbook, some inks, Pilot Parallel Pens, Rhodia pads, pens and holders, nibs, and paper.
Barbara demonstrated the special Handritmic ruling pen, created by calligrapher, Brody Neuenschwander and used the delightful De Atramentis Pearlescent Ink. Check out her little video on The Paint Spot's Instagram account! Kim has kindly given us a discount code to use for online orders. Thank you Kim!
A SPECIAL AWARD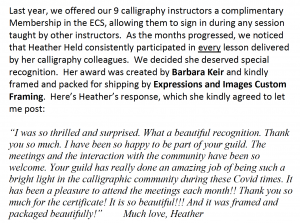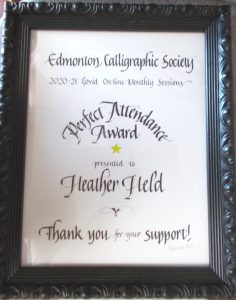 Mentor Meetup
After having our meet-up bumped to Sunday, due to a power outage, seven of us gathered to create five 'locked letters' using different techniques. Everyone had fun and it helped me 'tweak' a couple of items in the directions. Here are some of the examples I displayed, hoping it would encourage more investigation by our members. Gail Fournier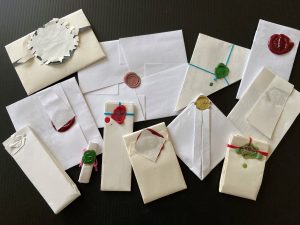 Envelope Exchange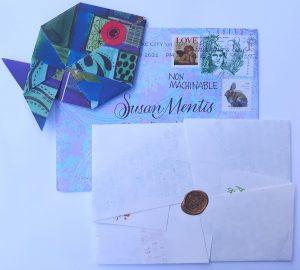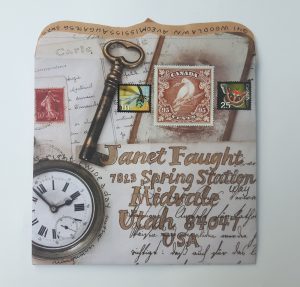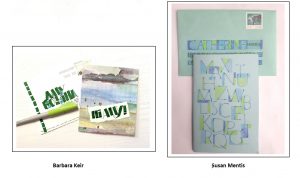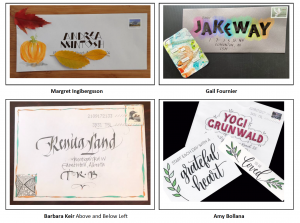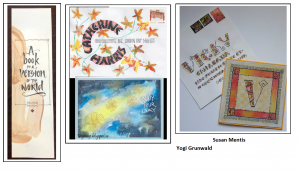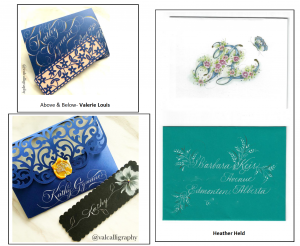 WORLD CALLIGRAPHY DAY (August 11):  BELOW: This 7″ square was created with a 2.4 mm Pilot Parallel Pen and Sumi ink. I wrote out the words in an Uncial style on Genoa Bond calligraphy paper and coloured between the letters with Distress markers. I drew gold gel pen circles.        Yogi Grunwald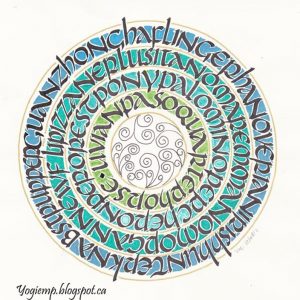 CONGRATULATIONS BOW VALLEY CALLIGRAPHY GUILD!
We wanted to acknowledge Bow Valley Calligraphy Guild's 40th anniversary year, so asked our secretary, Amy Bollana, to create a special card for them. I think you will agree that it is a cheerful, artistic congratulatory message! Thank you, for your kind contribution, Amy!
Here are some links where you can view pieces from their 40th Anniversary Galleria:
Instagram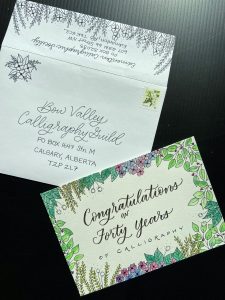 STICKS AND STONES
This spring, several ECS members participated in a project with Covenant Health at the Grey Nuns Hospital. It was so well-received that they asked us to continue on an ongoing basis. If you can commit to lettering a dozen stones, please contact Jeanine Alexander. jeanine.t.alexander@gmail.com
Here is a heart-warming article they recently published in their fall newsletter! https://www.thevitalbeat.ca/news/sticks-andstones-for-spiritual-health/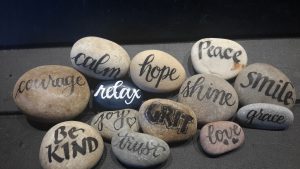 Thanks to Barbara Keir, Amy Bollana, Pauline Baynes, Jeanine Alexander and Peggy Marce who did the first lettering.
Jeanine had originally asked how the 'sticks and stones' would be used, and received this lovely letter from Lisa Dawn Wojna, the Grey Nuns Chaplain:
Hello Jeanine,
It was so great to meet you the other day. I was overwhelmed with joy at the beautiful and hard work done by the members of your club. The energy of many hands and hearts coming together to make this happen is something I share with the patients and staff that I've given a stone/plaque to.
You'd asked how these tools are being used.
As chaplains, we meet with patients and families who are journeying through many-layered difficulties. I can only speak for myself, but I don't automatically give one of these items to every person I meet. Rather, I share these gifts as I feel led by the Holy Spirit and as feel are suitable to the individual. For example, I gave two Nursing Unit Managers each a plaque which they display on their desks for staff encouragement as they come into their offices. I've gifted a stone to a patient struggling with anxiety (it said calm)—she can hold it in her pocket as a tactile reminder to embrace calm. I've already handed out 5 of the plaques and a few of the stones. They have been very well received. Also, I've explained to the recipients how these items came to be and they are doubly touched by that explanation.
Thank you again, so very very much! This kind of support makes a huge difference for our staff and patients.
Lisa Dawn Wojna
Chaplain/Spiritual Care
Grey Nuns Community Hospital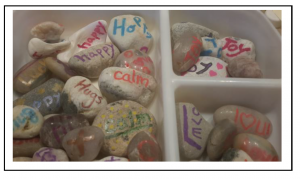 Geri Arkell, from Campbell River, on Vancouver Island, was so enthusiastic about this program that she created these rocks and MAILED them to Jeanine so she could participate in this program!
Mike Gold's Workshop with the Lettering Arts Guild of Red Deer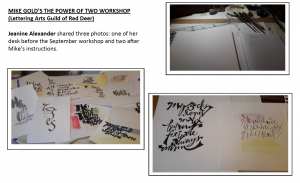 MONTREAL CALLIGRAPHY SOCIETY ANNOUNCEMENT
I am co-organizing the 2022 exhibition of the Montreal calligraphy society. The exhibition will take place from September 19 to October 2, 2022. We are expecting this to be the first post-COVID exhibition (crossing our fingers) and want to create a festive celebration of calligraphy. The theme will be Étincelle (Spark), where we invite exhibitors to use an event, thing or text that lit a magic spark inside them as inspiration.
As part of this reunion after so many months of confinement and online activity, we would like to invite members from other societies to exhibit alongside our members, to create a large, symbolic gathering.
Our venue, located in the hip Montreal Plateau, offers a lot of different, flexible display opportunities:
Traditional framed art
Hanging art
Window display at sidewalk level
Stands for 3D art (without protective glass cases)
You can check out the gallery with this link: https://my.matterport.com/show/?m=t6qjYgCRQvK
Any exhibited artwork can be offered for sale, if the artist wishes so. 
More concrete information will be announced in early 2022, once everything has been ironed out.
During the exhibition, we will have vernissage (varnishing) and calligraphy demonstrations. We also timed the exhibition to coincide with Montreal Culture Days, where various hands-on experiences are offered to the public for free. This annual event is very popular, and always draws in a crowd of people curious about calligraphy.
Any out-of-town exhibitors (even our own members) are responsible for shipping their artwork to Montreal with re-usable packing materials. If the artwork hasn't sold, we will use the same packaging to return the artwork to the artist, at their charge.
We are still in the pre-planning stage, making sure our big plans are feasible. The reason I am writing to you so far in advance of the exhibition is that we need some kind of commitment from out-of-town guilds (at least one calligrapher interested) by November 15, 2021, so we can adjust our plans accordingly. Is your guild interested in participating in our exhibition?
I'm sure you have lots of questions that I haven't addressed. Don't hesitate to write back or call me.
Saskia Latendresse
With Louise Genest, co-organizer
Upcoming Workshop
"Drawn & Shaded Letters Using Charcoal" withRachel Yallop – Nov . 6 & 13 (9 -11:30 Edmonton Time) Tickets for this 5 hour workshop (in 2 sessions) are now available to ECS members on Eventbrite for $70 CDN (plus fees) 
TICKETS: https://www.eventbrite.ca/e/drawn-and-shaded-letters-using-charcoal-with-rachel-yallop-tickets-164025792561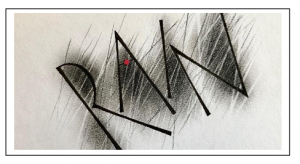 Other Learning Opportunities
Calligraphic Arts Guild of Toronto Culture Days Ontario is coming soon, and our CAGT contribution is a FREE workshop! On Sat., Oct. 16 at 1:00 pm EST, the Canadian System, the simplified Italic hand developed by our guild founder, Alf Ebsen, will be presented by Michele Nidenoff.
Bow Valley Calligraphy Guild
TYPEFACES YOU CAN EAT WITH PEN OR BRUSH With Carl Rohrs – SOLD OUT
FROM PENCIL TO PAPER With Ann Purdy Register Here
Lettering Arts Guild of Red Deer
BOTANICAL EMBELLISHMENTS With Catherine Langsdorf Register Here
John Neal Bookseller Numerous Online Classes
Denis Brown A Variety of Classes
Sandia Workshops Online Calligraphy Classes
Society for Calligraphy Several Classes
Lettering Daily Tutorials and Guides
Calligraphy and Lettering Arts Society Videos For Beginners
Calligraphy Masters Frak One Free Foundational Tutorial
European Pointed Pen Collective 3 Classes
Ink Me This Numerous Online Classes
Chicago Calligraphy Collective Several Workshops
WRITE ON THE EDGE – WHERE CALLIGRAPHERS FLOURISH   The 40th International Calligraphy Conference   Saturday, June 25 to Saturday, July 2, 2022 https://www.writeontheedge.org/