Mill Woods Seniors & Multicultural Center 2610 Hewes Way, Edmonton, Alberta
Hello, ECS members! Our new year is just around the corner and your new executive is excited about our plans. Here is some information you will need for our first meeting.
Our doors open at 5:45 P.M. and many of us try to arrive as close as possible to that time to help set up the tables, chairs, displays, and projections system. We begin our meeting as close to 6 PM as possible. Jeanine has graciously offered to create name tags at the door for those who are new or didn't remember to bring one.
Please bring your summer projects to display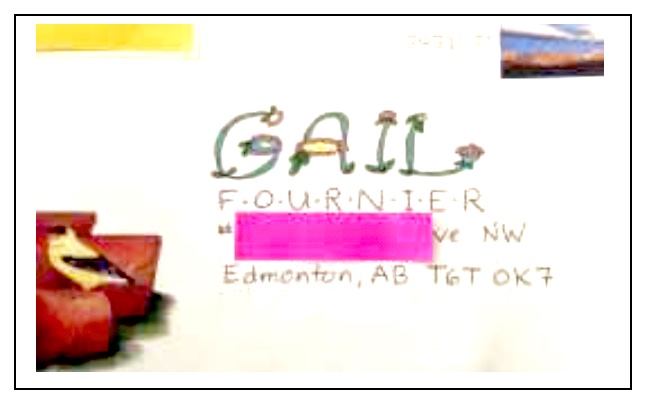 on a separate table we'll have available, and add your "Hello" calligraphy to the Letters and Lines display backdrop and table.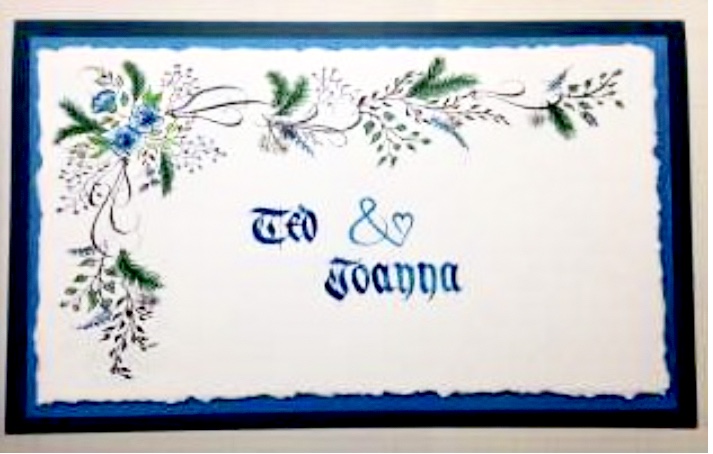 Those of you who participated in the Envelope Exchange may add any envelopes you received since June to the summer projects table for people to enjoy.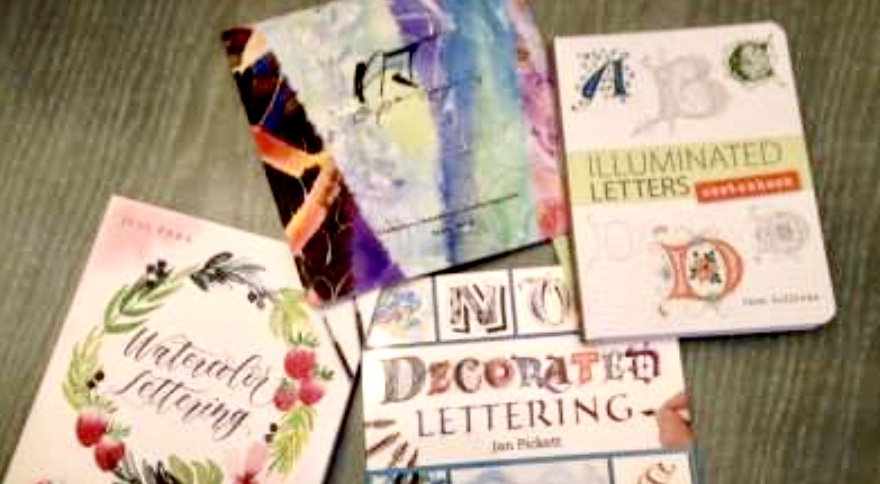 If you borrowed library books over the summer, please bring them with you. If you are unable to attend the September meeting, pass your books to a friend or one of the executive members to return for you so you can avoid a fine. We want to keep the books in circulation.
Our Learn to Letter class will be Folded Ruling Pen construction, lettering, and a little project led by Jackie and Lisa.
SUPPLIES NEEDED: pencil and eraser, sharp scissors, a fine tip sharper marker, 1/4" circle hole punch (if you have one), embossing stylus (if you have one).

Things to do at the Break
Three Bags Full draw–Bring your wallet!  Tickets are $2 each, 3 for $5, or an arm's length for $10. Edwina and Kathy always have interesting and useful items at the table!
Sign up for:
Loredana Zega Workshop
Our Sept. 14/15 workshop with Loredana Zega only has room for 5 more participants, so take the leap and join us for an exciting weekend of fun lettering, painting, and embossing! If you wish to join us for supper Saturday, sign up at the Sept. meeting. Here's a link to her website:
https://www.kaligrafija.org/p/workshops.html
The Art Gallery of Alberta has graciously offered us the use of their Education Room on Thursday, September 12 from 5:45 to 6:45 without charge, and is allowing Loredana to paint her calligraphy on two of the walls! Loredana only learned about this surprise offer, so hasn't confirmed what she will do. She is a performance artist, so I'm sure you won't be disappointed. We hope you'll come and support this add-on to our calligraphy weekend! This is the night which the AGA opens to the public without charge.  We may have a request for donations at the door. Details will follow.
Lettering on boards to selections of music, this is what she did at the Rendez-Vous Calligraphy Conference with two other calligraphers: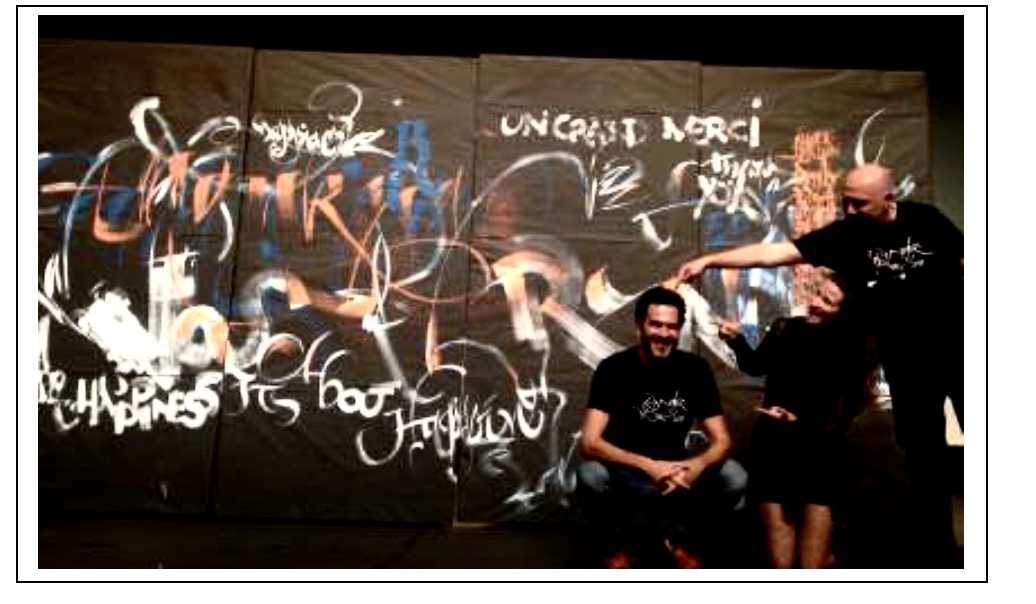 OUR MENTOR MEETUP
on Sept. 28th at the Artelier only has room for 12 people, so sign up early at the meeting. Jackie will be showing you how to paint and decorate a canvas pen holder! Don't miss this wonderful opportunity to have fun and make something useful for your future workshops!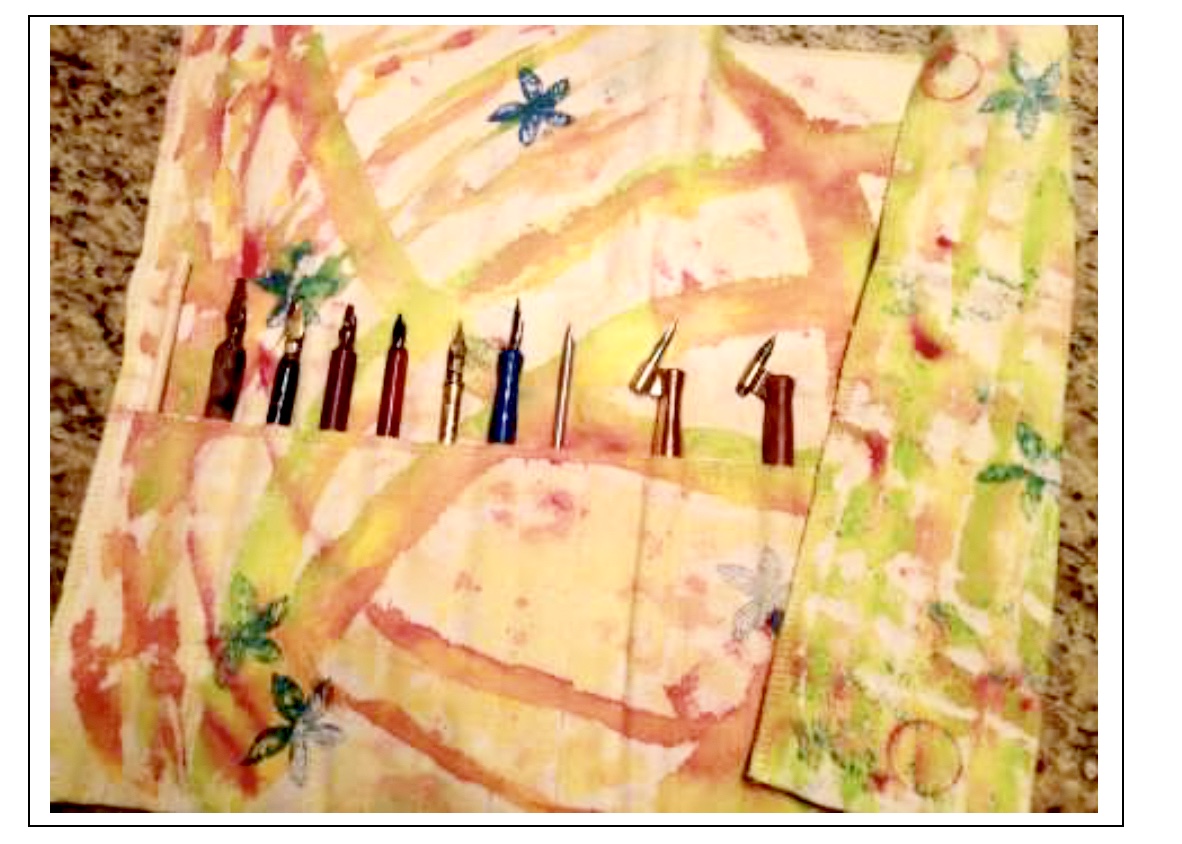 OTHER
I have been thinking that we should try to offer sessions for our newer members who have little or no experience doing calligraphy. I've done a couple of private sessions in my home and would offer them to a small group. It was suggested that some experienced calligraphers might offer to do this in the afternoons of some of our Mentor Meet-Up days. I prefer my home, as all my tools and materials are close at hand. It may be worthwhile running one or two in the fall and again in Feb./Mar. to accommodate people joining the ECS at different times of the year. If you would be interested in leading an "In the Beginning" session, please contact me.
Gail Fournier ECS President
I was recently asked why our fee for Loredana's workshop was $180, and what did that cover? I think it's important for our members to know exactly what the fees help to cover. We are a non-profit organization and try to keep our workshop fees in line with our costs. We do not make huge profits from the workshops.
Instructor's Fees: $1500.00
Flight cost: $452.00
Classroom Rental (2 days): $588.00
Transportation: $100.00
Accommodation: $200.00
Total Cost: $2840.00
16 members X 180.00 – $2880.00
Another point to ponder is that a local woman offers 2-hour calligraphy classes for $150.Our workshops are 10 hours for $150-$180.