Next Meeting: December 1, 2021
Time: 7:00 PM MDT via ZOOM
Instructor: Carrie Imai
Lettering Style: Carrioka and Other Dances
(The supply list and exemplars and Zoom link have been set.)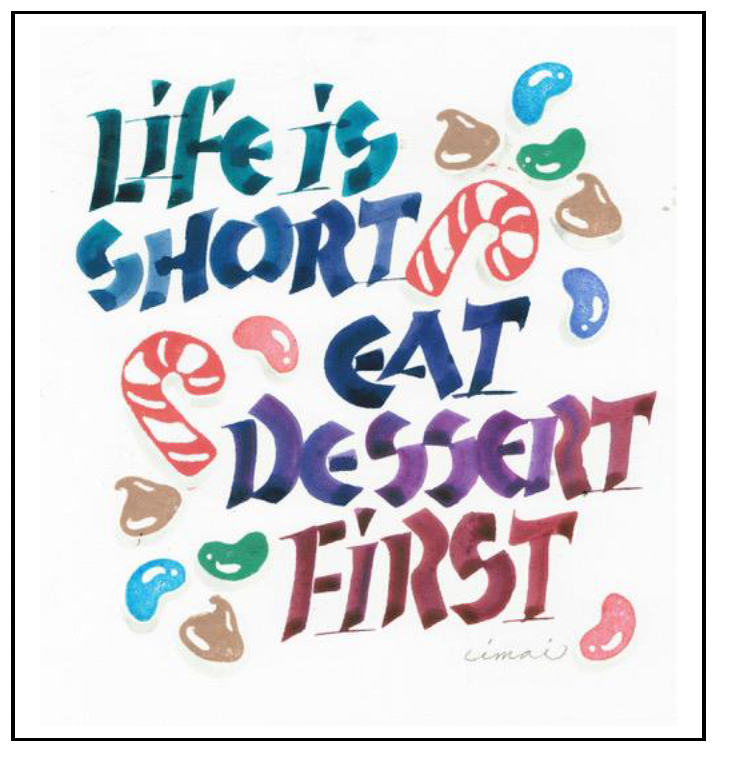 Letters and Lines Theme for December
What flies when it's born, lies when it's alive, and runs when it's dead?… A Snowflake.
This powdery one-of-a-kind work of art is six-sided, glittery, soft, and a unique amalgamation of many parts …and that snow laughing matter!
With a nod to our recent weather theme, and perhaps by incorporating the recent mandala tutorial, create your idea of what a snowflake is, should be, or could be.
Snow-and-tell: It's as unique as you and as beautiful!
Sonia Myers
Meet Your ECS Volunteers
Hi everyone. My name is Peggy Marce. I am currently working alongside Barb Keir on the Workshop Committee coordinating the monthly meeting programs for the 2021-22 year. It was great fun contacting well-known calligraphy artists from around the world asking them to instruct our guild. I do hope you've been enjoying this experience.
I am a founding member of ECS, becoming the first President of the guild 35 years ago and was involved when we formed the society, enduring all of the growing pains. Through the years I have held just about all of the various Executive positions and have served on many committees. I have been a member of ECS all along, taking a wee break from time to time, and became a bit more active again just before COVID. My interest in calligraphy started in my late teens when I inherited a box of old pens, nibs and books from my grandfather. I dabbled with it through my 20's, learning from basic instructional books, and when I moved to Edmonton in 1980, I contacted Jeanine Alexander and the fun began! I started taking lots of classes and workshops and even began teaching beginner classes for the guild and Edmonton Public School's Continuing Education Program. I am mainly interested in the historical hands like Foundational or Bookhand, Uncial and Italic. Recently, since I retired, I have been enjoying the opportunities that Zoom has allowed and have been rekindling my interest taking lots of online workshops from some long-admired, and many new calligraphy instructors.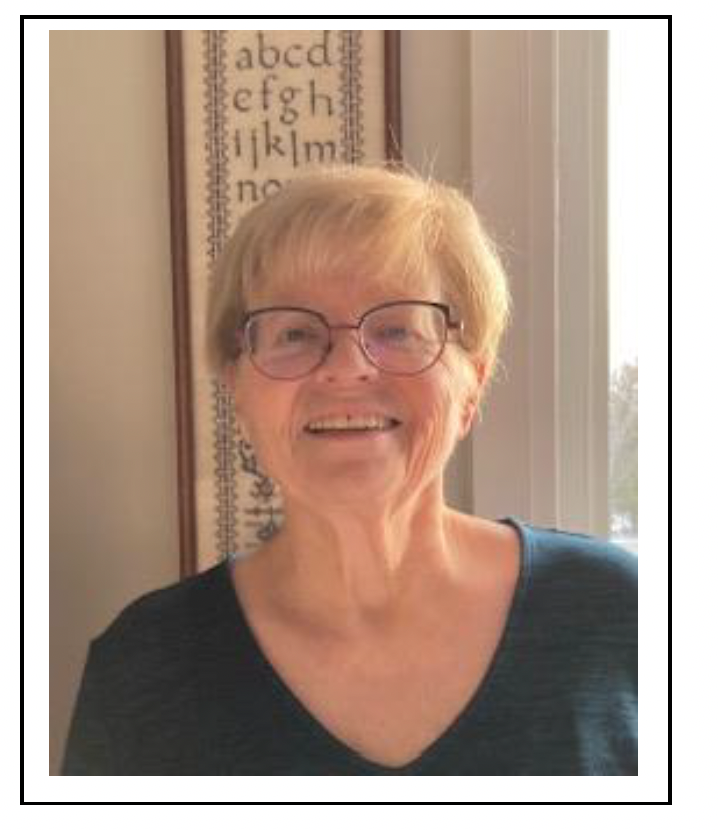 October Letters and Lines Theme – Weather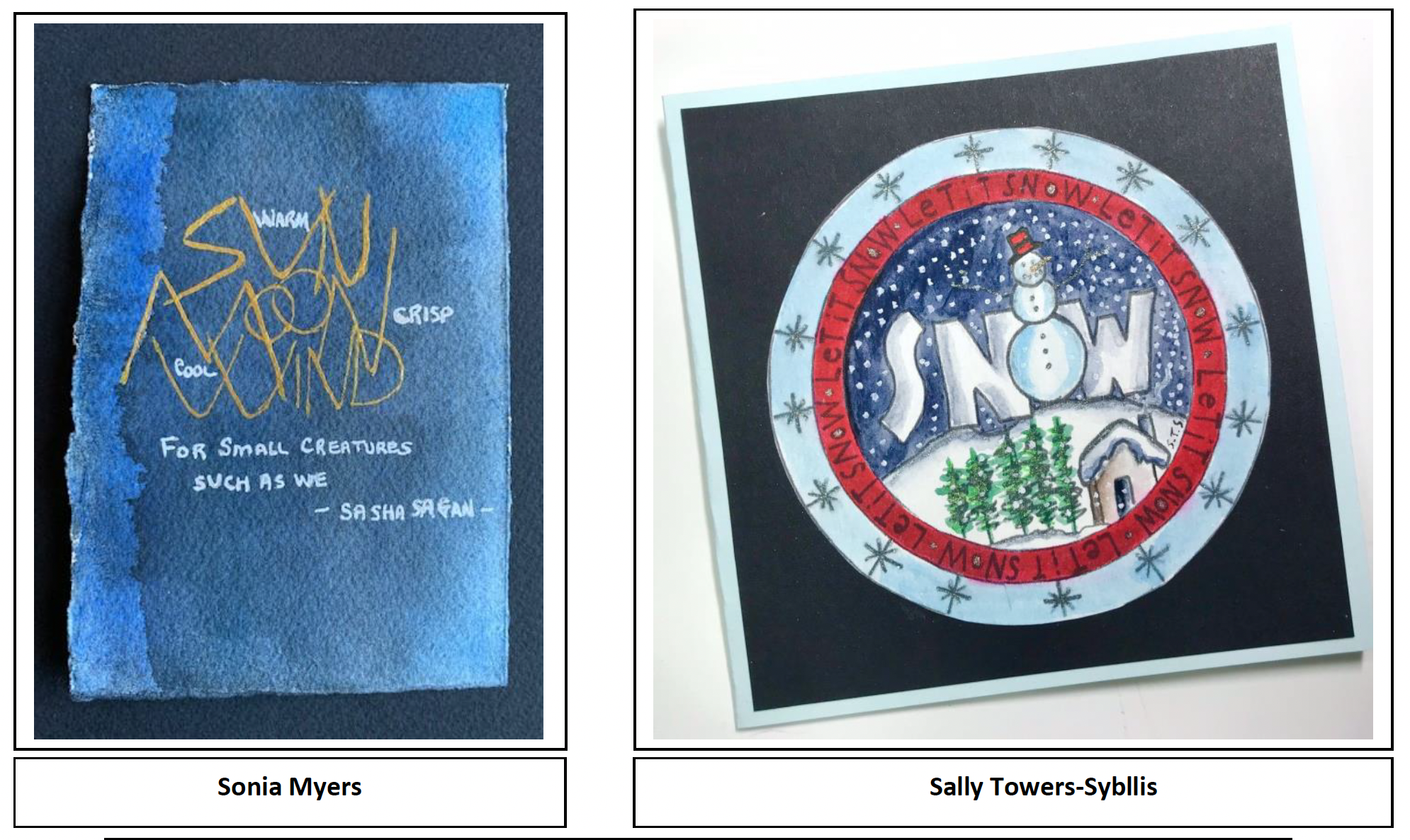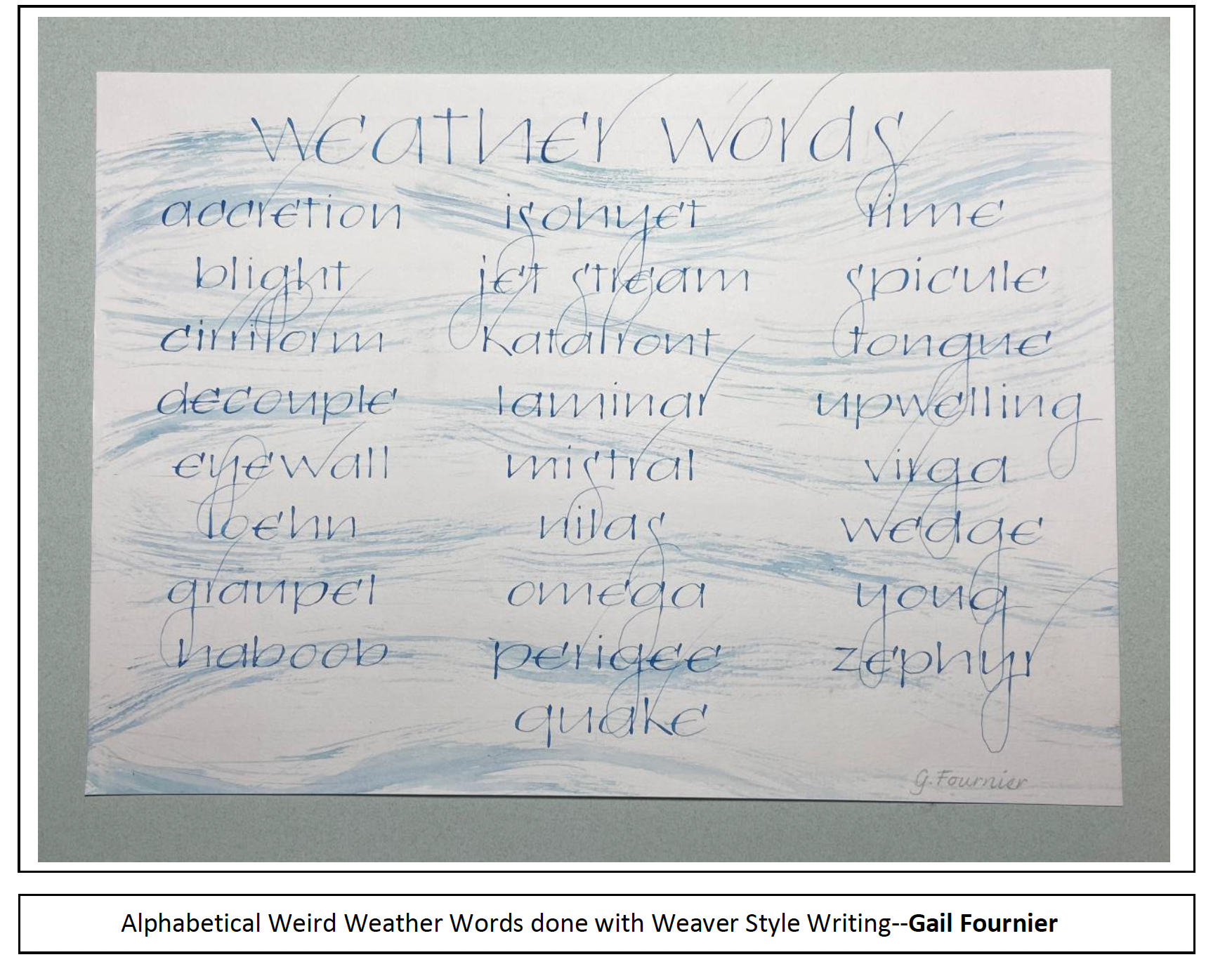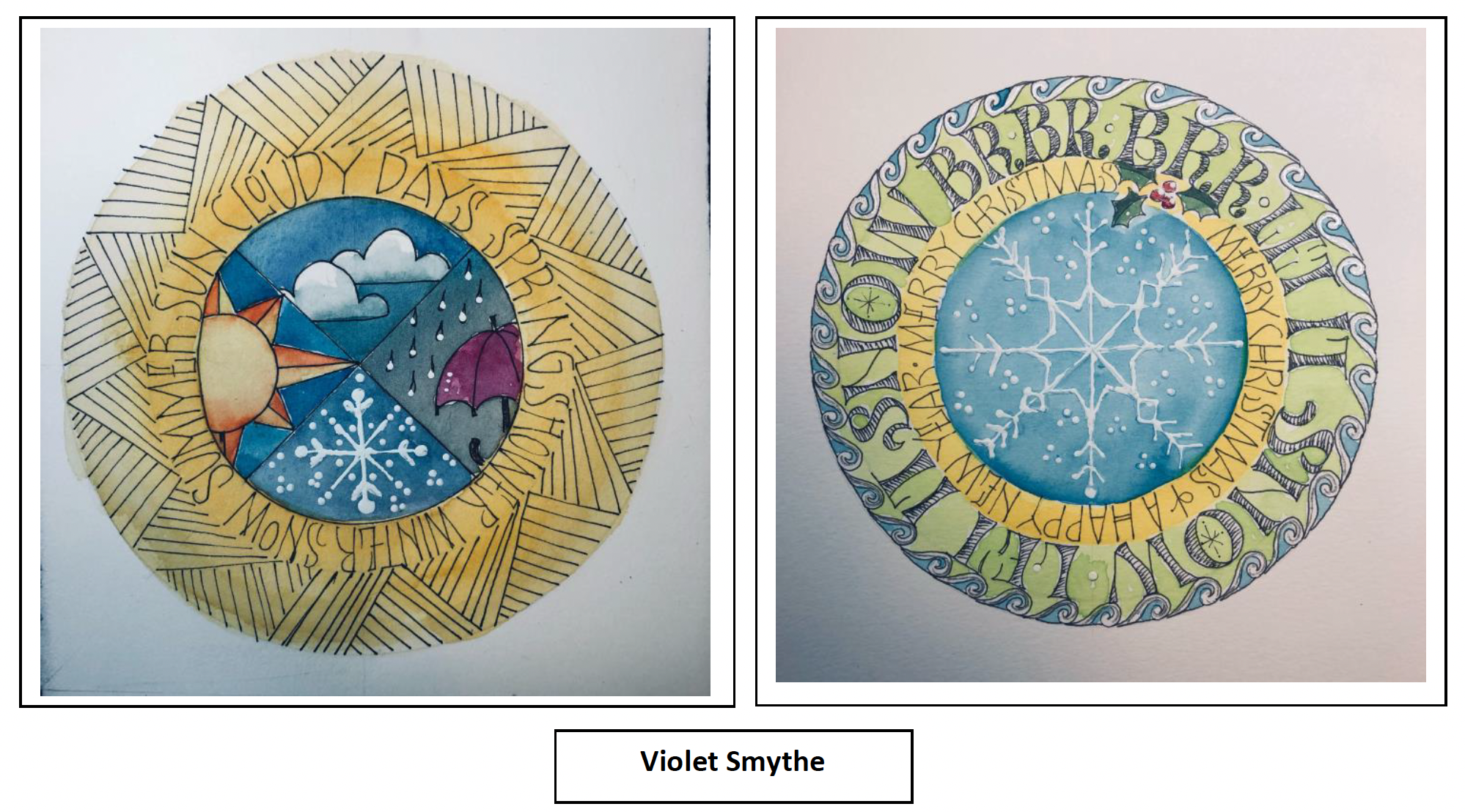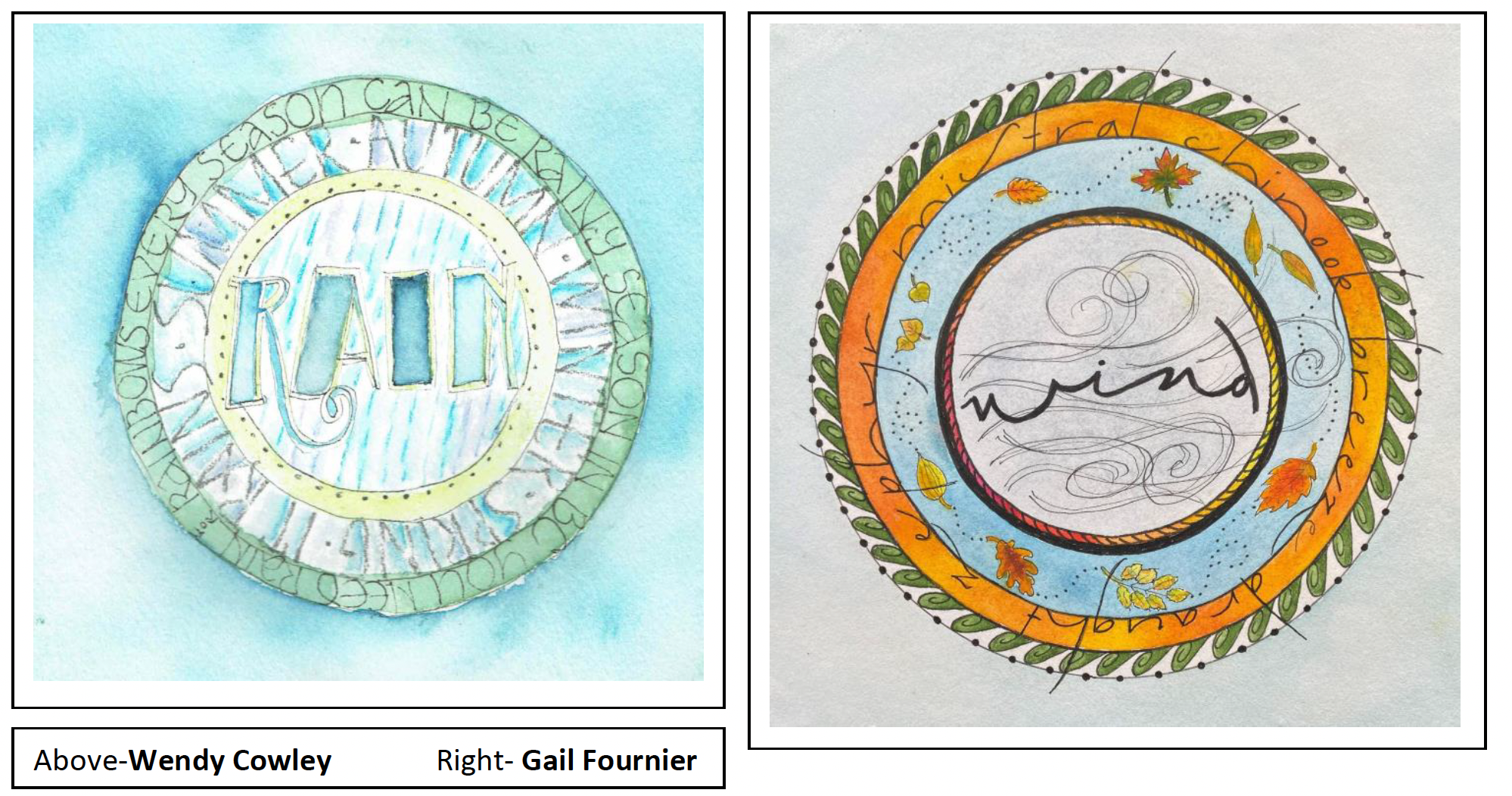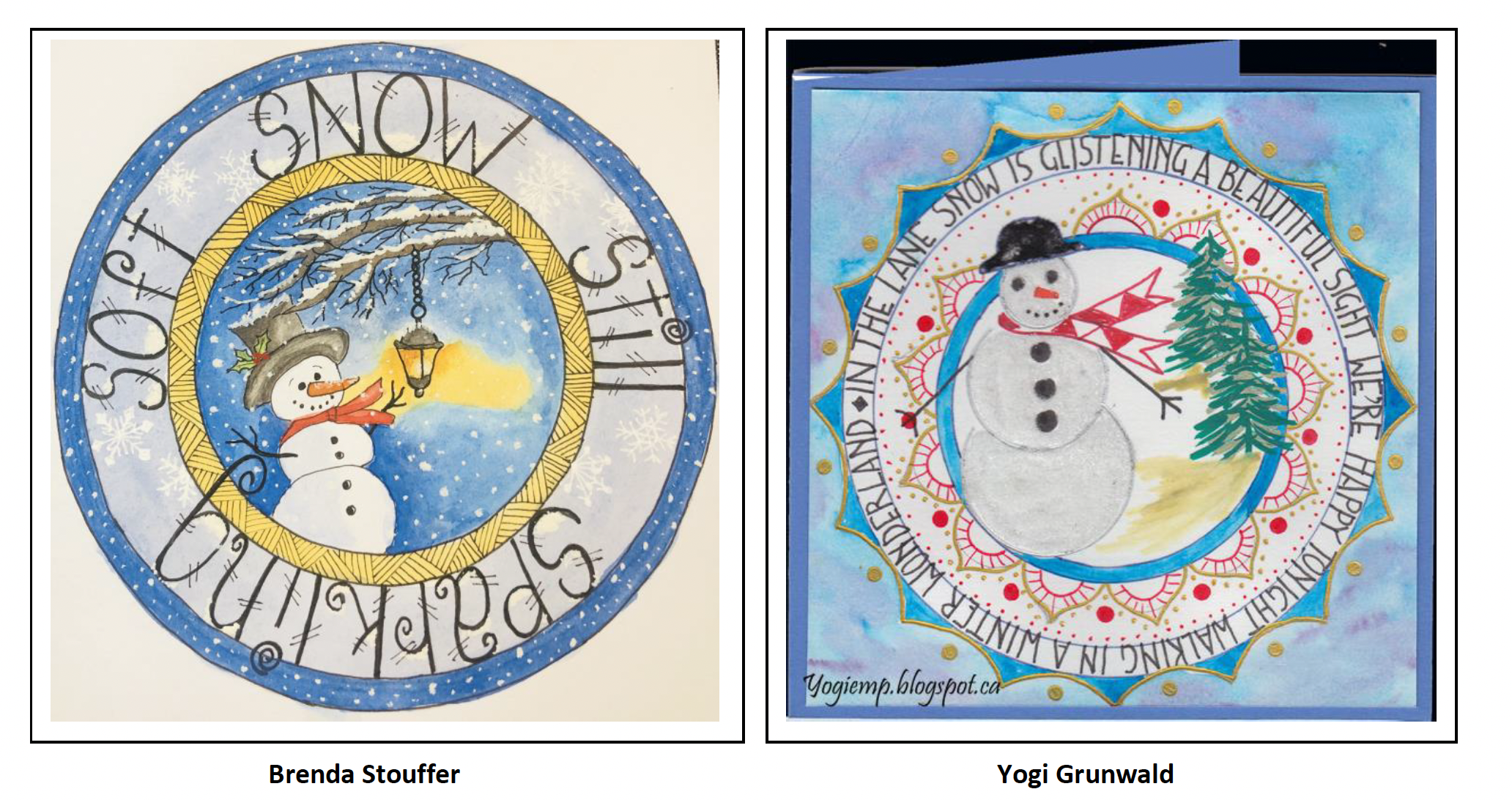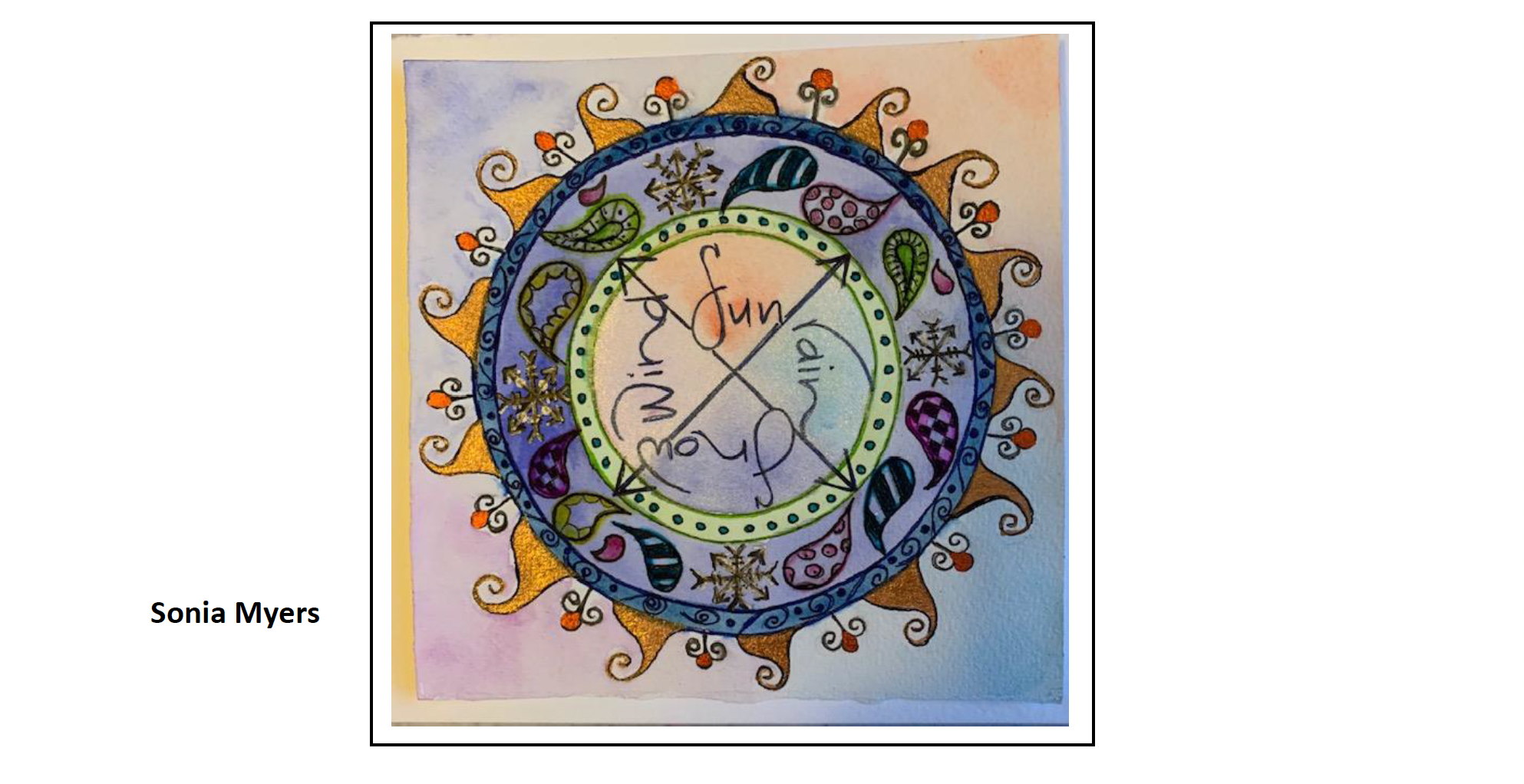 October's Mentor Meet-up –Indigenous-Themed Cards (Instructor – Carolyn Wagner)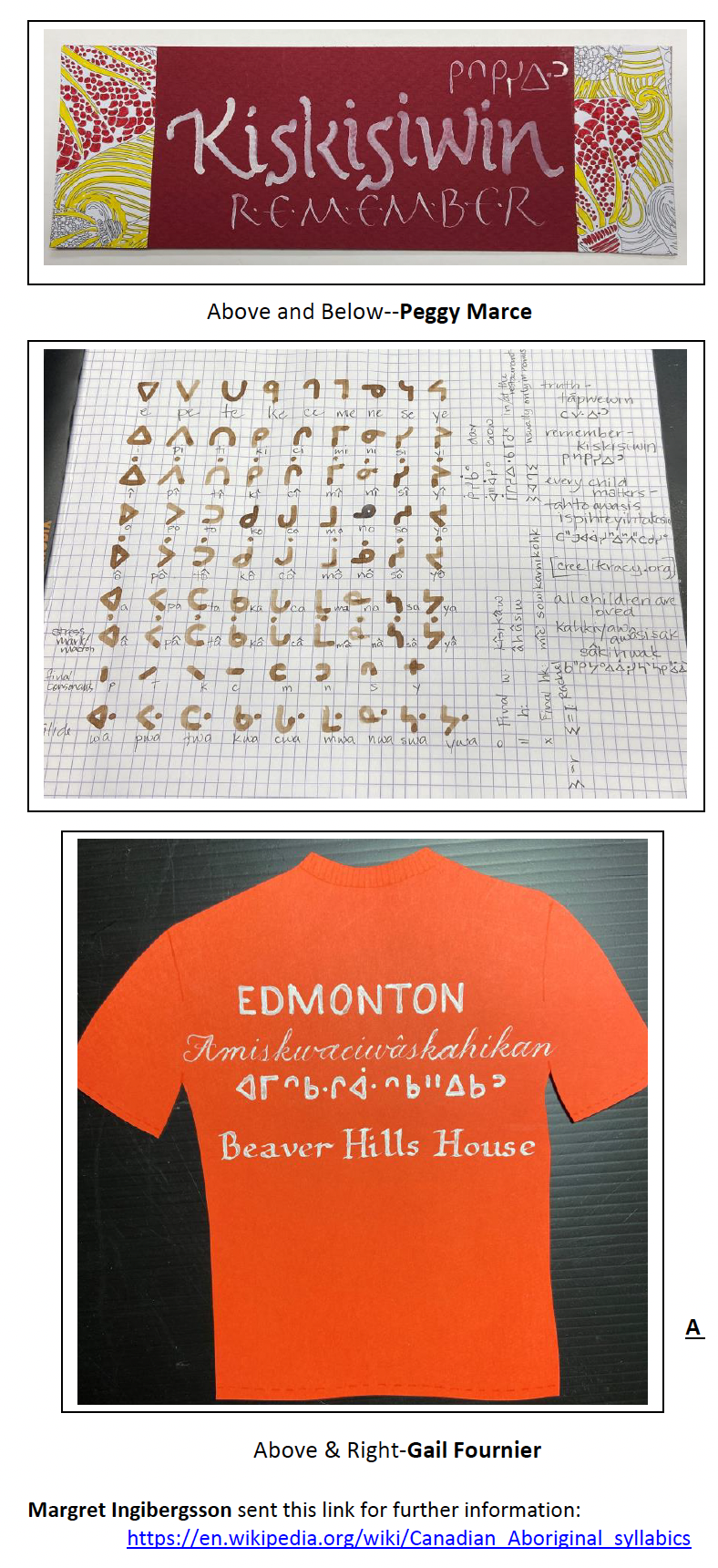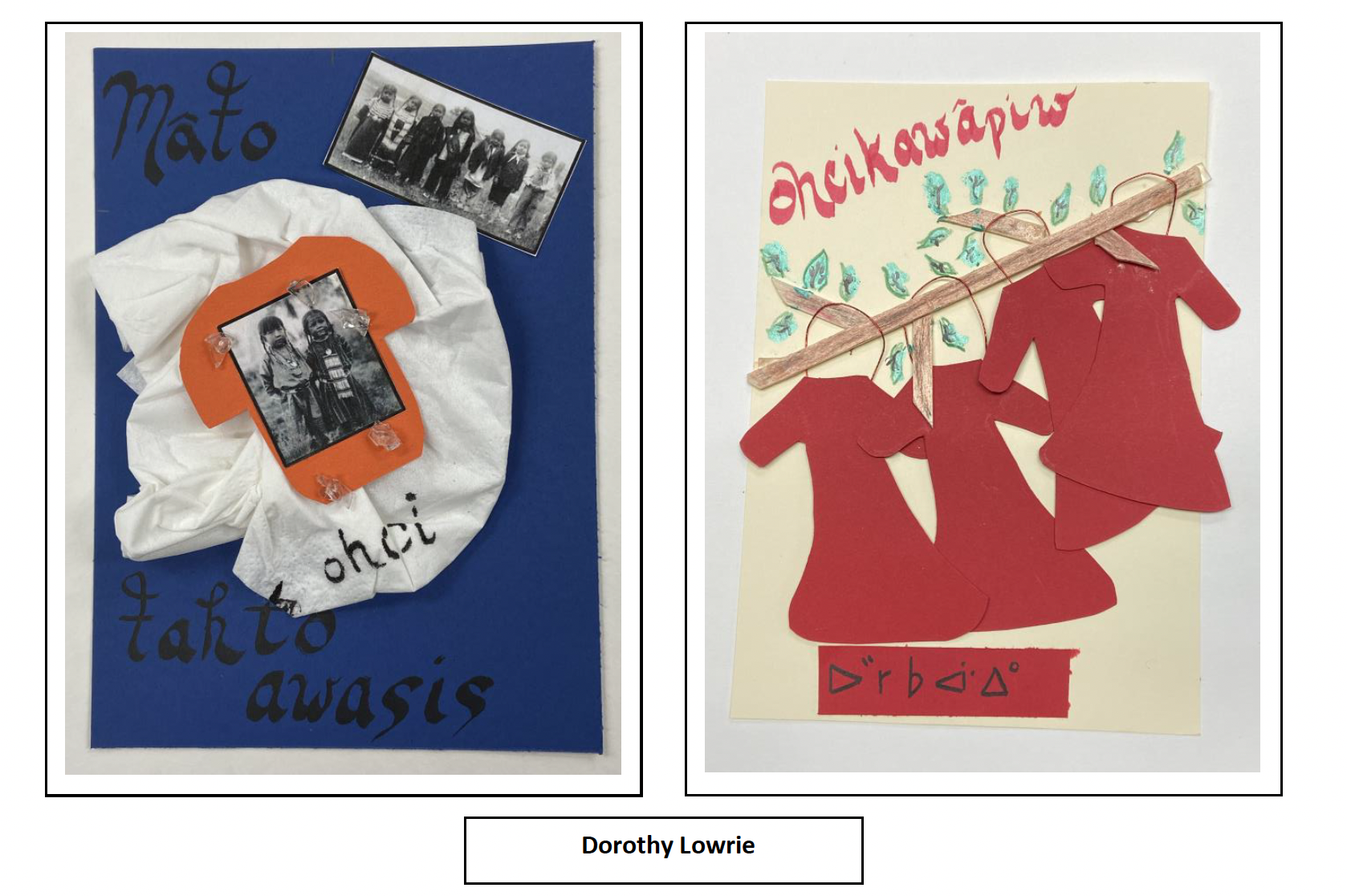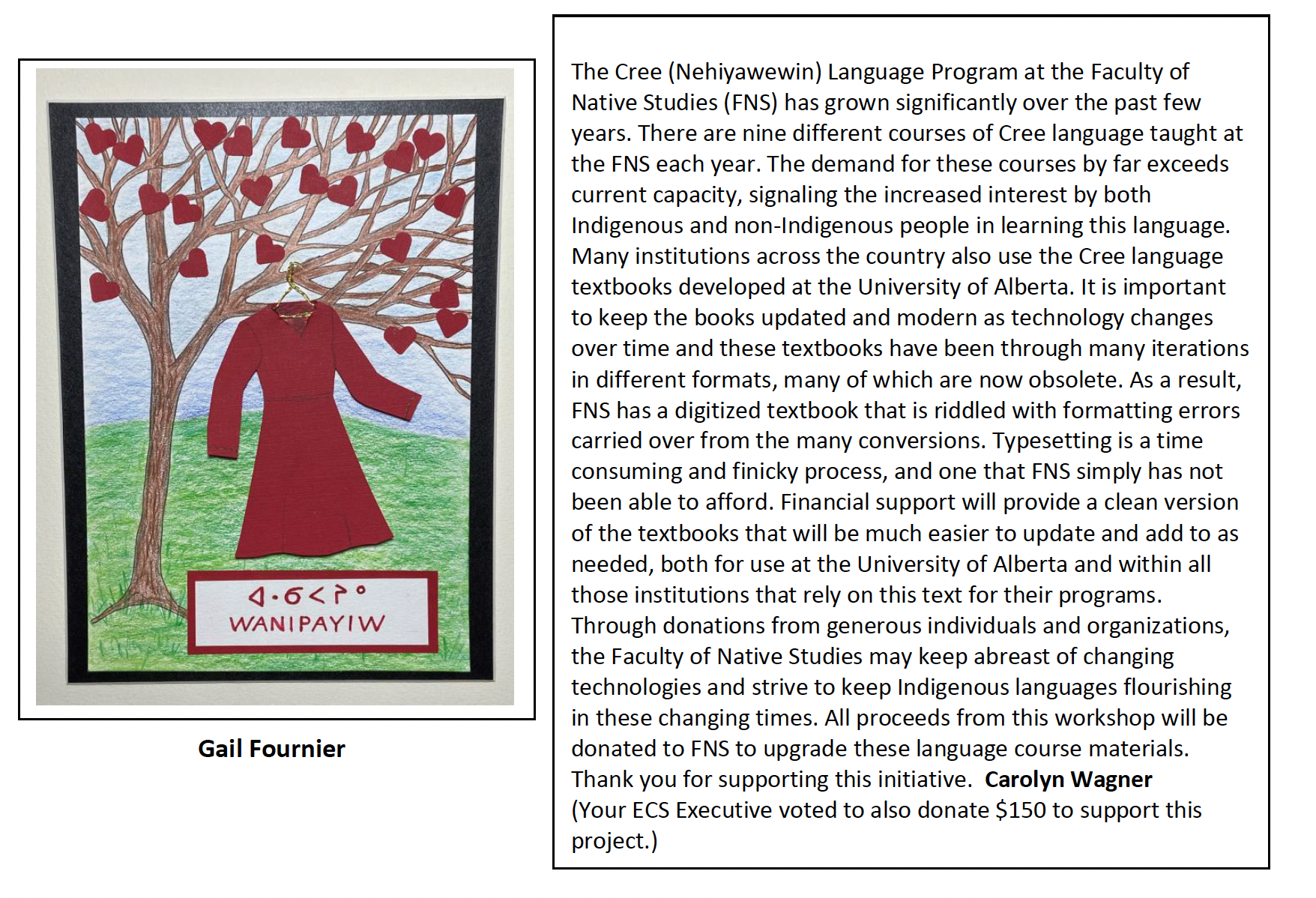 MONTHLY MEETING PROJECTS – Word Mandalas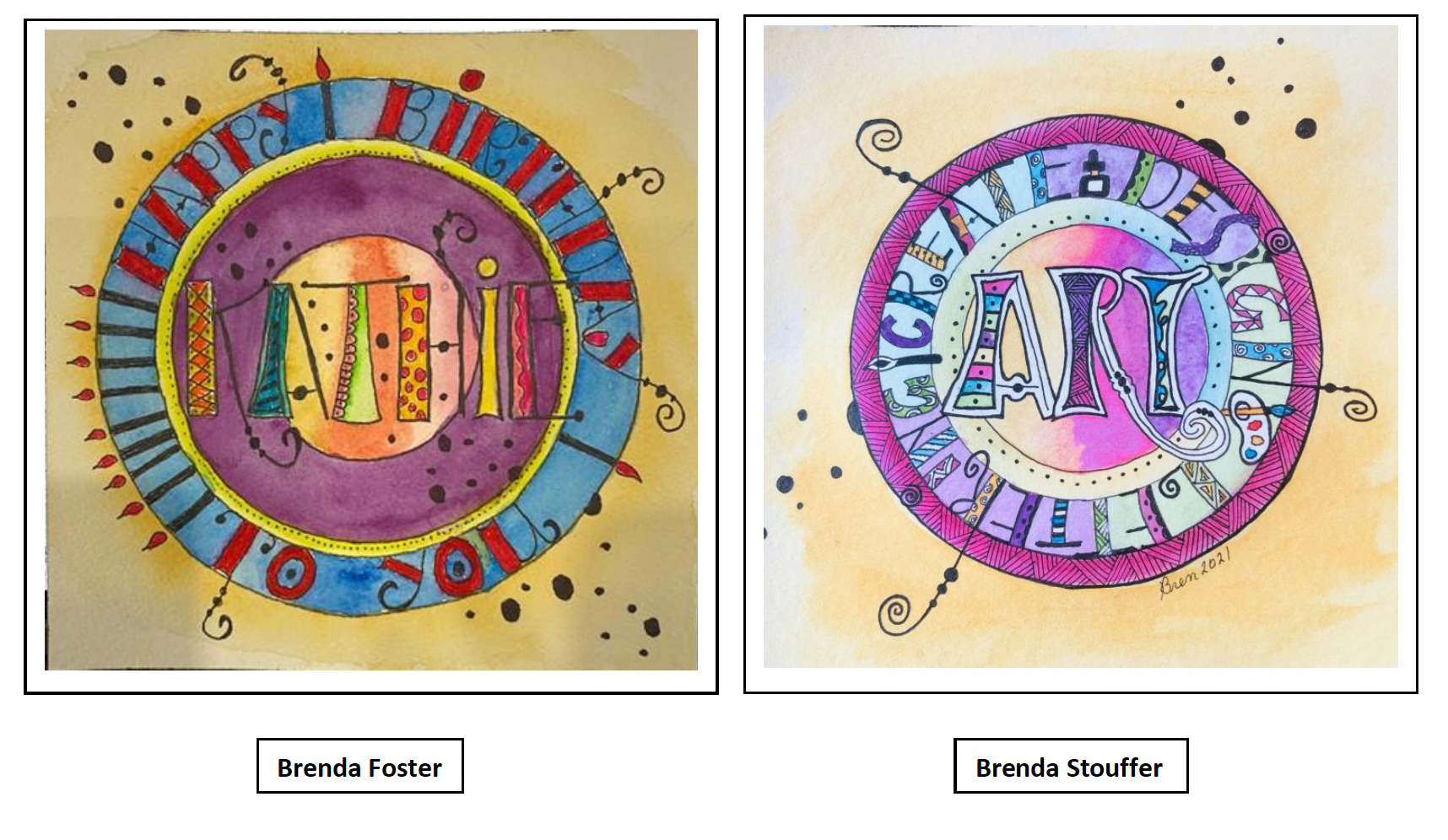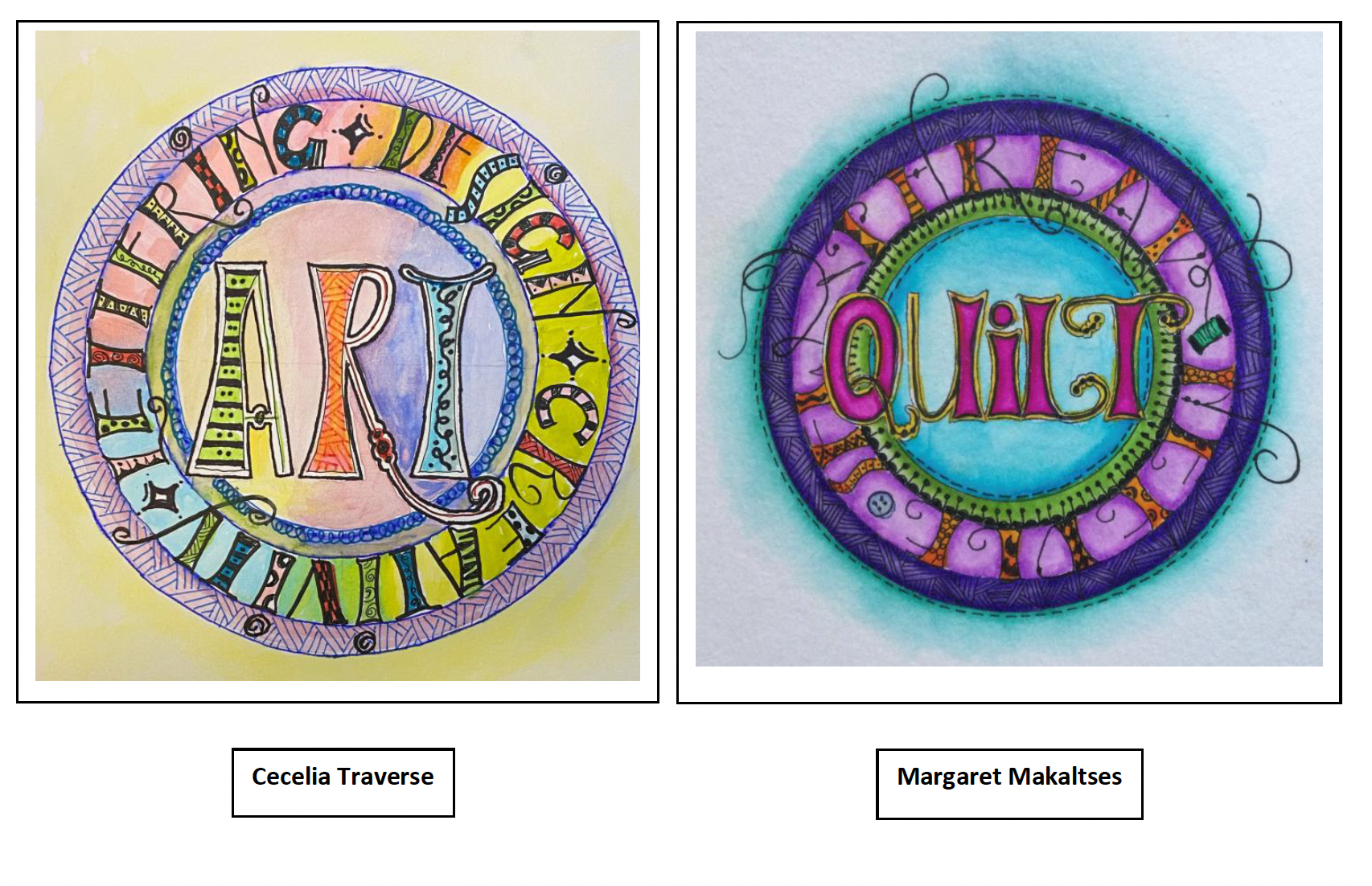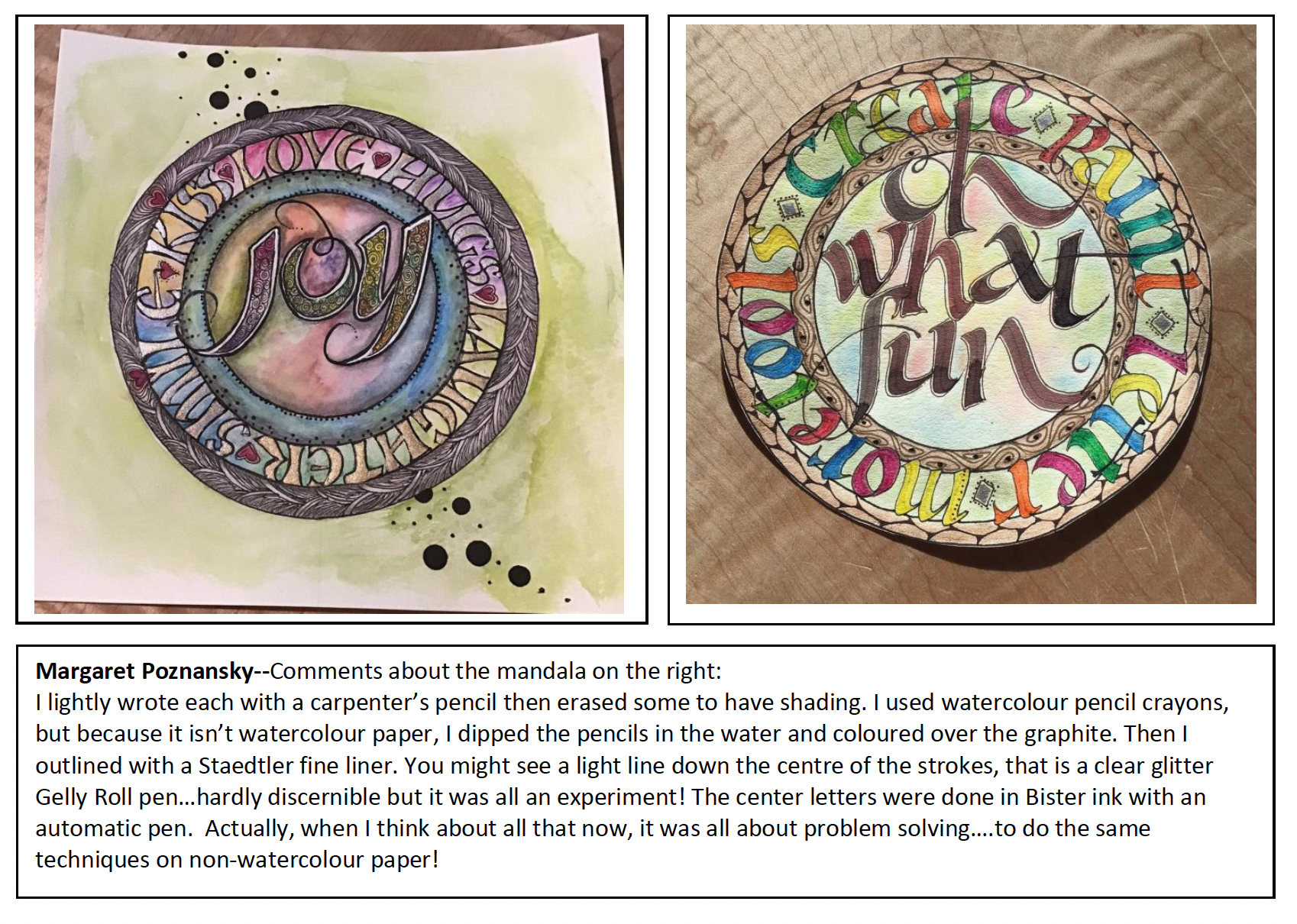 ENVELOPE EXCHANGE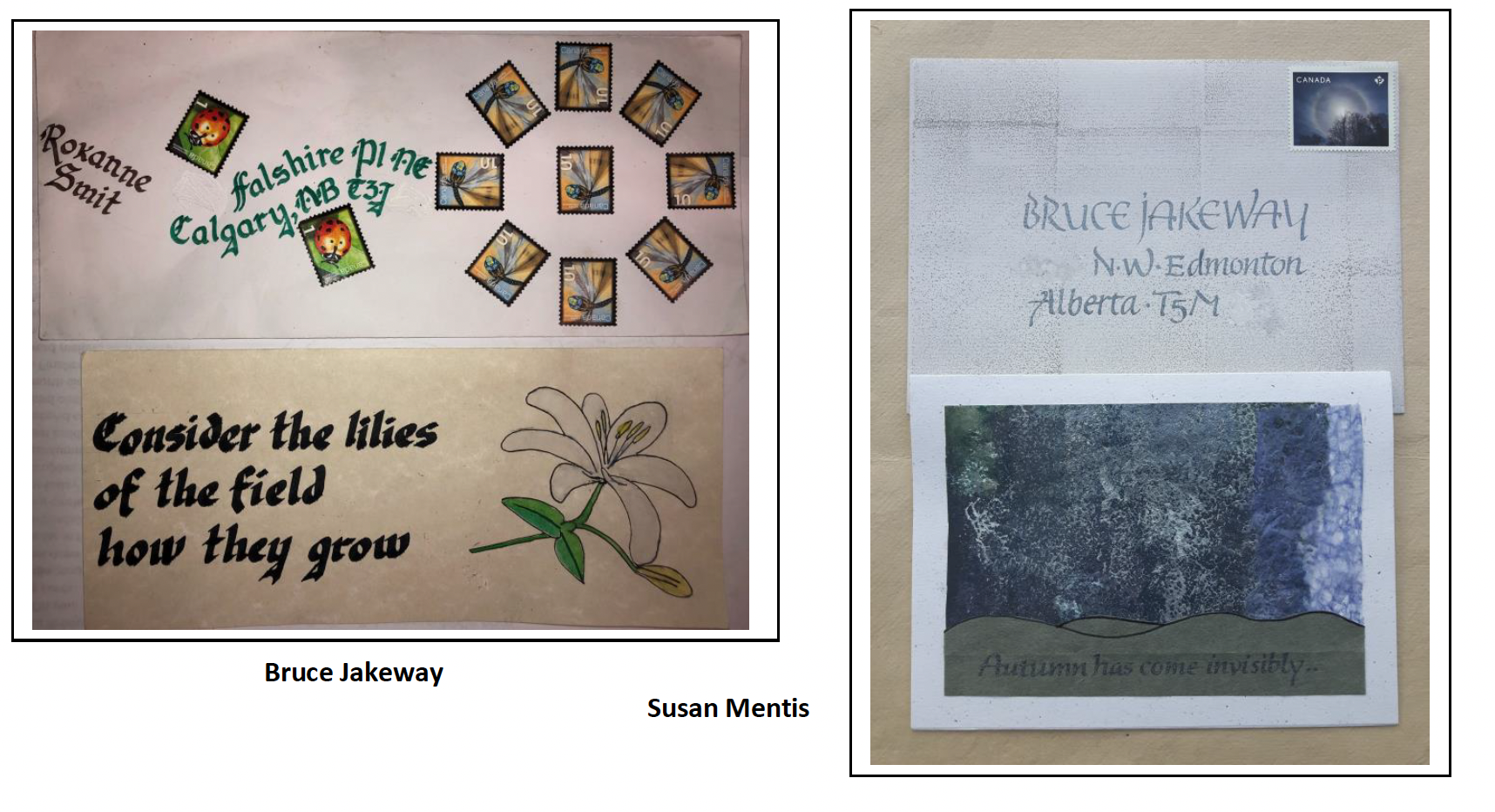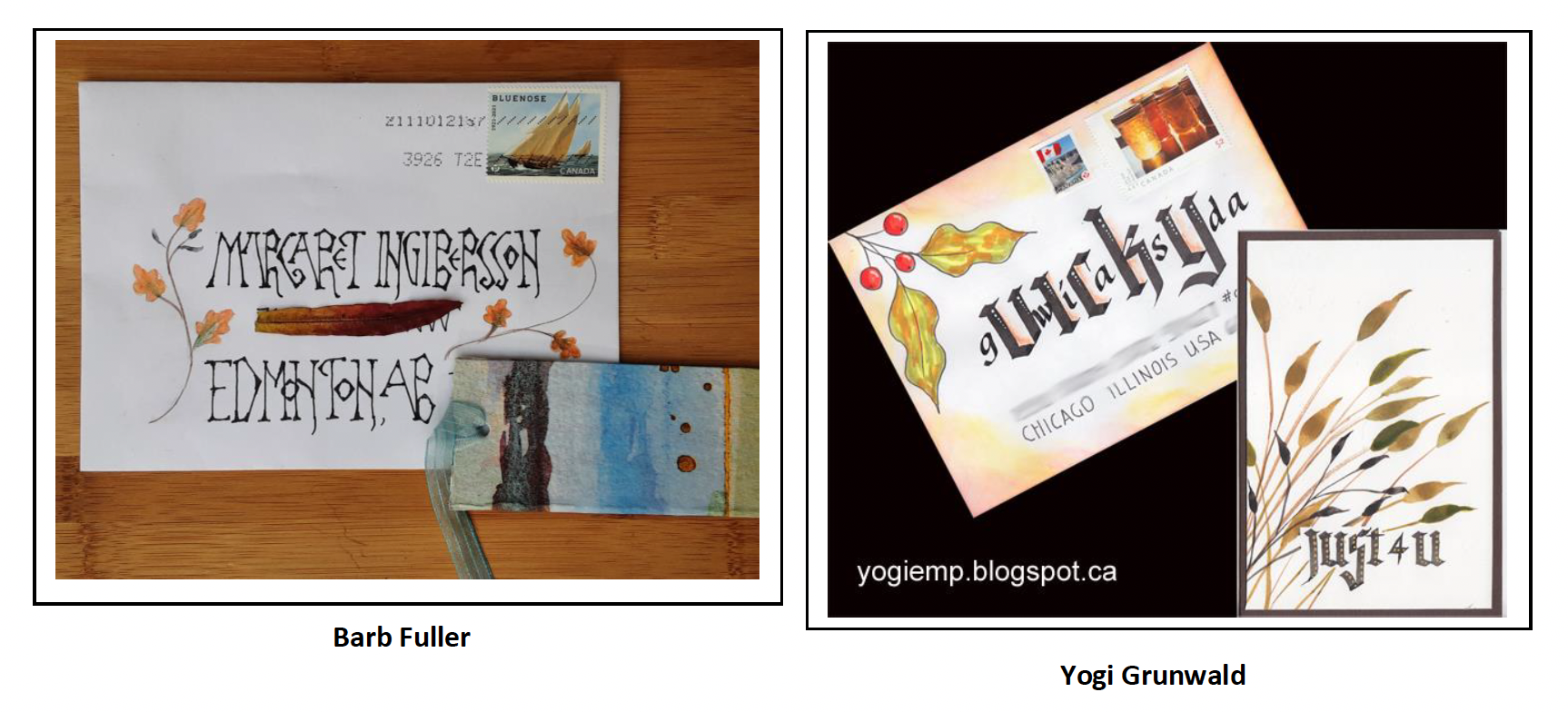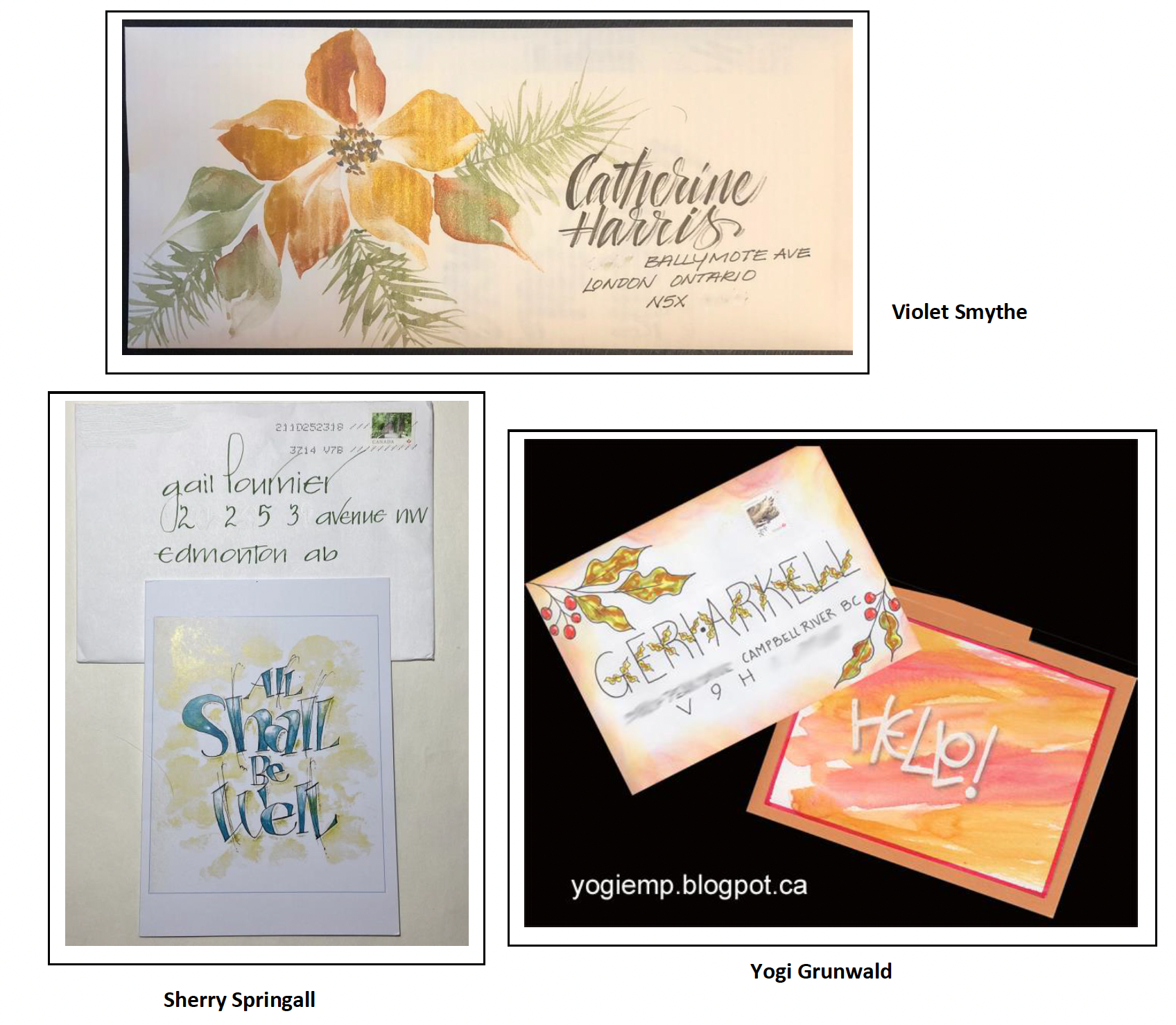 MEMBER PROJECTS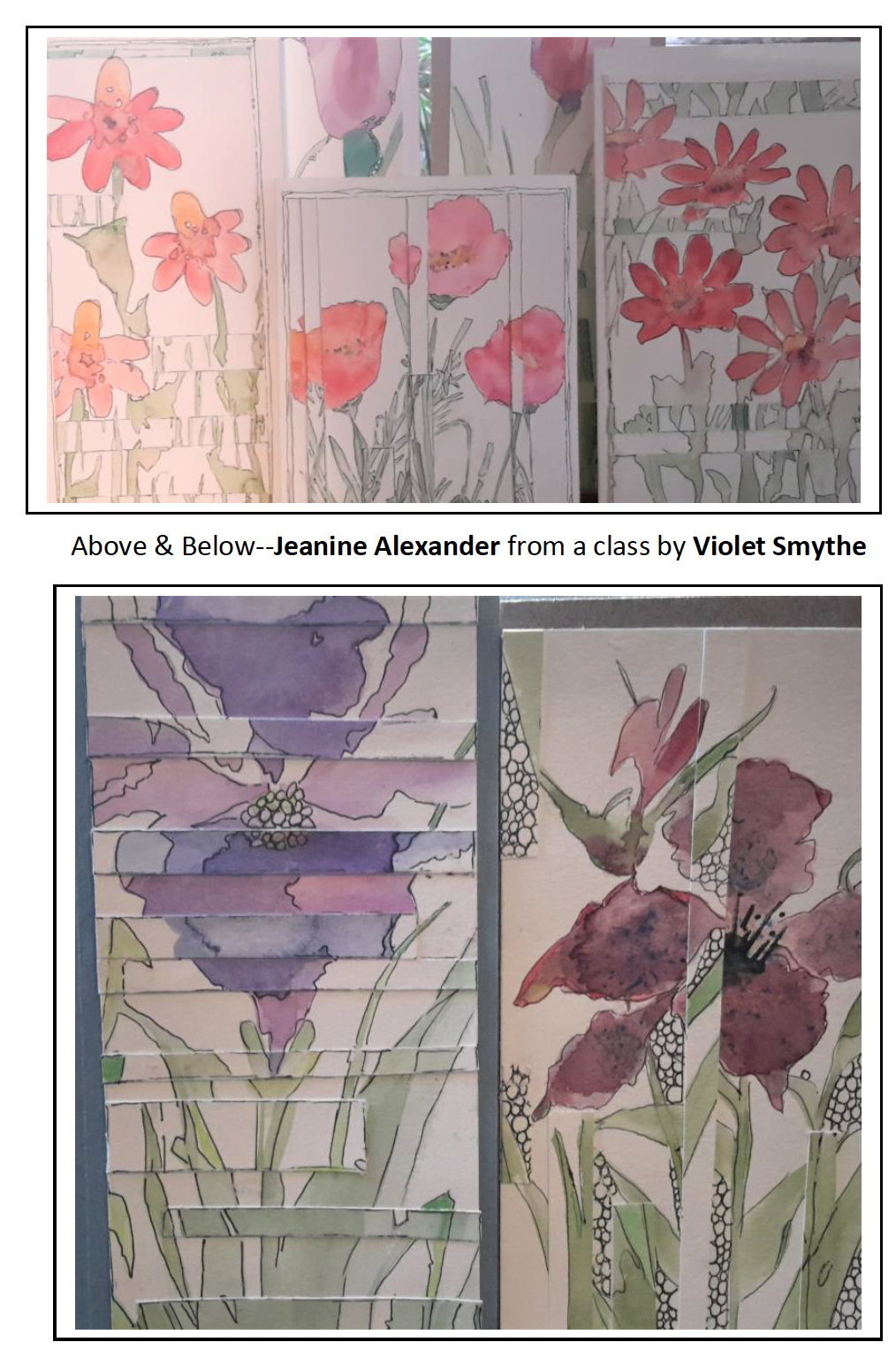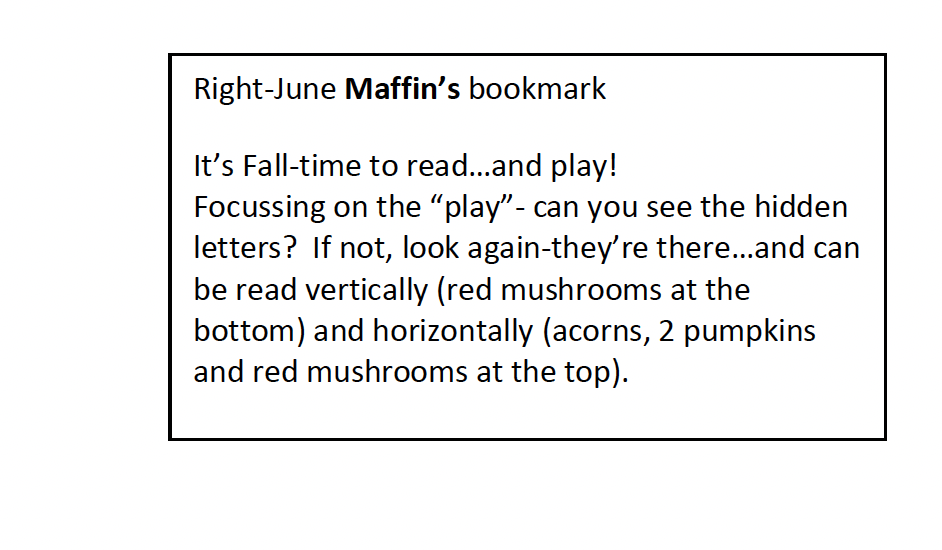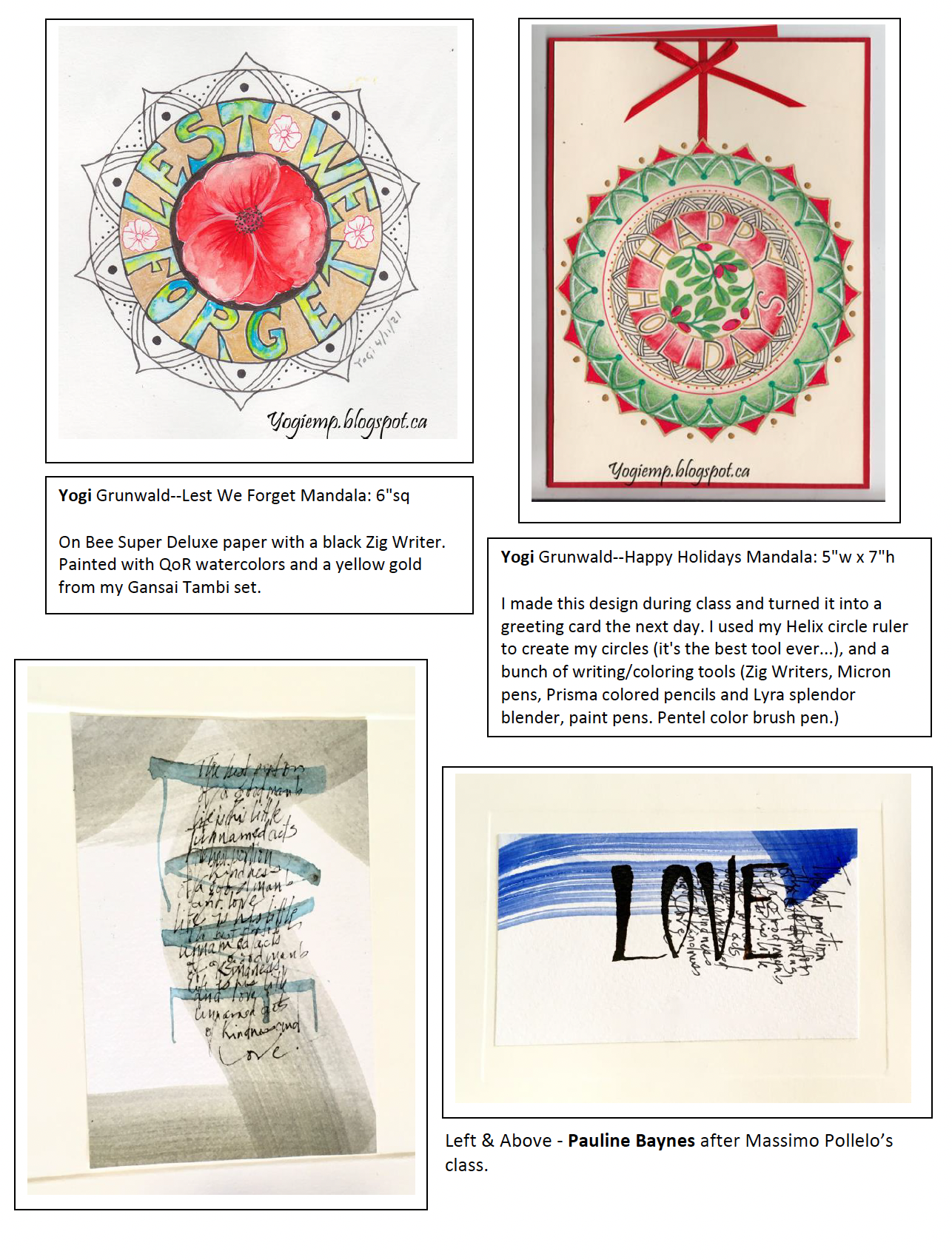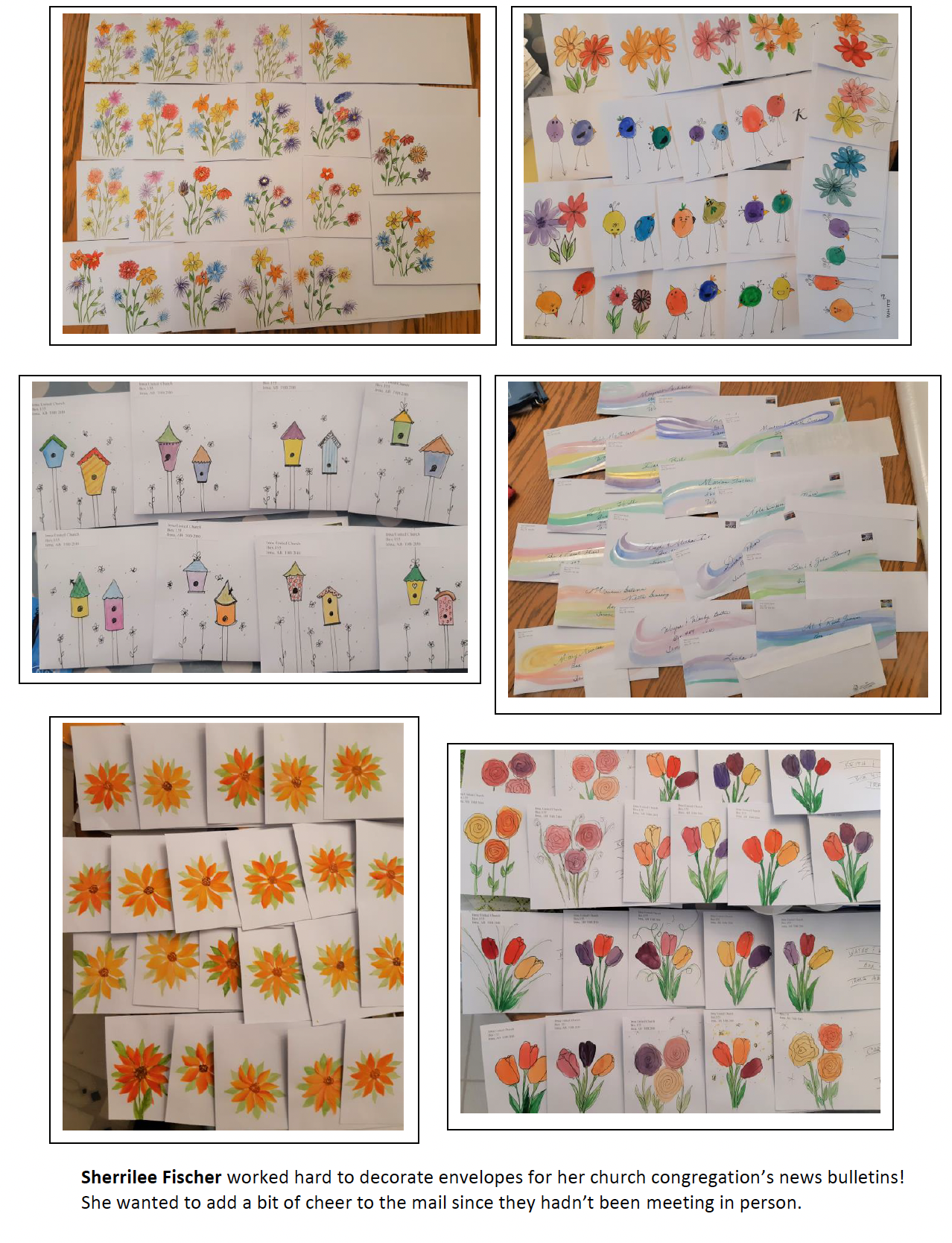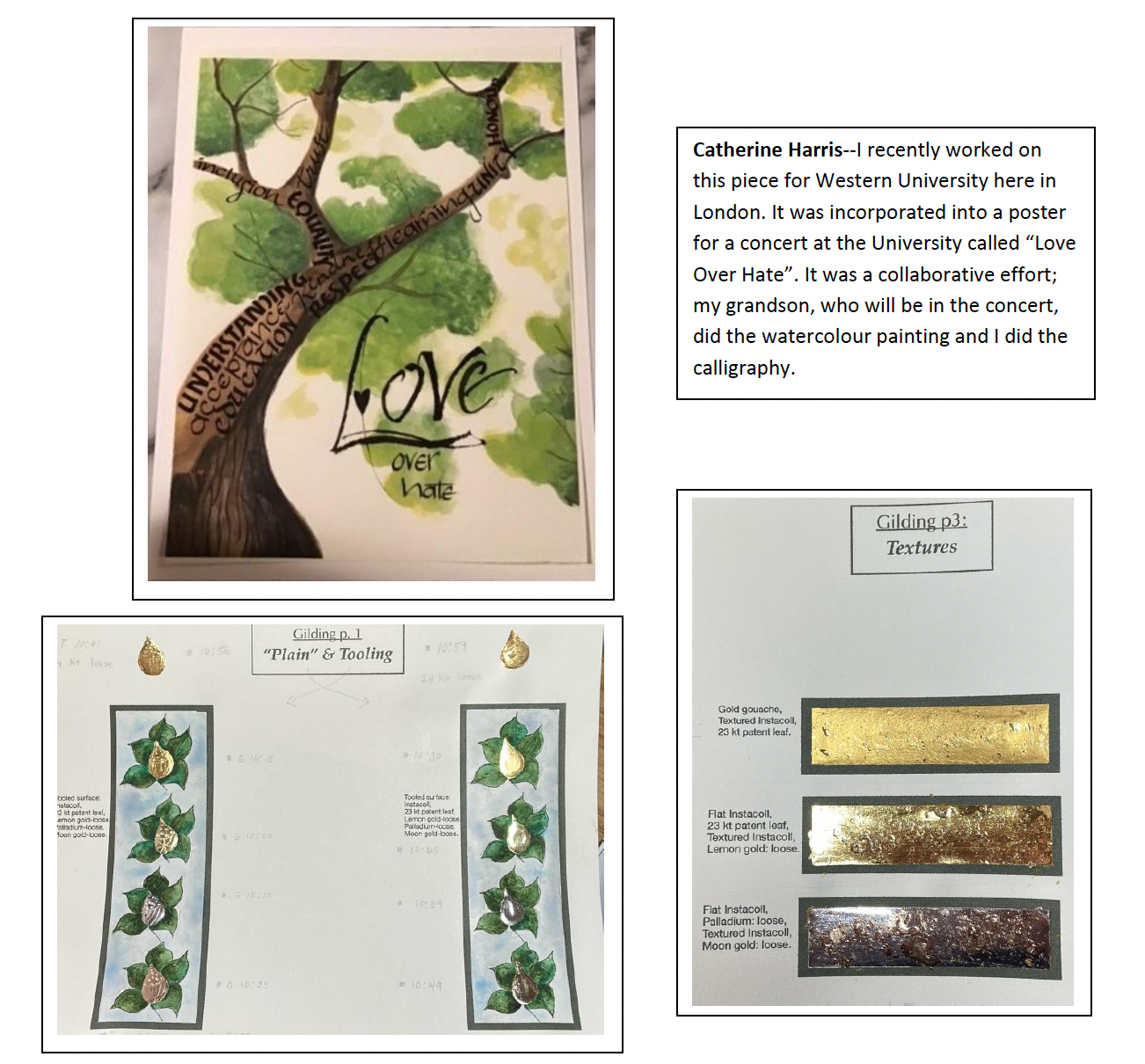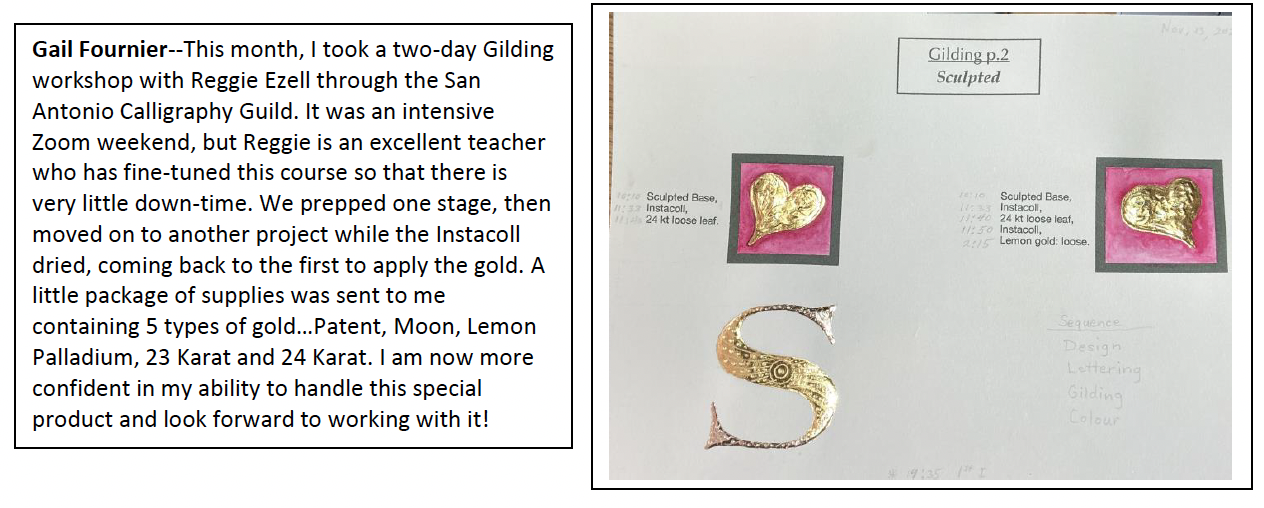 Pauline Baynes found this while looking up Textura Quadrata back when we had our Texture Theme. Unfortunately, it got forgotten in my email file and just resurfaced when I was looking for saved bits of information. Pauline says it is quite interesting. You can scroll through the pages and zoom in to see finer details on the letters. http://www.bl.uk/manuscripts/Viewer.aspx?ref=add_ms_88887_f001r
ECS WORKSHOP WITH RACHEL YALLOP — Drawn and Shaded Letters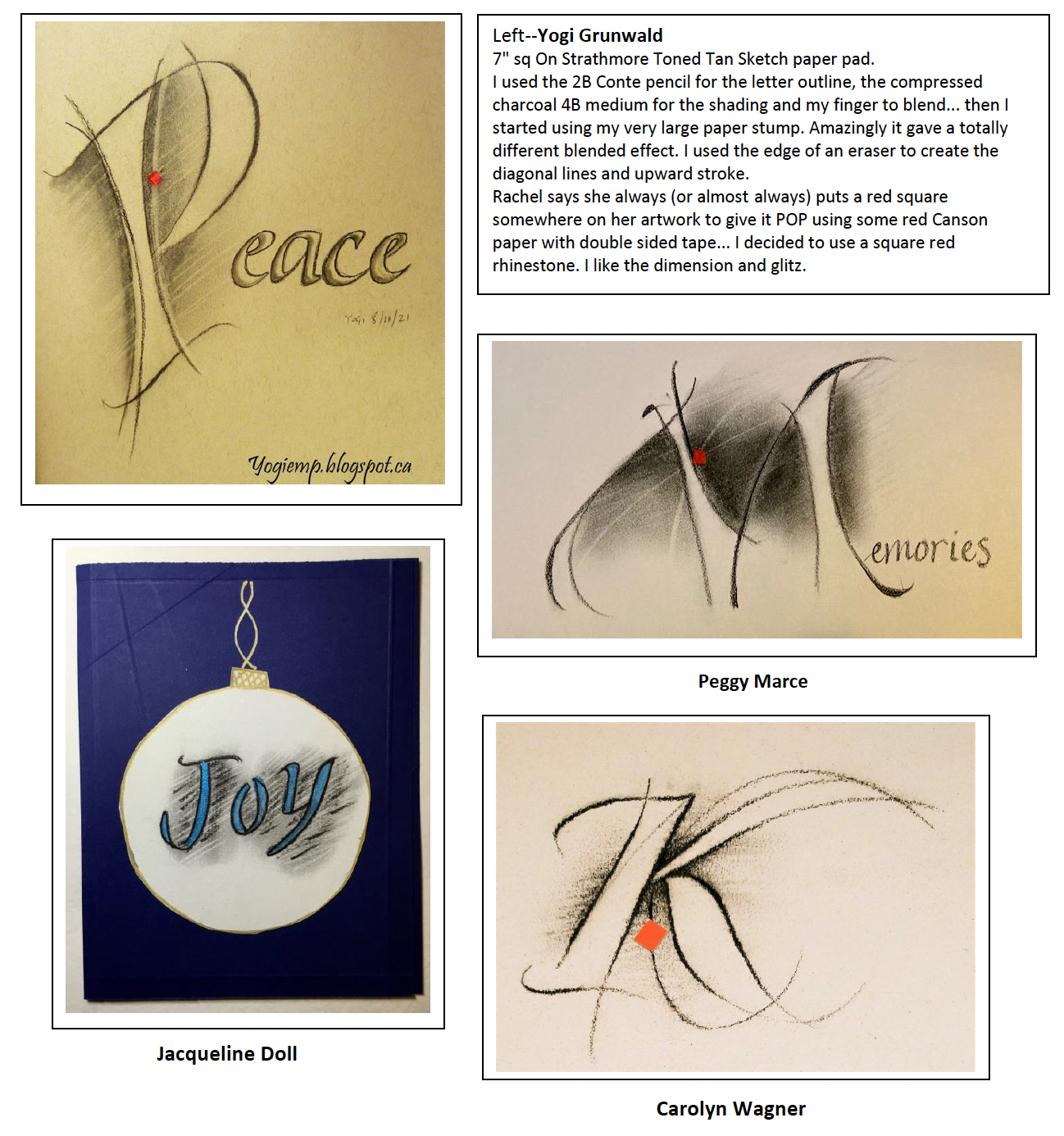 LEARNING OPPORTUNITIES
John Neal Bookseller Numerous Online Classes
Denis Brown A Variety of Classes
Sandia Workshops Online Calligraphy Classes
Society for Calligraphy Several Classes
Lettering Daily Tutorials and Guides
Calligraphy and Lettering Arts Society Videos For Beginners
Calligraphy Masters Frak One Free Foundational Tutorial
Ink Me This Numerous Online Classes
Chicago Calligraphy Collective Several Workshops Online Exhibition
Portland Society For Calligraphy Gallery Display
Calligraphy & Lettering Arts Society Video Guides for Beginners
Society of Scribes Upcoming Workshops
Kallialitheia Beginner Calligraphy Tips
Calligrafile Calligraphy Guilds & Conferences
Free Classes – Jillian & Jordan of Loveleigh Loops Calligraphy Foundations
Free Beginner Class – Becca Courtice – The Happy Ever Crafter Modern Calligraphy Lessons
WRITE ON THE EDGE – WHERE CALLIGRAPHERS FLOURISH The 40th International Calligraphy Conference
Saturday, June 25 to Saturday, July 2, 2022 https://www.writeontheedge.org/
VOLUNTEER OPPORTUNITIES
After our very successful Weathergrams Project for the Grey Nuns Hospital and our 'Sticks and Stones' project for their
Spiritual Care department, we have been asked to provide lettering for two more groups. The Cross Cancer Institute and
the Edmonton General Hospital would like us to provide them with positive, hopeful, and comforting words on stones,
too. Please contact Jeanine Alexander if you would like to participate, and haven't provided your name.

Keep on creating!
Gail gfournier@telus.net