Edmonton Calligraphic Society General Meeting
Agenda for Wednesday, November 7, 2018
5:45 Doors open for set up. Come early and lend a hand!
6:00 Call to order
Membership update
Financial update
Workshop Information
Textura Quadrata: Barb Keir
Saturday, February 23/2019,   $80
Feel the Bliss Alphabet:  Sally Towers-­‐Sybblis
Saturday, April 27/2019,   $80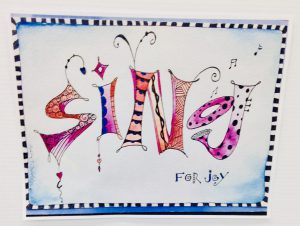 The Enchanted Letter: Heather Held
Saturday & Sunday, June15 -­16/2019, $150
Meetups @ The Artelier
Last Saturday of these months. Here is October's Meetup.
10am-­‐4pm with demos & guidance from 11am-­‐noon.
November 24th, 2018,  Lettering on Black, Gail Fournier
March 30, 2019, Glorious Graphite,  Pauline Baynes
Volunteer Positions
Mail Art Coordinator—Margret Ingibergsson
Volunteer Appreciation
Edmonton Arts Council Grant
Learn to Letter
6:15 Lettering on Black with LynnAnn Babuk
We will be using a pointed pen and a variety of inks to make a sampler on black paper. It will be a handy reference guide to help you choose which inks work best for lettering on dark papers. We will start with cleaning and/or prepping your nib for use to ensure that it holds the ink properly and allows good flow. This will be an opportunity to help expand your options for future calligraphy endeavours. There will be plenty of long-time members who will be willing to help out in this process and get you up and writing. Join us for an evening of experimentation and fun!
Supplies Needed:
Pointed Pen nibs—preferably Nikko G
Straight of oblique shaft holder
2 small containers for a nib rinse off
small cloth for cleaning your nibs
Pen and notebook for writing notes
Any inks you have: Sumi, Dr. Martin's Bleedproof white, gouache, acrylics, Finetec.
7:30 Letters and Lines –  Elegant Envelopes
7:40 Break
Workshop & membership sign up,
3 Bags Full – tickets $2 each, 3 for $5, arms length for $10
Supplies for sale:  (cash, cheque, or credit)
8:00 Learn to Letter
8:45 Exit room