To register for the March Mentor Meetup: https://www.eventbrite.ca/e/beginning-foundational-hand-tickets-571974911357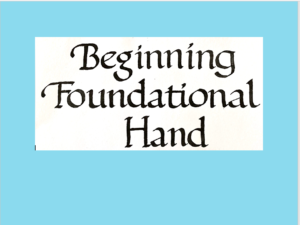 Sat, 25 March 2023, 10:00 AM – 2:00 PM MDT
St. Paul's Anglican Church 10127 145 Street Northwest Edmonton, AB T5N 2X6
About this event:
The Foundational Hand is a historical calligraphic hand based on 10th century English Carolingian. It was developed in the early 20th century by Edward Johnston, the father of modern calligraphy. By studying this hand, one can get an understanding of the structure of all minuscule alphabets. It is an extremely legible hand and, in fact, most of our familiar typefaces like Times Roman, have their roots in this alphabet.
Join Peggy Marce who will introduce you to what may be your first experience with a broad edge tool, discussing the importance of pen angles and pen widths, etc. She will then show you how to create the lower case Foundational alphabet. We will also explore upper case letterforms which are based on Roman capitals.
Come and enjoy learning a new calligraphic hand on Saturday March 25th from 10 am to 2 pm. We will take a short break (and give your hands a rest!) around noontime, so please bring a lunch or snack if you like, and your water bottle.
Students should bring:
• pencil, ruler, eraser
• a broad edge calligraphic tool which can include any of the following:
— a 2.4 mm or 3 mm Pilot Parallel pen with cartridges; If you have any larger sizes bring them along. Sometimes it's fun to work larger at first!
— a 2.0mm or larger calligraphy marker, such as a Staedtler Calligraph Duo or Zig Calligraphy II marker. (Make sure the marker has a sharp edge and corners and not worn)
— if you want to try pen and ink, a 2mm broad edge nib with a reservoir (such as a #2 Mitchell, Brause 2 mm or Speedball C-2), pen holder. ink such as Higgins Eternal, a dropper or brush for loading ink, water container for washing your nib, paper towels.
• a good sketch pad or marker paper that doesn't bleed. Practice paper and liners will be provided. You may want to bring small pieces of watercolour or other better papers on which to try lettering .
• a number of your favourite short quotes
Use the Northeast Entrance. Please bring indoor shoes to help keep the floor clean. We will be there at 9:30 if you are able to help us set up tables and chairs.