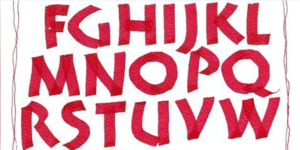 In Person Event, Saturday, February 25 from 10 am – 2 pm
About this event:
This class will explore the Neuland typeface / hand and several of its common variants. Since no broad edged pen class is complete without some discussion of the importance of pen widths and pen angles, we'll also review and analyze the letters with that in mind. We will then move on to executing some playful variations inspired by the Neuland hand using Pilot Parallel pens and a variety of embellishing tools and techniques.
Join us for a few hours of Pilot Parallel Pen playtime on Saturday, February 25 from 10 am to 2 pm; we'll take a short break around noontime, so please bring a lunch / snack if you like.
To register for this event: Eventbrite
Date and time: Saturday, February 25, 2023, 10:00 AM – 2:00 PM MDT
Location: St. Paul's Anglican Church 10127 145 Street Northwest Edmonton, AB T5N 2X6
Supplies to Bring:
• Pilot Parallel pens (preferably 6 mm but 4.5 mm, 3.8 mm and 3 mm will be OK if you do not have 6 mm; I will also bring extras which you can use) and some extra cartridges
• A good sketch pad that doesn't bleed (I'll also bring some loose paper that you can use)
• Pencil, eraser, ruler
• Your favourite white or metallic gel pens, coloured pencils and other favourite "stuff"
Anything that you would like to work on.
Bring your lunch and a water bottle so you can eat during the break.