Next meeting: Oct. 2nd/2019
(Doors open at 5:30 to set up tables and chairs. Meeting begins at 6:00)
Letters & Lines Theme: "Gather"
Learn to Letter: Aqua Brush, Getty-Dubay Lettering Project: Watercolour Postcards.
September Meeting & Class
Our September meeting was well-attended with over 30 participants, and we welcomed five new members! Everyone enjoyed meeting new people while we worked on our evening's projects. Here's a review of our meeting activities:
LEARN TO LETTER
Our evening began with Lisa Eriksson's instructions for making a folded ruling pen from supplies provided; then, we practiced some strokes and worked on the alphabet with Jackie Doll. She showed us how to fold and cut a sheet of paper to make a little flip booklet.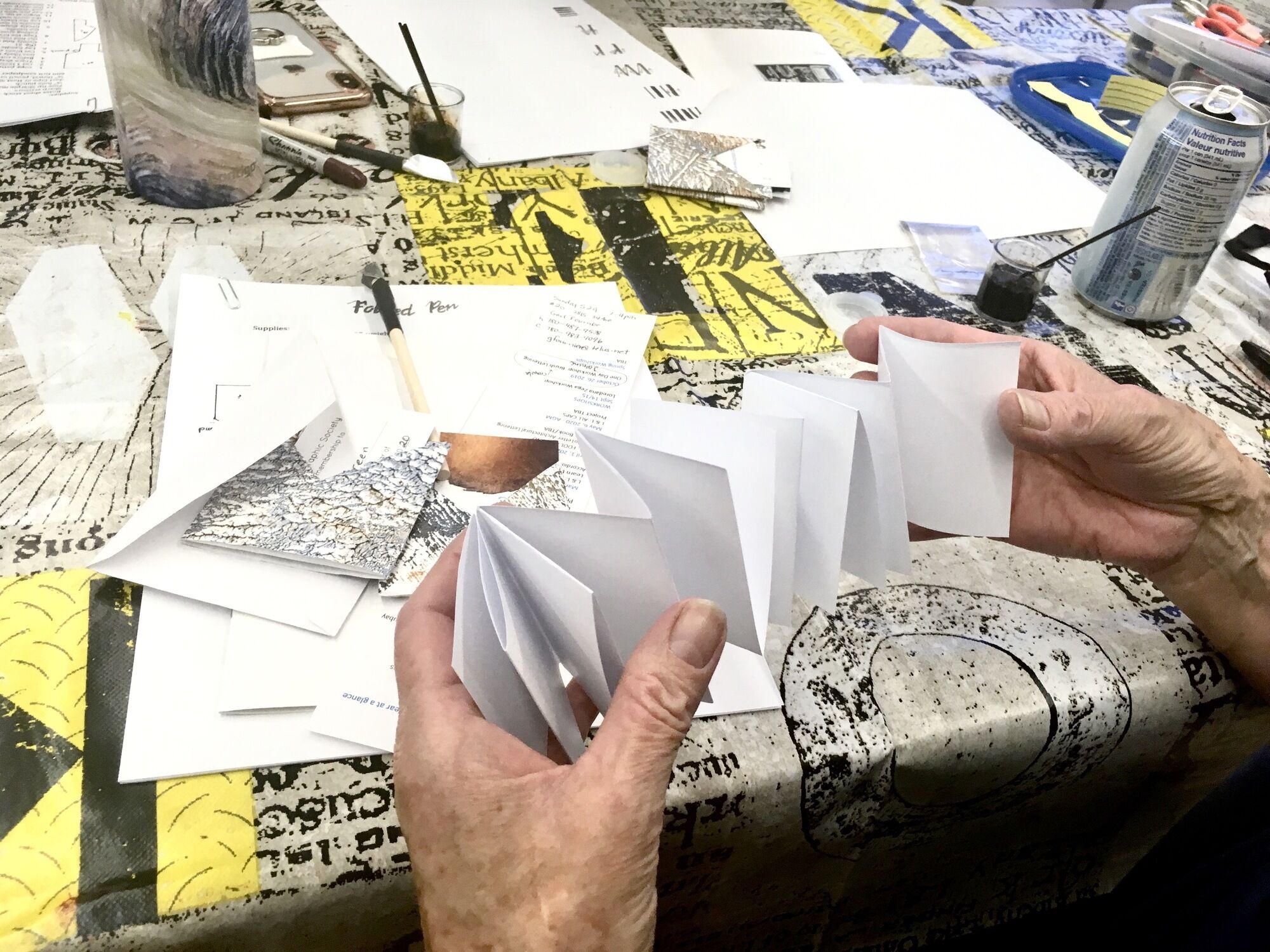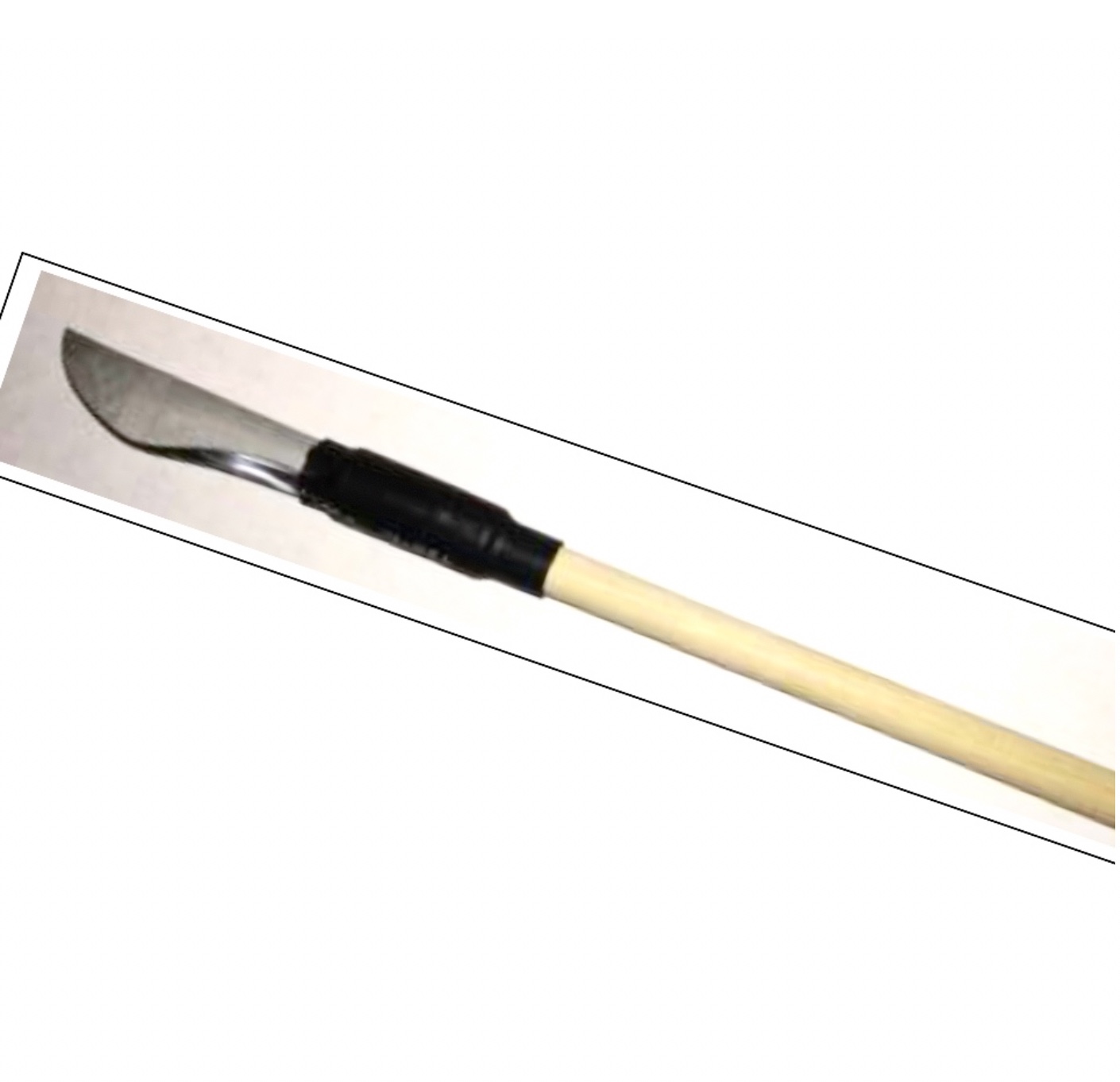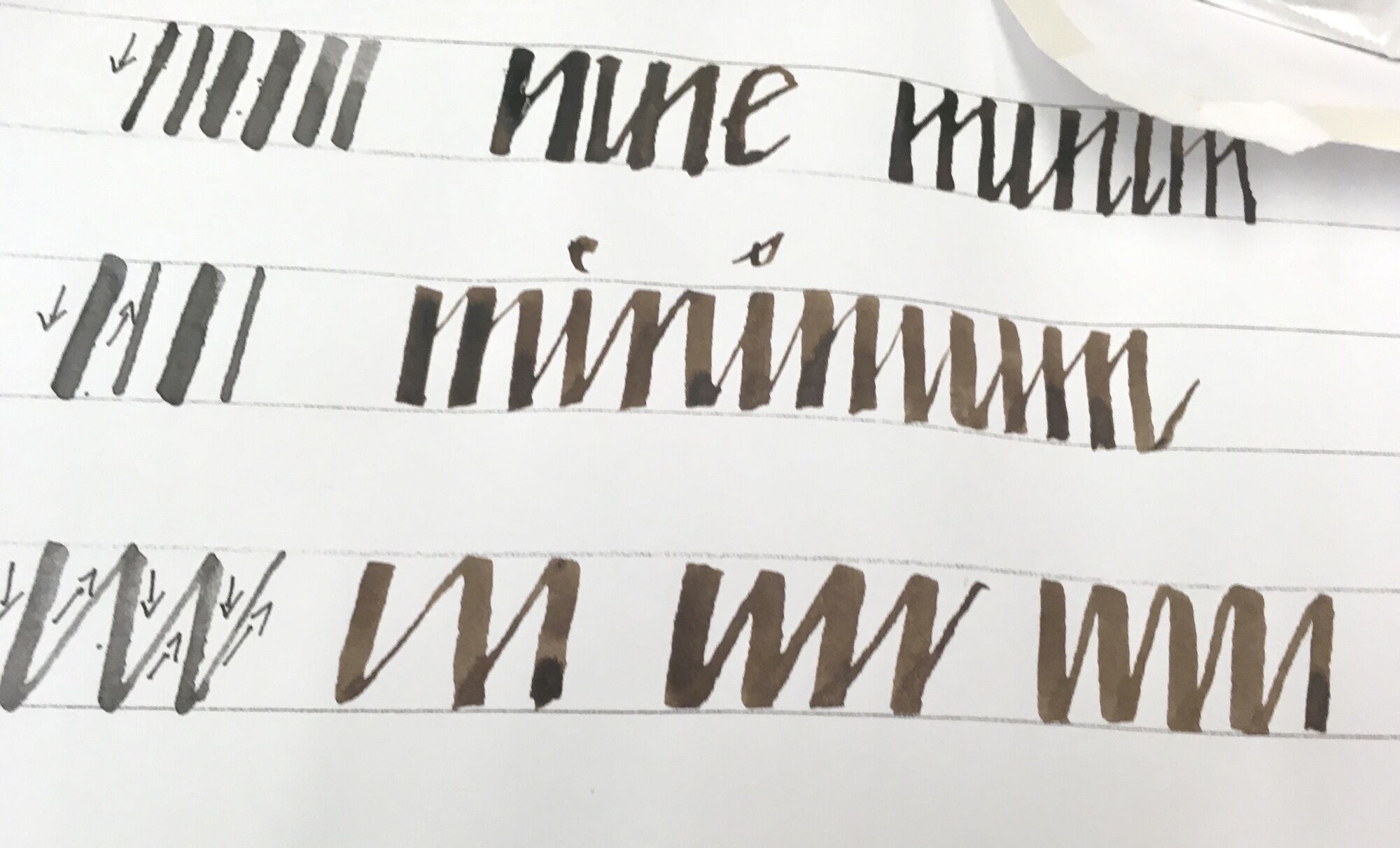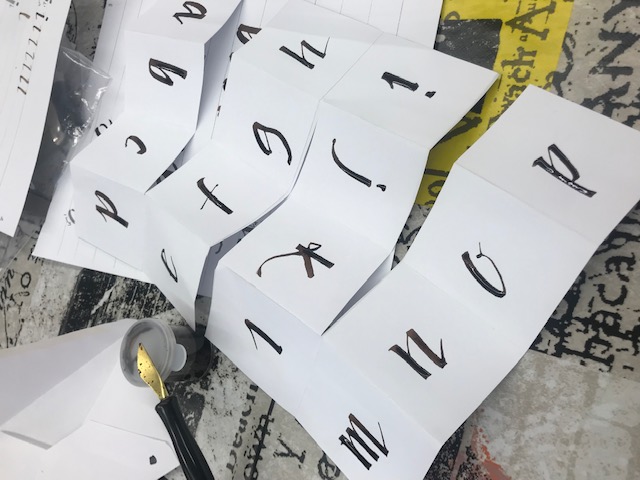 Letters and Lines: September Theme: "Hello"
Here are a few examples done by our members. We encourage everyone to participate, even if you feel you are just a beginner. Kudos to our brand new member, Henry Parker, who brought a piece for the display table! We hope this will inspire you to do something for our October theme!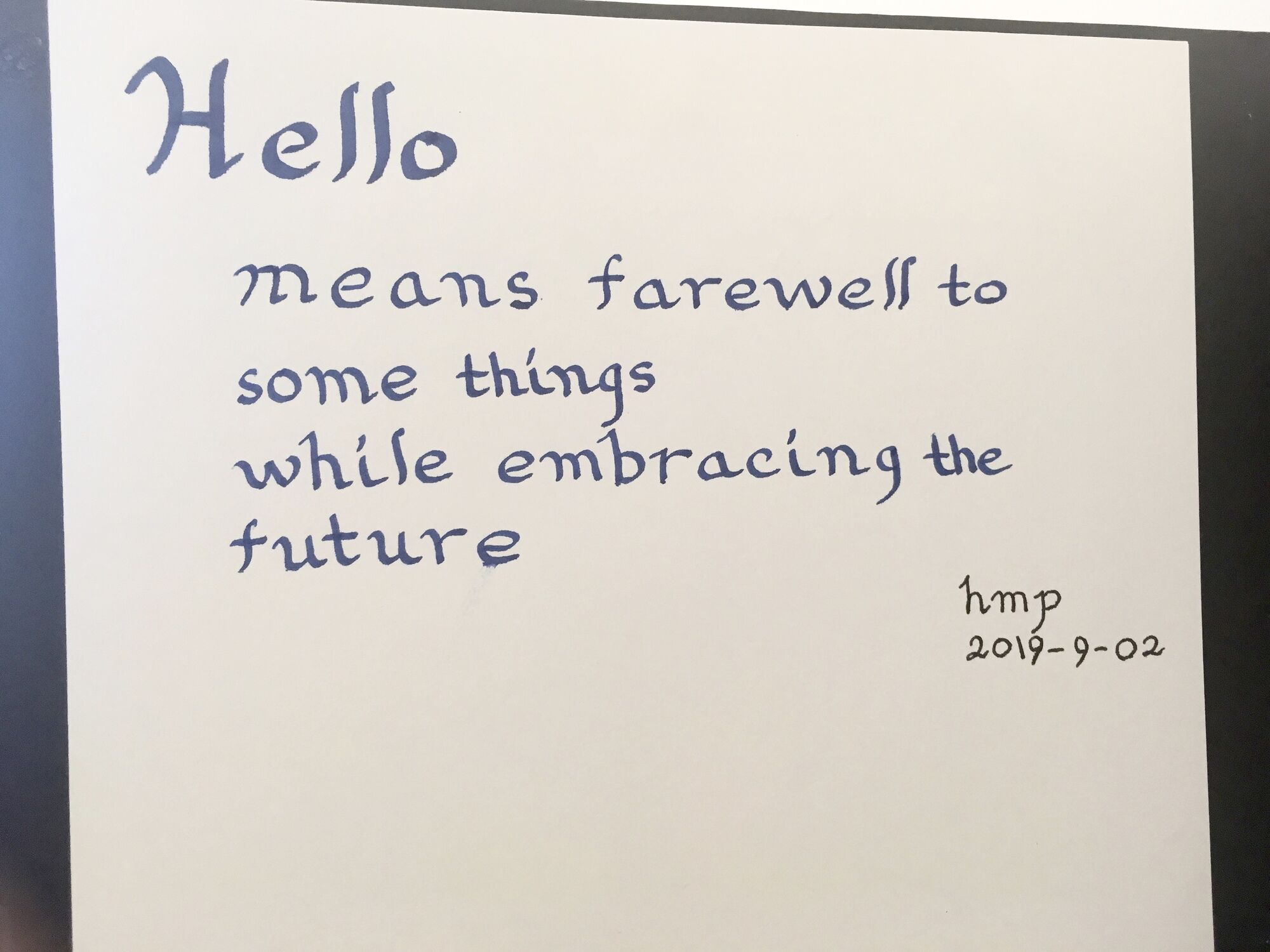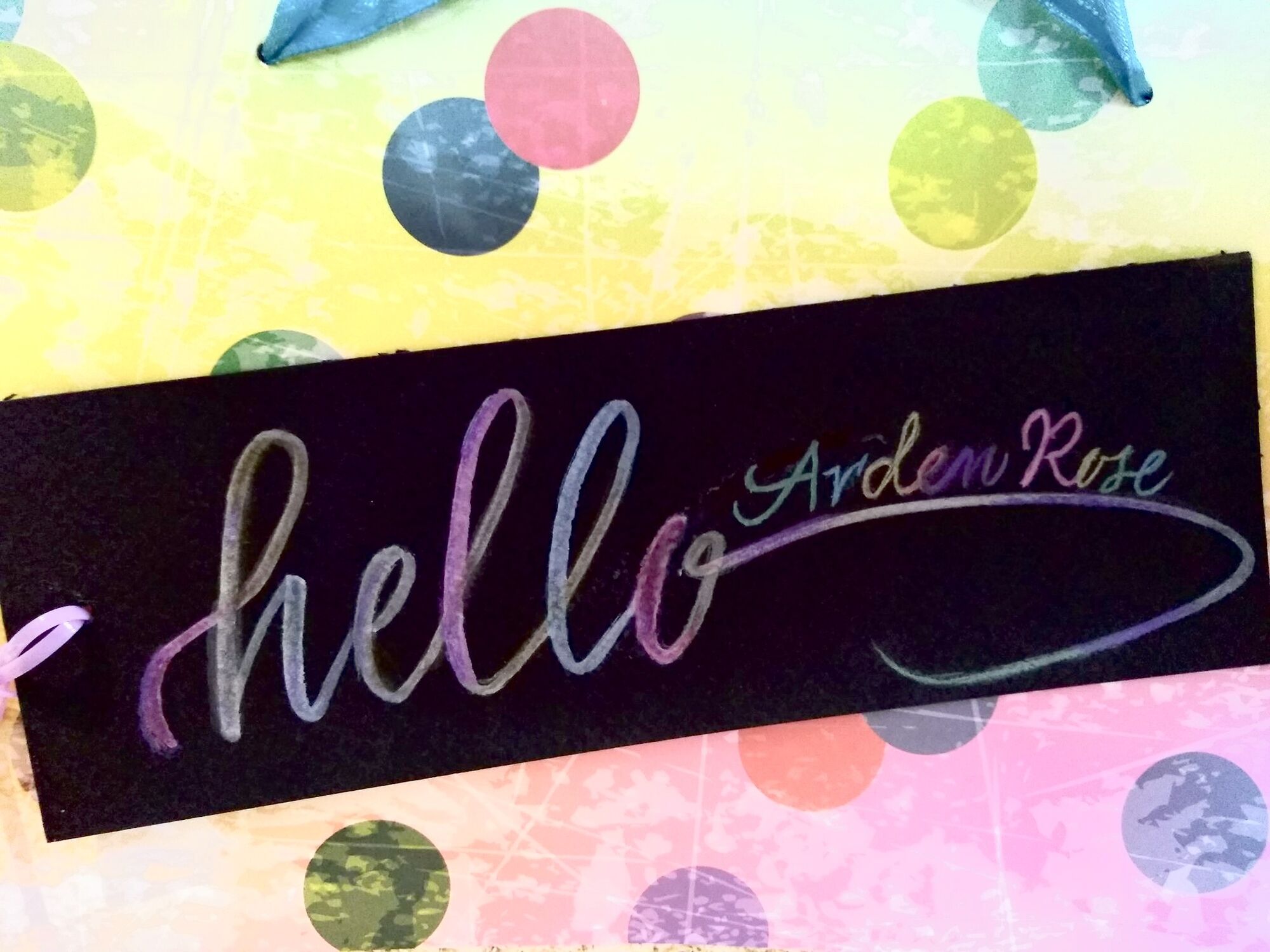 Examples from the Rendez-Vous International Calligraphy Conference: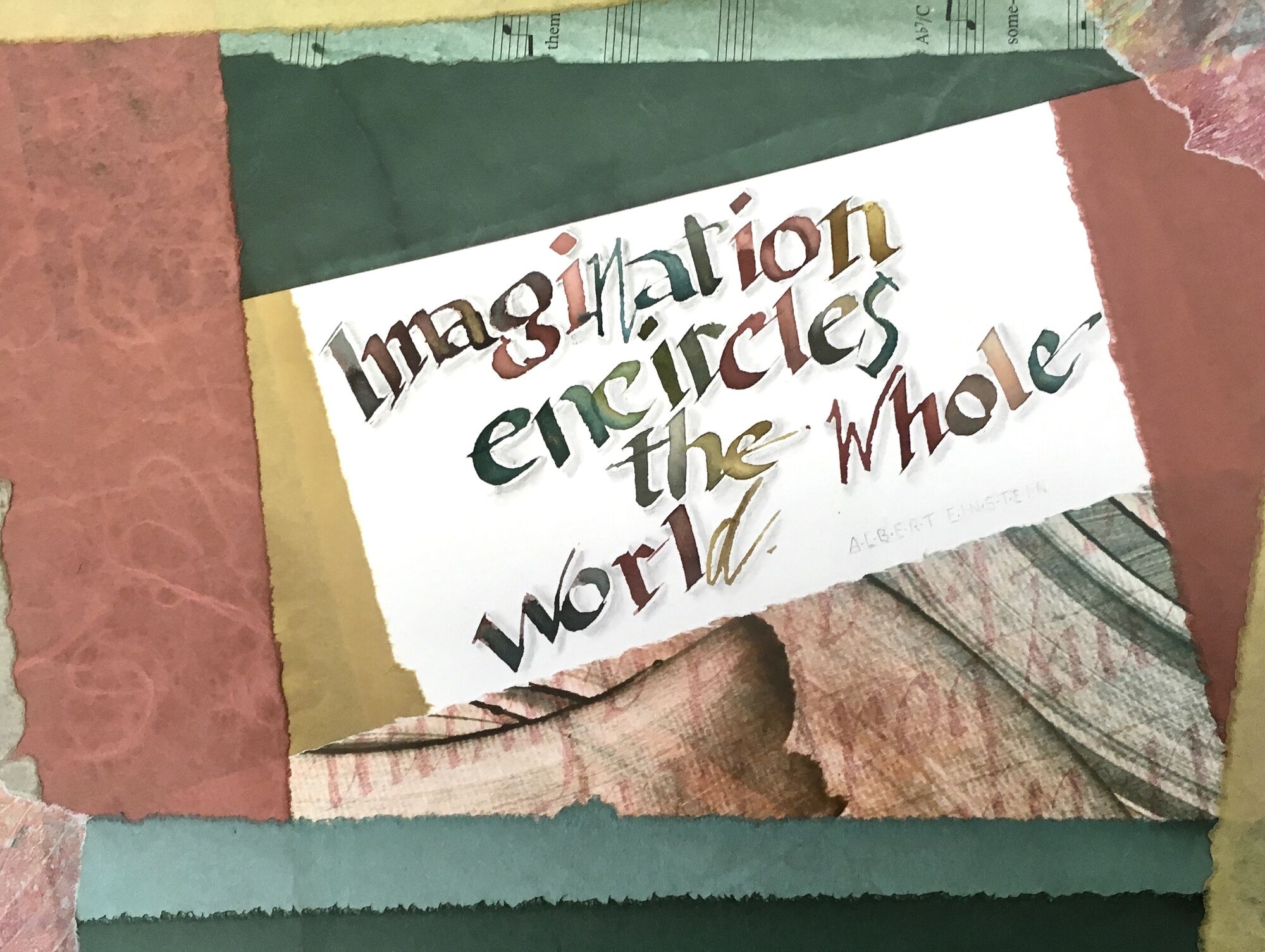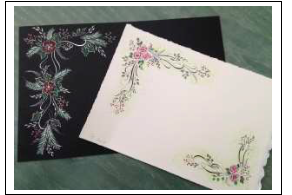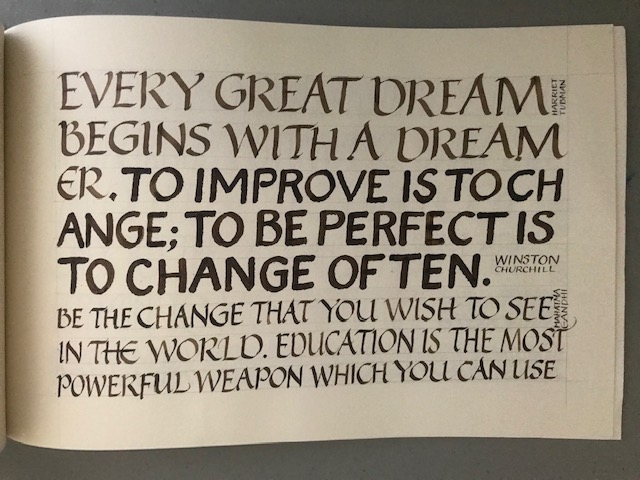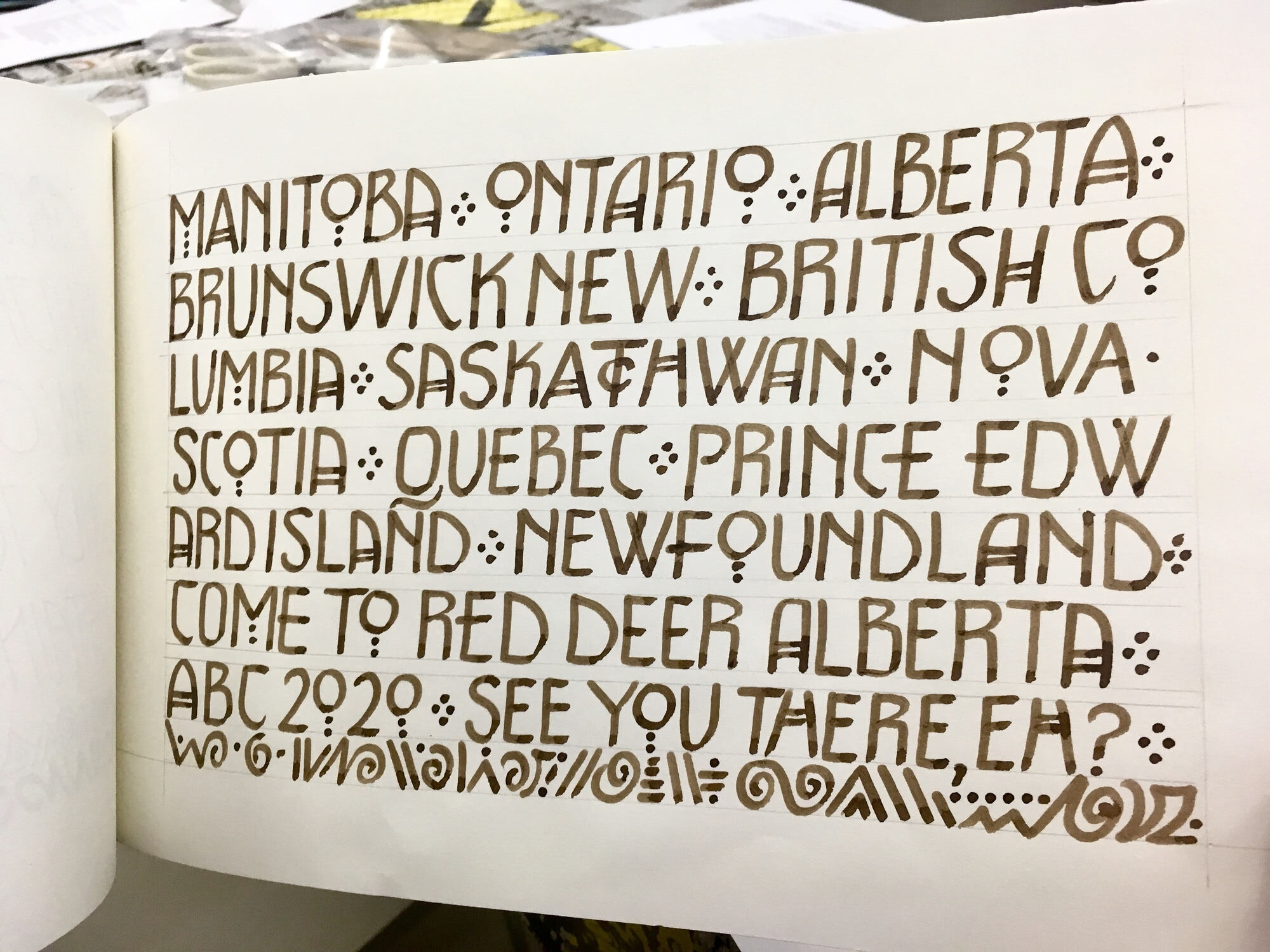 Please go to September Meeting Highlights to see more work by our members.
Envelope Exchange:
Summer can be a busy time for many of us, so we forgive you for not completing your envelopes and mailing them to the people whose names you drew. We only received one addressed envelope for September's meeting, so we hope to see many more in October… we KNOW there were many names in that little basket!
MEMBERSHIP
If you did not renew your membership in September, you may do that through Eventbrite or print your membership form from our website https://edmontoncalligraphicsociety.ca/membership/, complete it, and bring it with you to our meeting Wednesday, October 2nd, along with your payment of $45.
LOREDANA ZEGA – Performance at the Art Gallery of Alberta
A small group of seventeen people came to see Loredana create her calligraphic wall in the basement of the Art Gallery of Alberta. She had a design plan which she executed to pre-recorded music and filled the wall with her letters.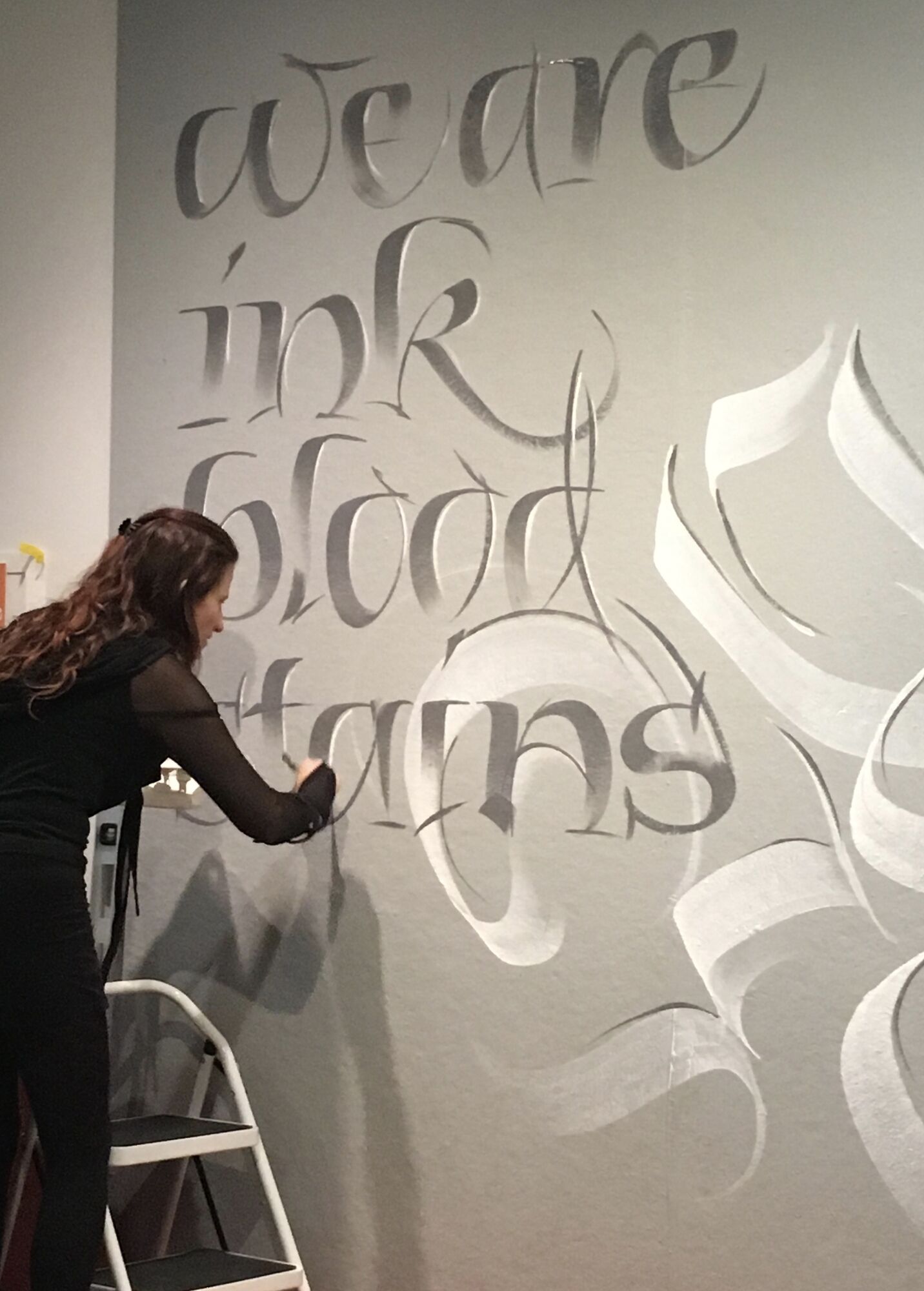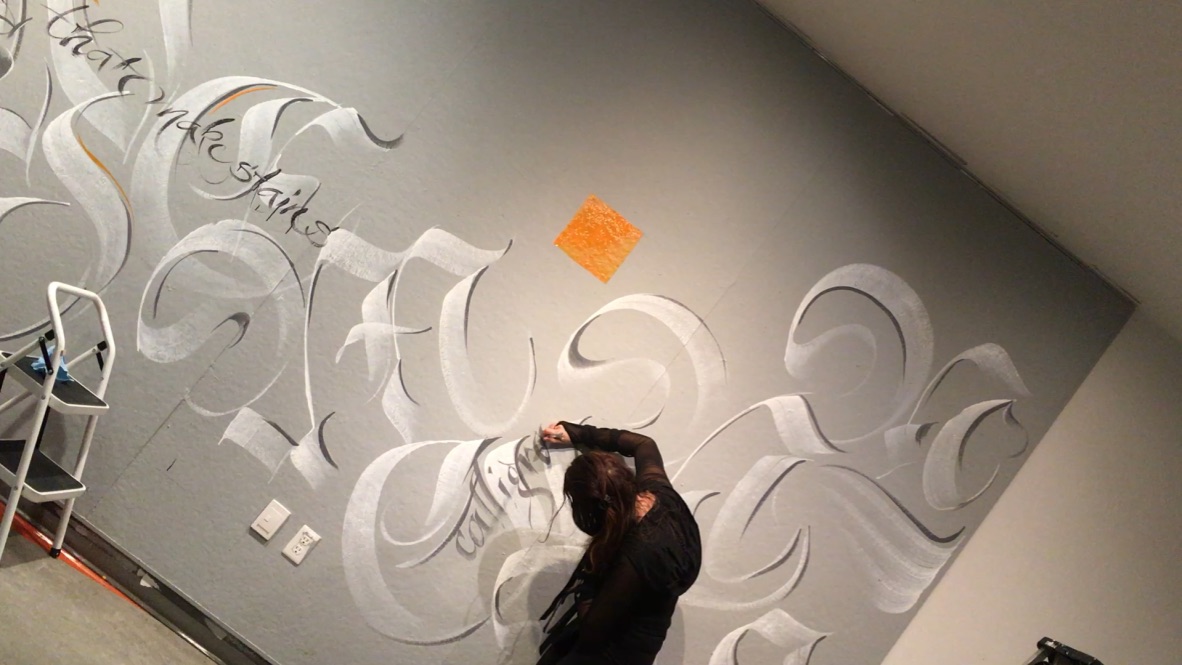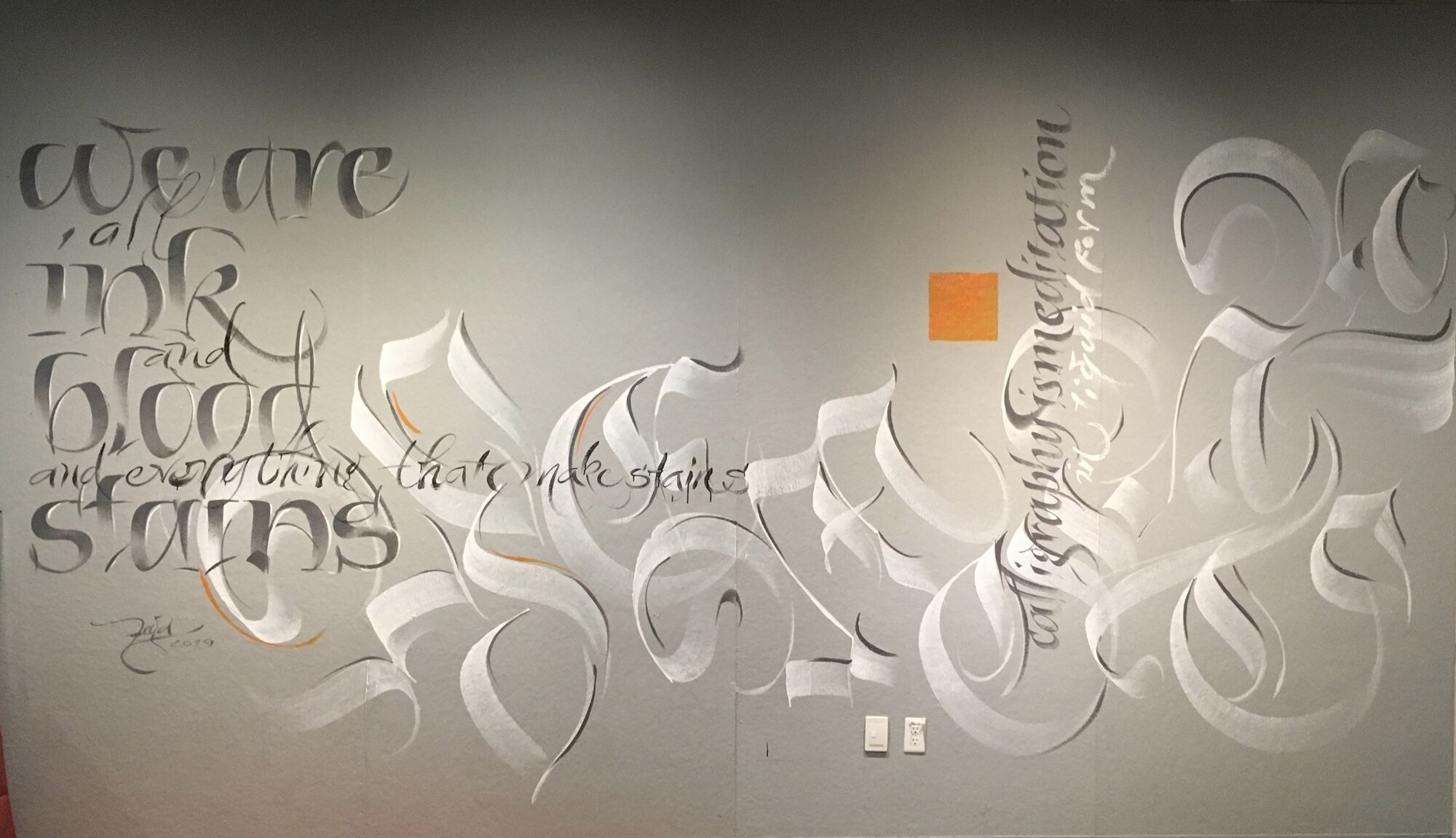 Workshop at the MillWoods Seniors and Multi-Cultural Center
Loredana guided us through a variety of techniques over two days. We used acrylic inks to create waterproof backgrounds suitable for writing text. Later on in the day, after doing some dry embossing, we added gilding with imitation gold leaf. More pictures of the workshop will be posted after the October meeting. Hopefully, those who attended will bring their work for the Letters and Lines segment of our meeting.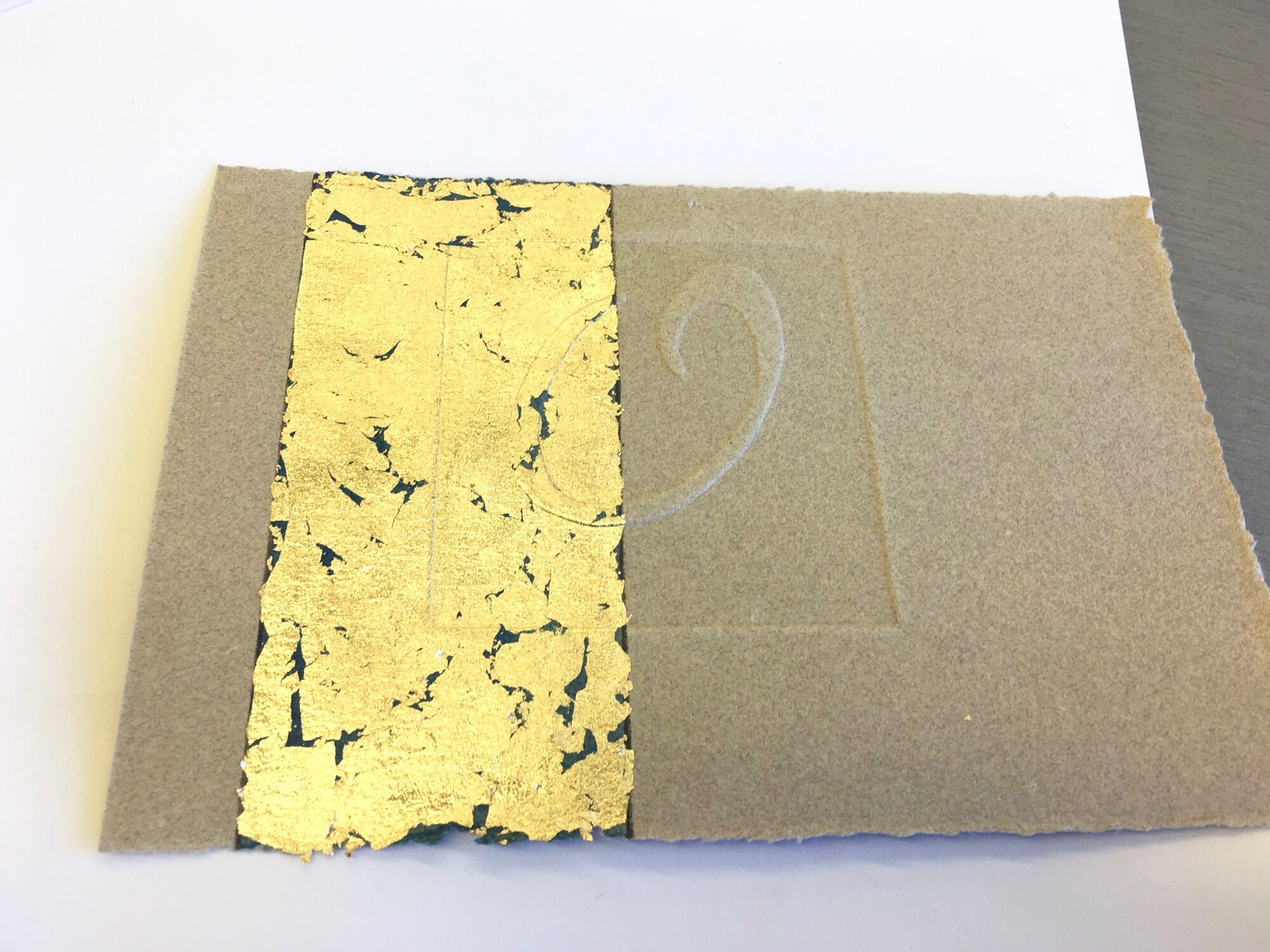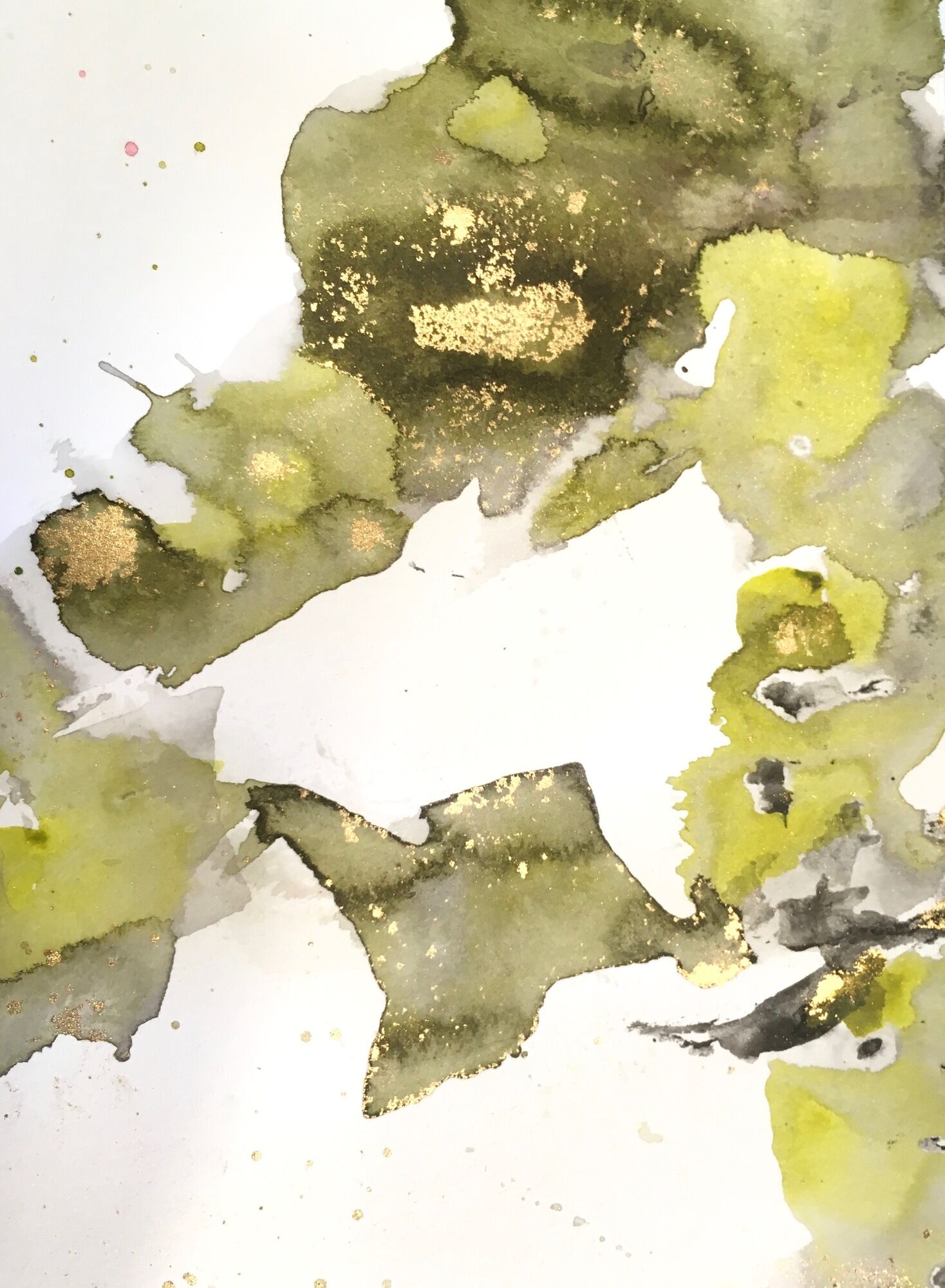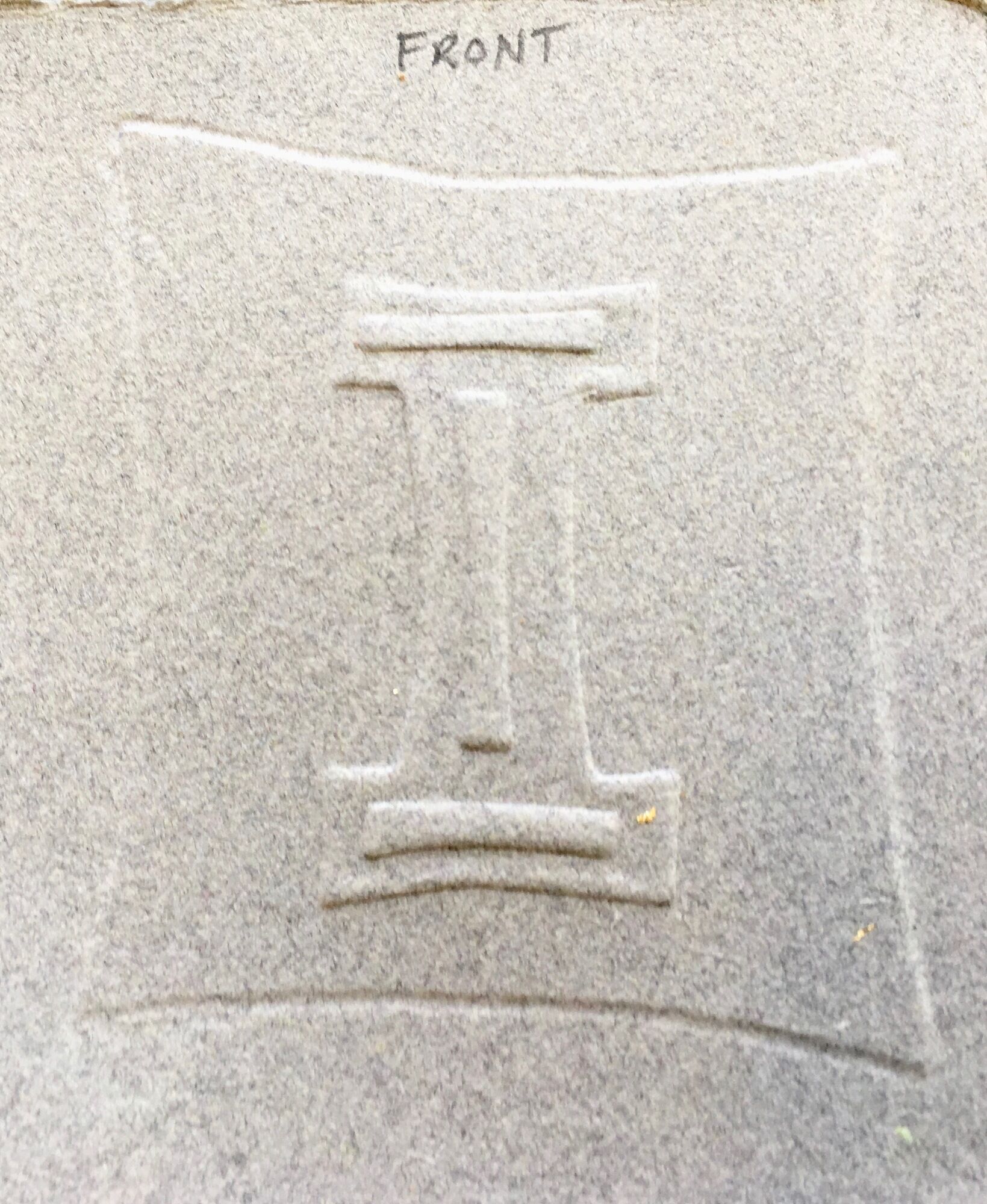 YEAR AT A GLANCE:     
Be sure to pick up your mini fridge magnet calendar if you were unable to attend September's meeting. The tiny calendar contains information for the ECS year. They are at the entrance with Jeanine Alexander who will also create a new name tag for each member! Thank you Jeanine.
Mentor Meetup Saturday, Sept. 28 at the Artelier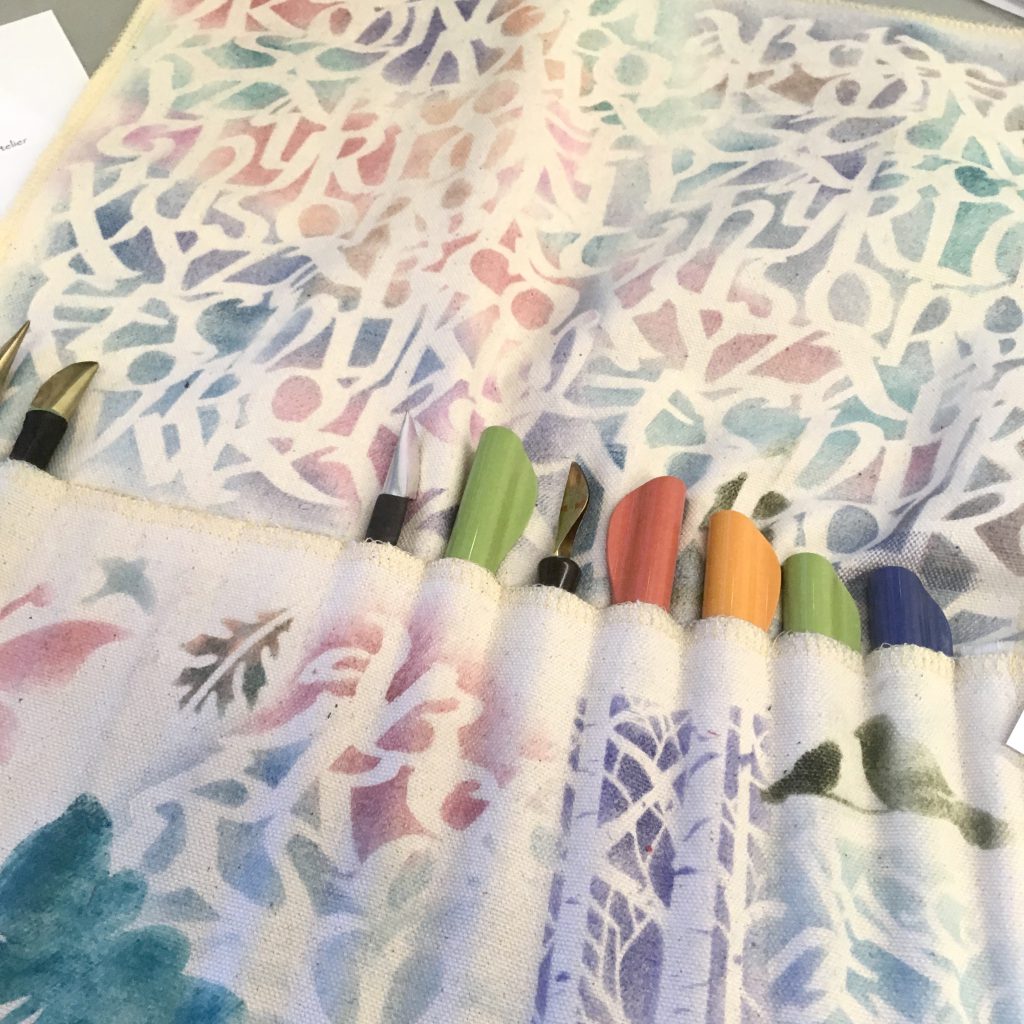 Join Jackie Doll to letter/design a canvas pen holder. She will teach you the process and help you along the way from 10 AM to noon. All the information you need is on our website at https://edmontoncalligraphicsociety.ca/classes/(Thanks, Pauline!) You may stay all day till 4 PM and work on that or any other project. Please let Jackie know if you wish to come, as there are a limited number of pen rolls. Guests may register on Eventbrite for $10.
October Workshop:
October 26, 2019     10 AM to 4 PM at the Artelier        Jeanine Alexander—Brush Lettering
We have 6 spots available for this class. You may register at the Oct. 2 meeting ($80) or on Eventbrite.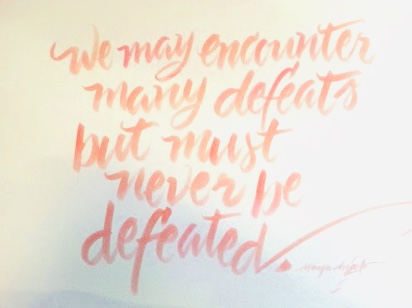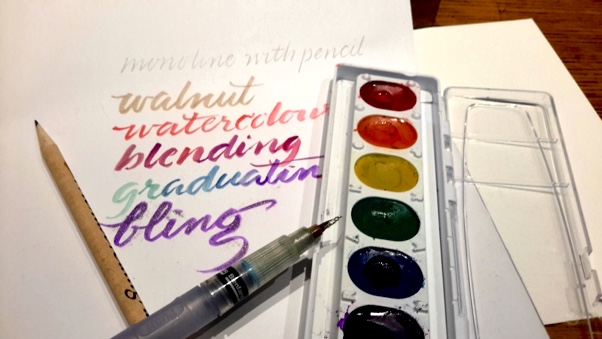 Building on a basic italic alphabet, we will begin to make letters with walnut ink (provided) and a #4 brush to complete a small alphabet project. Switching to a water brush, we will learn a flourished version of our letters and begin to work in colour to complete some small projects.
Supplies:
#4 DaVinci brush (green handle)
Water brush (fine or medium) Pentel, Koi, and many other brands. pencil
T square eraser
water container paper towels
All paper will be provided for your work, practice and projects in class. If you have some paper that you would like to use, feel free to bring it along.
CALLIGRAPHY CONFERENCES
ABC 2020
Mark your calendars, ECS members! Every 10 years, the Red Deer Lettering Arts Guild has hosted a wonderful conference. Next year will be their anniversary, and you have a wonderful opportunity to be part of it! It's August 9-14, 2020, and we encourage as many of you as possible to participate, as it is rare to have a conference so close to home. You can watch for more information to be posted soon on their website https://www.lagrd.ca/abc-2020. Register early for the best choices and accommodation (you may stay in the dorms or off campus). You can be sure that many long-time ECS members plan to attend and can tell you about their delightful experiences in previous years. Save the dates!
Write Right Now!
Loredana Zega is hosting a World Calligraphy Conference in Slovenia June 26 to July 1, 2020. https://www.skriptorij.org/. Two of our ECS members have paid their deposit! Wouldn't it be fabulous to attend and do a little touring beforehand? The more, the merrier!
Future Conferences
EXCUSE ME! WE HAVE AN ANNOUNCEMENT!
The conference directors are so excited to know, when we speak, so many of you listen!!!
On the last night at Rendez-vous 2019, Annie Cicale took the podium and shared our directors' plea to our fellow calligraphers. "Please consider stepping up and hosting a conference." There were no future conferences planned after 2019. Annie was obviously inspiring!
HEY! LOOK AT US NOW!
2021 – Dallas, TX with Angie Vangalis (her third rodeo!) 2022 – Northern CA with Rick Paulus & Debra Ferreboeuf 2023 – Atlanta, GA with Ann Bailey
2024 – Chicago, IL with Lisa Kivland & Kathy Mandell 2025 – Alabama/Tennessee area with Dana Jacobsen 2026 – Puerto Rico with Nereidin Feliciano
Please note, some of these are still in the exploration phase.
If you would like to host a conference, please contact any of the ICC directors and we can advise you.
PLEASE SHARE!
Your International Calligraphy Conference Directors
You see, there will likely be more conferences from which you can choose!
OUTREACH 
Saturday, September 28           Sherwood Park Agora         10 AM to 4PM
Jeanine and Gail are going to organize this event, but we really need several other people to step up and help us so we can share the shifts. Each can work different time slots so you won't be alone. We're planning an easy Decorated Capital on a paper that can be glued on a card or made into a simple book. No lettering experience is necessary! Please contact either of us and lend a hand. All you need is your smile, friendly attitude, and ability to share your interest in letters!
MISSING ITEM
Cynthia is missing her poster from the St. Armand Papeterie in Montreal that shows the paper mill canal. It's a black drawing on creamy yellow paper. It was a souvenir from her time at Rendez-Vous and she's anxious to find it. If you know where it is, please contact her.
TRANSPORTATION REQUEST
One of our new members does not drive and relies on public transit to get to our meetings and home again. I wondered if there is someone who goes home near the Century Place LRT station and could drop her off after our monthly meetings. It would help her get home earlier and not have so many transfers, and would make a huge difference in the dark, cold winter months. Please contact me if you are able to offer her a ride.
WRITE ON WENDY BURSARY
Next month will be the fourth anniversary of the death of one of our long-time members, Wendy Spiers, whose family donated $1500 to the Edmonton Calligraphic Society in her memory. We created a bursary for new members to honour her love of letters and we award $40 for a two-day workshop and $20 for a one-day workshop to be used in the first year of their membership. Several ECS members have made donations to the ECS over the last few years, which helps to sustain the fund, but it is beginning to run low. We do want to continue offering these bursaries, so, if you feel that you would like to make a donation to the ECS Write On Wendy fund, please see Lilian and Laura, our treasurers.
Gail Fournier, ECS President