Information from the SEPTEMBER meeting:
Welcome to our new members. We are at 35 + members.
VOLUNTEER OPPORTUNITIES:
St. Albert Amplify Festival- October 13: Workshop for ages 12+
3:30-4:30
We will be teaching decorated letters and
clothesline letters.
Mail Art Coordinators
For the guild: In February we will begin an envelope and or insert exchange to be mailed. Those taking part will be given 3 members to mail an envelope (with or without an insert). We need someone to coordinate this.
Volunteer Appreciation Event
To be in February. We need facilitators to plan and coordinate this.
Workshops:
September 29-30/2018
Kerri Forster Folded pen
$150.  Mill Woods Senior and Multicultural Centre.
10:00-4:30. You can register on Eventbrite.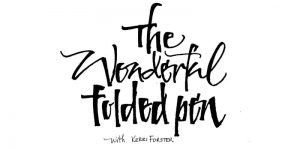 February 23, 2019
Barbara Keir: Textura Quadrata hand (at Artelier).
April 27, 2019
Sally Towers-Sybblis: "Feel The Bliss Alphabet".
June 15-16, 2019
Heather Held: The Enchanted Letter with pointed pen.
There is a bursary of $40 for any member taking a workshop for the first time.
Meet-ups at the Artelier (10007-80 Ave)
On these last Saturdays of the month. These are free for members and $10.00 for guests.
There will be Demos and Q & A from 10:00-12:00.
The studio will be open until 4:00 for your lettering pleasure.
Oct. 27: Jeanine Alexander
Nov. 26: LynnAnn Babuk
March 30: Pauline Baynes
Supplies
Regular calligraphy supplies are available plus fabulous pen rolls made from our old banner.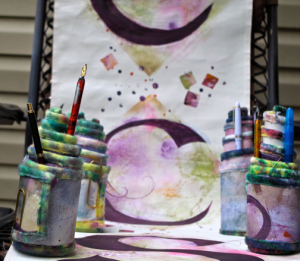 Supplies:
Rhodia Paper Pads with Higgins Eternal Ink, Nibs, Nib Holder, Gum Arabic
Just Write Books with Grid in the back to be placed between sheets.
Water Colour Palette
Pen Trays with nibs.
Cutting Mat, Cutter, Glue stick, bone folder.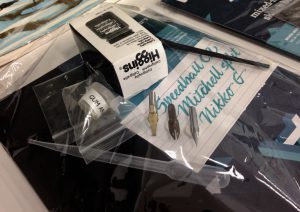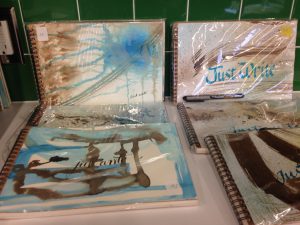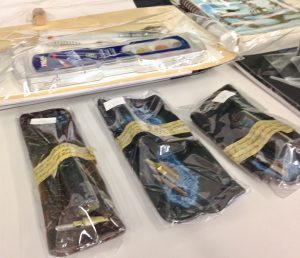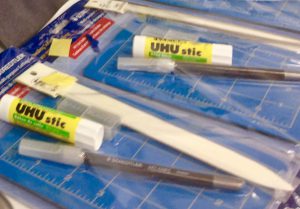 Reminder: All City of Edmonton facilities are scent free. Please refrain from wearing any scented products. Thank you.
Monthly Draw
Has a new name: "3 bags full" and corresponds with the monthly lettering theme/class.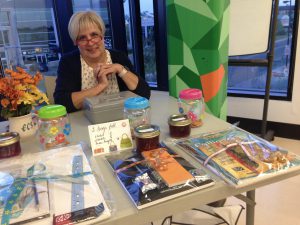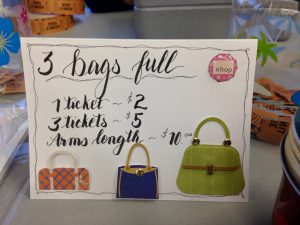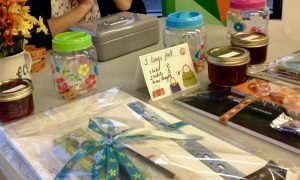 Membership Renewal
If you REGISTER before the October meeting, your name will be in the 2018-19 Roster.
Next meeting:
October 3rd, 2018
Lines & Letters: "Scary Stuff"
Class: Brush Lettering with Kelly Klapstein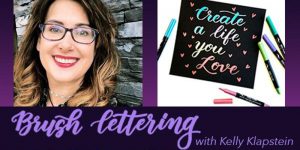 Photos from the Letters and Lines Segment of September's Meeting: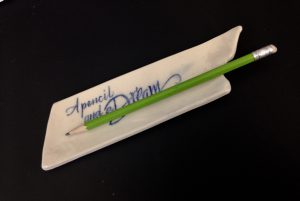 Lettering on Cone 6 Porcelain.
Underglaze pencil, lettering done on bisque ware.
Clear Glaze for final firing.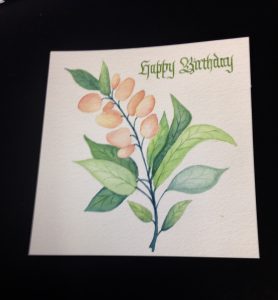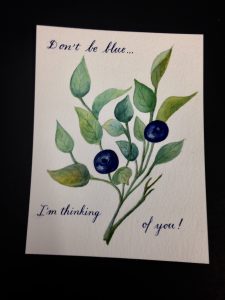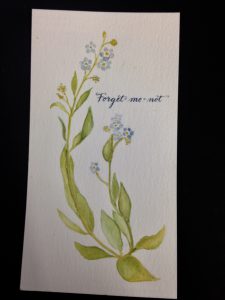 Water Colour Work
Book with lettering, Walnut ink, Gold Schminke, various papers created during & after class with Sharon Zeugin (Red Deer Summer Series).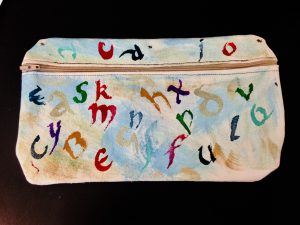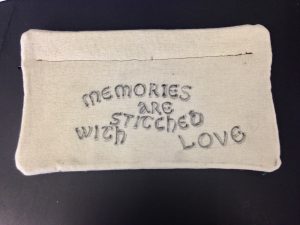 Lettering on Canvas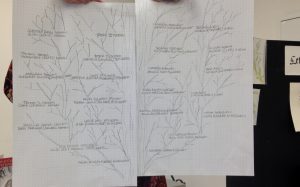 Commissioned piece beginning layout done by LynnAnn Babuk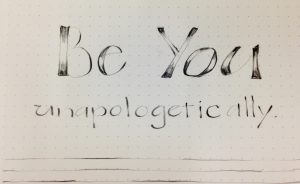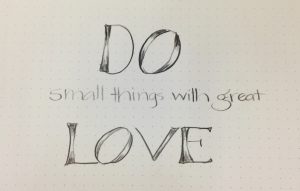 Lettering with Blackwing pencil on Rhodia dotted grid paper.
Class taken with Amity Parks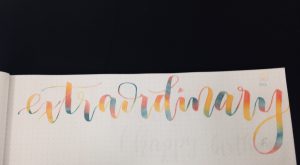 Brush Lettering with Colour Blending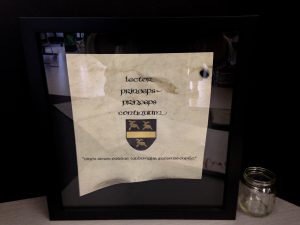 Commissioned piece done on deer velum by LynnAnn Babuk.
And it's always fun to receive an envelope at a meeting with your name on it! PS: Lilian is our treasurer.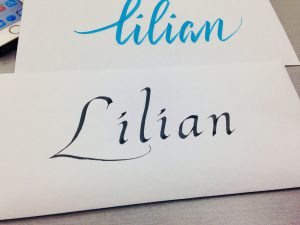 A few of September's Lettering Class Samples.
Special thanks to our teacher Gail Fournier for excellent instruction in Italic.