Thanks
Thank you to LynnAnn Babuk for instructing our "Lettering on Black". Lots of experimentation and getting to know one another and how our ink, paper and letters combine in magical ways! Scroll to bottom of this posting to see pictures.
Calligraphy Classes in Edmonton
Watch for classes offered at Edmonton Public, The Paint Spot and the City Arts Centre. Most of them are taught by ECS members who have an extensive background in calligraphy.
Meetup at the Artelier
Join us for a follow-up at the Artelier on November 24th from 10-4. Gail Fournier will be there to greet you and will demonstrate lettering and designing with bleach on black paper at 10:00.
Following the demo, you can stay on until 4 pm and work on your projects.  Mentors will be available to answer your questions and do some informal tutoring.
In October, we found the lunch spots a bit of a challenge, so with a kitchen on site, it might be best to bring your lunch.
October's Demo: Click  Brush Lettering pictures  for more photos & videos.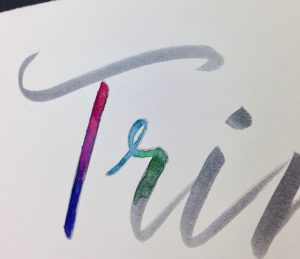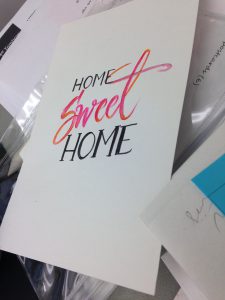 The International Calligraphy Conference
It is in Sherbrooke, Quebec this year. Go to RENDEZ VOUS 2019 and check it out. Several members are registered. Join in the fun.
 We will be providing small gifts for their SWAG bags. Stay tuned for work bees. We need to make 450!
Mail Art Project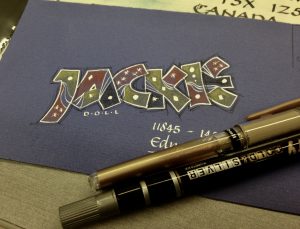 The Mail Art project will begin in February. Come to the meeting to sign up. You will be making 3 envelopes to send to fellow members over 3 months. This is a very manageable project with guaranteed fabulousness! At the October Meeting the Letters and Lines Segment featured envelopes that members have received.
Volunteer Appreciation
Also, in February, we will honour our volunteers. We LOVE our volunteers!
Next Meeting
…
December 5/18
Letters and Lines Theme: LET IT SNOW.
Meeting Activity:
Part 1:   
Under Barbara Keir's direction you will decorate a greeting card and address it to one of our community partners. This year's theme is 'Let it Snow,' so bring along some pens to write the word SNOW, to address an envelope and your stash of snowy stickers, jewels, stamps, paper etc.
Part 2:   
Tag, you're it. ECS has prepared a little project for you to create some seasonal gift tags. Trina will lead this session and you are encouraged to move about and share supplies, materials and creations!
Materials for December 5/18
 Pens, markers, embellishments on a snow theme. Scissors, glue stick, pencil and erasers will make your night more manageable.
Workshops:
One Day workshop with Barbara Keir
February 23rd/2019
10 am to 4 pm
Textura Quadrata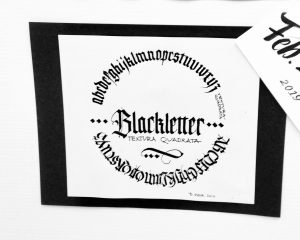 One Day Workshop with Sally Towers-Sybblis
April 27th/2019
10 am to 4 pm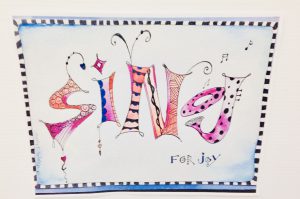 Two Day Workshop with Heather Held
Enchanted Letter
June 15th & 16th/2019 from 10 to 4 each day.
Tonight's 3 Bags Full Draw Items: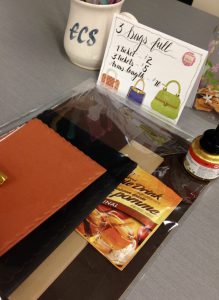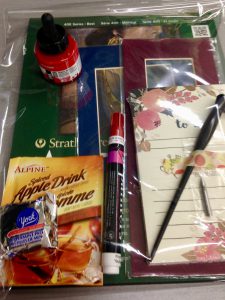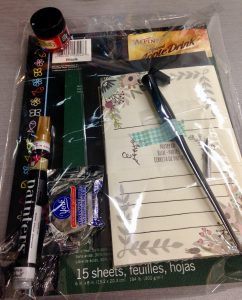 Supplies for Sale during break:
Pen rolls, Just Write Books, Blackwing pencils, Rhoda pads & more.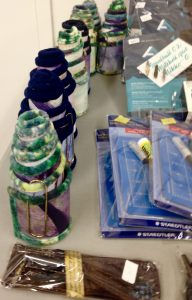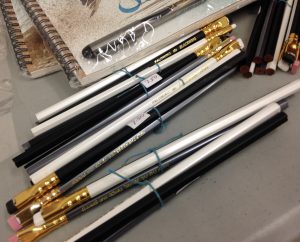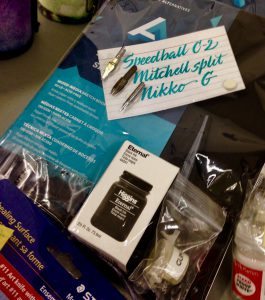 Letters and Lines Sharing Segment
Members sharing decorated envelopes and Lettering on Black work.  Thank you to all who were able to share.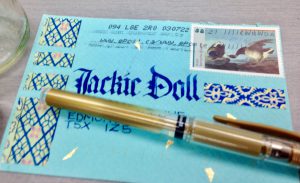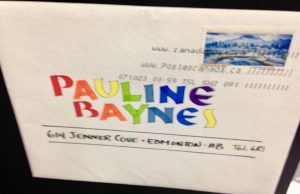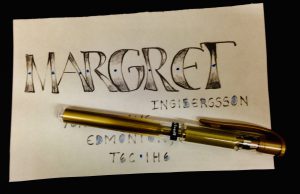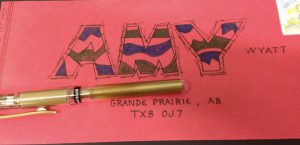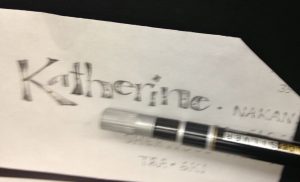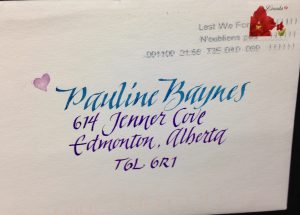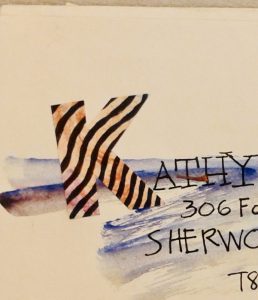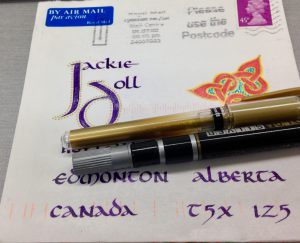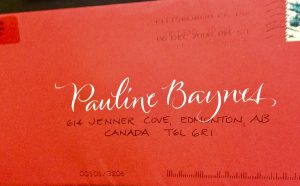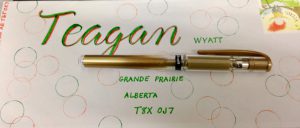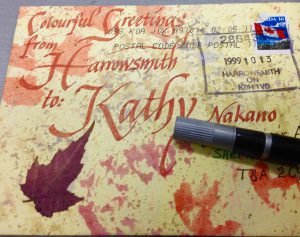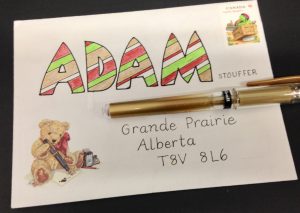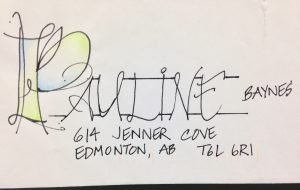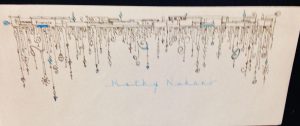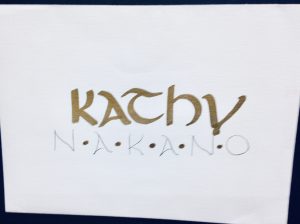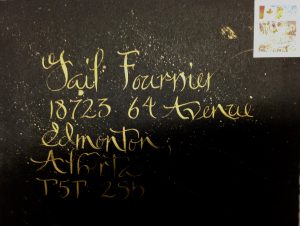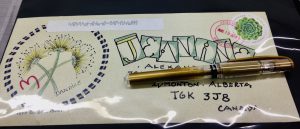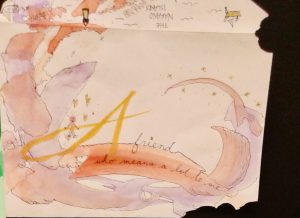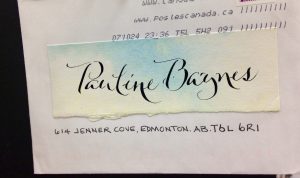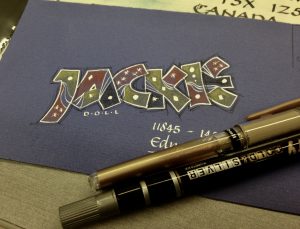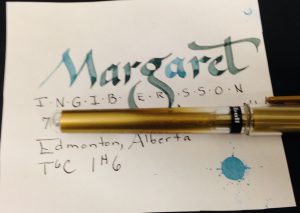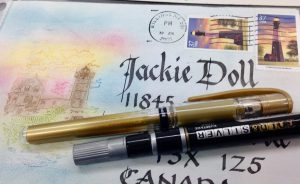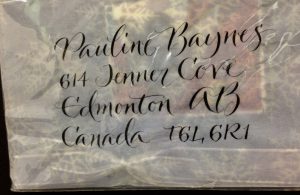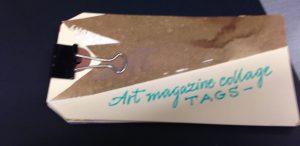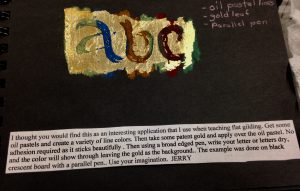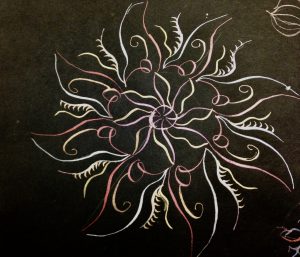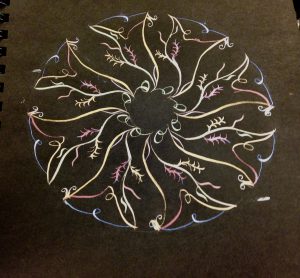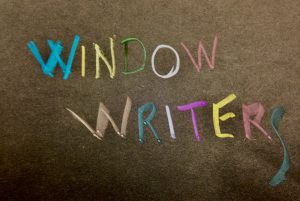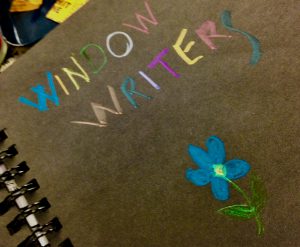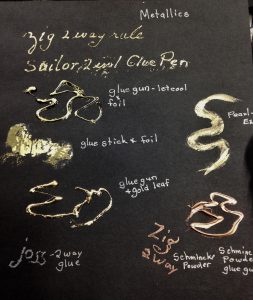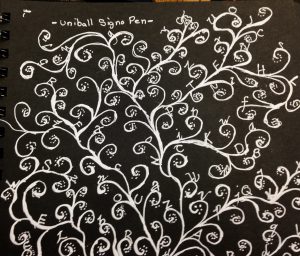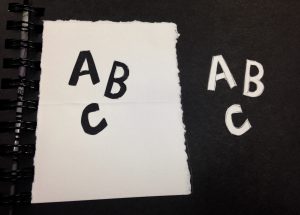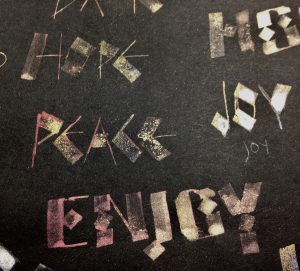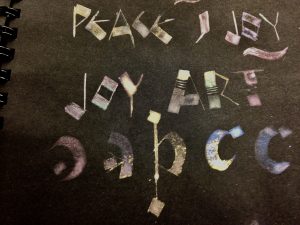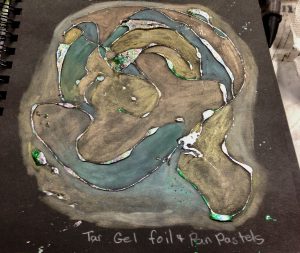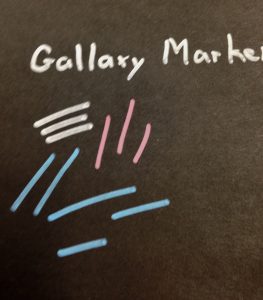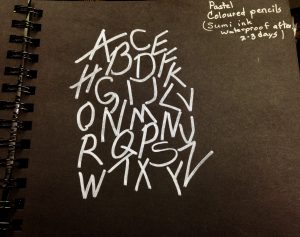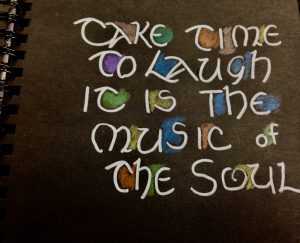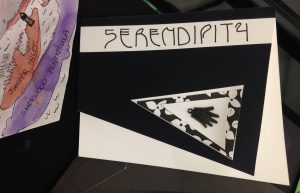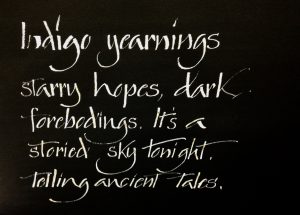 Gouache with Finetec
on Arches Black Paper.
Lettering on Black with LynnAnn Babuk
Thank you for a fun night of Lettering on Black with different mediums.
More "Lettering on Black" will take place at 'Artelier' on November 24th from 10 to 4. ECS is sponsoring 3 "Meetups" this year. These meetups provide an opportunity for sharing of creative calligraphic ideas and mentoring. They are from 10 am to 4 pm on 3 Saturdays of the ECS calendar year.
Doors open at 10 and the studio space is available for ECS members at no cost. Guests are $10.00.
Members can arrive at any time during the day to check out the work that is taking place OR choose to use the studio as a work space for the day and work at their own pace.
There is a demo from 10:00 to 12:00. This month's demo will be done by Gail Fournier and the theme will be Lettering on Black.