Next Meeting: November 4
7:00 PM MST via ZOOM
Instructor: Reggie Ezell
Carolingian Calligraphy for Beginners

November Letters and Lines Theme: November -"A TO Z" (Get intimate with these 26 Friends)
The English Alphabet is based on set of 26 letters common to the various alphabets originating from the classical Latin alphabet. These 26 wonderful letters can be used so many ways. Decide on a theme… letter a different word for each letter. Draw a wavy line across your page and hang all the letters like on a clothesline. Take your favourite letter and make a lively versal version. As we say in Canada… "eh to zed"
Our October class received so many positive comments!
David Gasser guided us through pencil crayon monoline Roman letters by following a special grid and paying close attention to the proportions and shape of these special majuscules. Moving to freehand letters with a Speedball B nib was both fun and challenging as we tried to create smooth, consistent lines. Many people found his information on letter spacing informative and useful. Remember to let David know if you are interested in further study of the Roman letters! info@thinkcredible.com
Membership
We welcome back Barbara Pankratz, from Edmonton, who rejoined the ECS after an absence of a few years. We are happy to receive our fifth male member, Jeff Stobbe (Edmonton), to the ECS! Jane Friesen (Lethbridge) also joined us since our last Ink Drops, so we welcome her.
LETTERS AND LINES—TEXTURE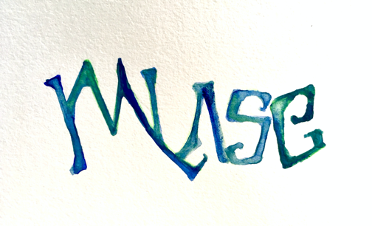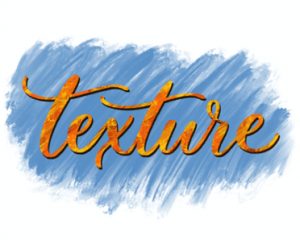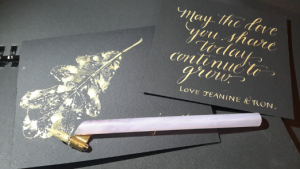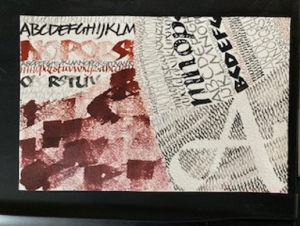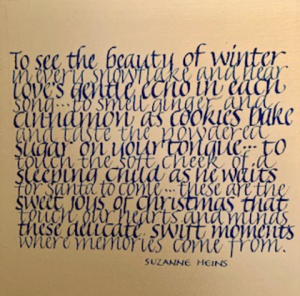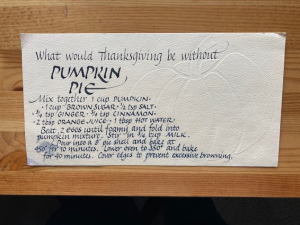 SPECIAL STAMPS
After writing a short item for the last Ink Drops about stamps being available online, I received a most amazing envelope with 14 beautiful vintage floral stamps. What a wonderful surprise and total delight! As I drooled over it I tried to think of a way to re-purpose the envelope. An AHA moment finally arrived and I made a stamp Holder-Folder to store my current stamps. It sits on my desk encouraging and inspiring envelope decoration!
Using the enclosed postcard, I created another folder on the reverse side to hold newly acquired vintage stamps…that I purchased from Etsy. This information was news to me. To my fellow Letter Lover for taking the time to send some most appreciated mail art…THANK YOU.
Jeanine Alexander

MEMBER PROJECTS
These two pieces and the one below, were commissions by Alexis Reiter.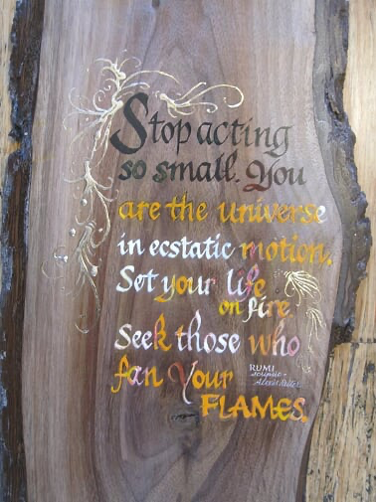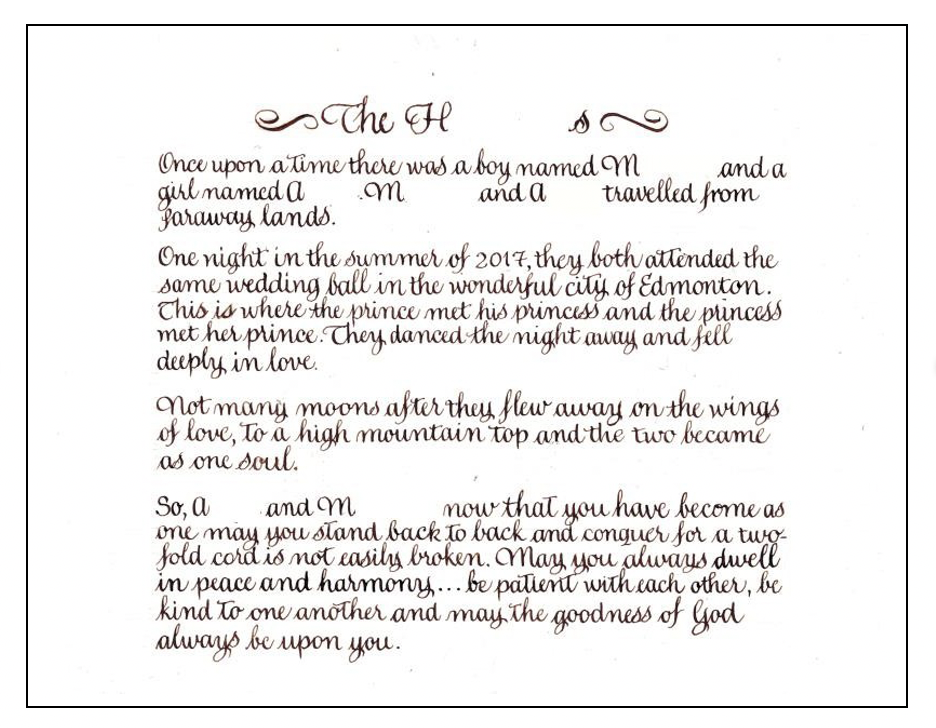 ENVELOPE EXCHANGE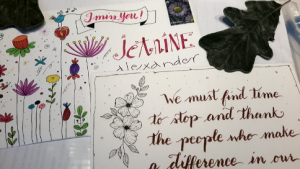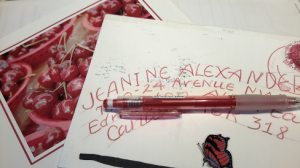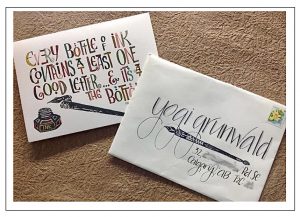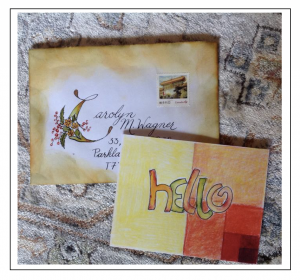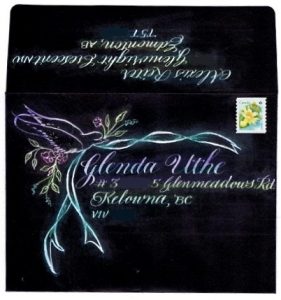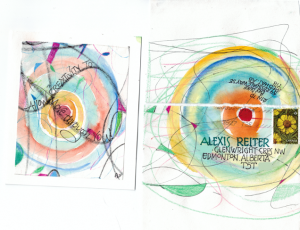 Yogi has been looking at computer fonts and adapting them to use with her calligraphic tools.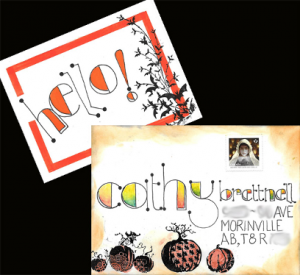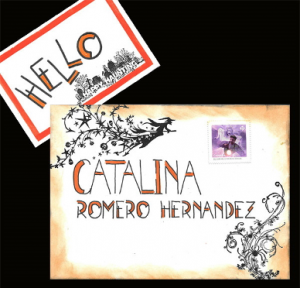 Decolot by Olga Ryzychenko- Zig Writer/Pentel Color Brush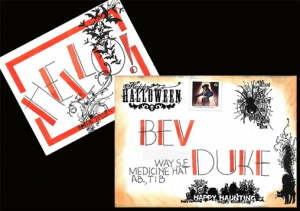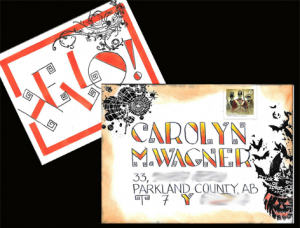 PHOTO INFO
When you submit photos for publication in the Ink Drops, please use good, bright light and get as close to the material as possible so it fills the view area with little extra area showing outside the item. This will allow enlargement with better quality and save me from having to crop the photos. Thanks!
Because we don't meet in January, I have been thinking that it would be fun to have a special Ink Drops issue that has displays of unusual, antique and beautiful pens, pen holders and ink wells. Some of us have a collection that others might enjoy seeing. If you have some items of interest, please start forwarding them to me, along with any information about their history/country of origin, or background story. gfournier@telus.net
LEARNING OPPORTUNITIES
John Neal Bookseller has many listings showing exciting classes by numerous calligraphers! https://www.johnnealbooks.com/prod_detail_list/online-classes
Acorn Arts has redesigned their website with updated classes. https://www.acornartsclassroom.org/store
The Society for Calligraphy has been posting several online classes that are open to everyone. Find them here on their website. https://societyforcalligraphy.org/
Keep playing with your pens!
Gail Fournier
ECS President