Even though our year is winding down, a new person managed to 'find' us and has become our latest ECS member. We extend a warm welcome to Donna Bereska.
Remember that you will receive the instructions and video for Yogi Grunwald's membership renewal incentive if you renew your ECS membership before the end of June!
Eventbrite ECS Canadian Members' Registration
Eventbrite ECS US/International Members' Registration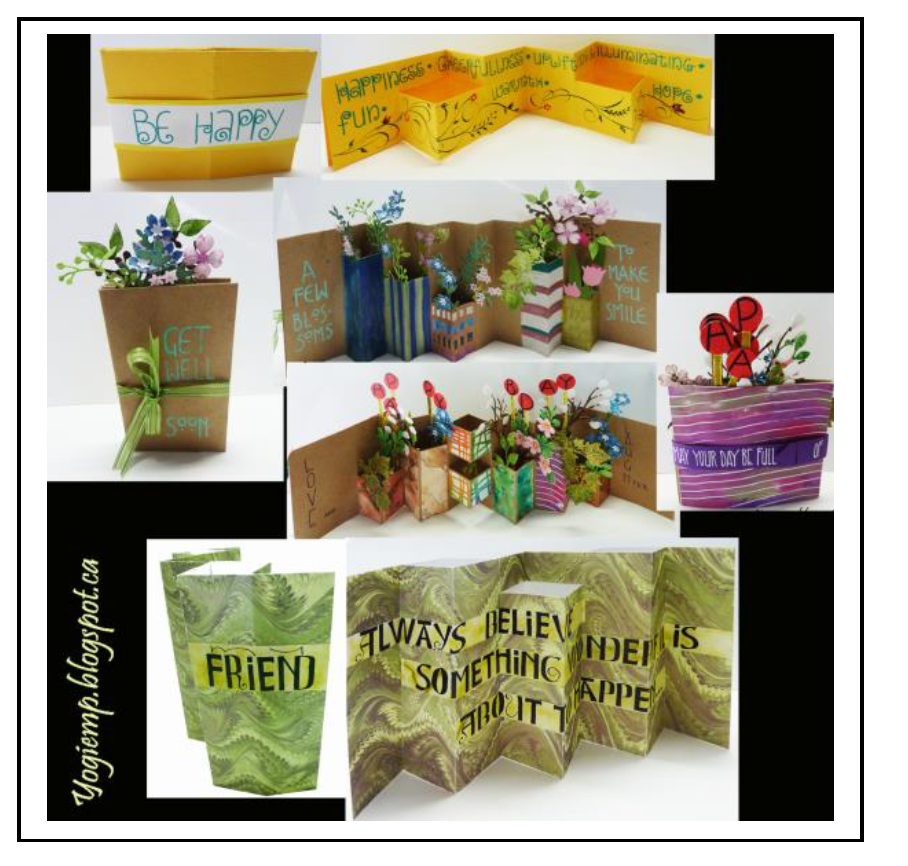 Envelope Exchange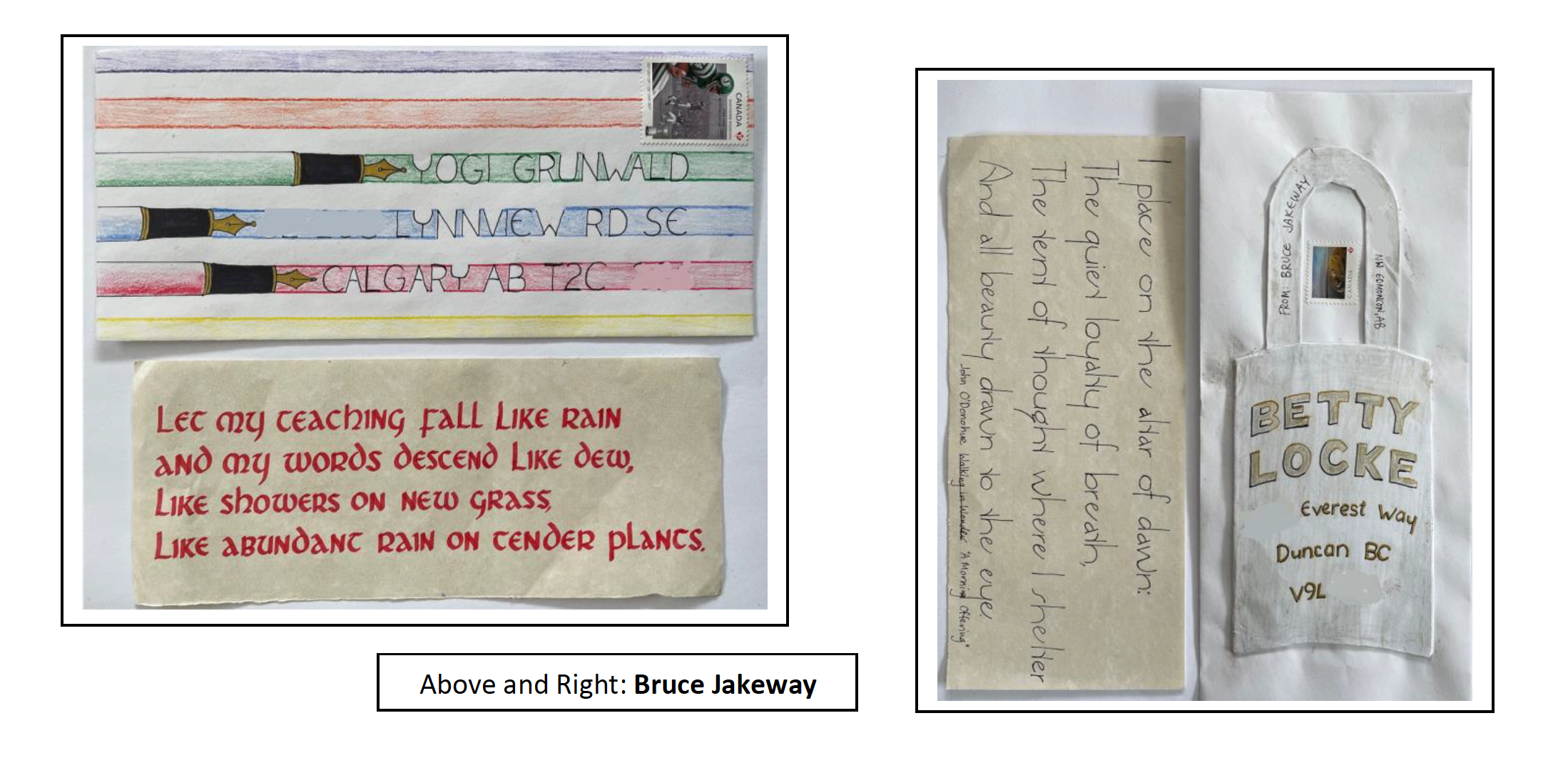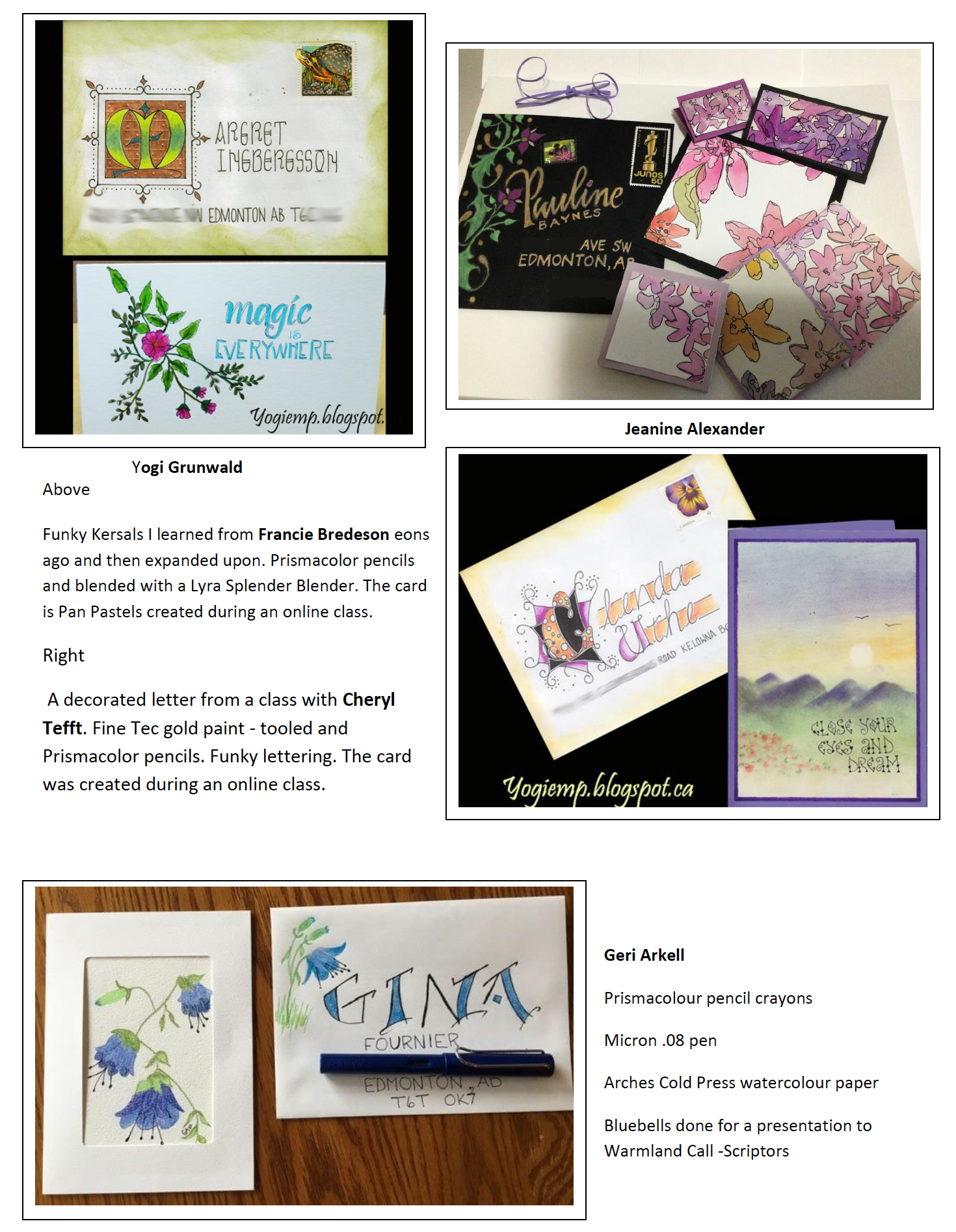 Elegant Earth Envelope Contest First Place Winner – Brigitte Stermann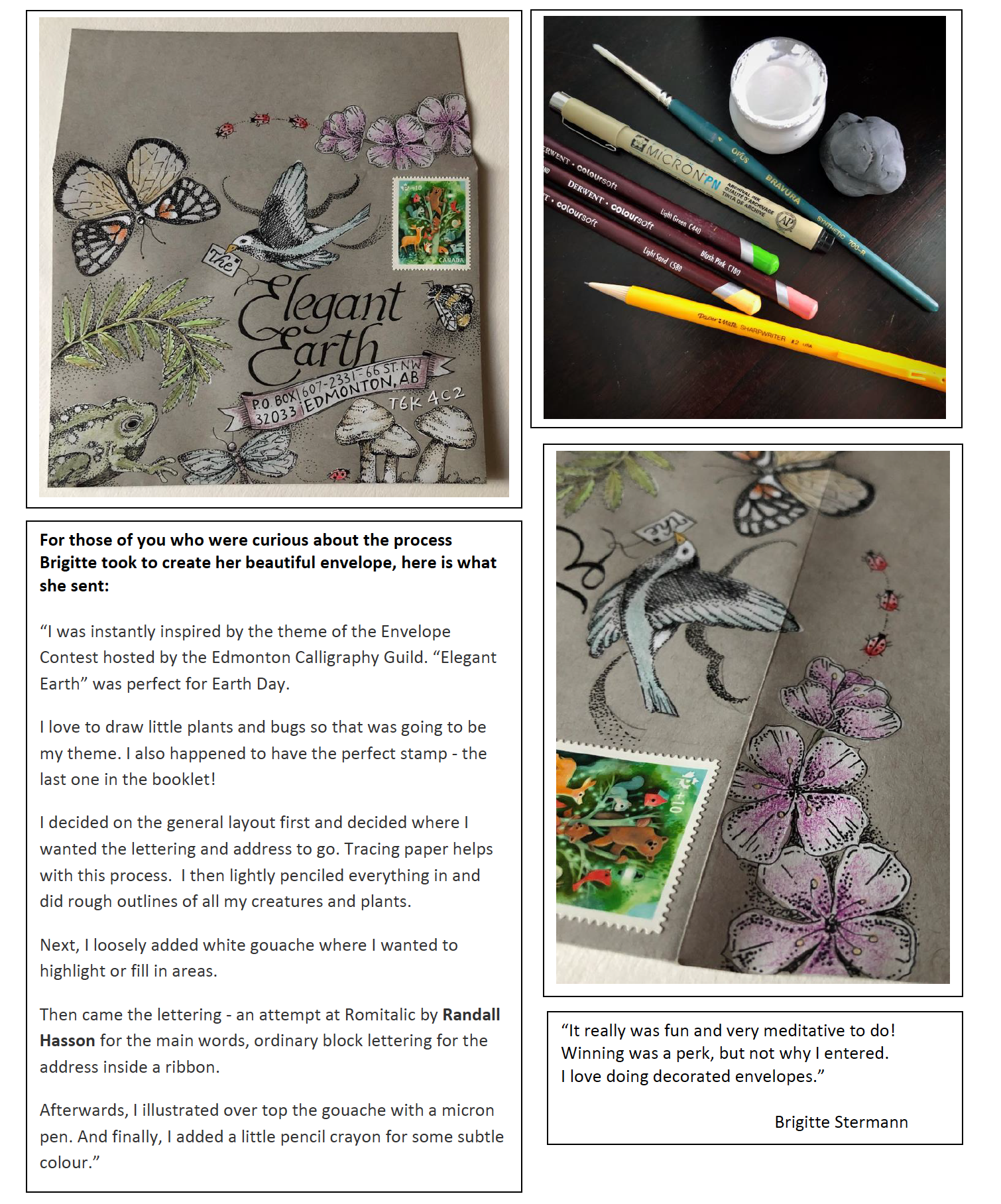 For The Love of Letters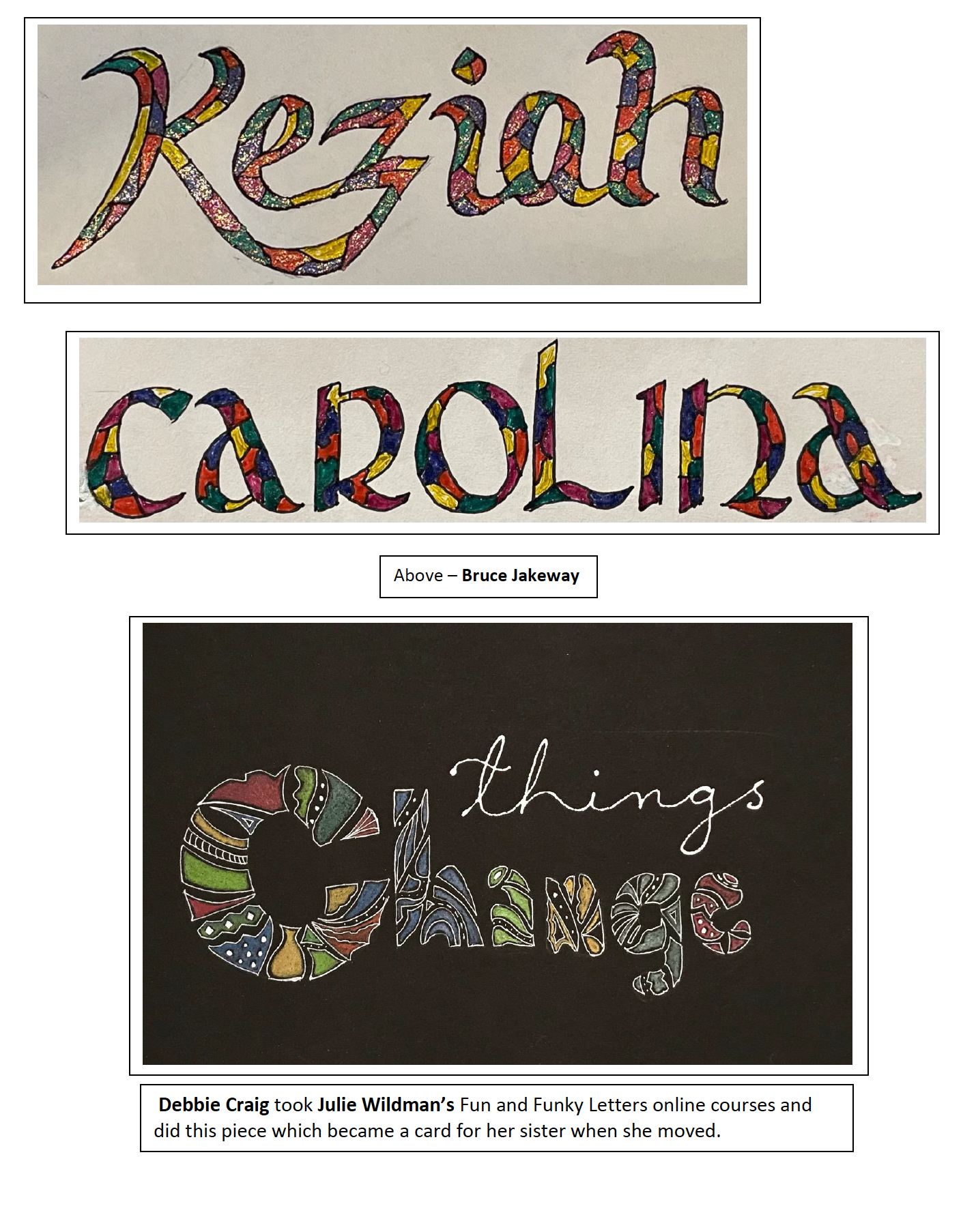 Heather Held's Glittering Vines Workshop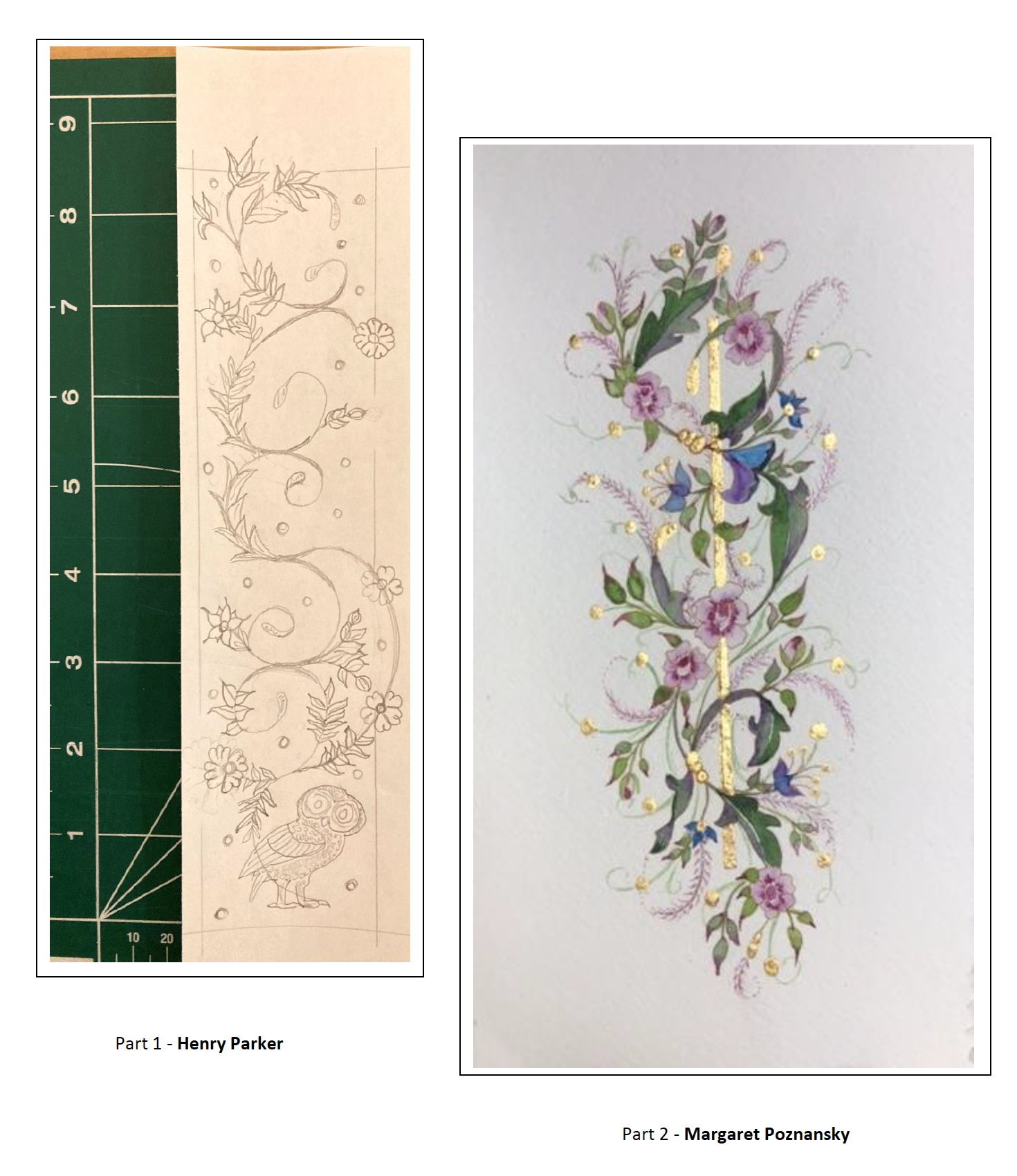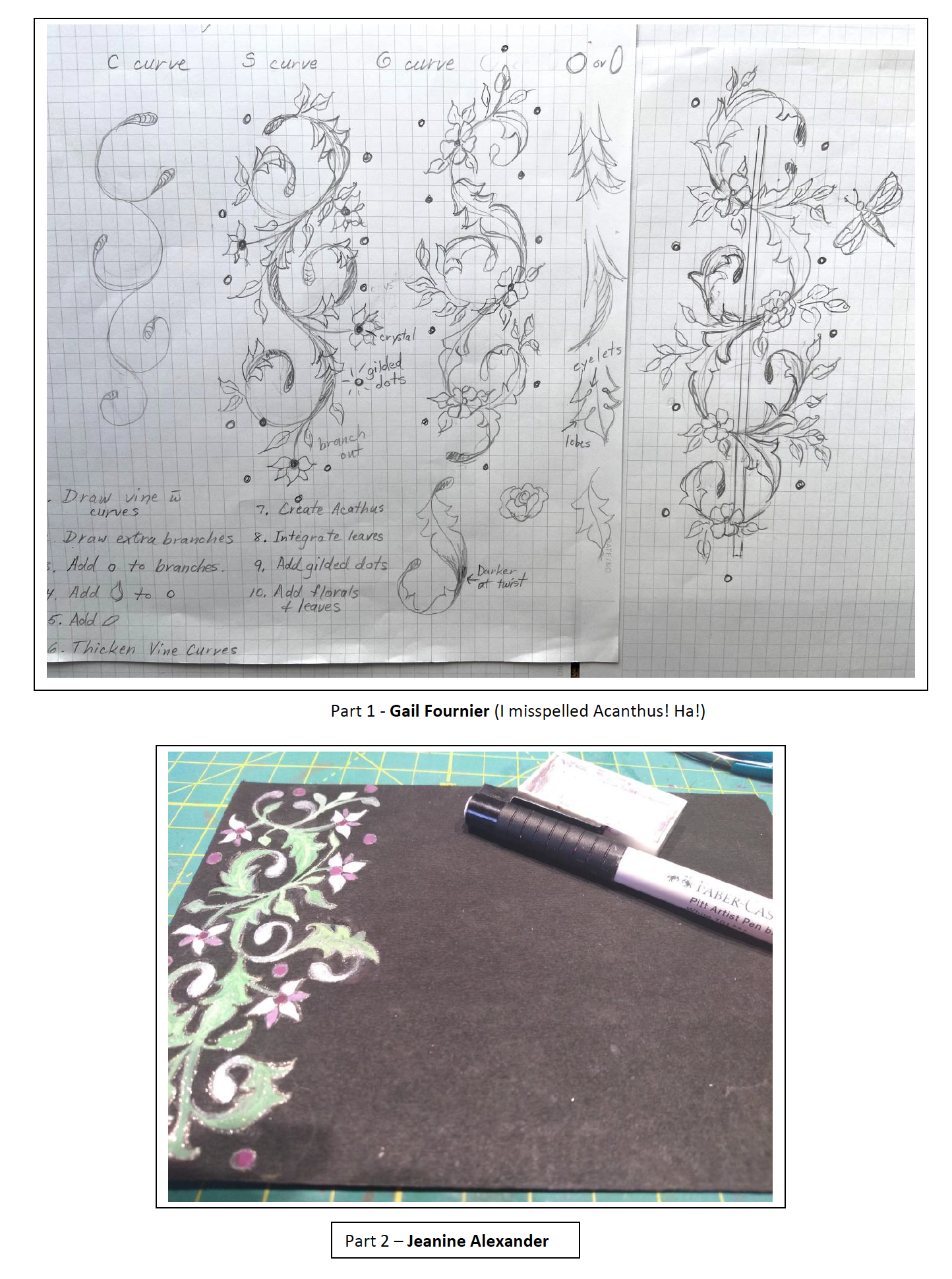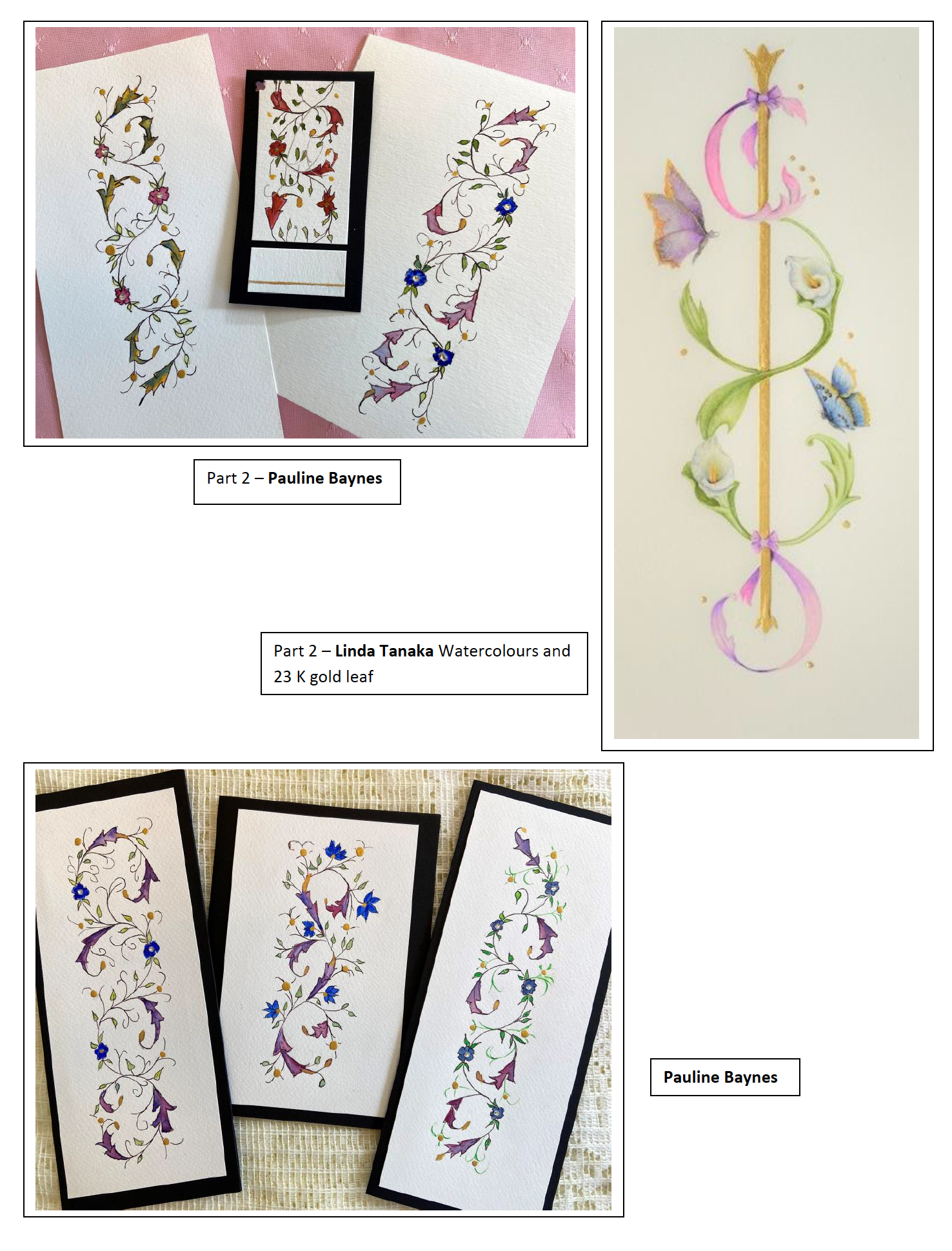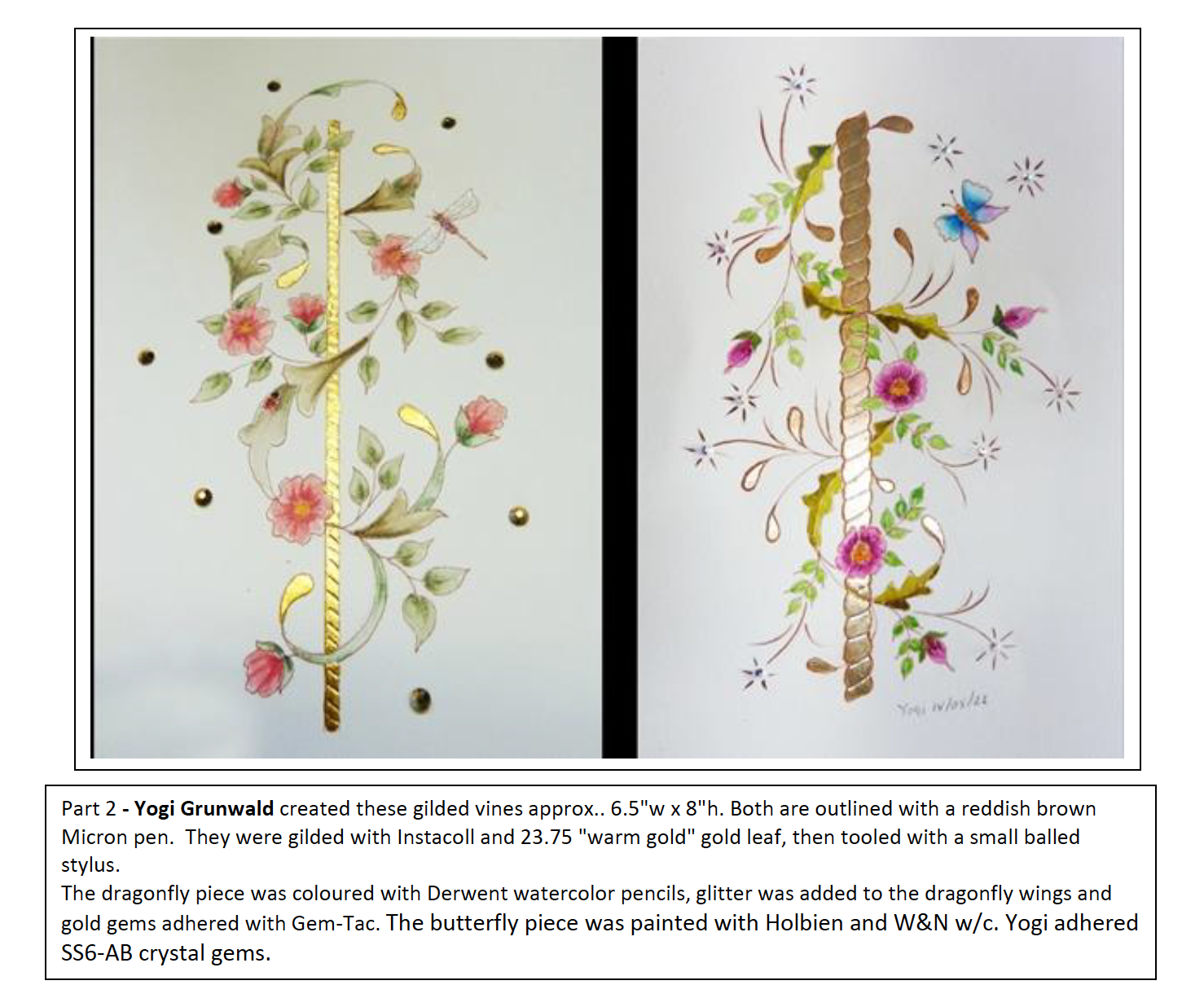 Other Classes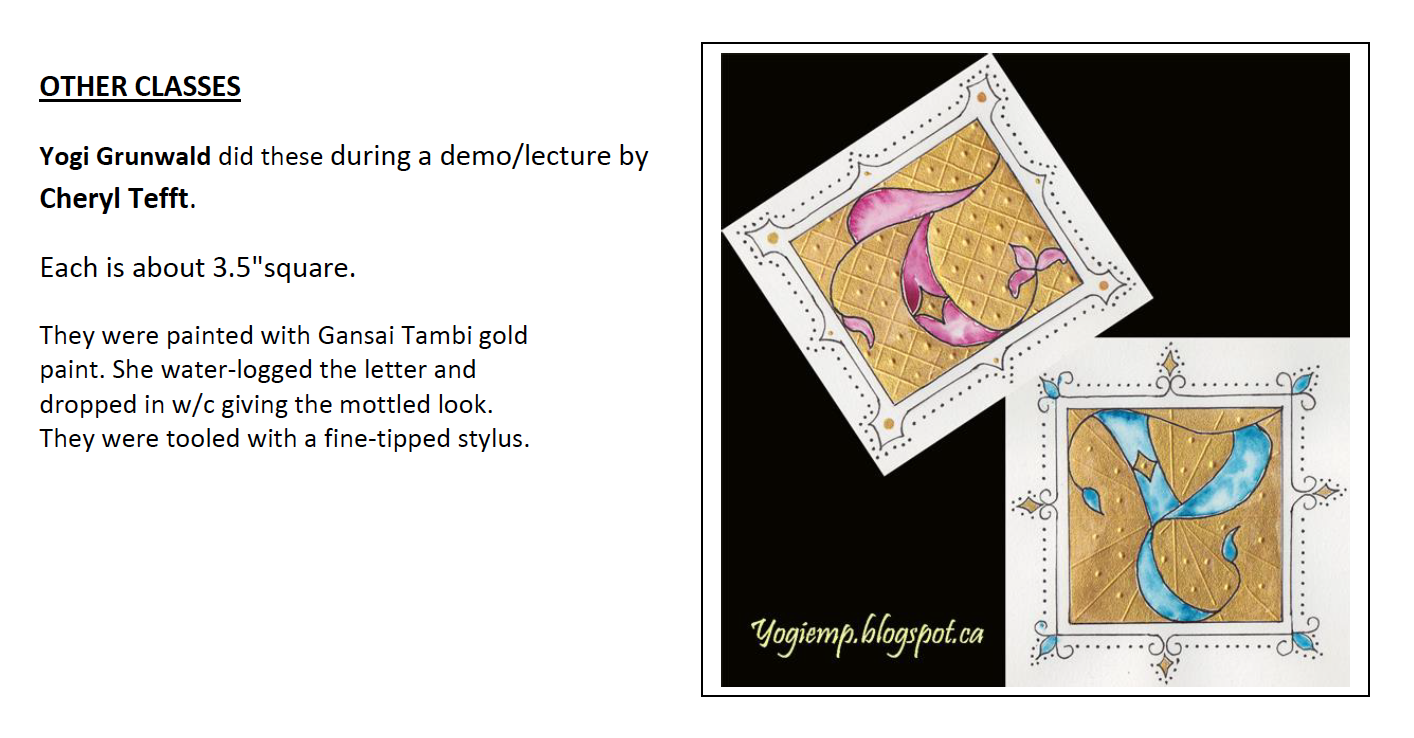 May's Monthly Meeting with Suzie Beringer – Dirds (Quick and Dirty Little Birds)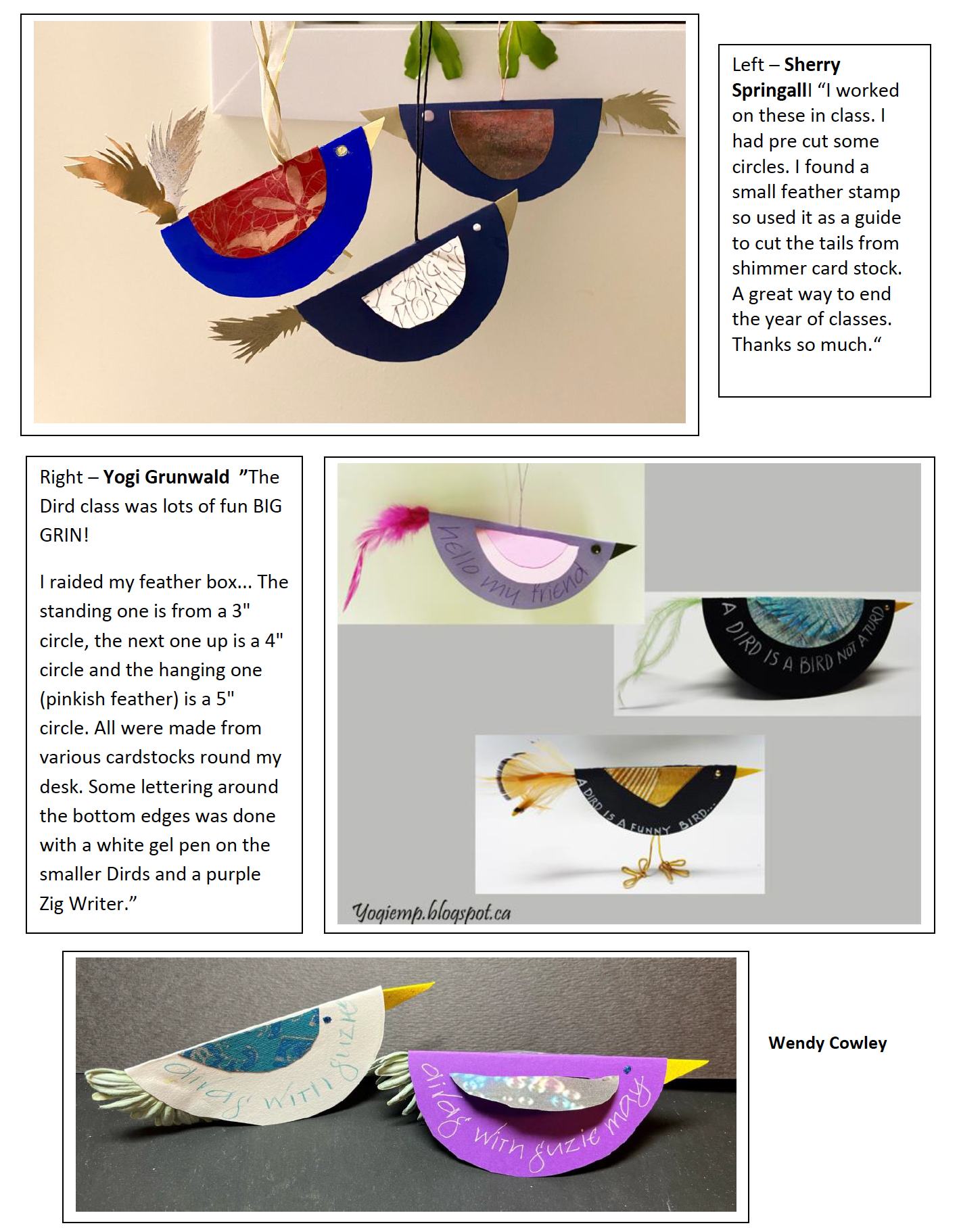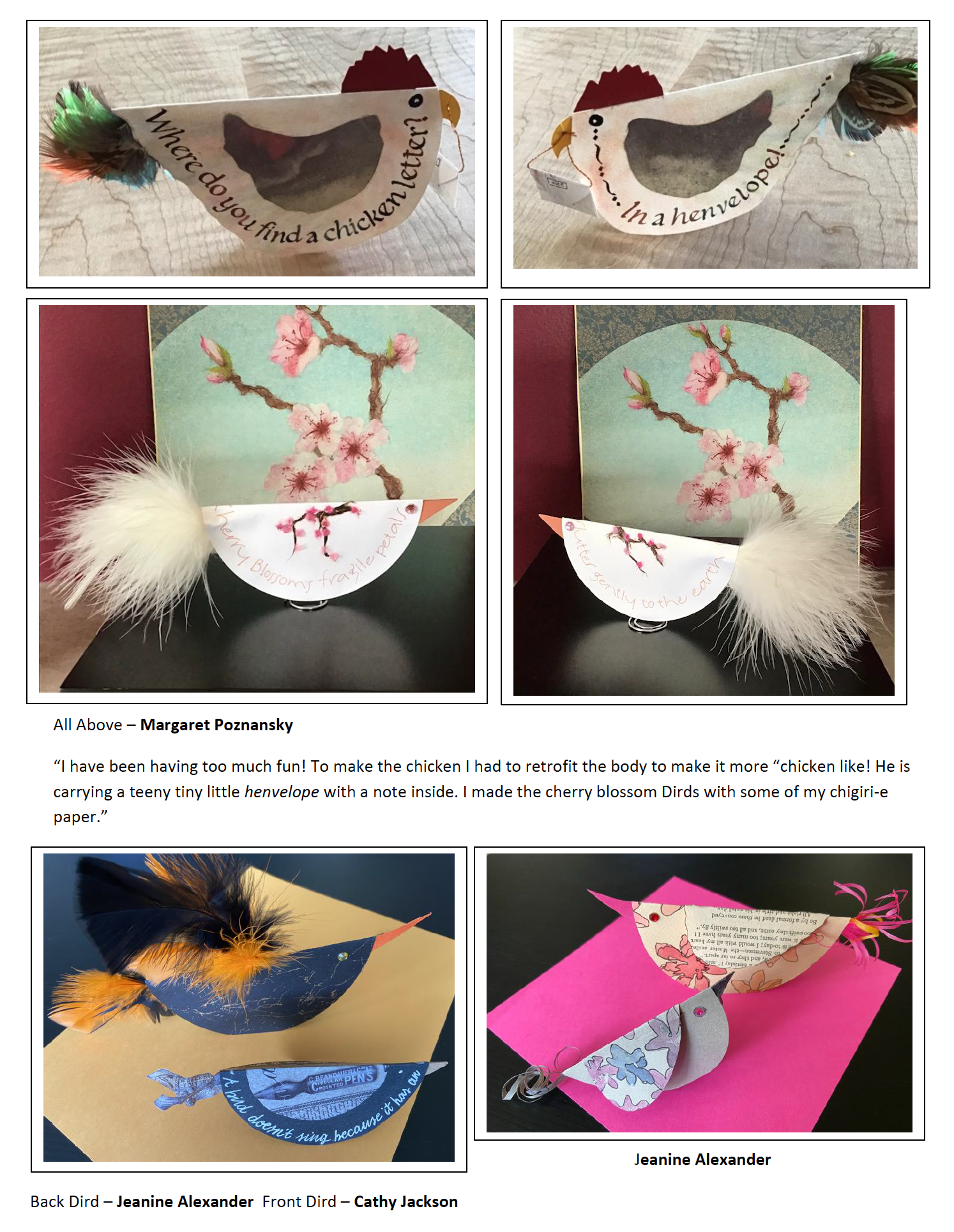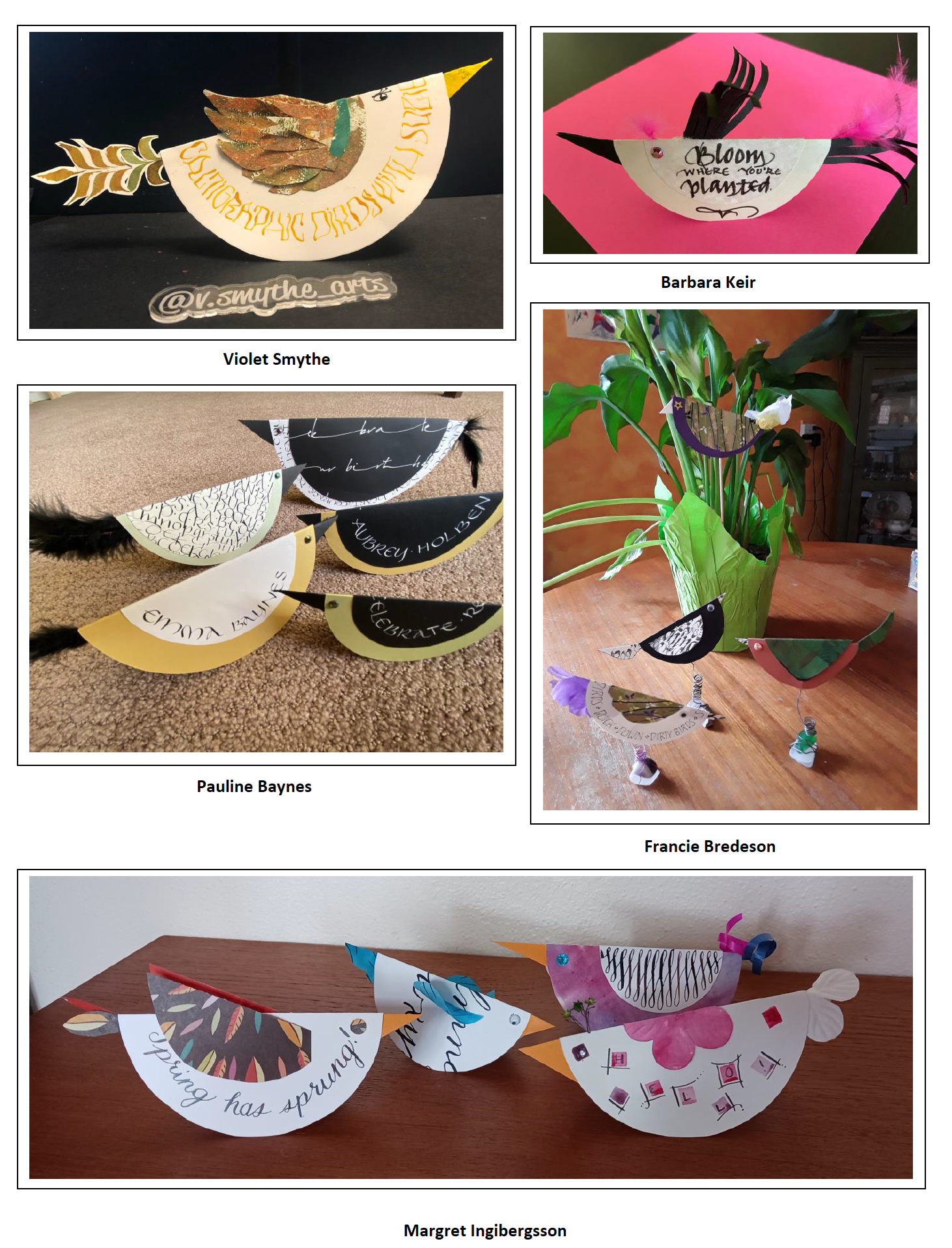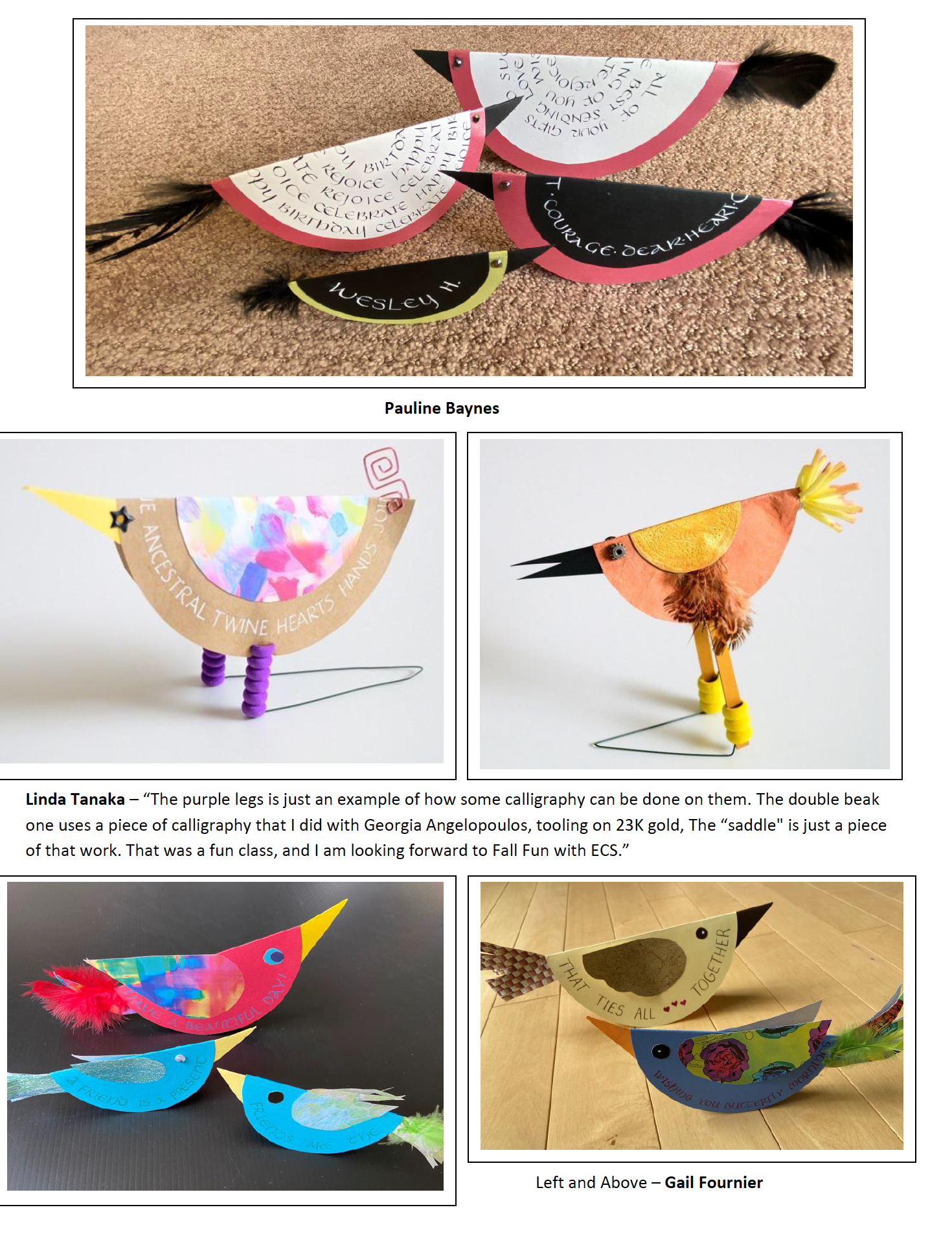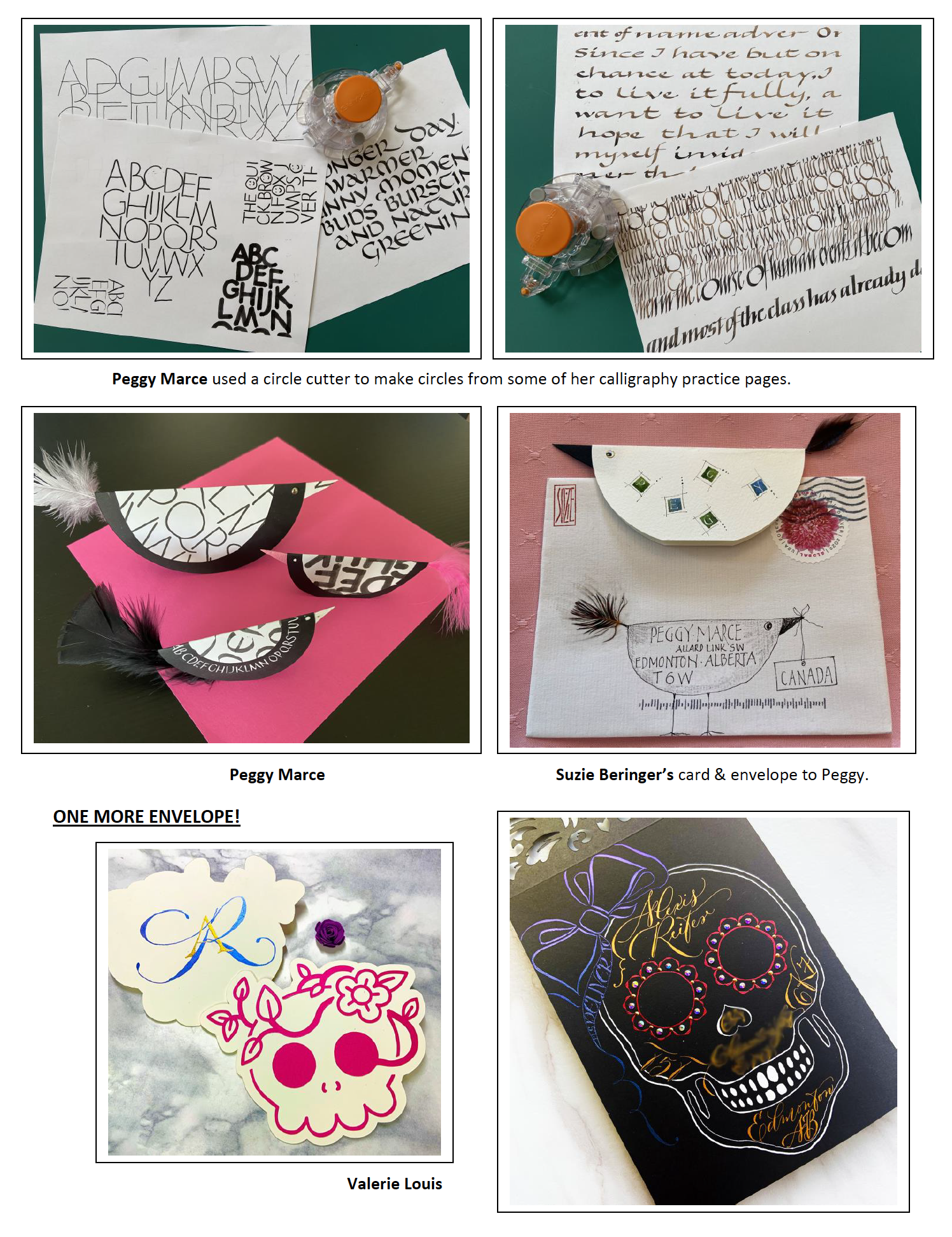 May Mentor Meet-up with Barbara Keir – Pilot Parallel Pen Playtime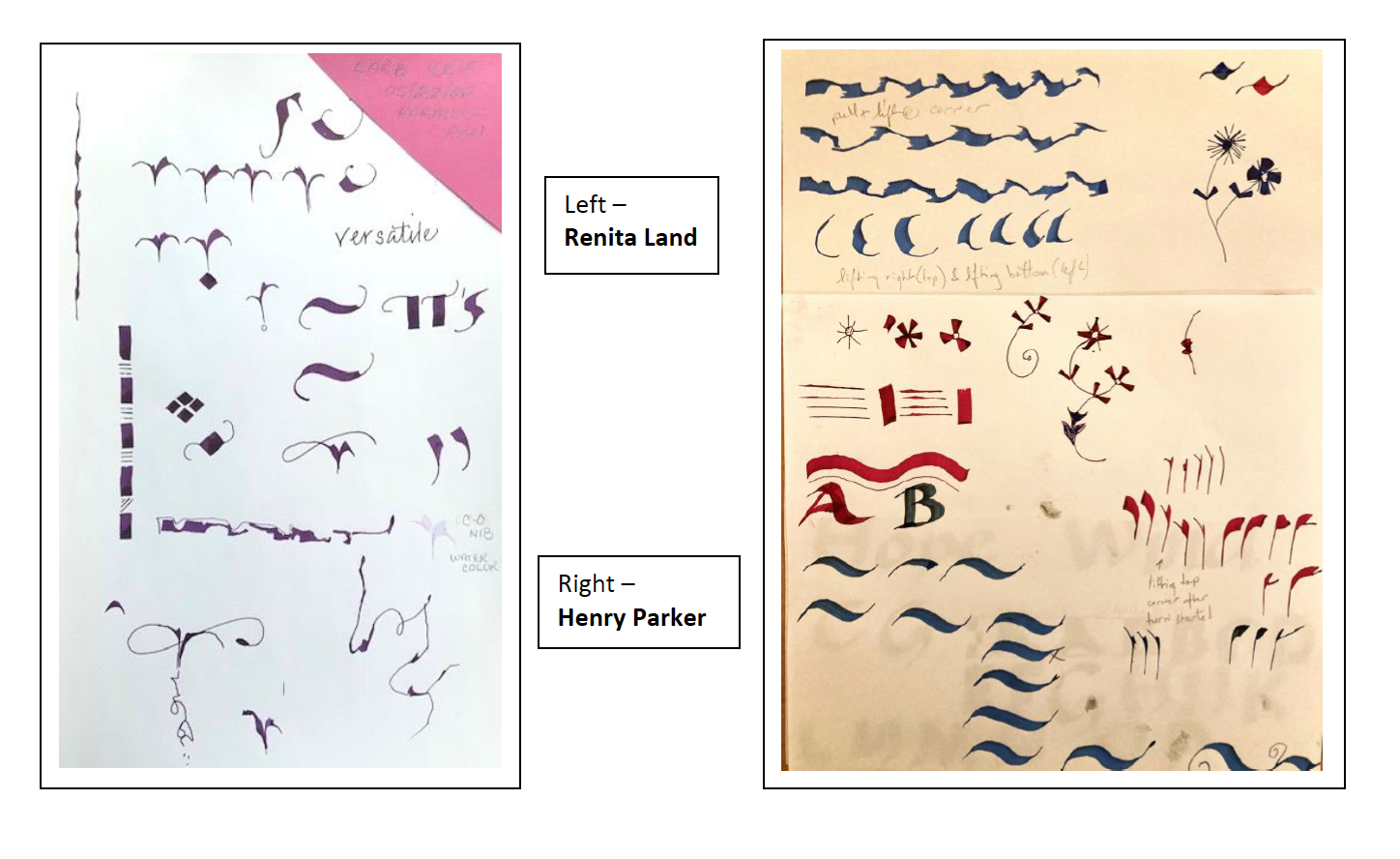 Special Projects and Information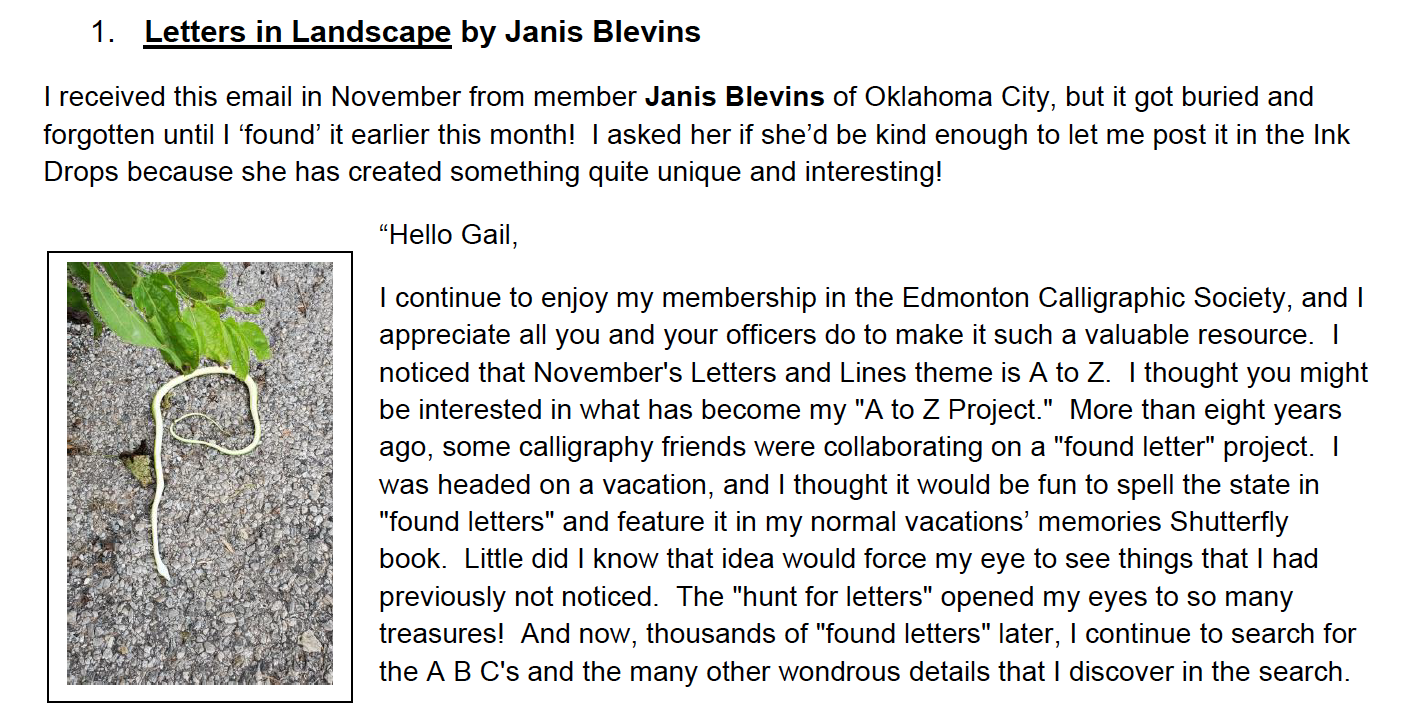 continued from above
If you are interested, below is a link to a Shutterfly book that I prepared for my recent "Letters in Landscapes" exhibit at my alma mater. https://link.shutterfly.com/e/H7FgadVoV8. If you want to view, you will need to click on the picture of the book and then click on "full screen." YOU DO NOT HAVE TO PURCHASE THE BOOK TO VIEW IT.
When I first started my study of calligraphy, my "hand" was trying to get WAY ahead of my "eye." But eventually I learned that my "eye" had to be trained before my "hand" could make desirable letters. Regretfully, I didn't apply "viewing the details" in all areas of my life, but I'm delighted to report that my search for "found letters" opened my eyes to so many small wonders that I would have missed if I had not been searching for those letters. My desire is that through sharing this link, that others will begin to enjoy those small details that we often overlook when we are looking "at the big picture." The "search" slowed my eyes down and allowed me to delight in those often-unnoticed details.
I now have 29 ABC books and often find myself in the "search" without even thinking of it. Last week I saw a dead moth with the markings of a great "V" and there are some wonderful letters in the clouds. And, yes, I have an "ABC in the clouds" book, as well two "ABC's at the beach" books. When we take an RV trip of a week or more, I usually end up finding all 26 "letters; even though I many times comment that I'm not going to look for "letters" on this trip……but most often end up doing it. And some of my most favorite pictures from a trip are those I took because of the "letter." I do think that it is because I slowed down my eyes enough to look for the letter and then was able to enjoy the beauty, even more."
Here's to more A B C Adventures,
Janis Blevins
2. Textura Quadrata – Pauline Baynes
Oh, dear, another 'found' email from Pauline after our Textures theme two years ago!
"I found this while looking up Textura Quadrata (because of the texture theme). It is quite interesting, and it is possible to scroll through pages and zoom in to the finer detail of the letters." http://www.bl.uk/manuscripts/Viewer.aspx?ref=add_ms_88887_f001r
3. A Complete Beginner's Guide to Calligraphy – David Nicholls
Oh, yes, and yet another 'lost and found' email! My humble apologies!
"I have recently finished the first part of A Complete Beginners' Guide to Calligraphy.
https://www.youtube.com/playlist?list=PLNwA8iiId66HefhodVAFmF6oM2dyNYQWk
If you like them and find them useful, please do me a favour and distribute the link as widely as possible and put it up on your FaceBook page, or website if you have one. A heading something like: 'A Complete Course in Calligraphy – Completely Free! (no sign-up required)' would be a good. Many thanks." Kind regards, David Nicholls
You may find my some of my other playlists useful too
Celtic Design 23 videos https://www.youtube.com/playlist?list=PLNwA8iiId66G9VeyRtq8jUosY1-RBET_s
Freehand Space-filling Patterns 7 videos https://www.youtube.com/playlist?list=PLNwA8iiId66HzM1DojQzo__j08I-6yPsl
Geometry without Tears 10 videos https://www.youtube.com/playlist?list=PLNwA8iiId66HX23HlaDITZgbIi1_iiWa1
Traditional Thai Arts 5 videos https://www.youtube.com/watch?v=kaJuEtp8DBI&list=PLNwA8iiId66H1Rrp2i0vtouRFfPAkLU30
4. Pencil Crayon Comparison Charts – June Maffin
"For those working with coloured pencils/pencil crayons with their calligraphy (or other reasons), this link is great for a lot of reasons. https://www.karenhullart.com/resources/Conversion%20Charts%20with%20New%20Luminance%20Main.pdf
Feel free to share it with ECS members. :-)" June Maffin
5. The History of Pencils – Gail Fournier
I recently saw this posted on the Loveleigh Loops email link I receive. I found it quite fascinating! https://museumofeverydaylife.org/current-exhibitions/visual-history-of-the-pencil
6. Crazy Folds and Booklets – Yogi Grunwald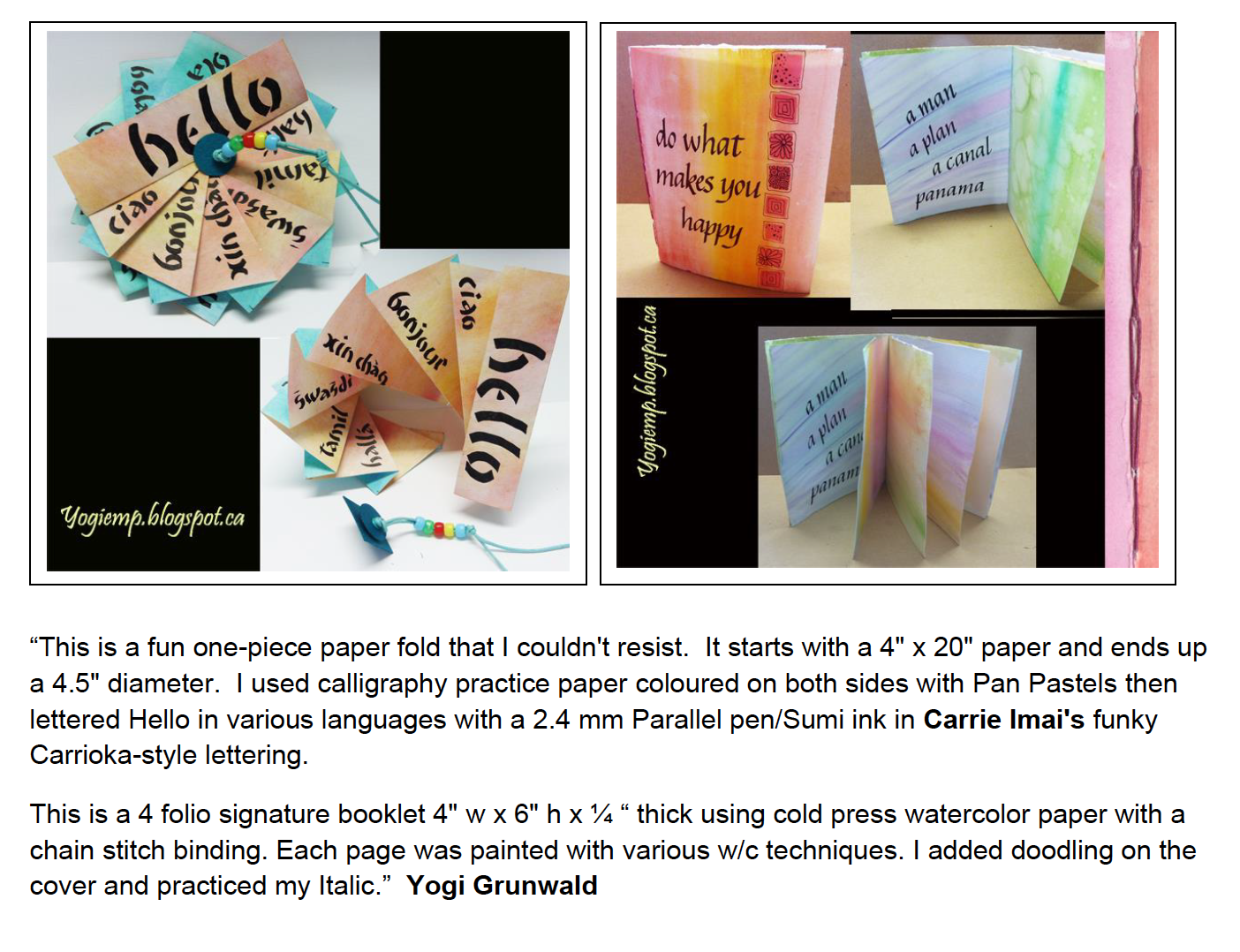 7. Edward Johnston, Father of Modern Calligraphy – Suzanne Cannon
I saw this on Suzanne Cannon's Facebook page and thought it was a delightful short video of interest to anyone who has ridden the London Underground and/or loves letters!
https://www.youtube.com/watch?v=TN-c9FkEts4
8. Membership Renewal Incentive