Hello ECS Members!
This crazy COVID pandemic has really cast its net far and wide, causing major upheavals in our lives. Your ECS Executive also had to deal with the reality of the impossibility of physically-distancing 45 people in our meeting room, which is not likely to be open any time soon. Rethinking our calligraphy year has taken a forefront spot over the last month, as we shifted our focus about delivering programming for you.
We looked at the amount of money we spend to rent our room at the Mill Woods Seniors & Multicultural Center, plus what we pay our own members to teach, and decided we could redirect those funds in a new and very exciting way. Our little committee has been contacting calligraphers with whom we've taken classes and established connections, to invite them to teach for us. From the very first person we approached, every professional calligrapher has responded with an enthusiastic, positive reaction, and agreed to our proposal.
Your new Executive met Saturday morning via ZOOM. They learned who will be your instructors for the 2020/2021 ECS year, and we are proud to share that information with you!
September 2, 2020
Julie Wildman:      Akim
https://www.wildmandesigns.com/
October 7, 2020
David Gasser: Standing on the Shoulders of Giants – A (re)introduction to the Roman Majuscules
Instagram: dfgasser,    Facebook: https://www.facebook.com/pages/category/Photographer/David-Gaasser-Photography-Calligraphy-152501108914
November 4, 2020
Reggie Ezell: Carolingian
December 2, 2020
Sally Towers-Sybblis: Watercolour Christmas Cards with Lettering
https://sallytowerssybblis.com/
January 23, 2021: We hope to organize an event to celebrate National Handwriting Day.
February 3, 2021
Suzanne Cannon: Foundational
https://www.quietfiredesign.ca/
March 3, 2021
Heather Held: The Poetic Pen – Italian Hand
https://heathervictoriaheld.com/
April 7, 2021
Sachin Shah: Fraktur Majuscules
https://facebook.com/Sachinspiration/
May 5, 2021
Carol DuBosch: Ben Shahn Letters
As you can see, this is an extraordinary value for your $45.00 membership! (One of the above calligraphers has a 2 hour class for $50.00 USD.)
We have offered our guest calligraphers honorary, one-year complimentary memberships in our ECS. This will allow them to participate in 7 other classes taught by their colleagues, if they so choose.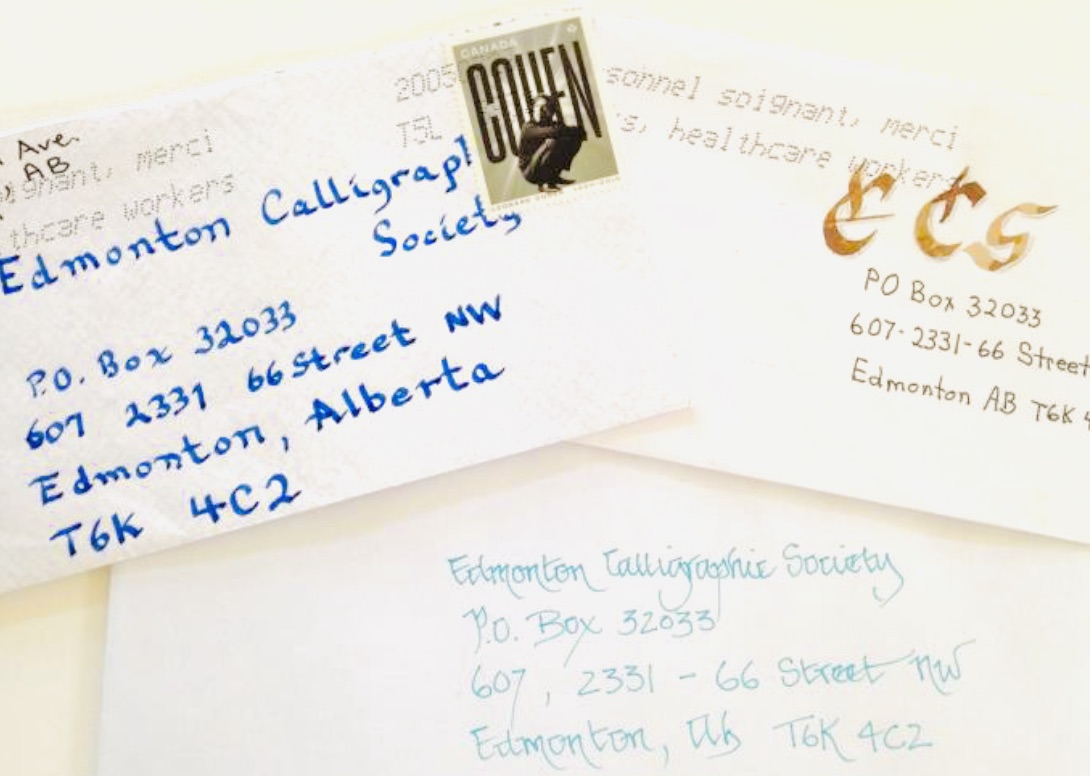 Membership Renewal
To date, we have 30 renewed membership and 2 new members. Welcome June Maffin from Vancouver Island and Linda Tanaka from Lethbridge! There are still 50 members who have not renewed, so we hope this new information about our upcoming year will be all you need to convince you that now is the time to renew. You can join on Eventbrite.
Understand that there is an additional processing fee, and we still need your signed registration form.
Those who have already renewed their ECS membership should have received a link to Sally Towers-Sybblis' directions for creating her "Inspire" accordion book.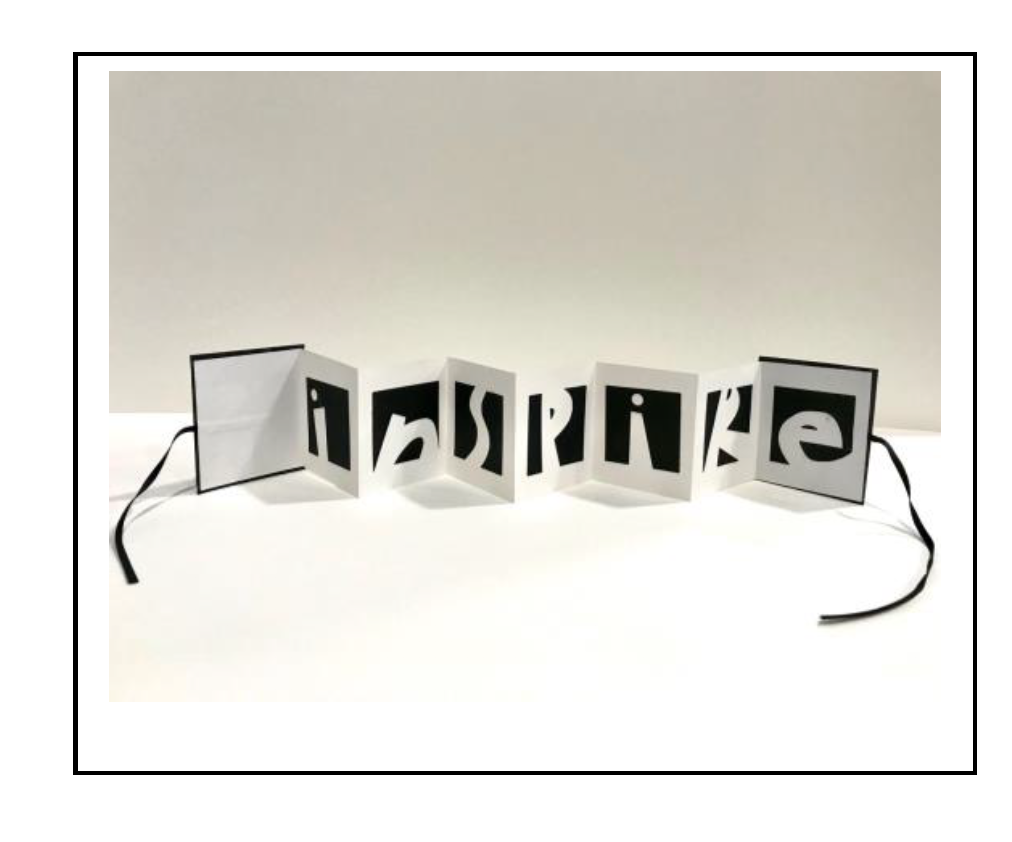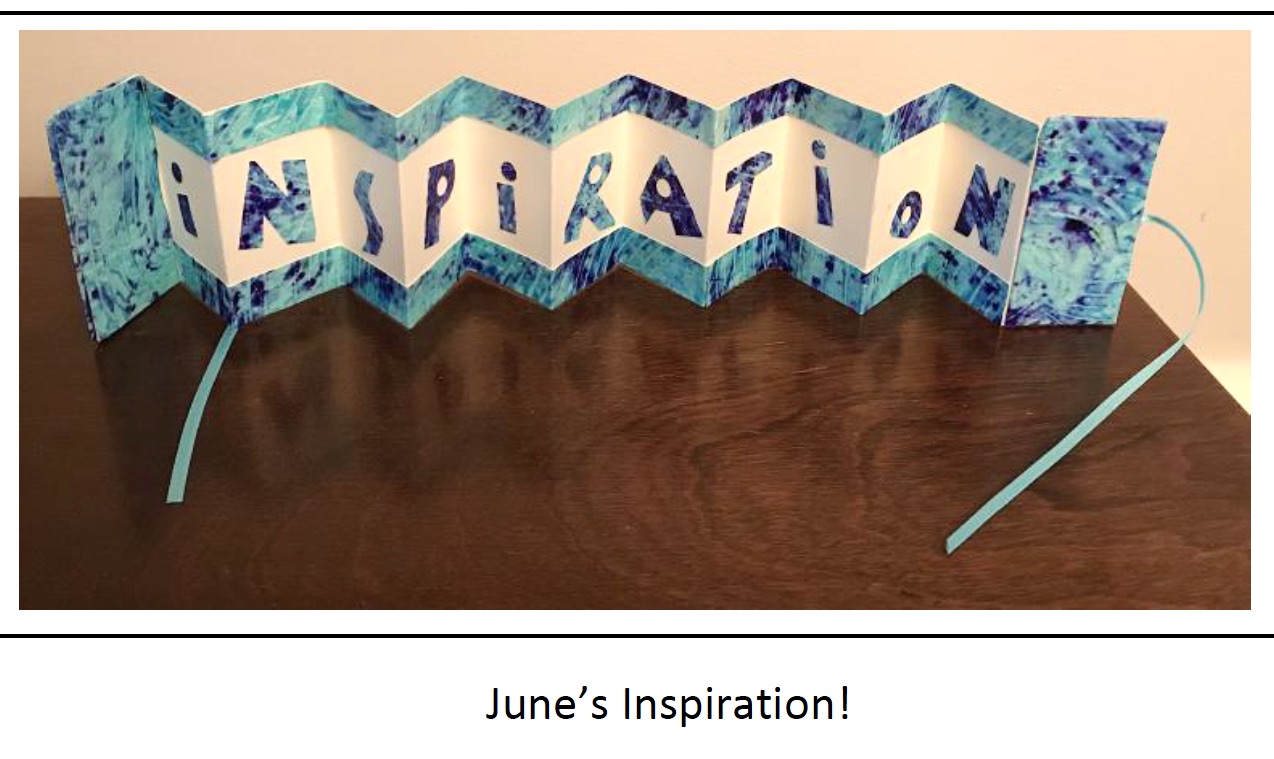 Envelope Exchange
I would like to create a special issue of Ink Drops that only features envelopes you receive in the exchange. I will erase parts of your address, and last name (if you let me know). If you wish to participate, please send your photos to gfournier@telus.net with the name of the person who created your special envelope.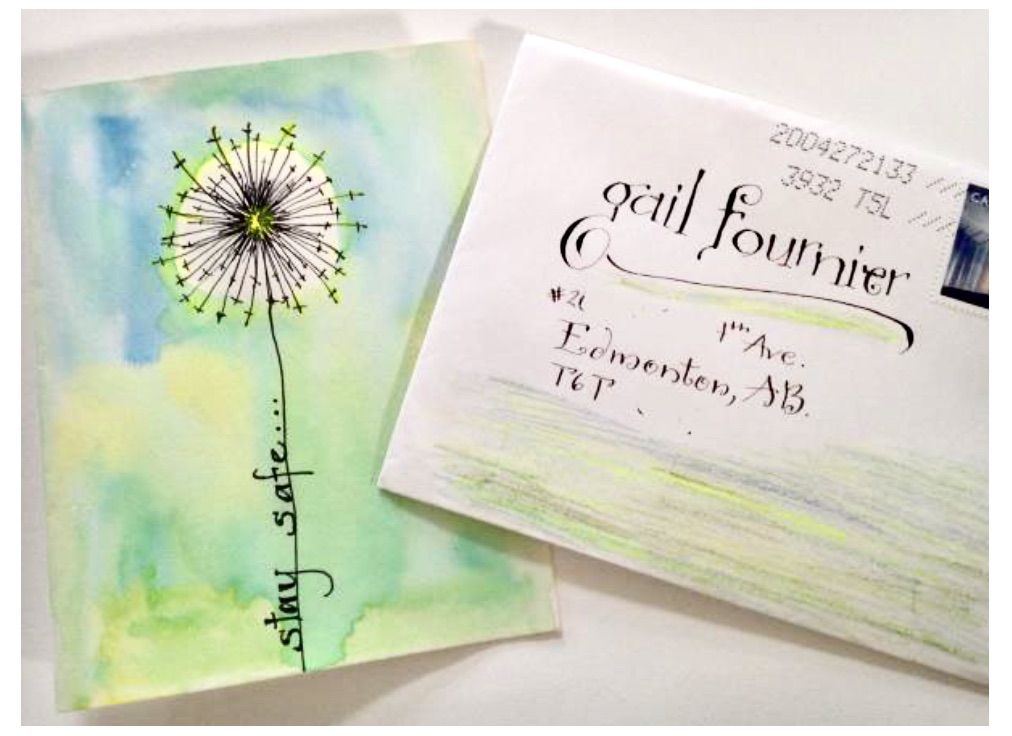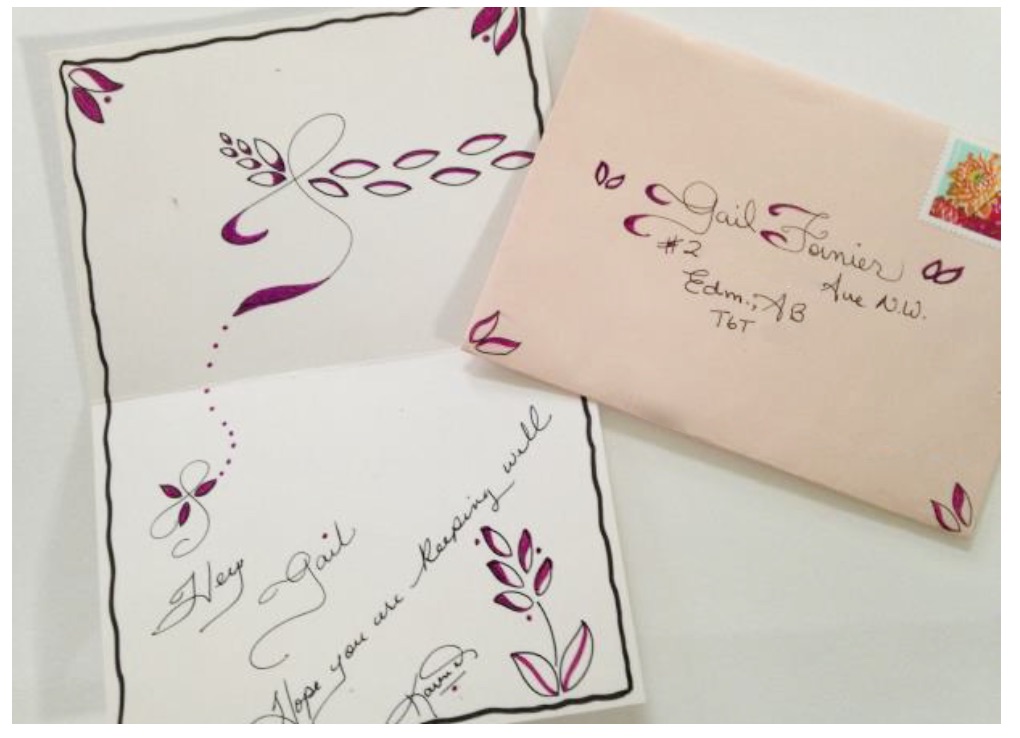 Left: Pauline's
Right: Karen's
Workshops
We have decided to ask Renee Alexander if she would like to postpone the October 24 & 25 Italic Variations Workshop or rework it so she can instruct it virtually. We will not be meeting in person at this time. When we have further clarification, we will let you know what has been decided. At this point, only 6 people have registered, so there is likely to be lots of room for more when the class gets reposted. Stay tuned!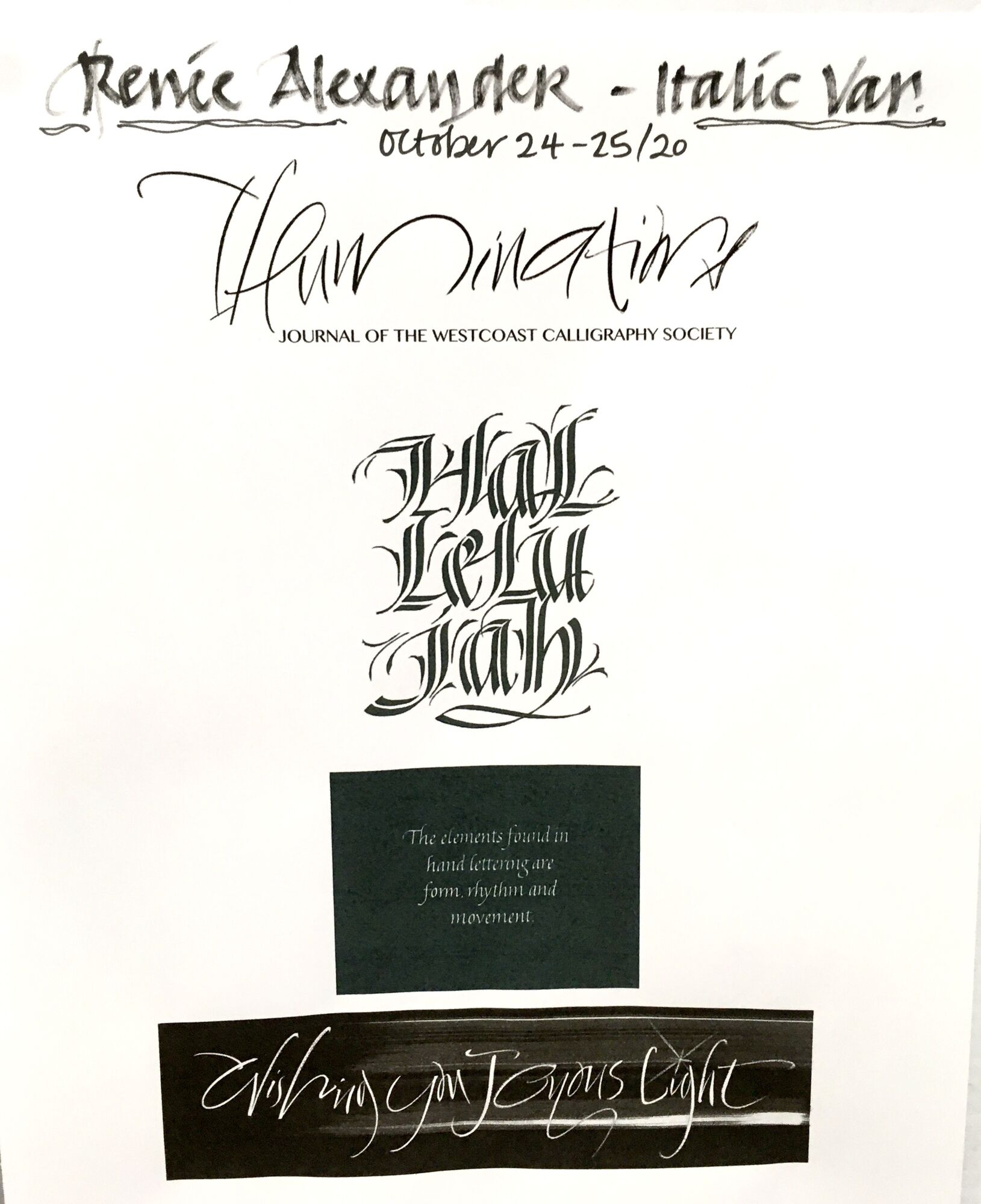 Conferences
The Lettering Arts Guild of Red Deer has postponed their conference until August 2021.
Calligraphy in Edmonton
Some of you may not be aware of the ECS Facebook group "Calligraphy in Edmonton". You may ask to join and then enjoy intriguing examples of beautiful calligraphy from around the world. New additions are posted almost every day for your enjoyment!
https://www.facebook.com/group/151228041582552/
Covid Isolations Projects
Another special Ink Drops I wish to send is one where we can share some of the projects you have been working on over the last three months. Many of you have taken classes online and have practice pages we would love to see. Some of you have been working on your own to learn or improve a particular hand, or have written quotations, made cards, decorated and alphabet letter, or added lettering to a piece of art. Again, if you send a photo to gfournier@telus.net, I will gather them until I have sufficient number to post.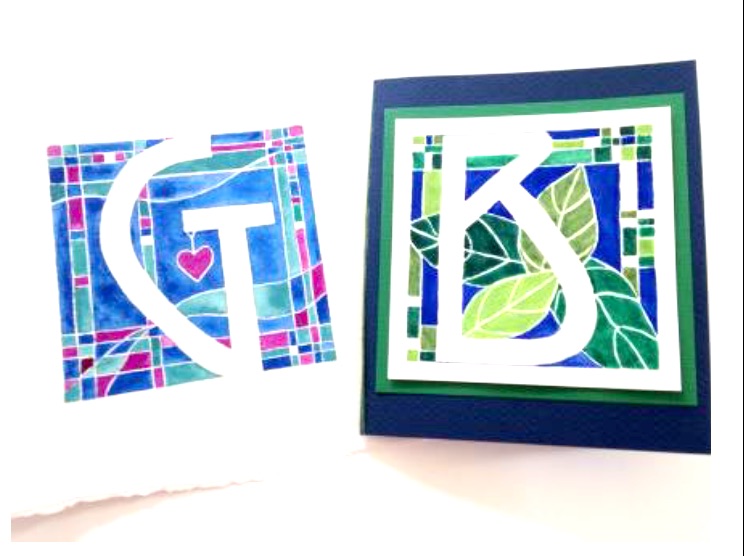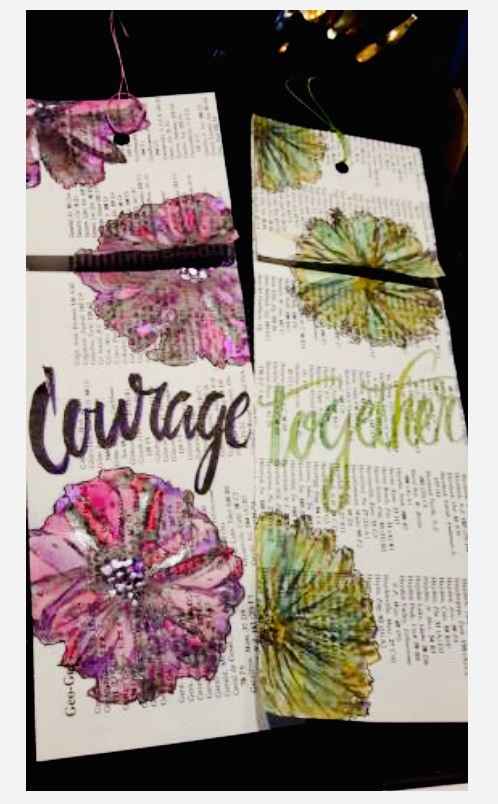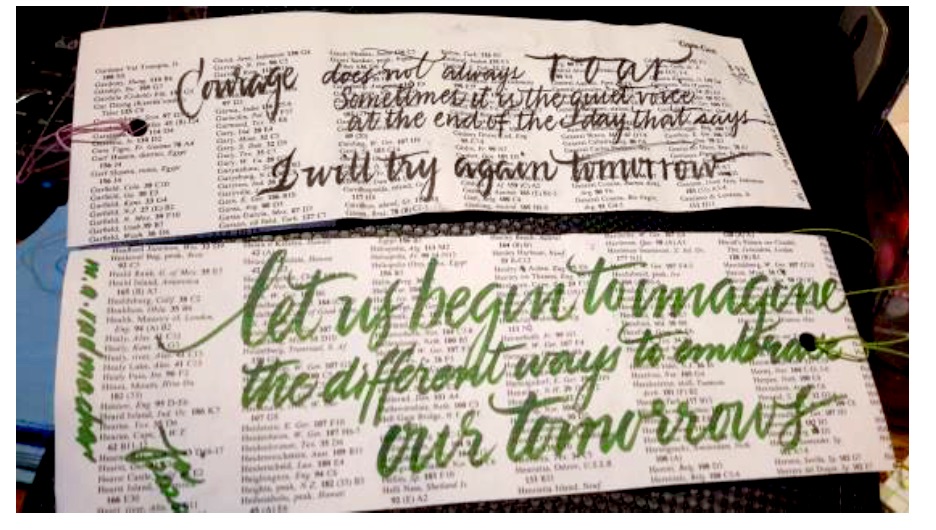 Far left: Gail's Art Deco Cards.
Centre & Right: Jeanine created dozens of these enCourage grams to cheer
friends, family, and strangers! She stamped the design with toilet
paper rolls.
Local Art Stores
I have been contacting the local Edmonton art shops to confirm that they will continue to offer their 10% discount for our ECS members, and have asked them to add our ECS email address to their sales notices. That way we can pass them on to you so you have an opportunity to purchase materials and supplies you need for all those online classes you are taking! (We will soon be posting the supply lists for ALL the professional calligraphers who will be teaching us this upcoming year. If you have the complete list of supplies for the whole year, it will help limit the number of trips you might have to make to purchase them in person.)
DeSerres  https://www.deserres.ca/en/edmonton They are moving down the hall in West Edmonton Mall.
The Gilded Rabbit   https://www.thegildedrabbit.ca/  I see that are having a summer sale till July 31, 2020.
Colours Art Supplies   https://www.artistsupplies.com/   I couldn't connect with them Saturday about the discount.
Delta Art & Drafting   https://www.deltaart.ca/  A June sale just finished. Most of their prices are already discounted, so they only give the 10% discount on items not already lowered. Their prices are competitive!
The Paint Spot   https://www.paintspot.ca/  Jeanine discovered their online prices can be lower than posted in the store, so check that before you shop!
Expressions & Images Custom Framing   https://www.expressionsandimages.com/   They are running a huge garage sale of ready-made frames (some tiny for your decorated letters) and certificate frames till the end of July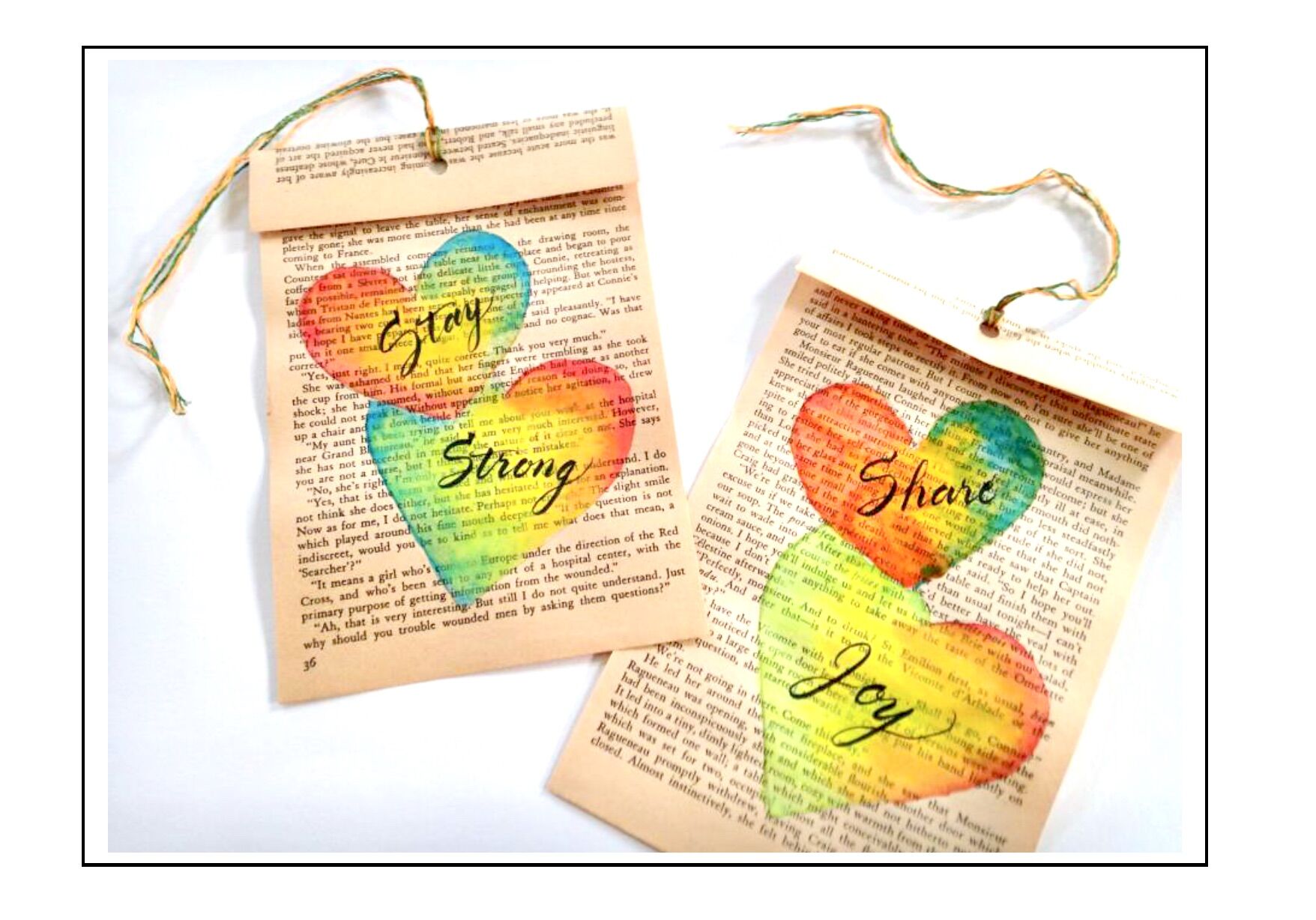 Gail Fournier
ECS President