Next Meeting: February 2nd/2022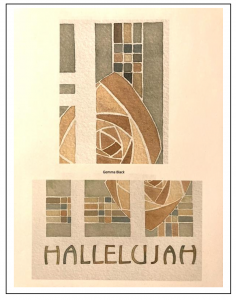 7:00 PM MDT via ZOOM
Instructor: Gemma Black
Adolf Bernd Calligraphic Painting
(The supply list and exemplars and Zoom link were sent to ECS members.)
Letters and Lines Theme for February
PRACTICE, PRACTICE, PRACTICE – How can you use all of those practice sheets? Share with the ECS some ideas of how you put your practice sheets to use. Perhaps practice on large sheets of paper and then use them to wrap a special gift – big or small. Add a splash of colour to a practice page of black & white lettering.
Pauline Baynes
Letters and Lines Theme – Snowflakes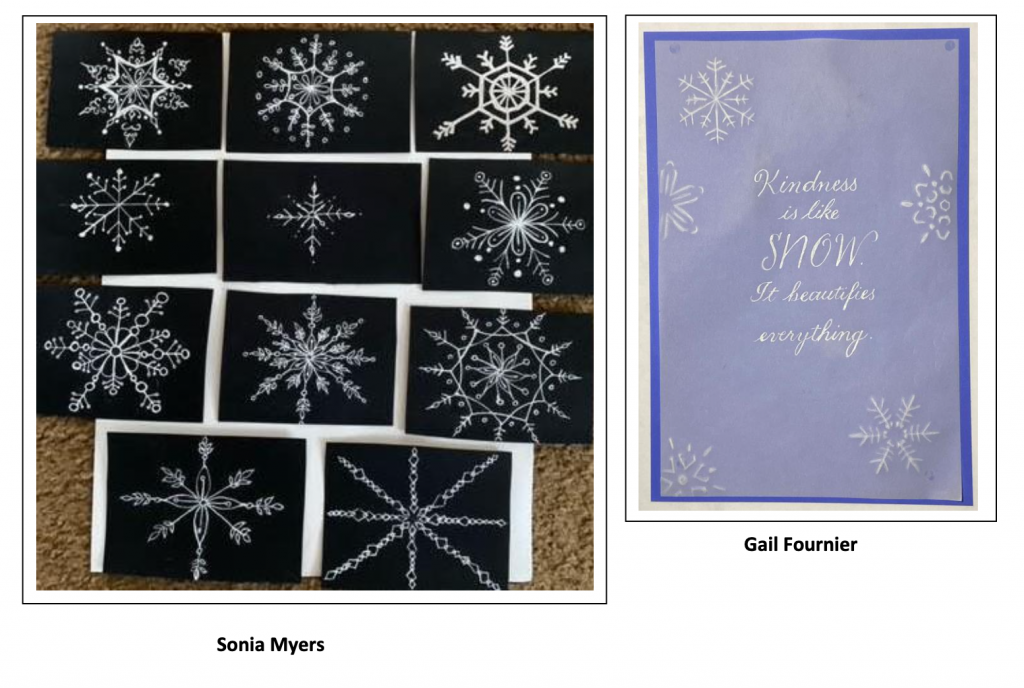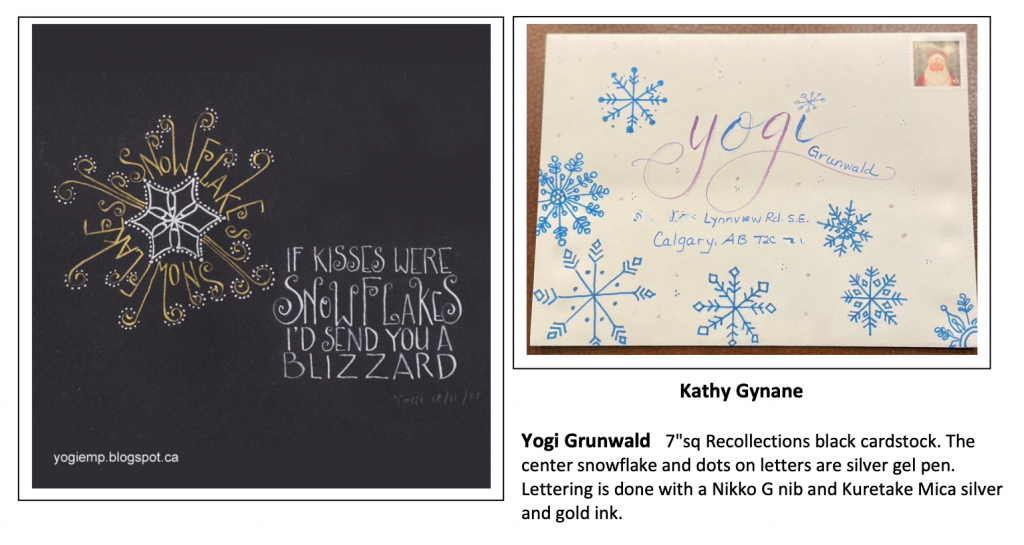 Monthly Meeting Projects
Carrie Imai's December Session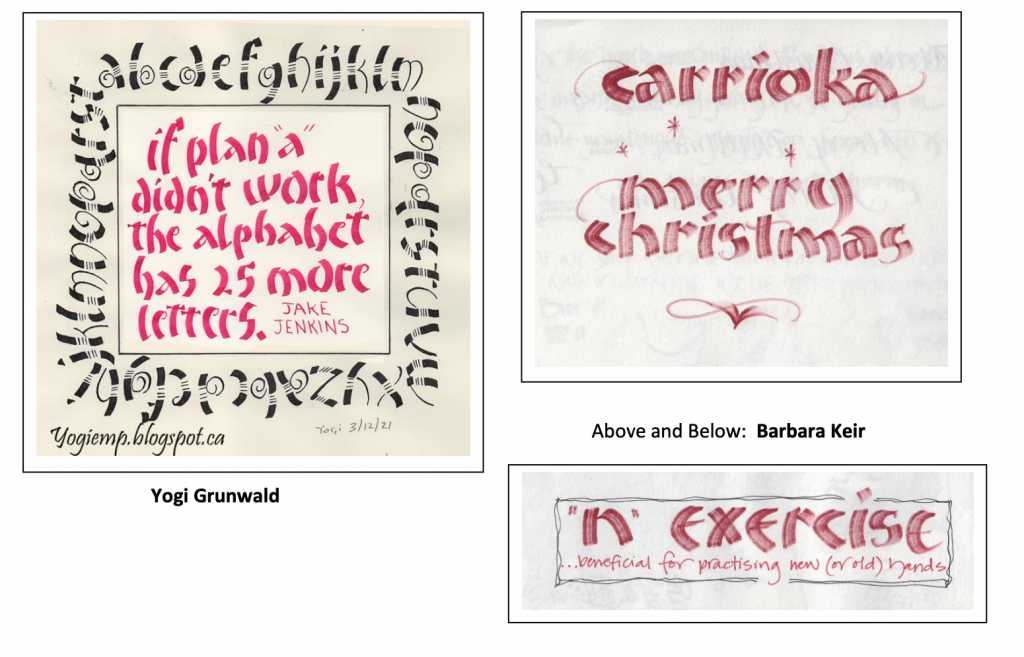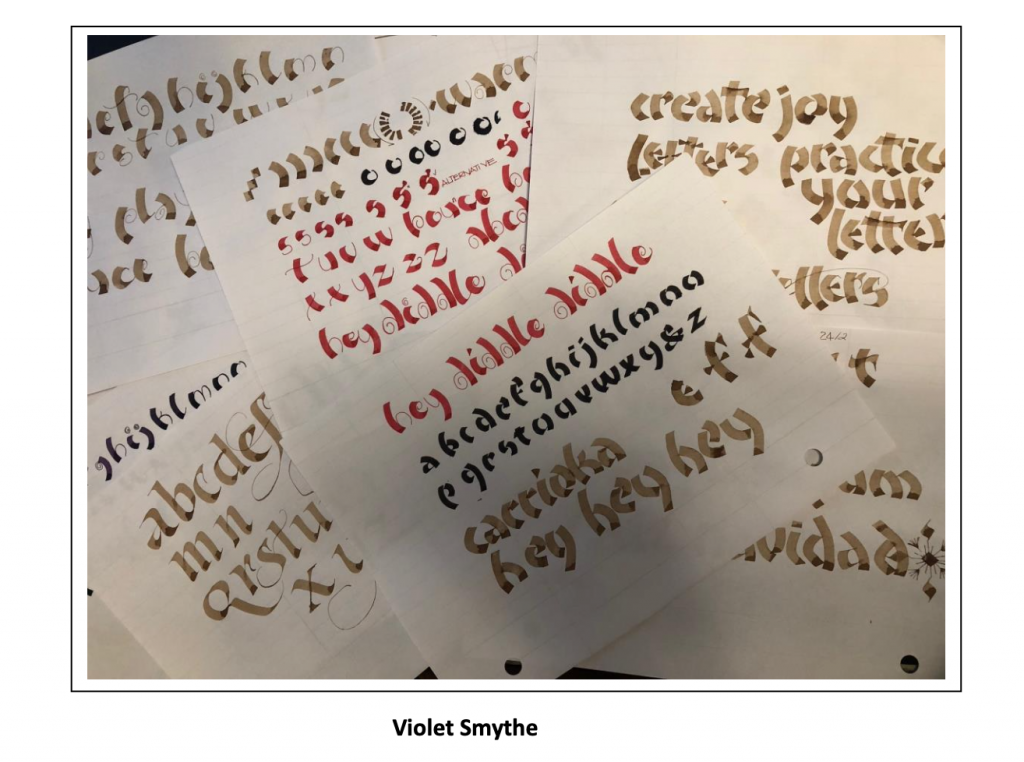 Jacqueline Sullivan's January Session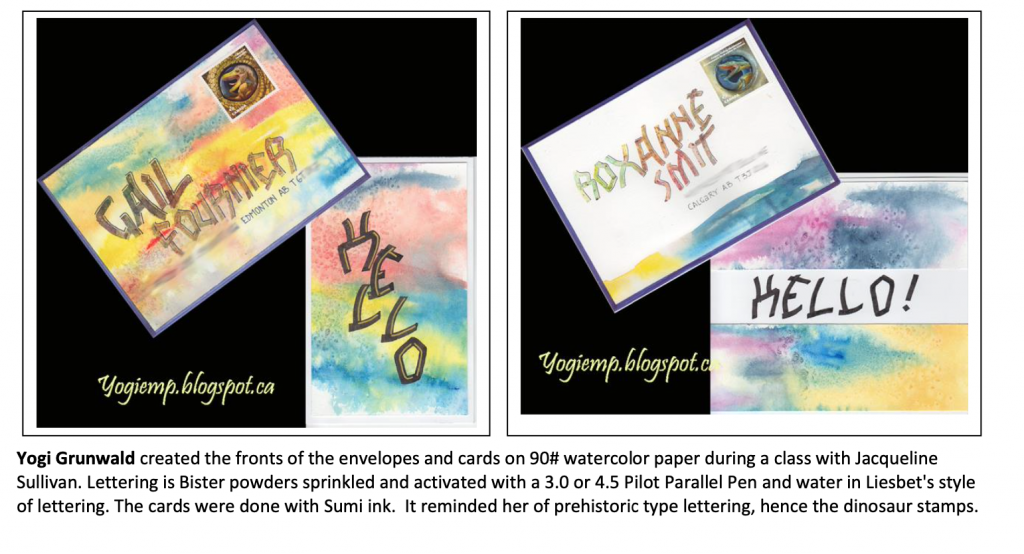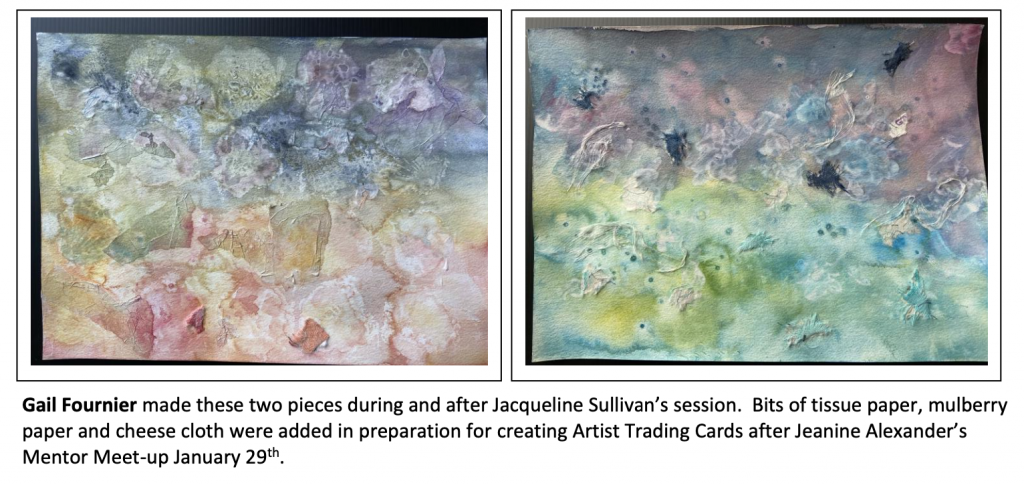 Envelope Exchange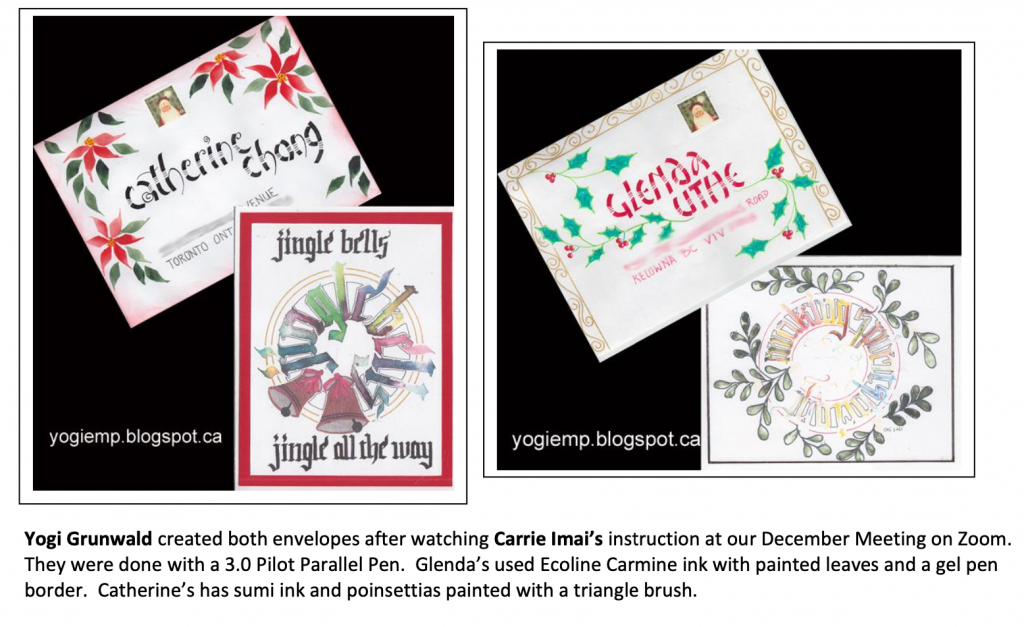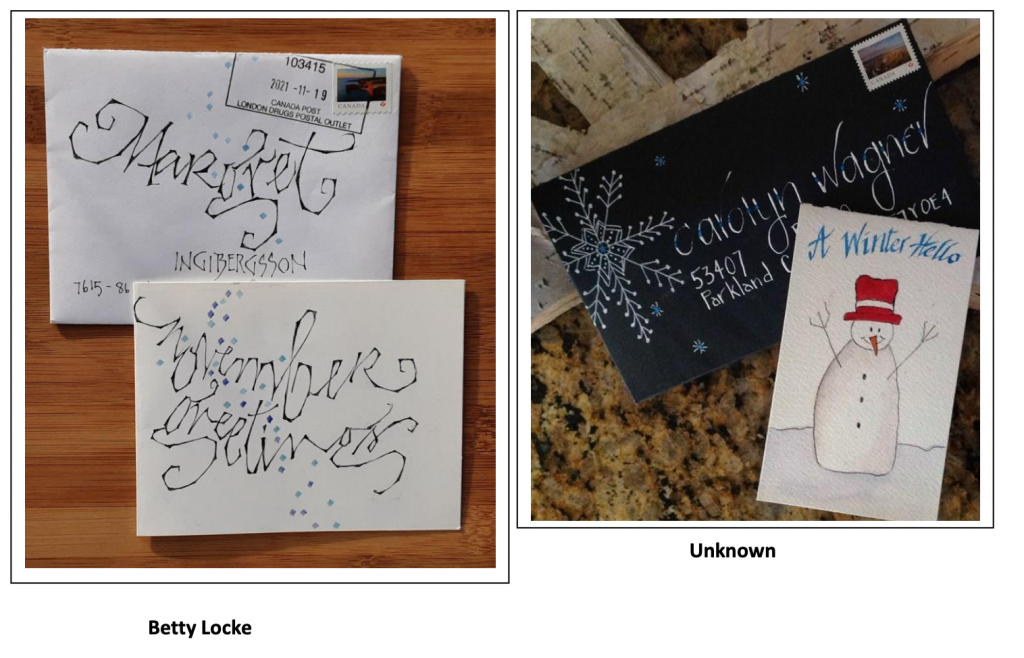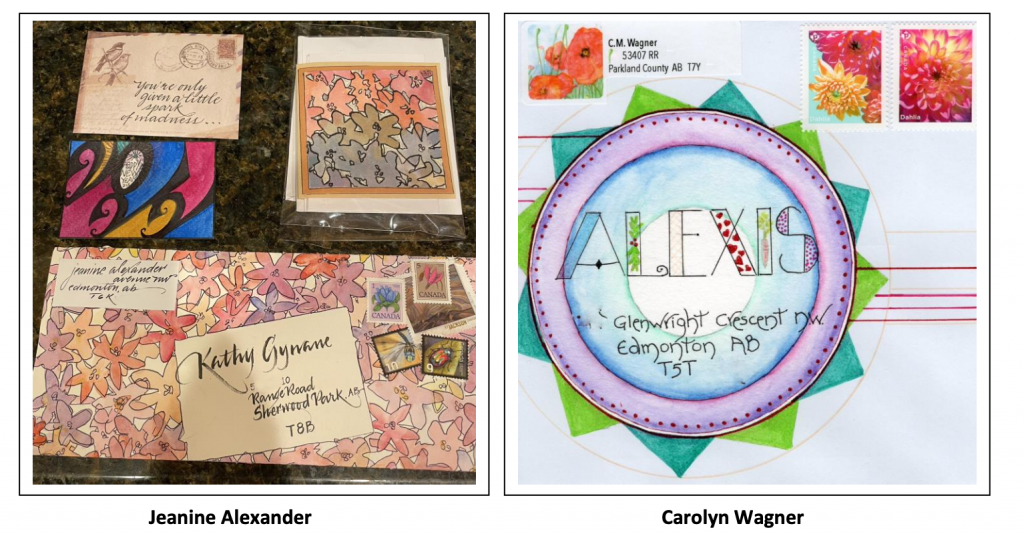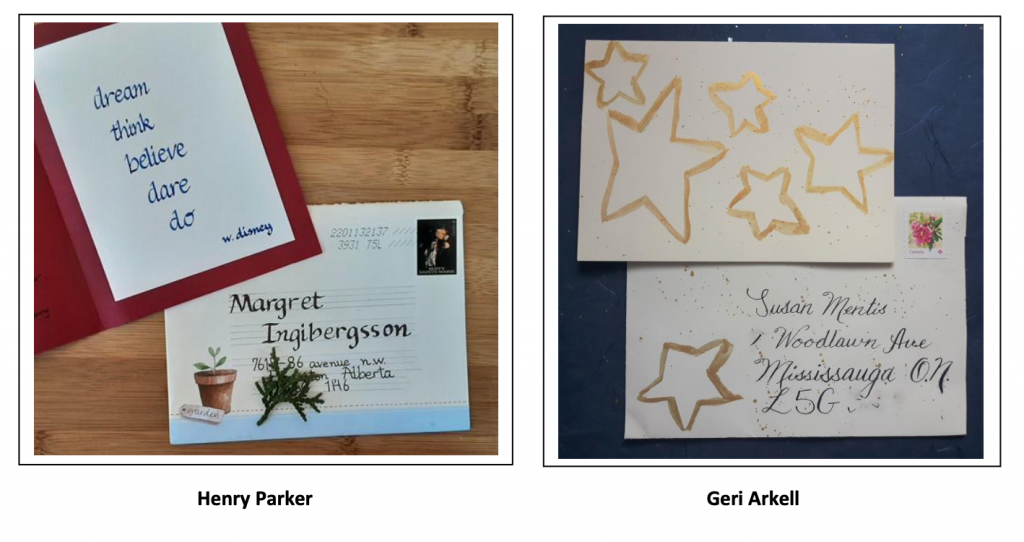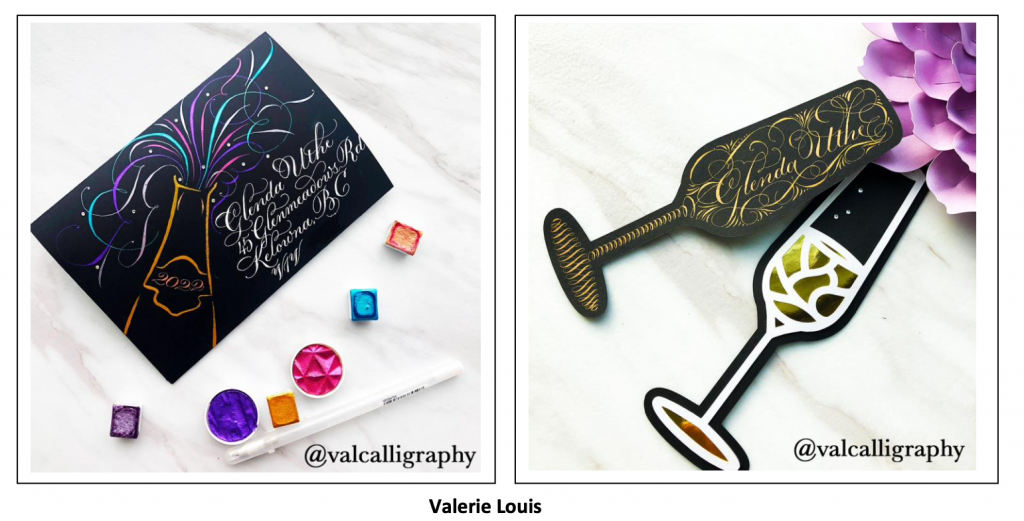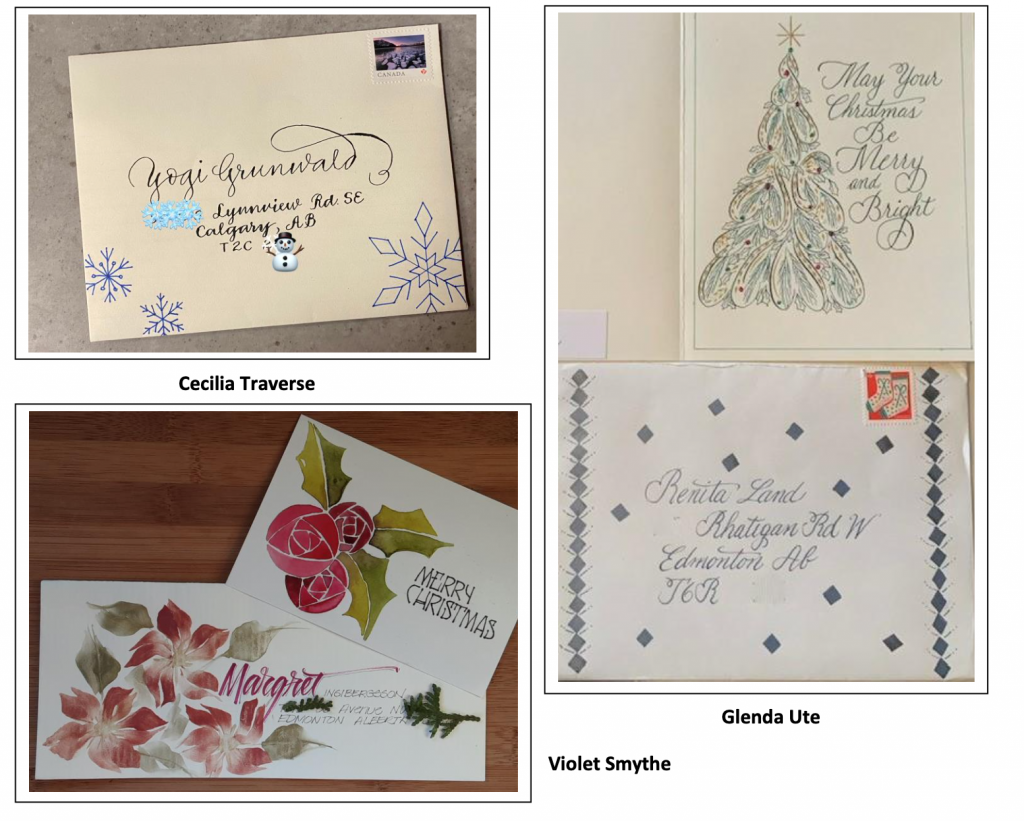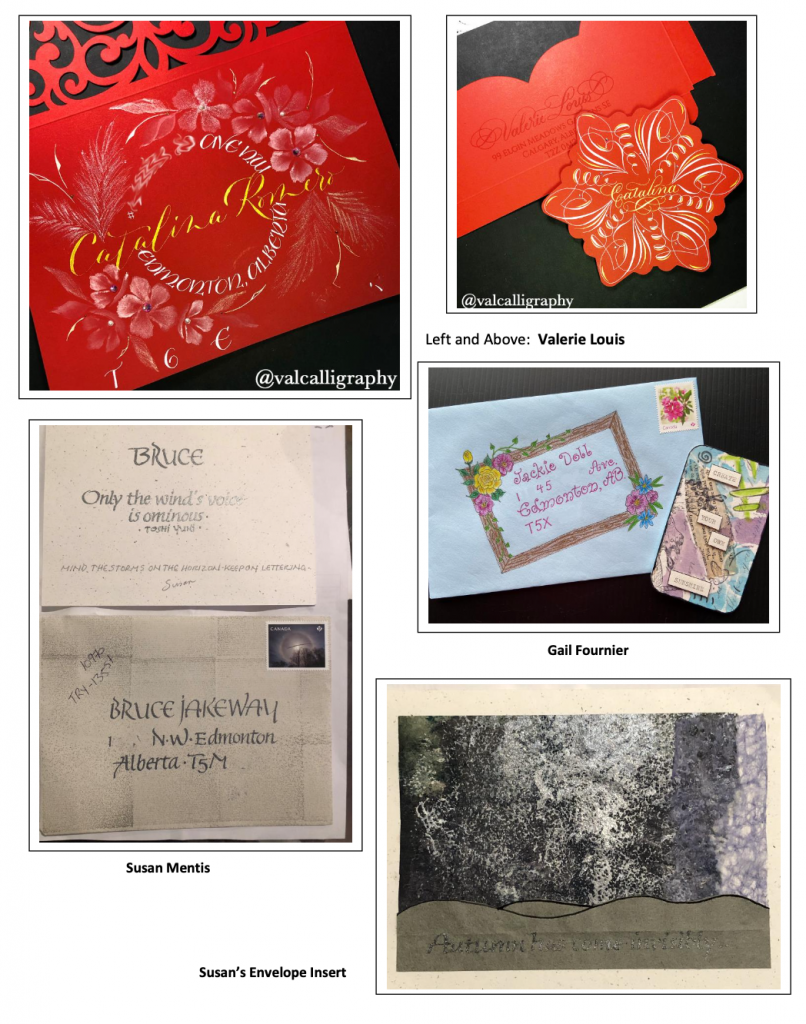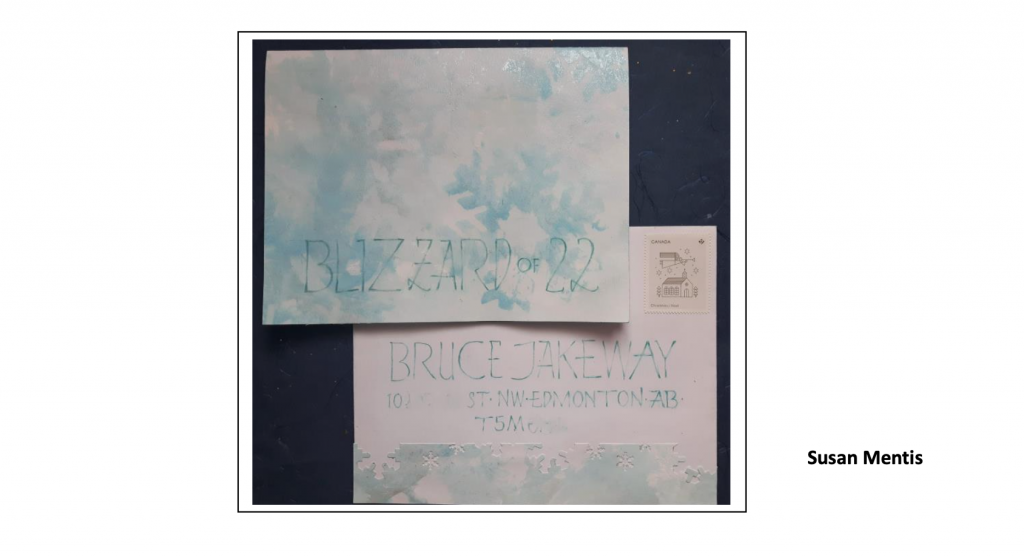 Member Projects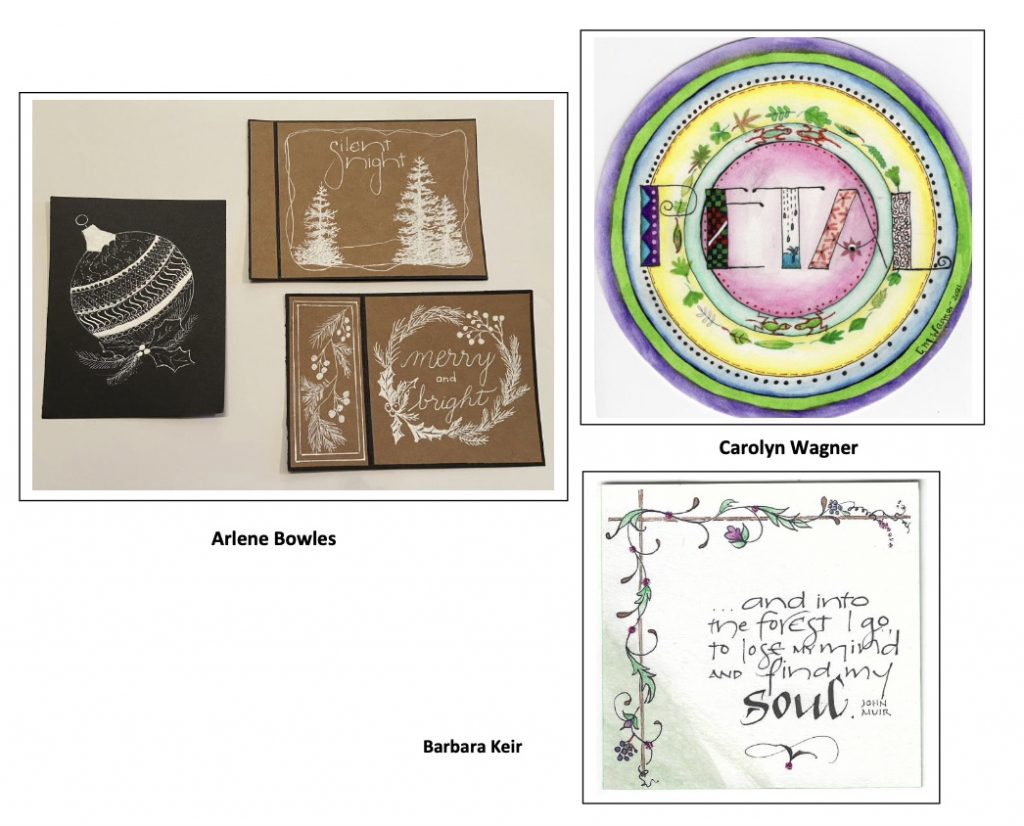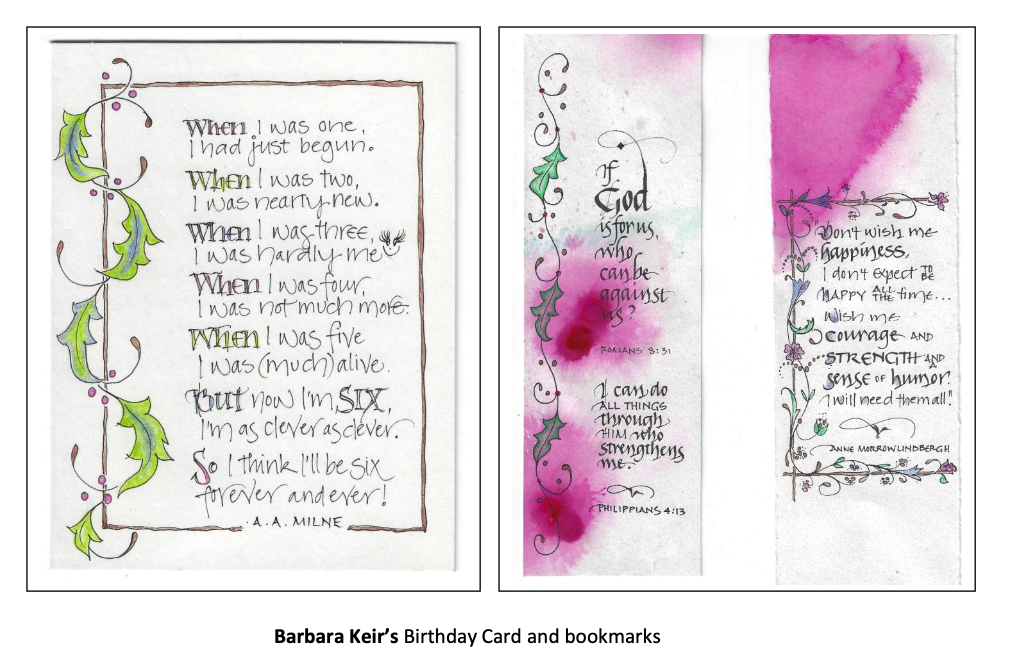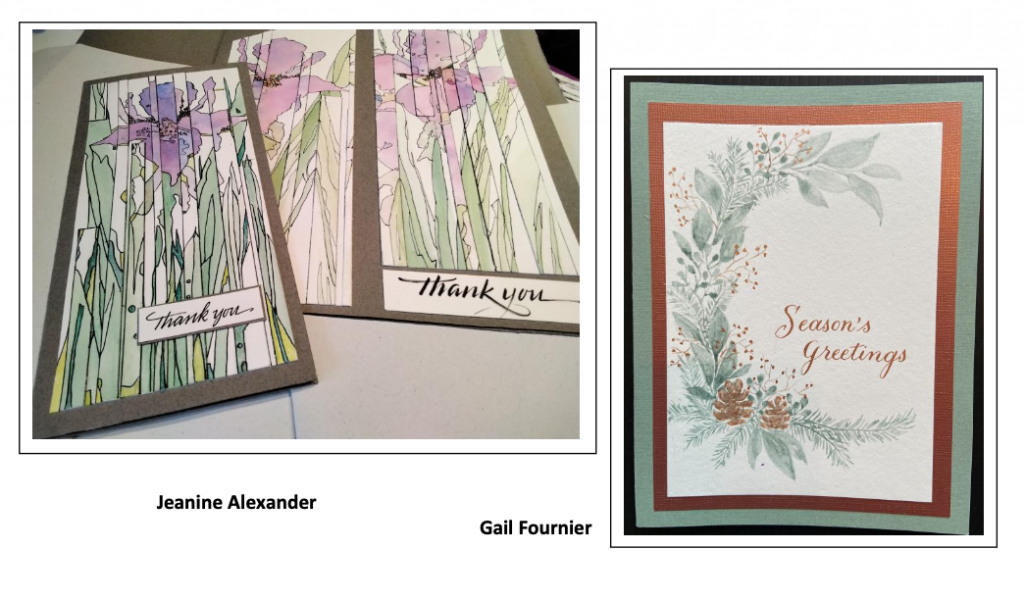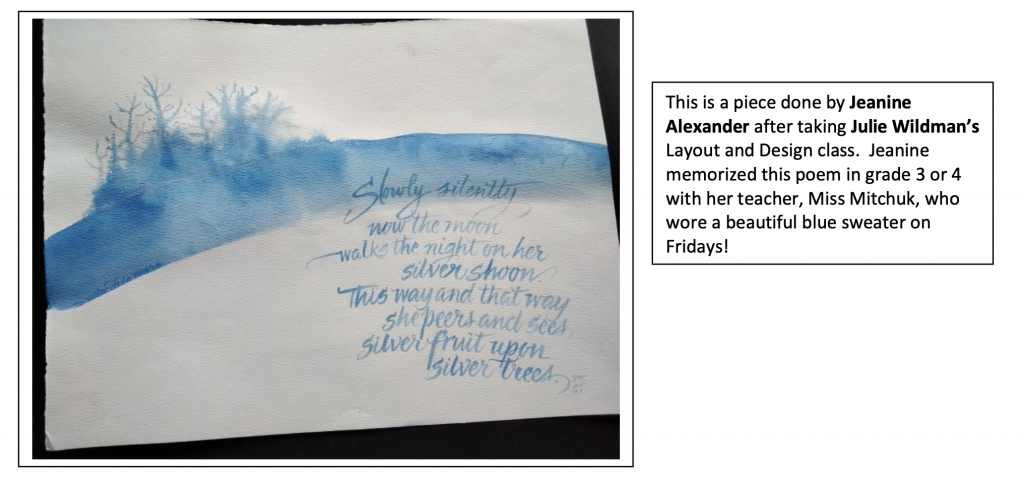 NATIONAL HANDWRITING DAY
Sunday, January 23 was National Handwriting Day. I hope you picked up a pen and wrote a note or letter to a friend! This is a link Jeanine Alexander shared, and although the Ink Drops reached you after the day, you may find it to be of interest: https://www.twinkl.ca/event/national-handwriting-day-2022 .This is an article Jeanine shared last year (I forgot it in a folder!) about the importance of teaching cursive handwriting: https://theconversation.com/why-cursive-handwriting-needs-to-make-a-school-comeback-121645.
Valentine's Day is fast approaching and what better time to put pen to paper and send a loving message to a friend or family member?! Here's some information shared by Jeanine that I forgot and rediscovered in a file!!
Handwriting love letters: FEELING the love Cursive + chocolate = Happy Valentine's Day
Story: As Valentine's Day approaches, we explain the importance of sending thoughts and messages of love and friendship to those in our close social network. Evolving research underscores the benefits of writing these messages by hand for writer and recipient alike. This depends, crucially, on sufficient automaticity and fluency of hand to unlock the words we want to use in conveying the messages we want to share. Technology such as email and robotically generated messages cheat the writer of the happiness feelings that accrue from handwriting.
Significance: Valentine's Day is a key opportunity to encourage everyone to take pen in hand and make someone happier, including the writer, by writing a message of love/friendship/ gratitude for the gifts of relationships we too often take for granted. We need MORE snail mail, and we need to inculcate this idea starting with our children. And we need to write TO our children, too. Making cards and writing messages affords authentic literacy engagements for children and good fine motor work out: folding, cutting, drawing and coloring.
Other key points: Fluent, automatic, cursive handwriting as the tool that enables writing the messages we want. We need to be able to unlock just the right words. Our words outlive us, thus, legacy writing ensures our reach to our loved ones across time, space, generations in time. We are essentially social beings, rooted by evolution in love that ensures our very survival. Multi- media: Embedded links throughout to fabulous video clips!  Source Unknown
LEARNING OPPORTUNITIES
John Neal Bookseller Numerous Online ClassesDenis Brown A Variety of ClassesSandia Workshops Online Calligraphy ClassesSociety for Calligraphy Several ClassesLettering Daily Tutorials and GuidesCalligraphy and Lettering Arts Society Videos For Beginners Calligraphy Masters Frak One Free Foundational Tutorial Ink Me This Numerous Online ClassesChicago Calligraphy Collective Several Workshops  Online Exhibition Portland Society For Calligraphy Gallery DisplayCalligraphy & Lettering Arts Society Video Guides for Beginners Kallialitheia Beginner Calligraphy TipsCalligrafile Calligraphy Guilds & ConferencesFree Beginner Class – Becca Courtice – The Happy Ever Crafter Modern Calligraphy LessonsWrite on the Edge Calligraphy Conference – This link will allow you to access classes offered online by the instructors since the conference was cancelled. Instructors' Page
A New Year With New Hopes and Plans.
This is the month we hold our Executive meeting to make plans for our 2022-23 Edmonton Calligraphic Society year. Again, we're not sure where we will be in September and whether-or-not we'll be able to meet in person. We're hopeful but will also prepare for more online learning…just in case.
We'll be discussing our programming plans and how well they are supported by our members. We encourage you to share your calligraphy for the Letters and Lines themes but we receive very few submissions. The number of items we receive between Feb. and May will have a bearing on our decision to keep or drop it next year.
The Envelope Exchange is very popular, so it will remain. I know for certain that many of you (most?!) have been taking numerous online calligraphy classes over the past year, so wish more of you would share your practice pages or 'finished' pieces. The Ink Drops Newsletter seems to be very popular but is only as successful as the number of calligraphic examples you provide! Seeing work done with various instructors may encourage others to seek out the same class.
We have several executive members who are giving up their positions in May. A strong core of dedicated volunteers is necessary to maintain the wonderful programming you have been accessing these past two COVID years. We need you! Please consider stepping up to take your turn as a valued member of our team! There are several openings from which to choose and you will be mentored by current executive members until the fall.
Please read the following brief descriptions of the positions which need filling and let me know which one entices you. gfournier@telus.net
Letter on! Gail Fournier ECS President
TREASURER
Are you looking for a new way to have lots of fun, help plan ECS activities, and know about our exciting events ahead of time?
My name is Laura Eriksson, I jumped at the opportunity to be treasurer of ECS at our May 2019 meeting, and it has been loads of fun since then! It was my first year of ECS and I loved the society's enthusiasm and nurturing of all our members in their artistic pursuits. An unexpected perk I discovered is that all board members get to help plan upcoming calligraphic activities, such as which instructors we would like to invite in the upcoming year.
While I have enjoyed my time in this role, my other life responsibilities now need my full attention, so I am moving to the mentorship role for the lucky person who joins on as our new treasurer. I learned a lot in the first several months of being mentored and I look forward to working with our new treasurer, which could be you!
Being treasurer of ECS is a minimal time commitment, with most months taking about 3 to 10 hours of time. A few more hours are needed in August and September to prepare for the annual audit, and time is back to normal levels again in October. It's a great opportunity for anyone wanting to easily expand their skill set and round out their resume. Be a part of the excitement and sign up to be the ECS treasurer for this upcoming year!
Laura Eriksson
SECRETARY
The reason I joined the ECS executive as secretary was because I wanted to be on the fast track to  get to knowother members. I have so enjoyed the relationships that have grown between those of us on the executive team and would really encourage anyone who wants to get more involved to go for it! The secretary position is not hard… My main duties are to take minutes at meetings and send out emails to the membership. (There are a few other things but those are the main ones.) I also keep an updated Gmail contact list based off the list that the Membership committee keeps. If you love calligraphy and lettering and want to participate in the planning and organizing of this great group, the secretary position is a simple way to get involved!
Amy Bollana
VICE PRESIDENT & WORKSHOP COORDINATOR
If you enjoy being close to the action, why not give some thought to joining the ECS in the role of VP and Workshop Chair? This position has changed considerably during COVID but you will be very close to the pulse of the ECS, and your duties would include the following:
Attendance at all meetings and if necessary, filling in if the President is unavailable
Organizing 3 or 4 workshops each year (currently online via Zoom)
Working alongside the coordinator of ECS monthly programs (in lieu of our monthly "Learn to Letter" programs at in person general meetings)
Working alongside the coordinator of monthly "Mentor Meetups"
Ad ministrative tasks including preparation of instructors' contracts, setting up events using Eventbrite and Zoom,maintaining workshop records, arranging payments to instructors, general communication, etc.If this sounds like something you would like to be part of, we would love to have you on board. Let us know and we will send you a more comprehensive job description.
Barbara Keir
MONTHLY PROGRAMMING COORDINATOR
We created this interesting and exciting position as a result of the COVID pandemic, which forced us to reconsider how we would deliver our monthly programs. The best thing about this job is being able to have a strong voice in determining which calligraphers or instructors we hire for a mini workshop during our meetings, either in-person or on-line. You will present a list of possible instructors to the executive for input, then make initial contact with the selected instructors. Once their interest is confirmed, workshop content and availability is determined. A contract is sent to be signed and returned. In advance of an on-line meeting, you will create a Zoom link to forward to the Secretary who will send it to our members a week before the meeting, along with a supply list and any handout materials. You can either host the monthly Zoom meeting or co-host with another ECS member. You will be responsible for recording the session and converting it to a YouTube document, then forwarding it to the Secretary for distribution to our members. For an in- person meeting, you are responsible for ensuring teaching equipment is available and functioning, sufficient handout materials are available, and you will act as host for that portion of the meeting. The Treasurer will pay the instructor.
Peggy Marce
INK DROPS NEWSLETTER EDITOR
I have been creating the newsletter in its current format for three years, and need to pass it on to someone else, as I have enough duties as ECS President to keep me out of trouble! Of course, we want to keep the same format (lots of photos
of our work), as we receive many positive comments about it. There is likely someone who is better at using computer programs or has graphic design experience who would love to take on the job. Although this is my third year as president, I am willing to continue for another year if someone will take on the production of the Ink Drops Newsletter. I plan to publish Ink Drops until June, then hand it over to YOU! Please contact me to say you want this interesting job!
Gail Fournier gfournier@telus.net
Hey, did you really consider how valued your participation would be as a member of our team?! Think about the wonderful contribution you will make to assist our Edmonton Calligraphic Society and keep it vibrant and relevant!