Thank you to all who came out to the meeting on Wednesday and made inserts and addressed envelopes for the ECS partner Christmas cards.
A special thanks to Barbara Keir for doing the lettering and exquisite designs on the front of the cards. Lovely! Gorgeous! Beautiful!
Thank you to Pauline Baynes for all the great images on the website…take a look.
The second part of the evening was focused on decorating matte glass Christmas ornaments with a mosaic-­‐like versal letter…you could have heard a pin drop as the letters were delicately decorated.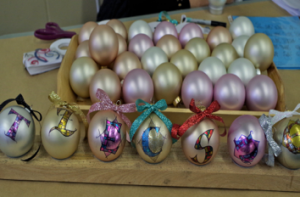 Executive Meeting December 2, 2017
The executive met on December 2 to do the long range planning for next year. Discussion about increasing hourly instructor fees is coming.
The workshop line up for the next year is in progress as well, and we hope to provide THREE 1-­‐day workshops in the fall of 2018 and again in the spring of 2019.
Upcoming Workshops—Spring 2018
February 25, 2018:  Blackletter with Barbara Keir
March 24, 2018:  Pointed pen uncials and Vivacious Versals with Pauline Baynes & Jeanine Alexander
April 28, 2018:  Neuland with Bev Duke
All of these workshops will feature a morning of lettering followed by a light lunch (provided ) and an afternoon of calligraphic applications. The cost is $80. The catch…there are only 8 spots available. You can wait and register at the February meeting or contact Gail Fournier before year-­‐end to arrange to pay for your spot before they go public on Eventbrite.
The Edmonton Arts Council Grant
The Edmonton Arts Council grant was submitted. When writing the narrative this year, it was very gratifying to note all the outreach activities which we accomplished and all the new members we have gained. We truly are functioning well as a publically funded arts group and are passing along calligraphic skills and knowledge as our objectives state.
Learn to Letter Classes 2018
If you would like to teach a Learn to Letter class(after the general meetings) in 2018, please contact an executive team member for the new topics. An honourarium will be given.
Member Appreciation Event
May 5, 2018 is the date set aside for the Member appreciation Event. In keeping with our new tradition of heavily subsidizing a project workshop for our members, we will be making books with the fabric from the old banner. Lunch will be provided and $20 saves your spot… Registration will start in 2018.
NO MEETING IN JANUARY
February 7, 2018 Meeting
Learn to Letter: Black letter: We will be using the 3.8 Pilot Parallel pen. Put it on your Christmas wish list! Non-members can register for this Learn to Letter class on Eventbrite.
See you next year.