October 2019
Next meeting: November 6, 2019
(Doors open at 5:30 to set up tables and chairs. Meeting begins at 6:00)
Letters & Lines Theme: "Under the Sea"
Learn to Letter: Lively Versals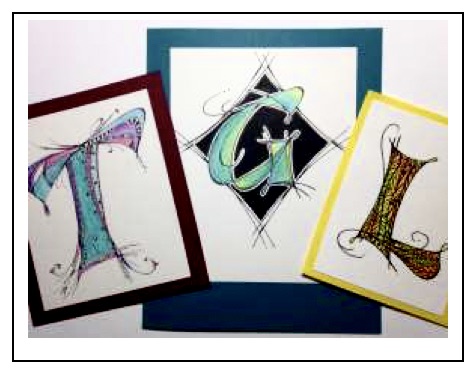 Project: Greeting Cards
We had another full house at our October meeting and welcomed three new members! I like this positive trend. I'd like to thank those of you who are able to arrive at 5:30 to help set up the tables and chairs. It's such an appreciated gesture of assistance!
LEARN TO LETTER
Jeanine demonstrated how to use a water brush and a small palette of primary colours to make some beautiful blended letters. We carried over our September theme of "Hello" to practice our brush techniques. Jeanine provided a package of different papers which included a postcard to be used with our lettered word.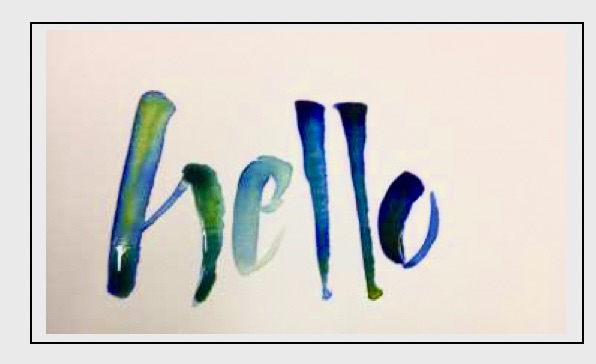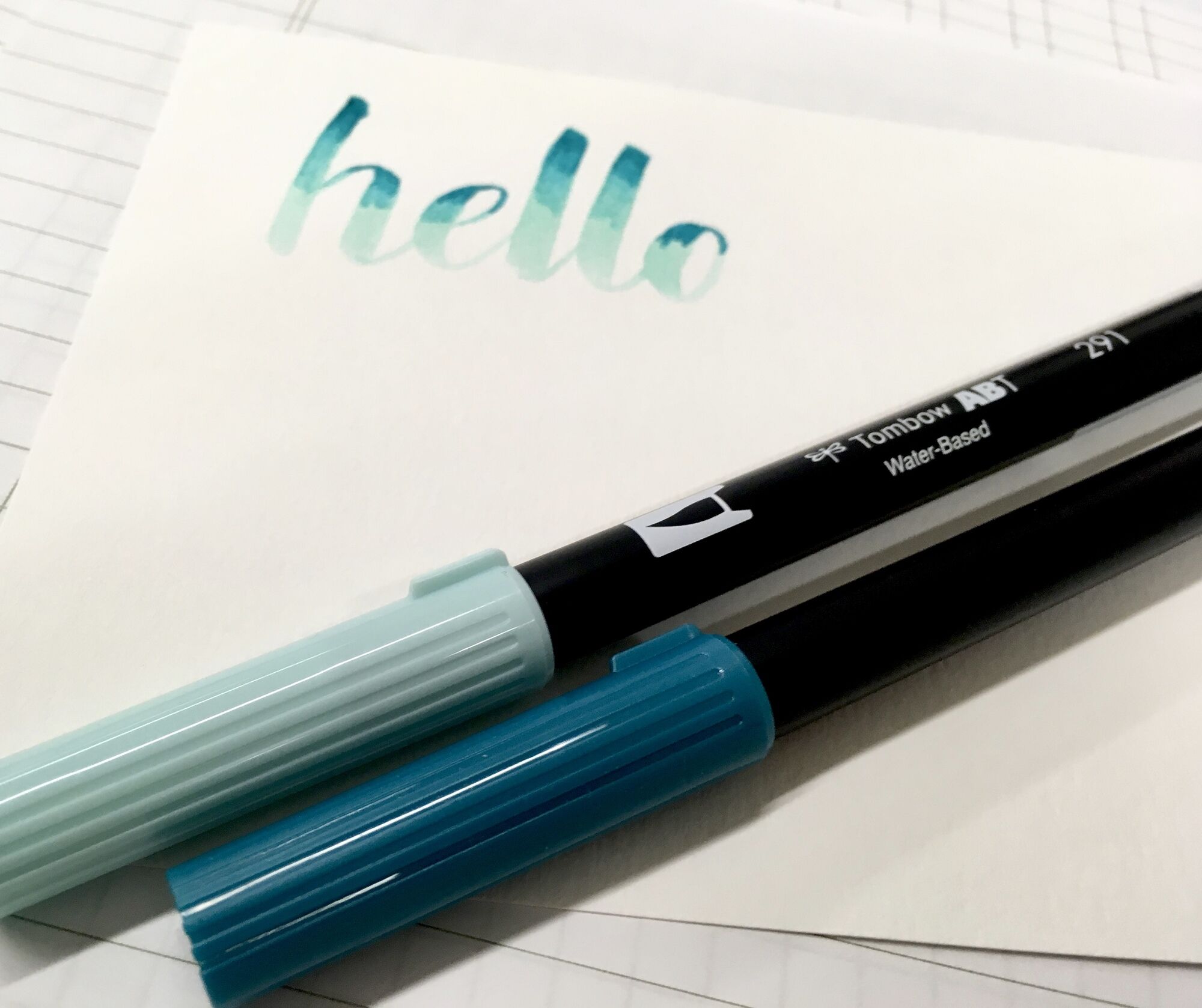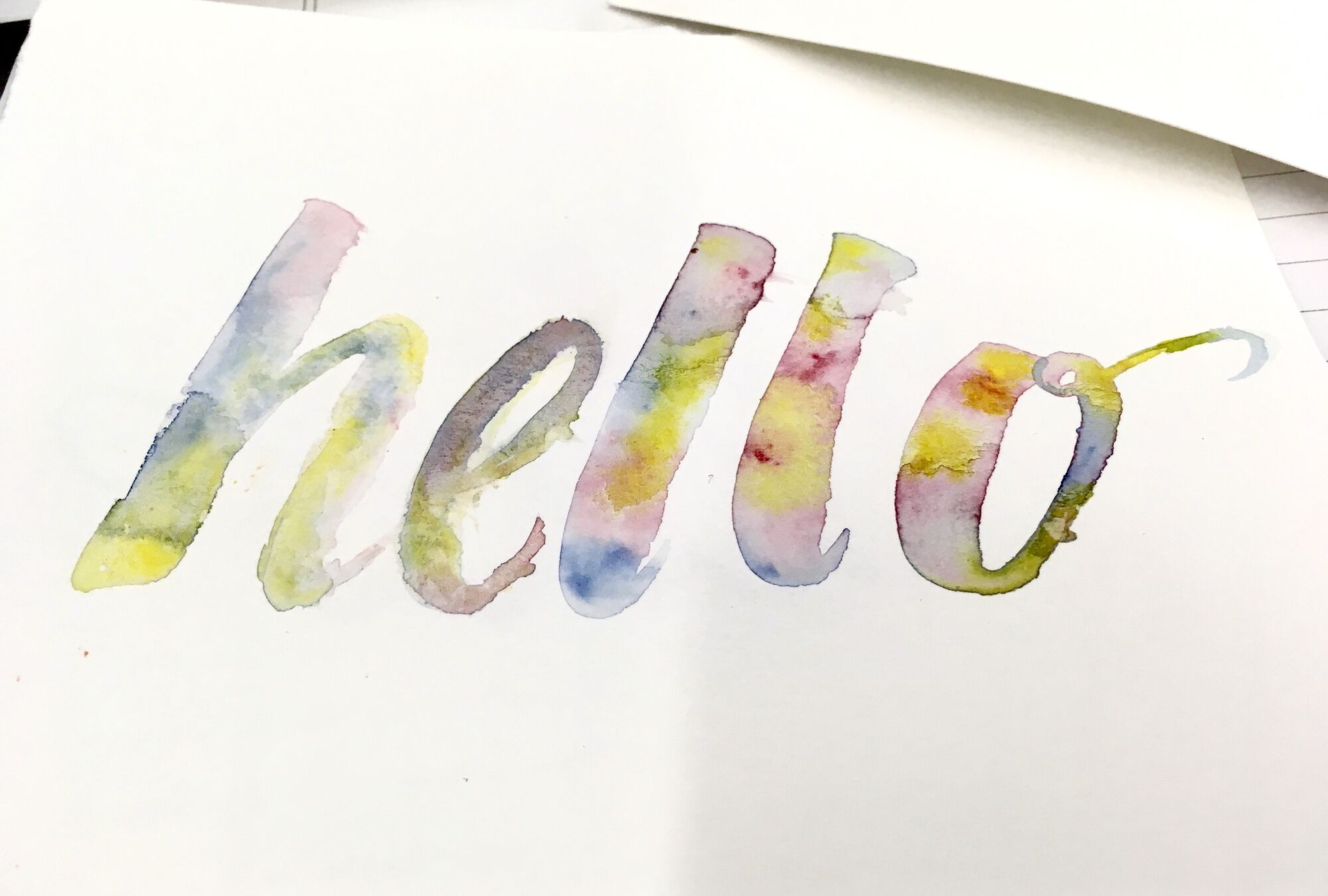 Letters & Lines
October Theme: "Gather"
Our members must have had an extra-busy month, as we only had two pieces of lettering that reflected our theme. They were lovely!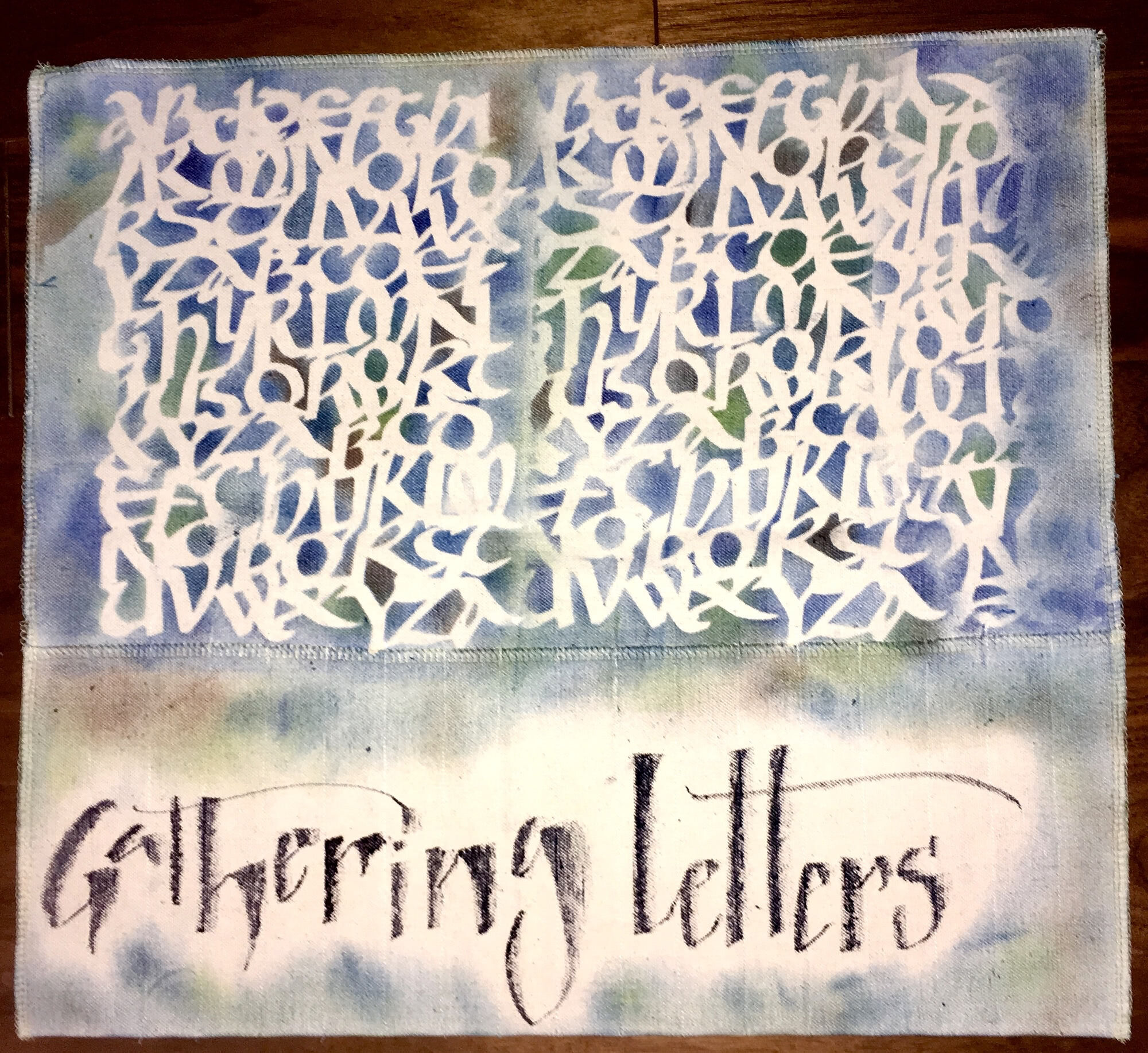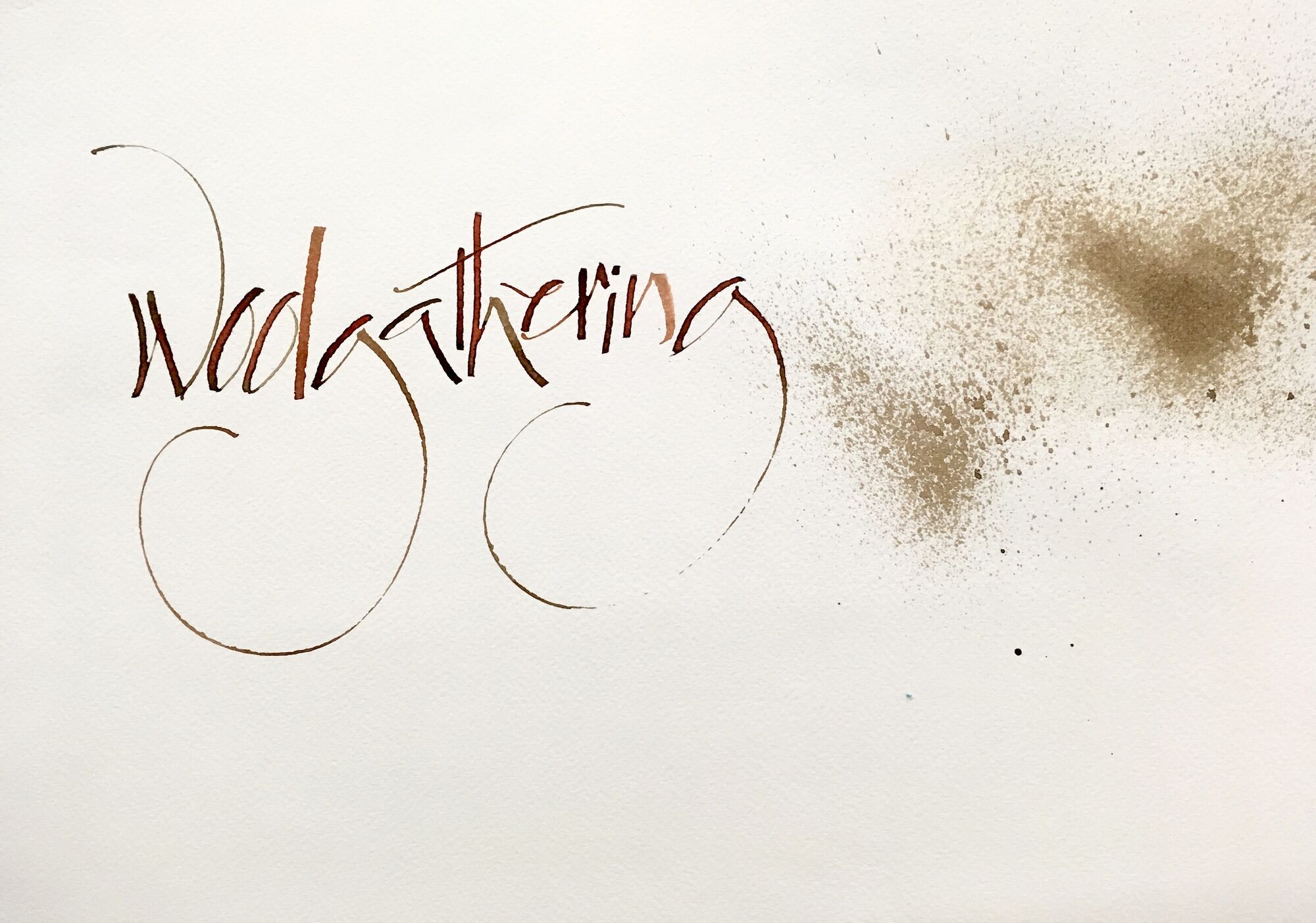 More examples from Loredana Zega's Experimental Embossing Workshop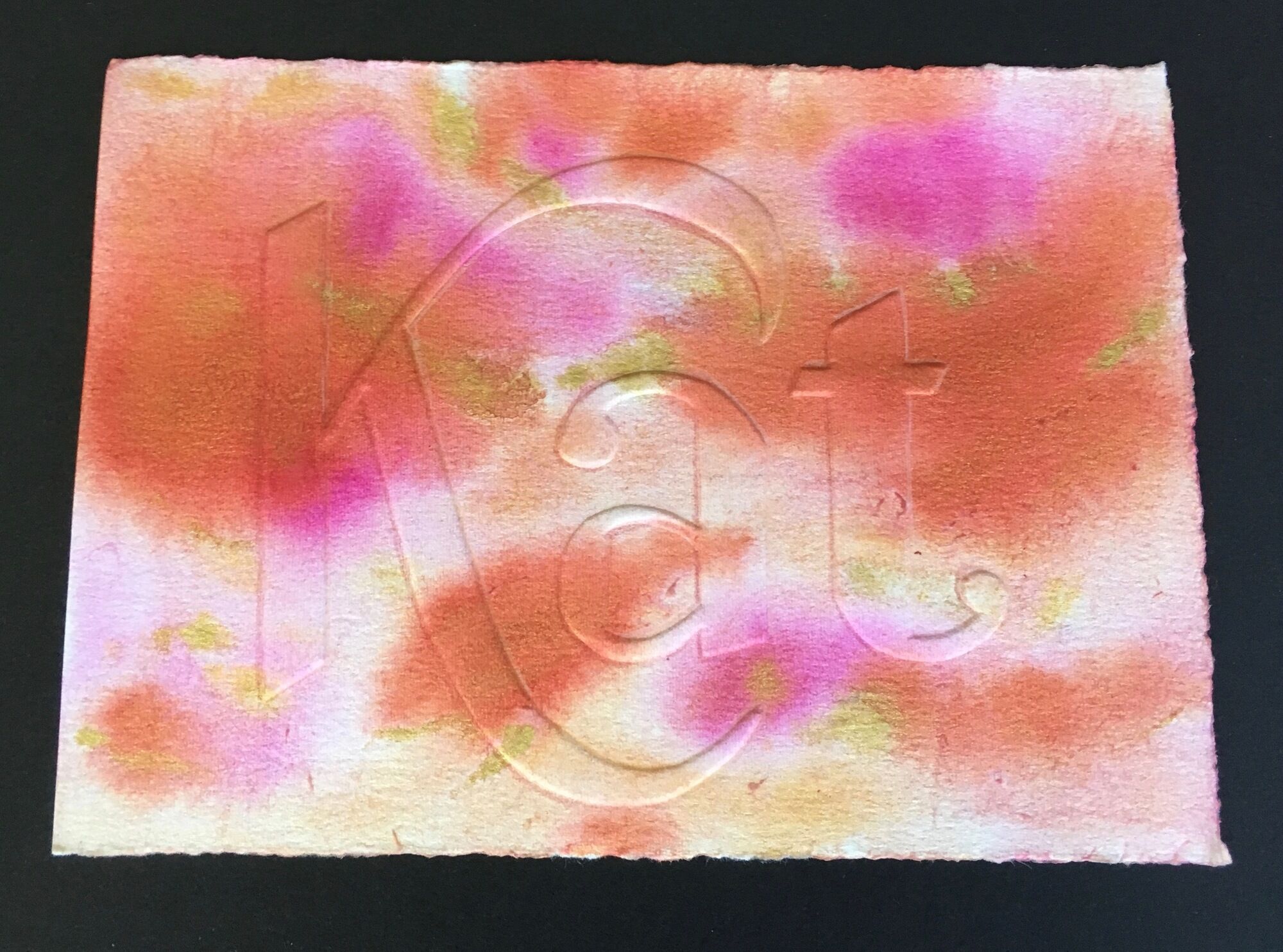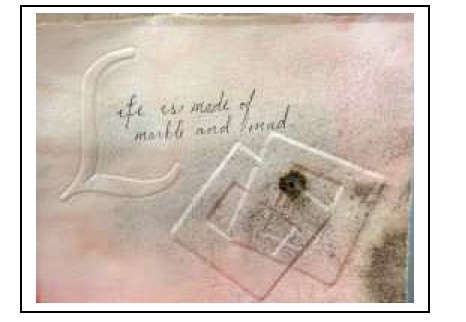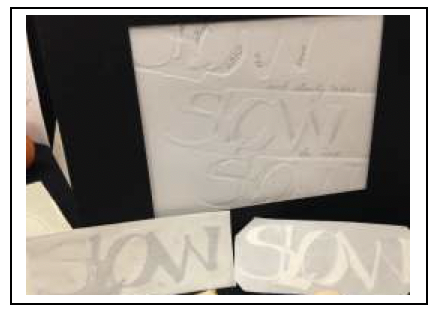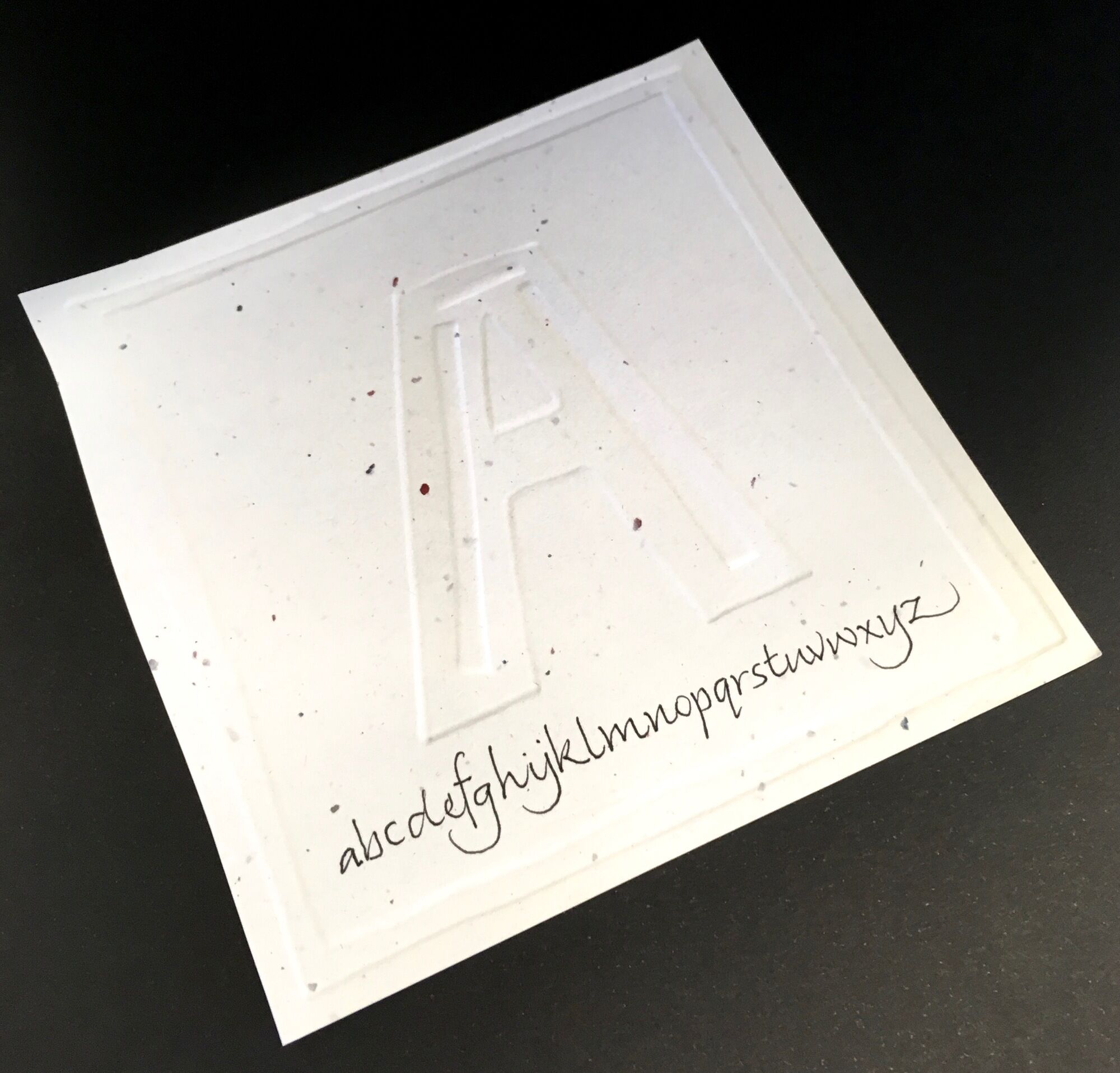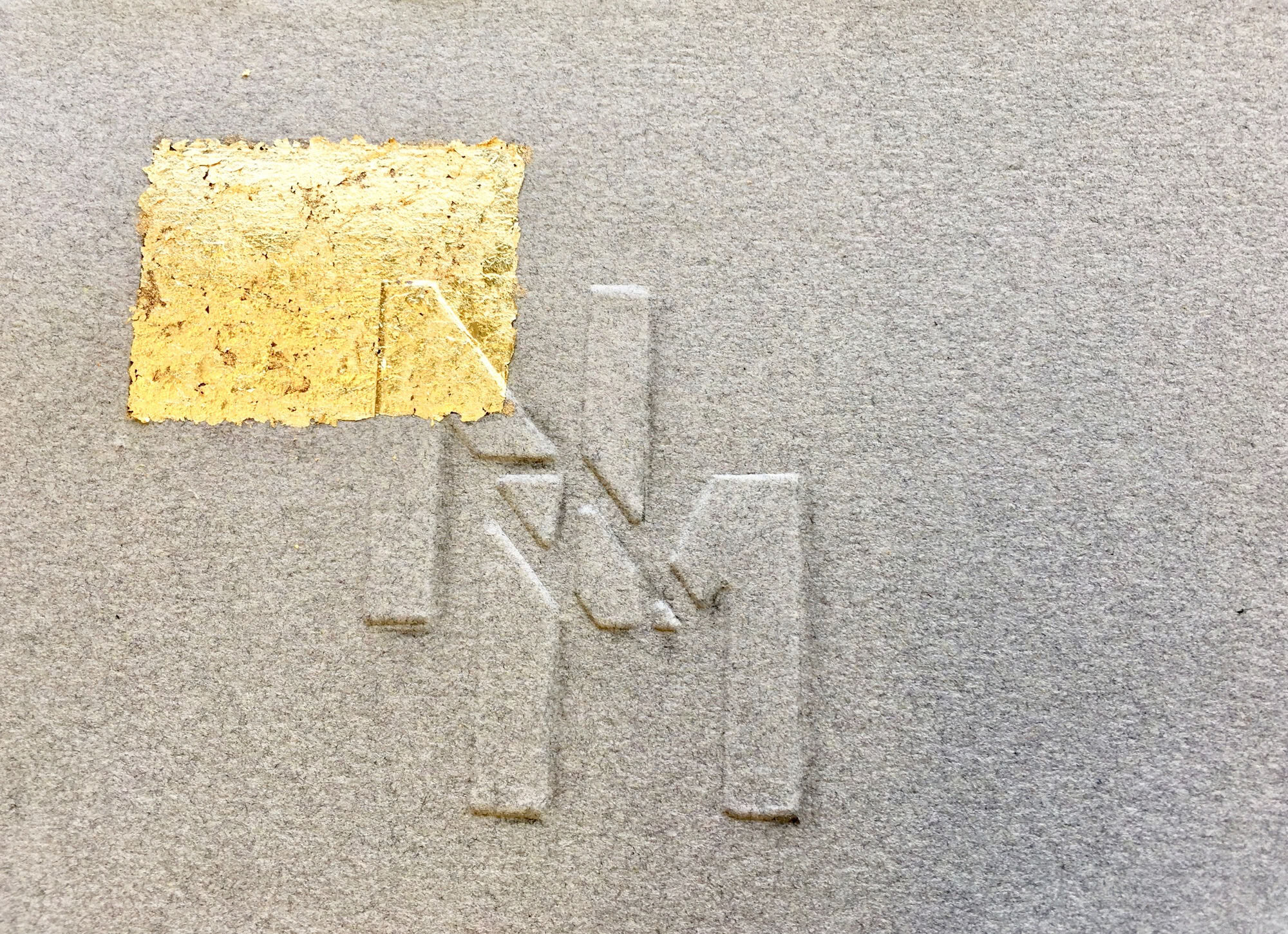 Other work by our members: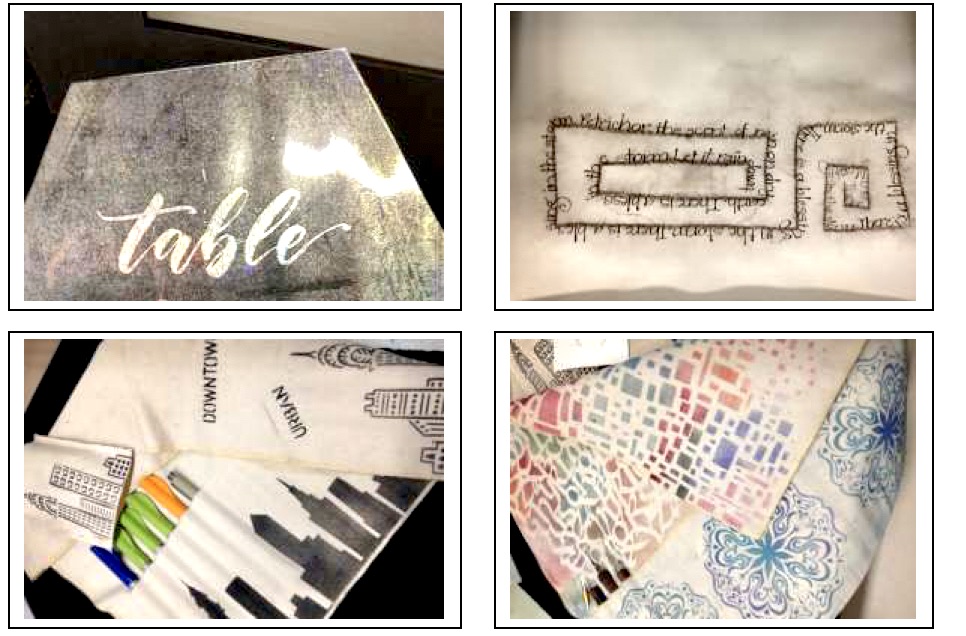 Envelope Exchange
Things are looking up…we had four envelopes to display this month.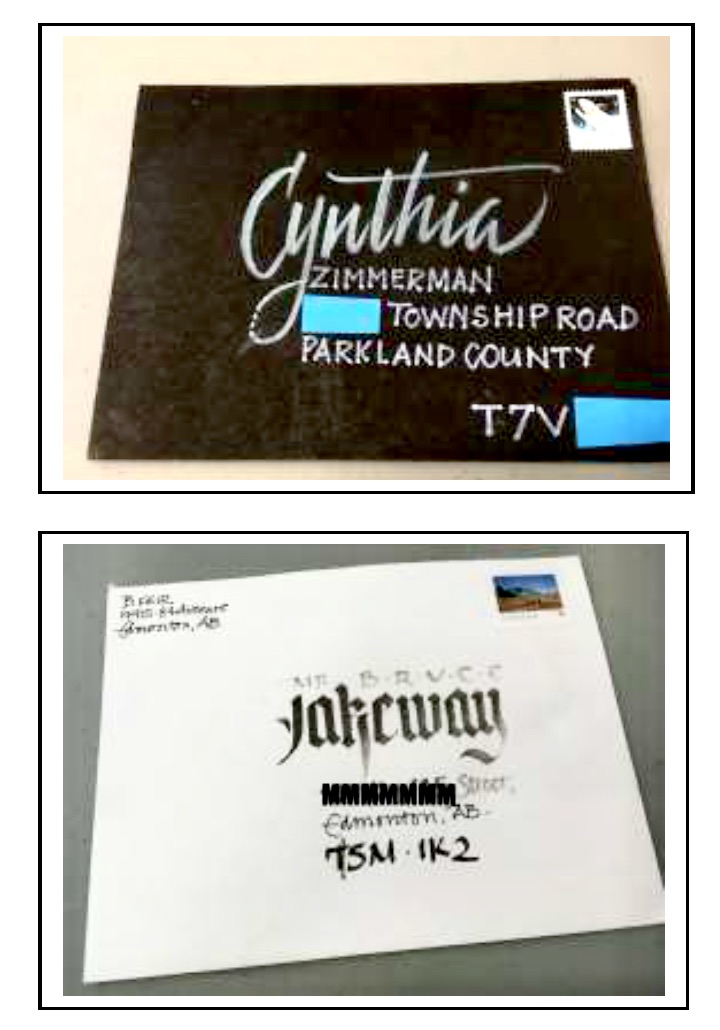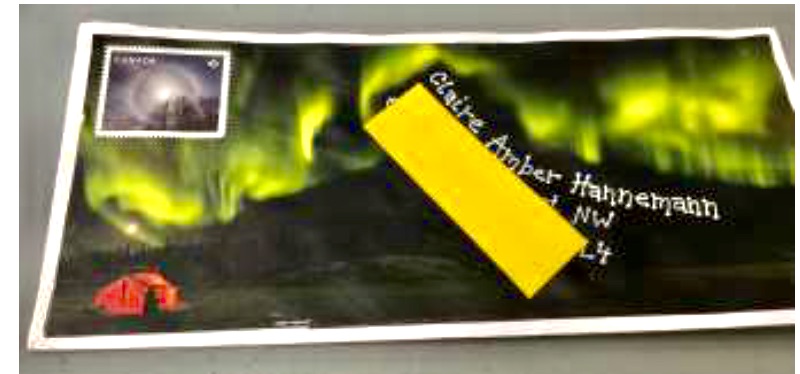 MEMBERSHIP
 If you renewed your membership by Oct. 2, 2019, you will be included in our Directory if you have given permission to have your information published.
We have a couple of new members since the last meeting. Please be sure to pick up your fridge 'pocket' with our Year at a Glance info strip. Jeanine has them outside the door where she will make you a name tag.
October Workshop:
October 26, 2019    10 AM to 4 PM at the Artelier       Jeanine Alexander—Brush Lettering
We have 4 spots available for this class. You may register through Eventbrite. https://www.eventbrite.ca/e/brush-lettering-tickets-70497472839?aff=ebdssbeac
This is a great opportunity to learn brush lettering from one of our most experienced calligraphers.
Building on a basic italic alphabet, we will begin to make letters with walnut ink (provided) and a #4 brush to complete a small alphabet project. Switching to a water brush, we will learn a flourished version of our letters and begin to work in colour to complete some small projects.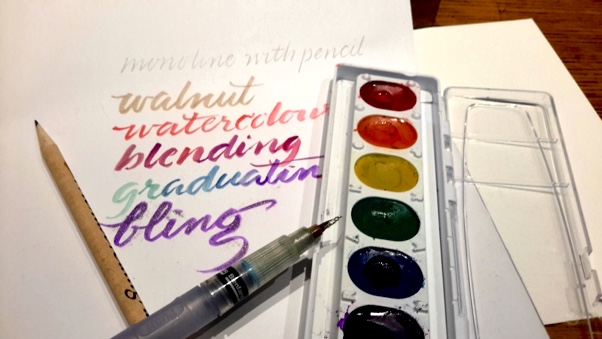 Supplies to bring: 
#4 DaVinci brush (green handle)
Water brush (fine or medium) Pentel, Koi, other brand Pencil, eraser,
T square, water container, paper towels
All paper will be provided for your work, practice and projects in class. If you have some paper that you would like to use, feel free to bring it along.
OUTREACH
Saturday, September 28           Sherwood Park Agora         10 AM to 4 PM
Jeanine, Gail, and Amy attended the Words in the Park event where local authors were selling their books. We had about 25 people stop by and several made simple, decorated letters for the front of a small, hand- sewn notebook. (Jeanine and Gail had plenty of time to sew a collection while sitting there!)

October 5, 2019                       Southgate Mall             9 AM to 1 PM
Jeanine, Gail, Barbara and Jackie met in the basement storage room at Southgate and lettered 107 pumpkins for their Fall Fair the next day. We were paid $535 for our efforts.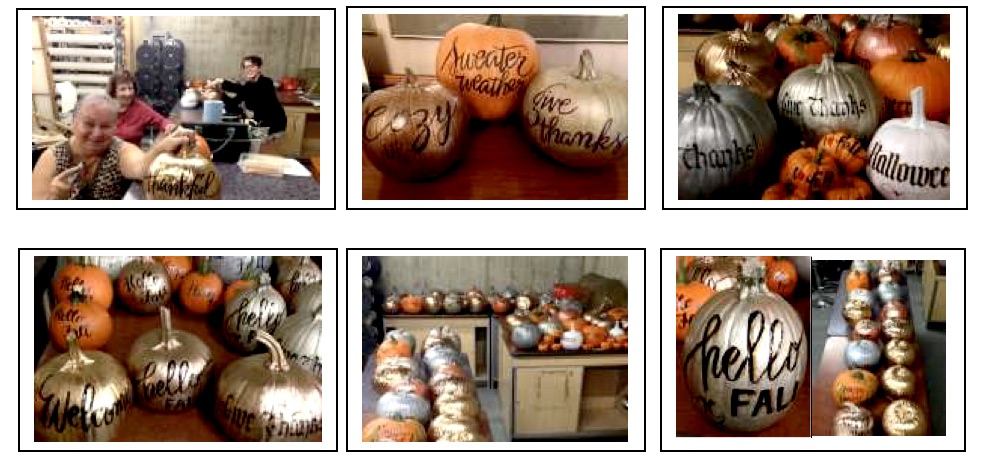 Sunday, December 1, 2019                   Bountiful Farmers' Market       9 AM to 5 PM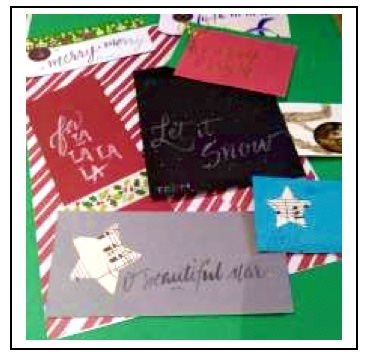 This going to be a busy and fun day! We will be writing
people's names on Christmas gift tags and will accept donations to help build our Write On, Wendy bursary fund. As this is a full- day event, we need several people to volunteer for a shift in the morning or afternoon. There are several of our newer members whose lettering skills are developing very nicely and we hope you will consider joining us! You are ready! Please Sign up at the November meeting.
DECEMBER, 2019 (To be announced…)
 BUILDING OUR "WRITE ON WENDY" BURSARY
 October is the fourth anniversary of the death of one of our long-time members, Wendy Spiers, whose family donated $1300 to the Edmonton Calligraphic Society in her memory. We created a bursary for new members to honour her love of letters and we award $40 for a two-day workshop and $20 for a one-day workshop to be used in the first year of their membership. We are excited to be getting a few requests for our lettering skills where we are paid, as we can put it toward building the bursary again. We hope to support some of our new members who sign up for the Red Deer ABC 2020 Conference next year.
GETTY-DUBAY CONTRIBUTION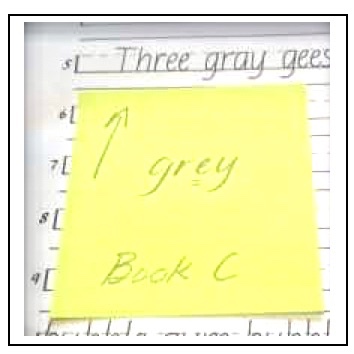 The Edmonton Calligraphic Society was chosen to advise on the Content of the Getty-Dubay Cursive Italic programs for their International curriculums. Our contribution has been recognized in the new release.
ECS President, Gail Fournier