Edmonton Calligraphic Society – Bulletin #05, May 2017
May Meeting
The next meeting is our Annual General Meeting which is scheduled for May 3rd. Doors open at 6 and the meeting is from 6:30-8:45 p.m. This month's Letters and Lines theme is WHITE AT NIGHT so bring one or more art pieces that you think applies to this theme, or examples of last month's Learn to Letter exercise which was Versals. Below are some examples of last month's L&L display which was DRIPS & DROPS. Don't be afraid to bring in any project that will inspire us! The Learn to Letter exercise after the AGM is Gothicized Italic. Renewing your membership now will enable us to keep in contact with you over the summer AND you will receive a gift. Everyone is encouraged to attend and be a part of the voting process.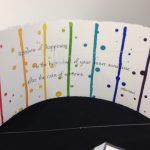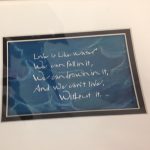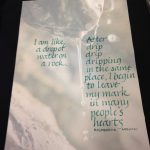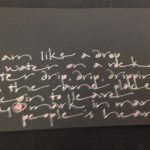 Fundraising Partnership a Success
After all the bills were paid and the profits tallied, we are happy to report that ECS cleared $1114.00 from the fundraising partnership between ECS and a women's senior baseball team. A huge thank-you goes to the following people for the purchase of tickets: Jeanine Alexander, LynnAnn Babuk, Peggy Marce, Gerry Annand, Gail Fournier, Lilian Lai, Cathy Jackson, Rose Addorisio and Jackie Doll; purchase of tickets for donation: Jeanine Alexander, LynnAnn Babuk, Pauline Baynes, and Cathy Gynane. Funds for food: Elaine Deines and Gail Fournier; donation of sweets: Rose Addorisio, Peggy Marce, Gail Fournier, Jackie Doll and Gerry Annand; donation of silent auction items: Cathy Gynane, Jackie Doll, Florence Ross, Gerry Annand, Margaret Poznansky, Gail Fournier, Pauline Baynes, Elaine Deines, Jeanine Alexander, LynnAnn Babuk, Peggy Marce, Carol Wagner and Cathy Jackson, along with Margaret Brown and Kay Fournier. Two former ECS members – Lorna Savak and Marj Hughes also donated items – awesome! And once again, thank-you to Nancy and Malcolm Kellock at Expressions & Images Custom Framing Inc. for their help with the silent auction items. Nancy not only donated hundreds of dollars' worth of framing for some of the donated calligraphic pieces but was also responsible for purchasing 12 of the 24 tickets we sold! Thanks for your support, Nancy! (ECS members receive 20% off at this excellent store. Check it out at www.expressionsandimages.com).
We also want to express sincere thanks to the following members. Jeanine Alexander for donating a huge bag of walnuts for table snacks, helping shop for the food, making the liquor draw sign, and helping at the event; LynnAnn Babuk for making and presenting the Iced Walnuts, bringing display stands and setting them up, and helping at the event; Lilian Lai for helping prepare fruit, veggies and cheese, and helping at the event; Gerry Annand for helping at the event; and Peggy Marce for helping at the event and making two runs to get ice for the bar.
"And the Small Become Great" Workshop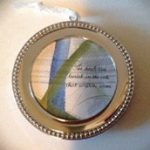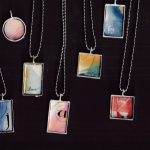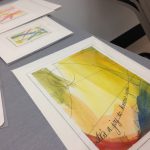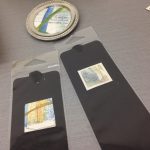 LynnAnn Babuk is teaching this spring workshop on May 6-7 at the Mill Woods Senior & Multicultural Centre on May 6 & 7. The registration fee is $135 at the May meeting (we now have Debit capabilities!) or on Eventbrite. There is a $15 cost for supplies, payable to instructor. New members are eligible for registration fee funding through the Wendy Spiers Fund.
Volunteer Appreciation Night
On June 7th Sally Towers-Sybblis will facilitate a mini-book workshop for our members. ECS is subsidizing this $75 workshop so the cost will be a mere $20/person to attend if you register at the May meeting. The cost is $40 on Eventbrite if you register after May 3rd. Light snacks will be served to keep up your energy for the evening. For more information on Sally, go to https://sallytowerssybblis.com.
LetterWorks Art Conference 2017
Volunteers have been busy making 350 mini-booklets to send to the LetterWorks Conference. Thanks to all the Executive members who came out to chop, fold and stitch the books together. And, thanks to the Prince of Wales Armouries for providing space to work on this initiative – an incredible location to visit and work in. For more information on the International Lettering Arts Conference, go to http://letterworks.org/.
ECS Fall Workshops
September 16 & 17. Develop and refine your Italic hand with instructor Alexis Reiter who will be instructing "Italic for All." This is a lettering class with an optional in-class project. Registration fee is $150.
October 21 & 22. Join Connie Furgason on a journey in calligraphy application. "Making the Mark" is a class for all levels and sure to be fun! Registration fee is $150.
Community Workshops Instructed by ECS Members
(For information on the following events, contact the artists.)
Shelly Banks – Five Books in Five Weeks, Tuesdays, May 2,9,16,23,30 at The Paint Spot.
Jeanine Alexander – Improve Your Handwriting, Saturday, May 13, Harry Ainlay High School. Register through EPS Metro Continuing Education at http://www.metrocontinuingeducation.ca/adultcontinuingeducation/newclassesor call 780-428-1111.
Lynn Ann Babuk – Modern Script, Saturday, May 27th from 10 am to 4 pm, City Arts Centre, Course Code – 590265,
Jeanine Alexander – Beauty & the Brush, The Paint Spot on Sunday, May 28. Register at http://paintspot.ca/events/workshops/ or call 780-432-0240.
Shelley Banks – Make a Little Box and Put a Book in It, The Paint Spot on Saturday, May 27. Register at http://paintspot.ca/events/workshops/ or call 780-432-0240.
August
LynnAnn Babuk – Celtic Lettering, 3 Monday nights 6:30 to 9:30. City Arts Centre, Course Code 596268
September
LynnAnn Babuk – Etsy Pop-Up Sale, Saturday & Sunday, September 23 & 24, Shaw Conference Centre
Old Banner Project
We have received several suggestions on how to re-use the old ECS banner. A project is in the planning stages so be prepared to hear more about this in the fall. Thank you for your inspirational suggestions.
If you are teaching calligraphy and/or a related art, we encourage you to advertise on the ECS website.  The cost is very reasonable at $25/year. Your name and a description of your work will remain on the website for one calendar year. To check out the ECS artists currently advertising there, go to https://edmontoncalligraphicsociety.ca.
ECS meeting days are held on the first Wednesday of the month in Room 231 at Mill Woods Seniors and Multicultural Centre, 2610 Hewes Way, Edmonton. Because Room 231 is a studio space, refreshments cannot be served. There is a wonderful conversation area outside of the room where you are welcome to bring beverages in spill-proof containers.