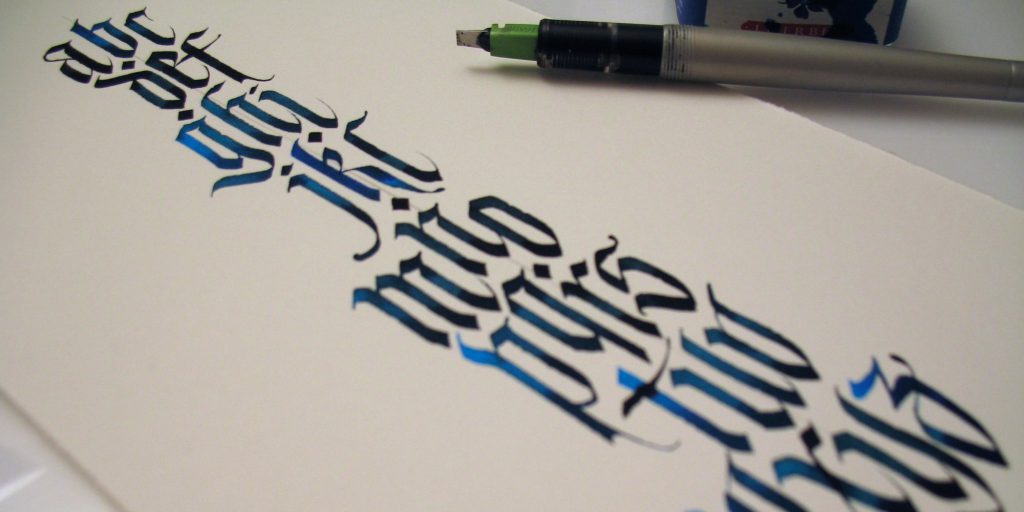 In this two day workshop September 17–18, we will look beyond the well-known, well-loved, dense and forceful Blackletter to study a more gentle,sensitive version of Gothic Letterforms. With a focus on using the Pilot Parallel Pen to learn the most basic strokes we will then move on to advanced pen strokes, letterforms and basic spacing.
This class is appropriate to ALL LEVELS of students. The teacher will work with ALL students at their level to provide feedback and individual instruction.
We will look at the importance of simplicity, which balances the ornate nature of these beautiful letterforms.
Alice Young is an outstanding Canadian artist from Vancouver Island. View her website: WWW.ALICEYOUNG.CA to see the beauty and breadth of her contemporary calligraphy.
Please sign up early as NO spots will be added.
Mill Woods Seniors Activity Centre – 2610 Hewes Way 2nd Floor Mill Woods Library, Edmonton, Alberta
September 17–18, 10:00 am–4:00pm
Cost: $150
Register at Eventbrite