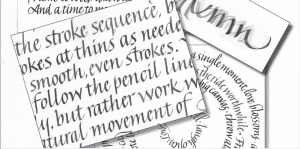 Focus on the beautiful Italic hand and refine your lettering with this internationally known calligrapher, designer and instructor.
About this Event
Date And Time
Tue, Apr 6, 2021, 6:00 PM –
Tue, Apr 20, 2021, 8:00 PM PDT
Location
Refund Policy
Italics are the most admired style of calligraphic forms along with pointed pen scripts. But, sometimes Italics are a mystery. We will take a look at traditional techniques then jump off and find exciting ways to get more enjoyment from these beautiful letters. We will be using the online Zoom platform; please join us for three 2-hr evening sessions (April 6, 13 & 20). Recorded sessions will be made permanently available to students after each class. Students will also have the opportunity to have Barbara review their work each week.
Barbara Close is an internationally known calligrapher, designer, and instructor, with a studio located in Southern California. She has taught for several international lettering conferences and thoroughly enjoys teaching and sharing. Barbara's personal philosophy is "Follow Your Heart".