Next Meeting: March 3, 2021
7:00 PM MST via ZOOM
Instructor: Heather Victoria Held
Italian Hand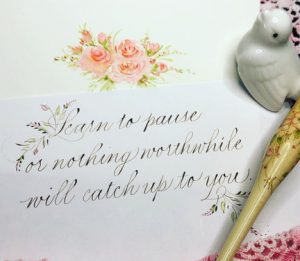 LETTERS AND LINES THEME FOR MARCH:
March -"RAINBOWS" Prompts
Imagine that pot of gold at the end of a rainbow! Using the colours of a rainbow as a background, choose an Irish saying to letter. Using your water brush and watercolours, letter some quotes or song lyrics about rainbows or good luck or gold or… Try lettering a quote in a new lettering style using a broad nib or try it with a pointed nib.
MEMBERSHIP UPDATE
The ECS extends a warm welcome to five new members since January! Mercedes McSorley is from Pittsburg, Pa, where her guild has been inactive during COVID. Ricardo Quintas, who lives in Lisbon, Portugal, found us via the Getty-Dubay website which posted information about our Handwriting Day Event with Julie Wildman. He joined us for that session and had such a positive experience that he promptly signed up for an ECS Membership the next day! Edmonton student Simran Mahal was shopping at Stylus (a lovely fountain pen shop here in Edmonton) and was given one of our ECS business cards. He contacted us to get information about learning some basic calligraphy, so was encouraged to join the ECS and take part in Suzanne Cannon's Foundational session. Becky Giberson is from Spruce Grove (just outside of Edmonton) and reached out to the ECS because the amount of calligraphy information on the internet was overwhelming and she wanted help in starting her lettering journey. Mandeep Randhawa is an Edmontonian who has returned to the ECS after six years when her work and personal life needed more time. We're delighted to have her back with us!
MEMBER PROJECTS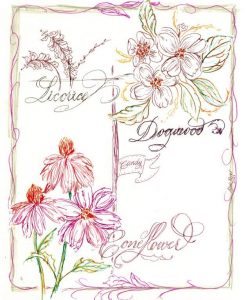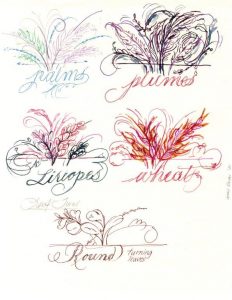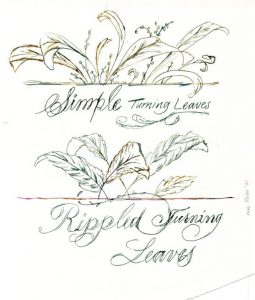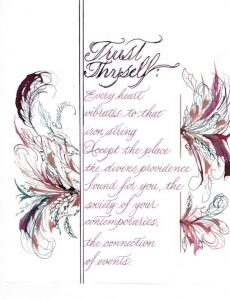 Alexis Reiter after taking Anne Elser's Open Shaded Script and Florals' class, "one of the best" Alexis has had.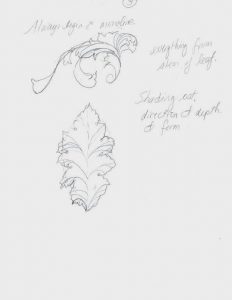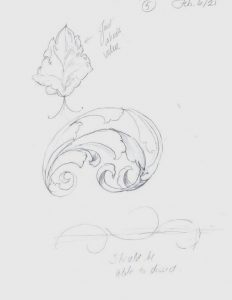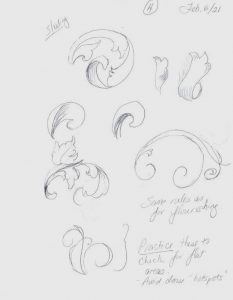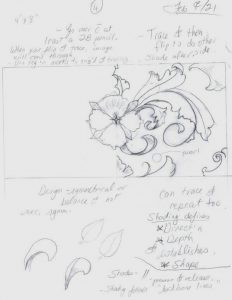 Above are Alexis Reiter's practice work from her Skyler Chubak's workshop on scrolls.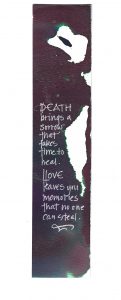 ENVELOPE EXCHANGE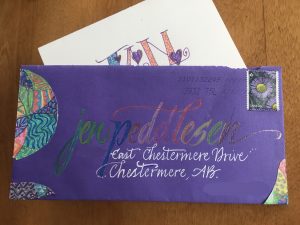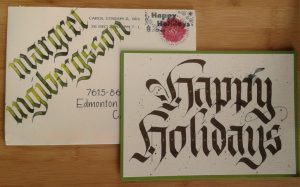 [space_4]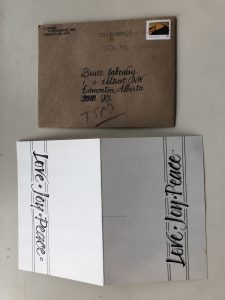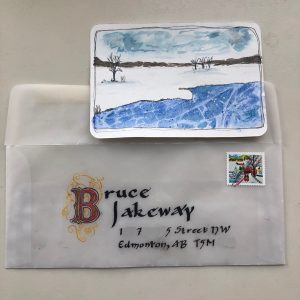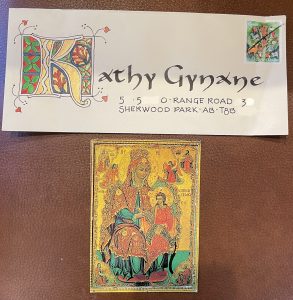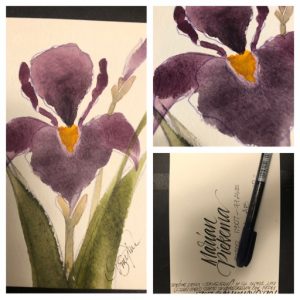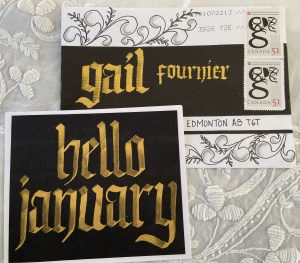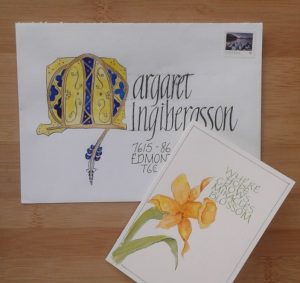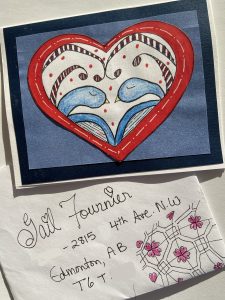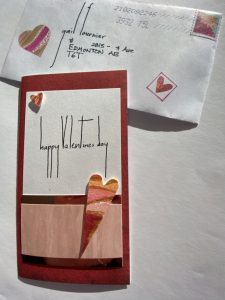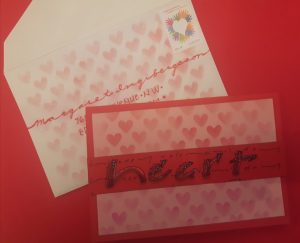 Yogi Grunwald
Right
These have stylized roses with a design that was influenced by Benoit Furet's class.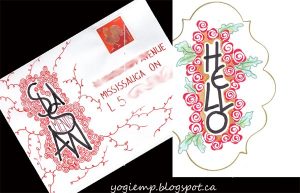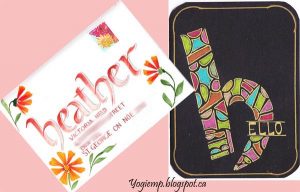 Yogi Grunwald
She was practicing some of Loredana Zega's Brush lettering, used a Rosemary & Co. triangle brush for the flowers, and did one of Wildman's techniques for the 'h'.
Yogi Grunwald's International Envelope Exchange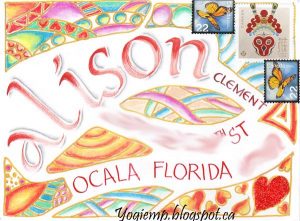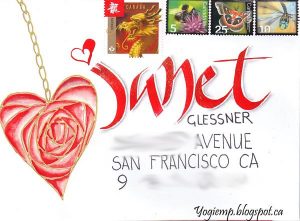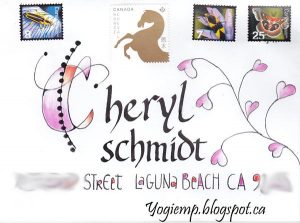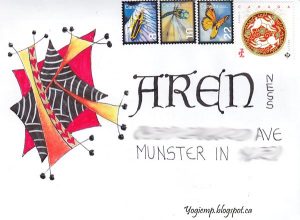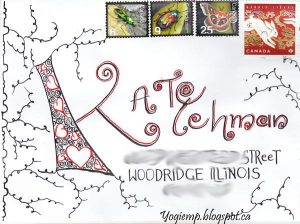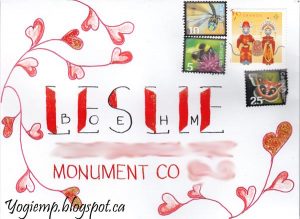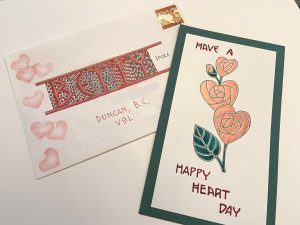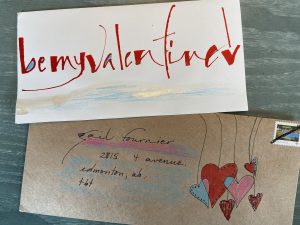 LETTERS AND LINES THEME:
BLACK AND WHITE WITH A SPLASH OF COLOUR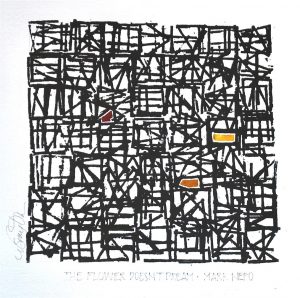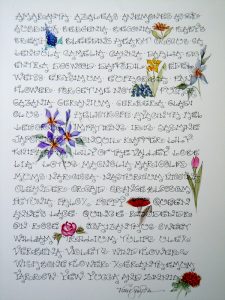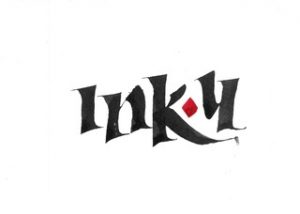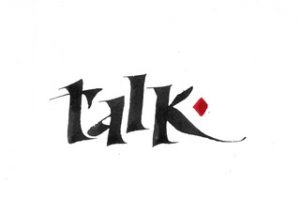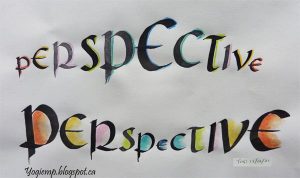 "I used every size of parallel pen and Sumi ink. Accents were done with woodless colored pencils. Nibs going from small to large and the reverse or vice-versa on the baseline. "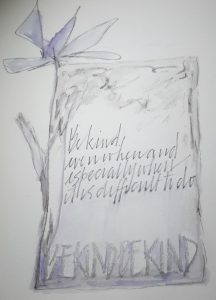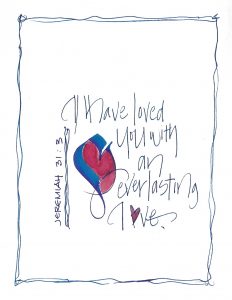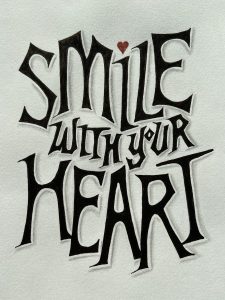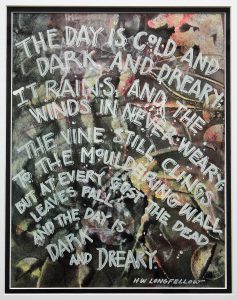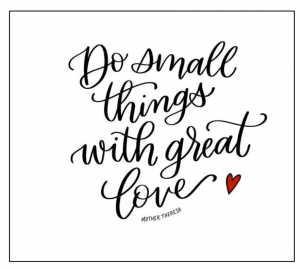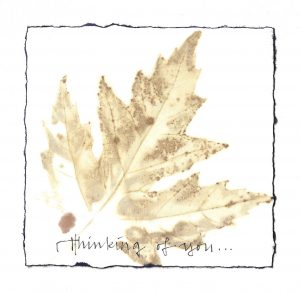 LEARNING OPPORTUNITIES
The first place to check is John Neal Bookseller, as there are numerous instructors listed there. If you know of someone who is not posted with JNB and is offering classes in 2021, please let me know and I'll add them to our information.
FOR YOUR INFORMATION!
Envelope Exchange

Many of us have greatly-enjoyed participating in the monthly Envelope
Exchange, and looked at it as a positive way to combine calligraphy with artistic embellishments. We are grateful to Margret Ingibergsson for coordinating this project for the last several years! She would like to step down, so please send a note to Hello, ECS! If you would like to take on this worthwhile project. This is a perfect way to assist the ECS without feeling you have to have excellent calligraphy skills. We need your support!

 Kindness Projects
A) We used the profits from our handwriting day, plus a few extra dollars, to make a $250 donation to WIN House, a shelter for women and children escaping abusive relationships. Thank you, Amy Bollana, (see below) for creating this lovely card and mailing our gift.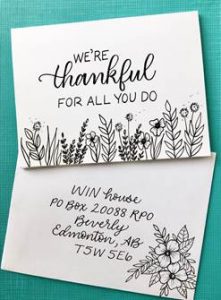 B) Weathergram Kindness Project: 
We need many ECS participants to create these positive messages for our exhausted frontline workers, and several people to help us distribute them. Please contact Gail to support this endeavour. gfournier@telus.net. Many thanks to member Dorothy Lowrie, who kindly volunteered to create a promotion poster for our Weathergram Poster_Final. (She really DID make my day!) The poster with information and links about the history of Weathergrams and the directions showing how to create them, attached to this email.
3. Moblique Pens and Nibs
Last year, we ordered pen holders for a workshop we had to cancel due to the pandemic. We have decided to sell them, and Jeanine Alexander has kindly created 14 little kits with a Moblique holder and three nibs (1 blue pumpkin, 1 Nikko G, 1 extra fine 66—requires a special holder). This pen can be used as a straight holder or with the flange inserted to create an oblique holder, and it comes apart to store a nib or two inside!
You will need a pointed pen for our March session with Heather Held, so this would be a great choice. This is much- preferred to the black, plastic Speedball Oblique holder which does not permit the nib to be positioned properly!
Contact Jeanine if you wish to purchase one of these kits. The cost is $25. jeanine.t.alexander@gmail.com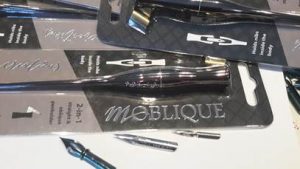 25th Edition of the SPEEDBALL TEXTBOOK

Thank you, Annette Wickman, of Calgary's Kensington Art, for organizing pre-orders of the new 25th Edition of the Speedball Textbook which celebrates the 105th year anniversary of the first edition's debut. Thanks, also, for contacting Kim Fjordbotten of Edmonton's The Paint Spot, who will also carry these anniversary editions. Call them to put in your pre-order. (780) 432-0240.  We will be notified when they are available for purchase.

The textbook was Co-Edited by Carl Rohrs, Suzanne Cunningham and Sachin Shah, and showcases the works of over 75 world-class calligraphers. It will retail at $20.38 CAD. More information can be found on Speedball's website, including a peek inside: Speedball Textbook.

 

Write on the Edge Calligraphy Conference

This International Calligraphy Conference will be held just outside of San Francisco from June 25-July 2, 2022, so mark your calendars! They are looking for workshop proposals from instructors, and you can access the forms here: Write on the Edge Proposal . Proposals and Inquiries should be sent to Marcia Friedman: marcia@writeontheedge.org
 Who would have guessed, a year ago, that we would have been able to experience such a wonderful variety of fabulous calligraphy classes?! The rich mosaic of lettering opportunities seems endless and is so seductive and enticing, it's hard to choose which classes to take. Some of you are so busy, your classes are almost overlapping each other, at times.
It's great to see the results of two recent classes that Alexis took, and I'm glad she sent some of the practice/learning pages she did. The newsletter should be a space where calligraphers of all experience levels feel safe to share their progress, so I strongly encourage some of you who are fairly new calligraphers to send me pieces from classes you've taken, along with a few notes about your materials and comments about the class.
The Ink Drops is not intended to be a showcase for just our experienced calligraphers, but a place where all levels are welcome to share their calligraphic journey. Remember, there is sure to be someone else who sees your work and is encouraged because they, too, are a beginning calligrapher. After all, we were all 'newbies' once! Please be brave and send some pieces. I would like to see more work from our members who have rarely or never shared their calligraphy. "Variety is the spice of life" so I look forward to seeing some new names in the March edition!
Best wishes for a RAINBOW of interesting lettering pieces coming our way soon!
Gail Fournier ECS President