Mill Woods Seniors & Multicultural Center 2610 Hewes Way, Edmonton, Alberta
Our doors open at 5:30 to set up the tables and chairs. Please remember to thoroughly clean your shoes with the machine at the bottom of the stairs when you arrive.
If you have overdue books, grab them before you read the rest of this note and put them with your supplies so you remember to bring them with you. Please grab all name tag holders that you've collected and return them so our new members may have one. We are running very low and want to avoid spending money on unnecessary new ones. Just keep one plastic holder and replace the names with the new one for March when you receive it.
Letters and Lines
Our March theme is Bouquets and Blossoms, so delight us with some flower quotations or painted flowers with a few words. We would love to see some of your Pilot Parallel Pen practice sheets if you have played with them since the February meeting.
Envelope Exchange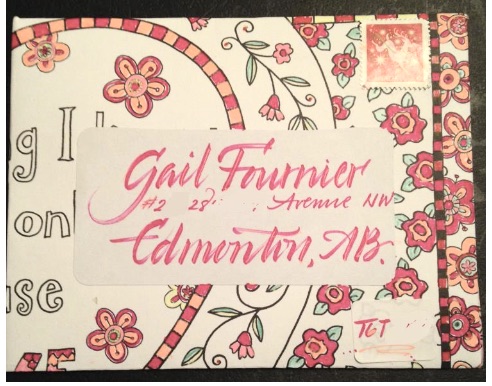 Gail convinced (twisted arms!) many new members to jump into the deep end, take a chance, and participate in the envelope exchange, so we expect to see lots of interesting envelope designs at the March 4 Calligraphy Night!
Library Books
At the Feb. Calligraphy Night 12 books did not get returned from December. Please ensure they are all returned in March. (Put them with your extra name tag badges and supplies—right now!)
If you are unable to attend, please arrange to drop them off with another member or at the house of one of our executive members. Contact us here.
Learn to Letter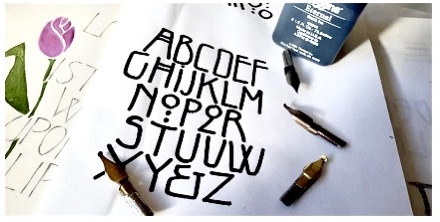 Jeanine and Gail will lead you in an Art Deco lettering and painting adventure. Jeanine will demonstrate several alphabetsfor you to create with a B nib. You'll write a quotation on a strip of paper and fold it to make an accordion book. Gail will show you how to paint an Art Deco rose which you will use as the decorative cover on your book.
Supply list: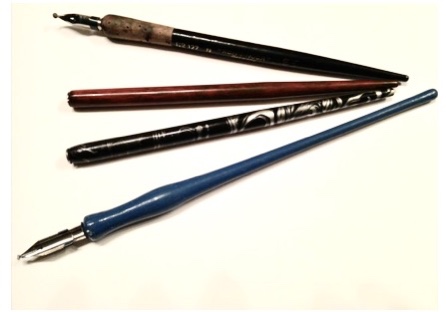 – Speedball B-nib and penholder (2 sizes if you have them; limited quantities of nibs / penholders will be available for purchase) -Bottle of ink (Higgins Eternal or Pelikan 4001)
-Ruler or T-square
-Pencil, eraser, scissors, & glue stick -Small box of watercolours or Gouache paints
-Small pointed paintbrush size 1 or 2
Three Bags Full
Bring your wallets for our draws!
Tickets are $2 each, 3 for $5, or an arm's length for $10.
Membership
Please consider volunteering to work on this Membership Committee with another person, under Cynthia's guidance. We need you NOW so you have a mentor for the last few months. You will take over at the August Executive Meeting. This is a wonderful way to get to know our members
Workshops
April 25, 2020 Tea Light Lanterns Sally Towers-Sybblis (Red Deer)
$80
June 6 & 7, 2020 Watercolour Brush Lettering & Design Phawnda Moore (California)
$180
October 24 & 25, 2020 Italic Variations Renee Alexander (Vancouver Island)
$180
Conferences
June 26 to July 1 Write Right Now World Calligraphy Conference, Slovenia & on Facebook