Mill Woods Seniors & Multicultural Center 2610 Hewes Way, Edmonton, Alberta
Happy New Year!
Your executive met at the end of January to plan our 2020-2021 year and are pleased with the results. There are only a few details to finalize. We plan to have some of our newer members continue to take on leadership roles, and we are working to book instructors for our 2021 workshops.
Thank you to those who can arrive at 5:30 to help set up the tables and chairs. Please remember to thoroughly clean your shoes with the machine at the bottom of the stairs when you arrive.
Pick up your name tag at the door!
Letters and Lines
We look forward to seeing your X's and O's themed examples at the February Calligraphy Evening. You may have someone in mind to be on the receiving end for Valentine's Day! Please bring any other work you have been doing since December for the display table.
Envelope Exchange
Please remember to bring any decorated envelopes you received this month!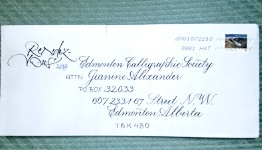 Library Books
If you borrowed Library books in December, you've had a couple of months to enjoy them. Please return them for others to sign out. We have such a short time for them to be circulated.
If you are unable to attend, please arrange to drop them off with another member or at the house of one of our executive members. Contact us here: Edmonton Calligraphic Society
The executive has decided to drop the fines for late return of the books (it wasn't working) and hope that you will all consider how important it is to keep them circulating, especially the newer, more popular books. We thank you for your help with this!
Handwriting Day–Jan. 25, 2020
Twelve ECS members participated in our Getty-Dubay Cursive Italic Handwriting session on Saturday. In the afternoon, thirteen members of the public arrived to also learn this lettering, and several gave high praise for its quality. Two of them have now become new ECS members! Eleven Getty-Dubay workbooks were sold.
Learn to Letter


Three Bags Full
What delightful displays will Cathy and Edwina have for us this month?
Tickets are $2 each, 3 for $5, or an arm's length for $10.
Workshops
April 25, 2020 Tea Light Lanterns
Sally Towers-Sybblis (Red Deer)
$80
June 6 & 7, 2020 Watercolour Brush Lettering & Design
Phawnda Moore (California)
$180
October 24 & 25, 2020 Italic Variations
Renee Alexander (Vancouver Island)
$180
Conferences
June 26 to July 1 Write Right Now World Calligraphy Conference
Slovenia     https://www.skriptorij.org/
                   https://www.facebook.com/skriptorij/
August 9-14 ABC 2020
Red Deer     https://www.lagrd.ca/abc-2020
                    https://www.facebook.com/Red-Deer-ABC-2020-1967492999967145/
If you are attending, you can apply for a travel grant from the Edmonton Art Council!
NEW On-Line Pointed Pen Course with Barbara Close
"I'm excited to announce that I will be offering a series of online courses called Pointed Pen Possibilities in 2020, in conjunction with SandiaWorkshops.art.
The first two classes coming in the Spring of 2020 are Copperplate Essentials and Contemporary Pointed Pen, and more classes are being planned for the future.
To be informed when my classes go online, I encourage you to join the Sandia Workshops Pointed Pen Possibilities email list.
As a Thank You for opting-in to this list, you'll receive an ebook version of my unique handmade book Attitude Is Everything (below), featuring my signature contemporary pointed pen calligraphy and lively abstract designs."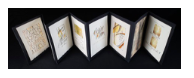 To download the Attitude Is Everything ebook, opt-in to the mailing list at https://attitude.sandiaworkshops.art. When you get the confirmation email, it will include a button to download the PDF.
Be sure to click the big beautiful button, as this confirms that you wish to receive more emails from Sandia Workshops about my online classes!
The classes are being edited now. While you wait, you'll also receive a series of emails with my favorite tips for pointed pen calligraphy, and be kept in the loop about more calligraphy classes being hosted by Sandia Workshops. You may unsubscribe at any time.
Please feel free to email me with any questions at BARBICL@aol.com,
best wishes,
Barbara Close
http://www.barbclose.com/
Barbara Close is an internationally renowned calligrapher, designer and instructor with a passion for creativity and a love of lettering. She encourages her students to create appealing calligraphic art using a wide variety of mixed-media techniques.
Gail Fournier
ECS President