Learn how to do brush lettering and make your own greeting cards! To find out more or to register: Eventbrite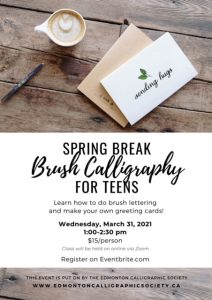 About this Event
Have you ever wanted to create beautiful lettering to add to your own greeting cards or journals? This introductory class will teach you the basic strokes of brush lettering. We will use these strokes to "build" each letter of the alphabet. By the end of the class, you will be able to connect these letters into any word or phrase you want. We will also learn to draw some simple leaves and flowers that you can add to your cards or journals.
To participate in this class, you will need a small brush pen. We recommend the Tombow Fudenosuke Hard Tip, but a similar brush pen will work too. (Please note, this pen is not actually a brush. It has a flexible nip that emulates a brush.) You can purchase these pens at Michaels, Amazon or any local art store. If you cannot get the pen, you can still do the class with a regular pen or pencil.
Once you are registered, you will receive a PDF containing worksheets that you can print and use during the class. If you are not able to print these, you can still follow along with the instructor on a piece of lined paper.
This event is put on by the Edmonton Calligraphic Society edmontoncalligraphicsociety.ca