September 1st Meeting, 2021 was at 7:00 PM MDT via ZOOM
Instructor: Violet Smythe : Neuland With a Twist
(The supply list and exemplars were sent before the session, along with the Zoom link.)

LETTERS AND LINES PROMPTS
We need your help! Here's your opportunity to connect with your ECS and contribute in a meaningful way! We'd like your ideas for our monthly Letters and Lines Prompts. Please submit your ideas with a short paragraph of suggestions for creating a calligraphic piece to Gail. gfournier@telus.net The executive members will read them all and choose the ones we will use for this 2021-22 year.
Luckily, we have one that was kindly sent by Cynthia Zimmerman for our September prompt: PENS, PAPERS, BOOKS
SEPTEMBER is the month where we think of children, with their pencils, pens, paper, and backpacks, returning to school. For September's Letters & Lines, we invite you to celebrate the mighty pen and paper by sharing a quote about pens, paper, or books. Send photos of your prompts to gfournier@telus.net.
Membership Update
Thank you to all who have renewed your membership! If you have not done-so, here is the link to our website where you can register through Eventbrite: https://edmontoncalligraphicsociety.ca/membership/ Please note that there is a Canadian Membership and a US/International one. You will only receive notices from the ECS until Sept. 30 if you do not renew your membership.
We have been excited to receive some new members over the summer and extend a warm ECS welcome.
WORLD CALLIGRAPHY DAY
August 11th was World Calligraphy Day (the second Wednesday of August).
https://nationaldaycalendar.com/world-calligraphy-day-august-14/
I hope you celebrated by doing some lettering. Be sure to share it in our Ink Drops newsletter in September!
NATIONAL AMPERSAND DAY
September 8th was National Ampersand Day: https://www.holidayscalendar.com/event/national-ampersand-day/ Submit your work to gfournier@telus.net
SUMMER PROJECT
Jeanine Alexander sent these examples of sunflowers with messages in the centers. They were done for a Canada-wide project on HOPE in Hospitals. She did 34 quotes over 4.5 hours.

35th ANNIVERSARY
The ECS celebrates our 35th Anniversary on October 16, 2021 and we have planned a special surprise which will be revealed in September. Jeanine Alexander came across this link which you might like to use to create a piece of calligraphy to recognize our celebration.
https://motivationgrid.com/35-quotes-make-you-get-out-and-live/
WORKSHOP
Get your tickets for Rachel Yallop's workshop. November 6 and 13 (9 – 11:30 am Edmonton time) "Drawn & Shaded Letters using Charcoal".
Tickets for this 5 hour workshop (in 2 sessions) are now available to ECS members on Eventbrite for $70CDN (plus fees) and will be advertised to the wider calligraphic community beginning on August 8th, 2021.
Please visit: https://www.eventbrite.ca/e/drawn- and-shaded-letters-using-charcoal-with-rachel- yallop-tickets-164025792561 for all the details and to reserve your space!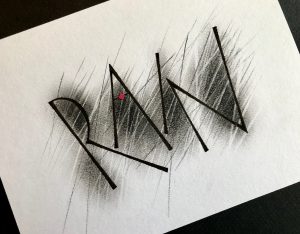 Envelope Exchange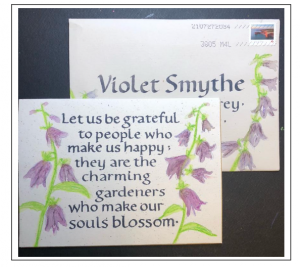 Learning Opportunities
Marina Soria marinasoriaonline@gmail.com sent this to a variety of calligraphy societies and guilds:
Subject: Online course scholarship – Weaving Words part 2 – Marina Soria
My name is Marina Soria and I'm an experimental calligrapher teaching creativity since 2006. During the last seven years I've been giving workshops around the world, then after Covid-19 I started my online courses. In my online workshops, I offer scholarships for those students that are interested in the theme and cannot afford it. This coming course of "Weaving Words, part 2", (blending calligraphy with the textile arts), has 8 scholarships, 4 full and 4 half.
There are two ways to apply for a scholarship.
Be introduced by a guild or calligraphic association. If you think there is someone in your guild that could be willing to attend my course, write to me or forward this information to the person.
By personal request, which can be sent to the email marinasoriaonline@gmail.com asking for the scholar.
The only requirements we ask to those who obtain the scholarship are:
keep up with the process of the workshop during the length of the course, by posting the results of their process as well as the final pieces on Facebook
interact in our private Facebook group specifically created for this workshop as it takes place.
If you happen to post your work on any other media: personal, Facebook/web/Instagram, please tag me (you need not mention you have a scholarship)
Those who obtain the scholarship will receive a link to complete the registration through Eventbrite to Weaving Words part 2.
You will find details about the workshop in the attached file.
Let us know if you need further information.
Advertising will be highly appreciated.
Many thanks
Marina& María Laura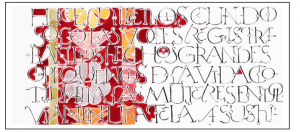 Society for Calligraphy—Master ZOOM Lecture Series
Announcing SfC's Inaugural Master Lecture Series: Donald Jackson – Painting with Words
The Society for Calligraphy is proud to announce its first Master Lecture Series in four parts spotlighting Master Calligrapher Donald Jackson. From Royal Scrolls to the Saint John's Bible to "Have I had my breakfast yet?" Donald Jackson shares lessons and insights from a lifetime of working in letters.
This free online Zoom lecture series will be held on 4 Saturdays from 11:00 AM – 12:30 PM (PDT), August 21, September 4, 18 and 25, 2021.
To register, please follow this link: https://societyforcalligraphy.org/event-4396878
You only need to register once for the whole series; an individual Zoom invitation will be sent prior to each lecture.
About Donald Jackson:
Born in 1938 in Leigh, Lancashire, Donald was awarded a scholarship to Bolton School of Art at the age of 13, and went on to specialise in design and calligraphy at the Central School of Arts and Crafts, where he was taught by Irene Wellington and M.C. Oliver. Postgraduate study followed, at Goldsmiths' College, and at the age of 20 he was appointed visiting lecturer at the Camberwell College of Art. Within six years, he became the youngest artist calligrapher chosen to take part in the Victoria and Albert Museum's first International Calligraphy Show after the war and was appointed a scribe to the Crown Office at the House of Lords. As Senior Illuminator to the Crown Office of Her Majesty Queen Elizabeth II, he is responsible for the creation of official state documents. In conjunction with a wide range of other calligraphic projects, he executes Historic Royal documents, including Letters Patent under the Great Seal and Royal Charters. In 1985, he was decorated by the Queen with the Medal of The Royal Victorian Order (MVO), which is awarded for personal services to the Sovereign.
In the early 1980s, he moved his workshop and assistants from London to premises near Monmouth. In 1980-1981, he made a series of television films, The Story of Writing, and wrote a book of the same name. He was one of the authors of the book on Irene Wellington 'More than Fine Writing' (1986), and he acted as artistic director of the St John's Bible commissioned by St John's Abbey in Collegeville, Minnesota, USA (completed in May 2011).
Donald is a Fellow and past Chairman of the Society of Scribes and Illuminators, and in 1997 was named Master of the Guild of Scriveners of the City of London. His innovative work and inspirational teaching have led to his being widely acknowledged as a seminal influence on the growth of Western calligraphy.
Calligraphic Arts Guild of Toronto
Culture Days Ontario is coming soon, and our CAGT contribution is a free workshop! On Sat., Oct. 16 at 1:00 pm EST, the Canadian System, the simplified Italic hand developed by our guild founder, Alf Ebsen, will be presented by Michele Nidenoff.
Registration is via Eventbrite, and will be limited to 98 participants. You can register for this starting August 23.
Bow Valley Calligraphy Guild TYPEFACES YOU CAN EAT WITH PEN OR BRUSH With Carl Rohrs Register Here
John Neal Bookseller Numerous Online Classes
Denis Brown A Variety of Classes
Sandia Workshops Online Calligraphy Classes
Loredana Zega New Zoom Workshops
Society for Calligraphy Several Classes
Future Learn History of the Book & The Book of Kells
Lettering Daily Tutorials and Guides
Calligraphy and Lettering Arts Society Videos For Beginners
Calligraphy Masters Frak One Free Foundational Tutorial
European Pointed Pen Collective Rachel Yallop
Ink Me This Numerous Online Classes
ECS INSTRUCTOR LIST
If you are interested in teaching for the Edmonton Calligraphic Society, please contact us through the website and indicate what areas interest you. https://edmontoncalligraphicsociety.ca/contact/