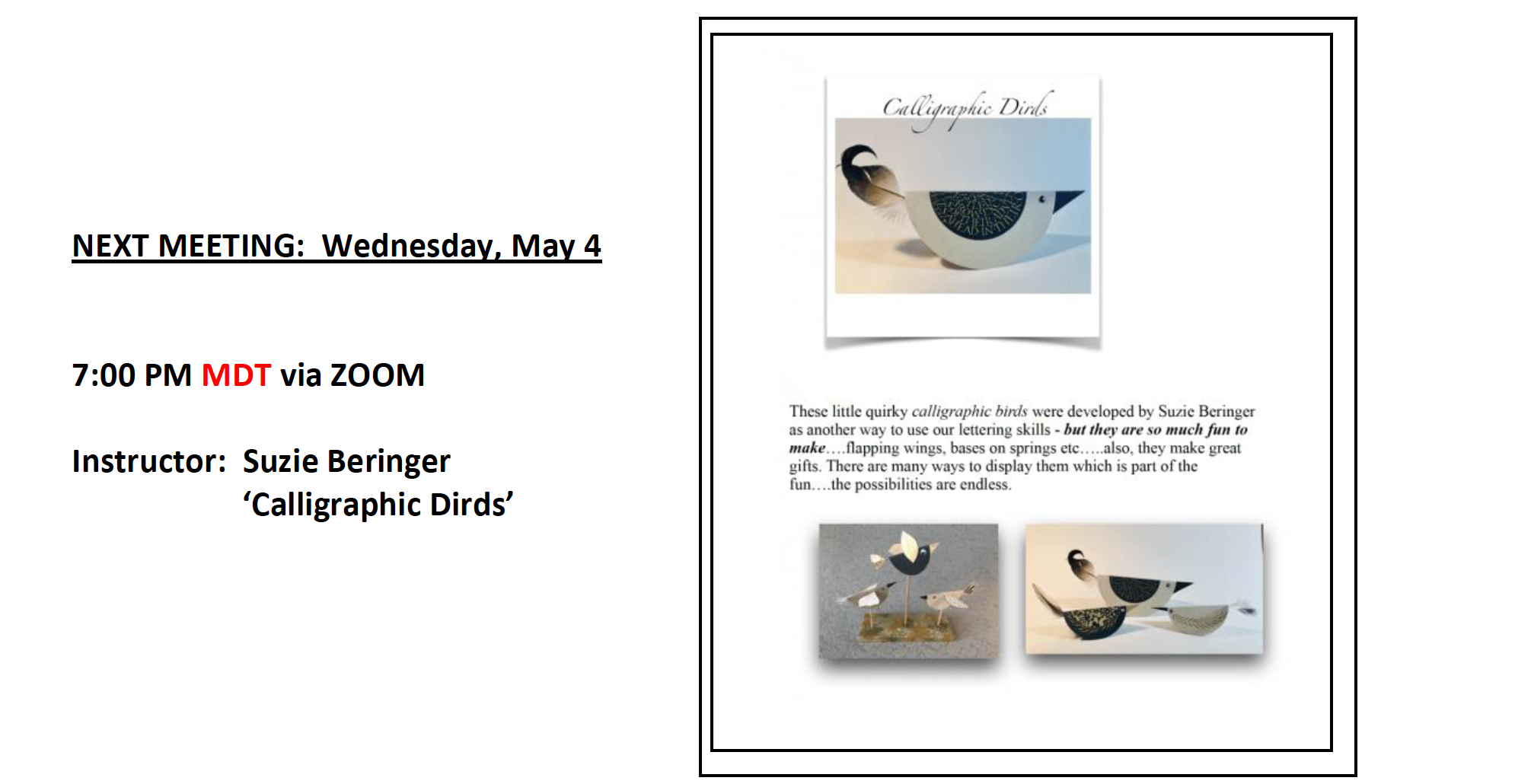 Membership

MARCH MENTOR MEET-UP – Uncial Letters with Peggy Marce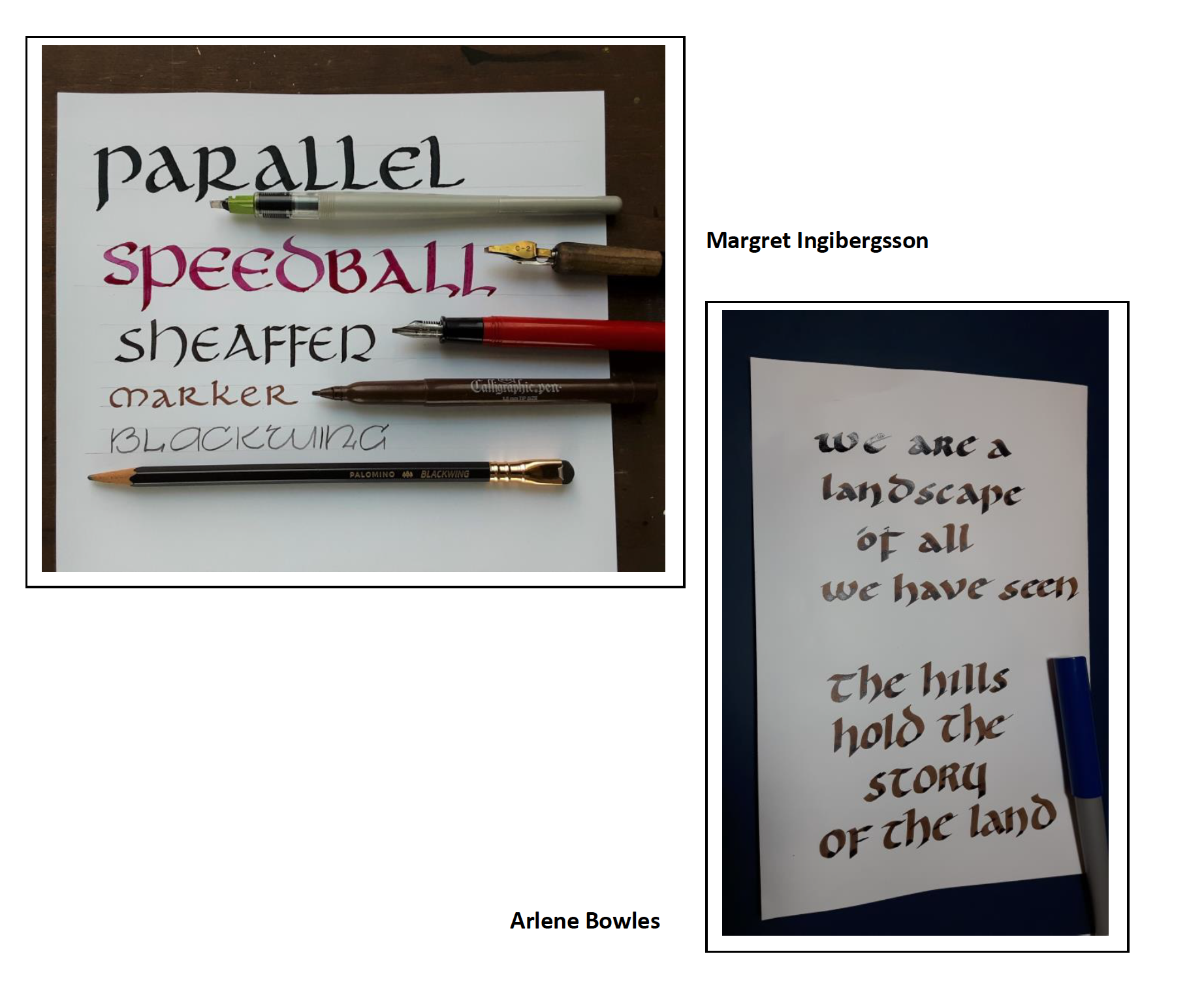 Monthly Meeting Instructor's Projects
LEARNING OPPORTUNITIES
John Neal Bookseller   Numerous Online Classes
Denis Brown A Variety of Classes
Sandia Workshops  Online Calligraphy Classes
Society for Calligraphy  Several Classes
Lettering Daily Tutorials and Guides
Calligraphy and Lettering Arts Society Videos For Beginners
Calligraphy Masters Frak One Free Foundational Tutorial
Ink Me This Numerous Online Classes
Calligraphy Italia Gemma Black & Gabriela Soba (Gabriela is one of our ECS' newest members!)
Chicago Calligraphy Collective Several Workshops   Online Exhibition
Portland Society For Calligraphy Gallery Display
Calligraphy & Lettering Arts Society Video Guides for Beginners
Kallialitheia Beginner Calligraphy Tips
Calligrafile Calligraphy Guilds & Conferences
Write on the Edge Calligraphy Conference – Cancelled but online classes can be found here: Instructors' Page
Ewan Clayton Introduction to Uncial
The Gentle Penman Many Classes
Jacqueline Sullivan A Variety of Classes
Cheryl Teft Introduction to Calligraphy & Illumination MIDDAY FREE!
Introduction to Calligraphy & Illumination EVENING FREE!
Suzanne Cannon Beginning Italic Calligraphy EARLY BIRD PRICING TILL MAY 1 (Lifetime Access)
Edmonton Calligraphic Society – Heather Held -Pencil Lines & Glittering Vines This workshop was held
May 7 & 14, 2022 9:30 am to 12 pm (Edmonton time)
OTHER INTERESTING BITS!
Our Portuguese member, Ricardo Quintas shared this fascinating article: The 'g' in Google's Old Logo is Really Weird
Jeanine Alexander shared the Calligraphy and Lettering Arts Society's Free Alphabet Colouring Book
Jeanine Alexander shared this link to Reggie Ezell's Homemade Mitchell Nib Reservoir
HOW OUR 2022-23 YEAR IS SHAPING UP

ELEGANT EARTH ENVELOPE CONTEST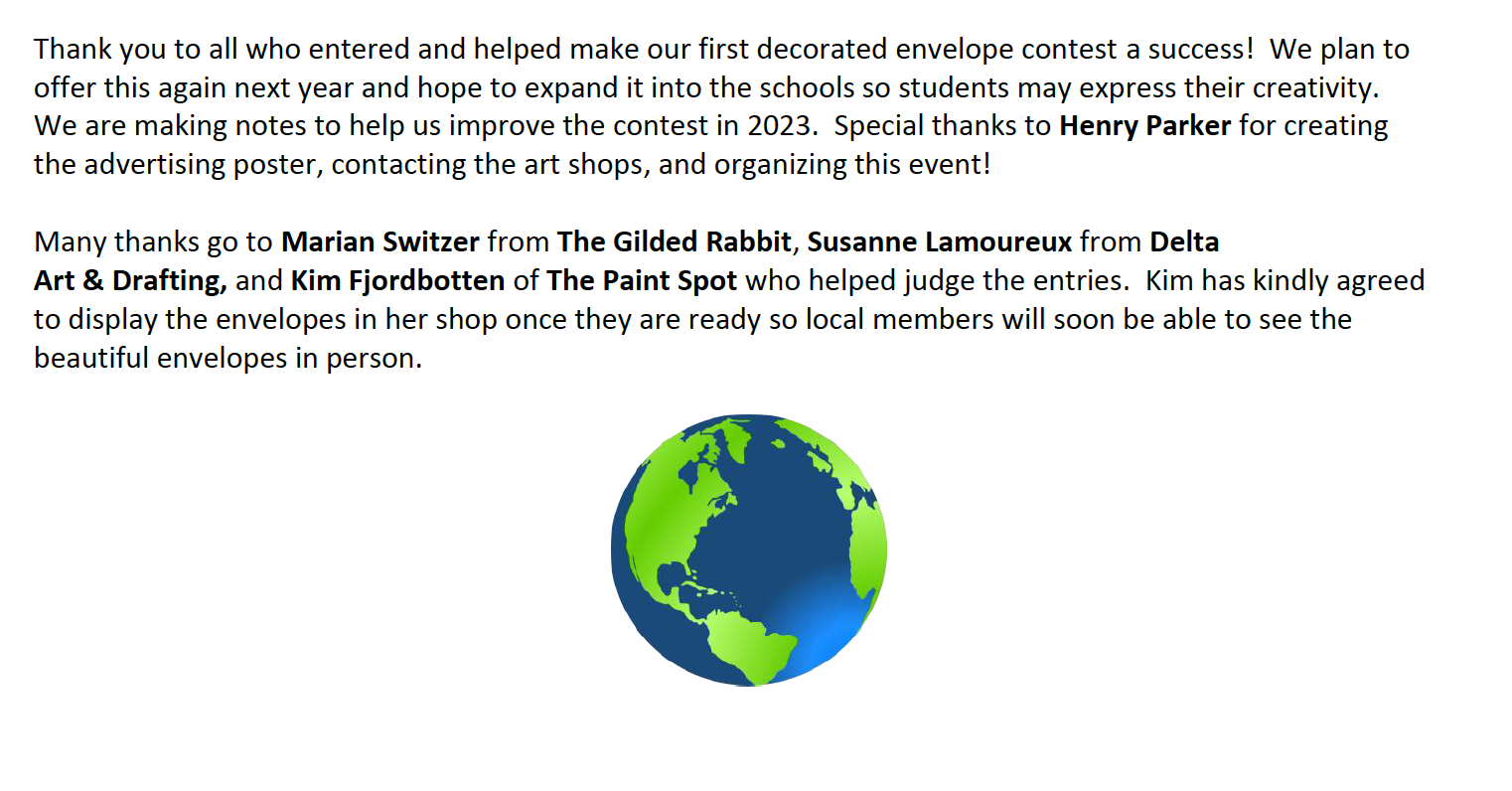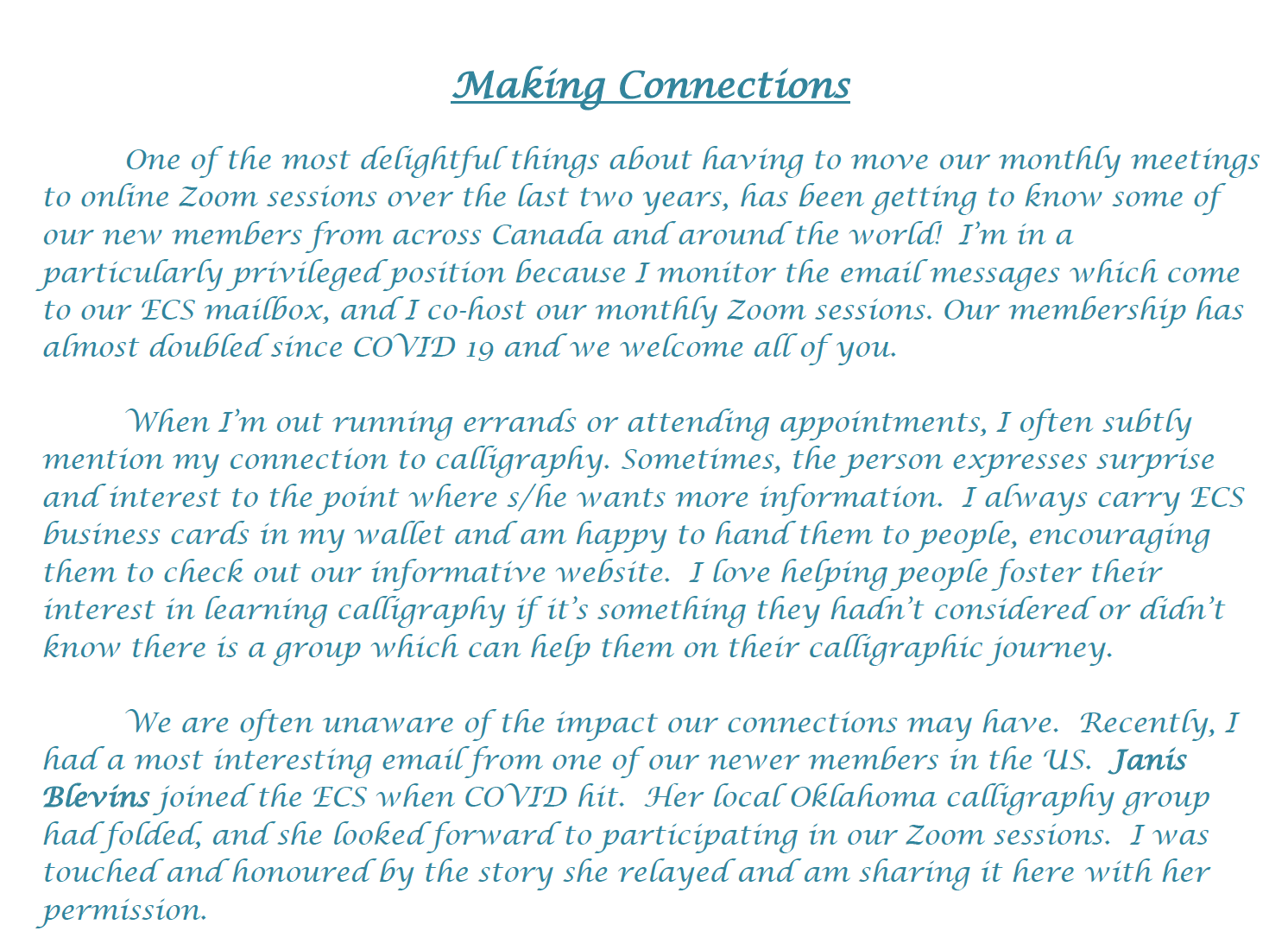 "I want to give a personal example of how your guild touched people everywhere……even as far as Texas. Forty-two years ago, I went to a calligraphy conference at Ghost Ranch, NM. I didn't know any of the other participants, so I was assigned a roommate from Midland, Texas. And through those years we kept in touch but seeing each other only occasionally. She was a much more active calligrapher than I am. When ECS began their zoom meetings, I talked her into joining, and we would email each other with comments about the meetings. Unfortunately, last year she was diagnosed with pancreatic cancer and passed away just before Thanksgiving. ECS made such an impact on her that her daughters mentioned it in her obituary. That is just one example of the outreach, instruction, and comfort that your zoom meetings provide. THANK YOU.
https://www.legacy.com/us/obituaries/bigspringherald/name/martha-kallus-obituary?id=31630537
I am amazed at all the active members you have and everyone's willingness to help the guild and others. A true calligraphic sharing example!"
Janis Blevins,
Oklahoma City
        gfournier@telus.net