Here is the list of Instructors and topics for the Monthly Meetings for the 2022-23 year, along with the Mentor Meet-up instructors who have confirmed dates thus far.  We'll announce the final months as we book the dates and instructors.  You may want to print this and keep it in your files.
Monthly Meeting Instructors and Topics for 2022-23
There is no added cost for these classes for members.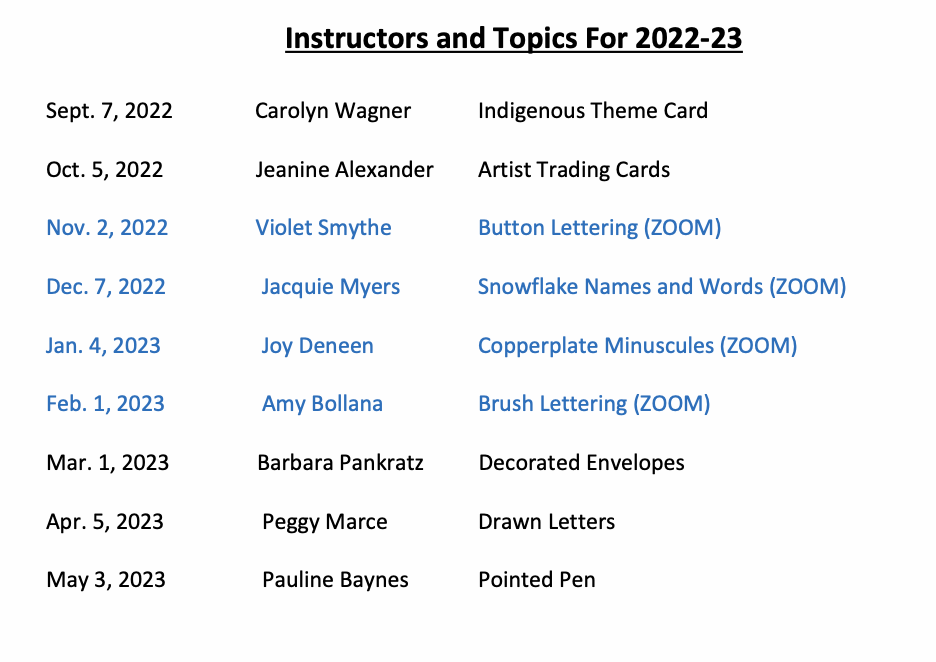 Monthly Mentor Meet-ups
10 AM to 3 PM, $10 through Eventbrite
Locations for each session is available on Eventbrite
Sept. 24, 2022          Renita Land                    Triangle Brush Flowers
Oct. 29, 2022           Jeanine Alexander          Watercolour Poppies
Nov. 26, 2022          Arlene Bowles                 Shaving Cream Marble Paper
Jan. 28, 2023           TBA
Feb. 25, 2023           TBA
Mar. 25, 2023           TBA
Apr. 29, 2023            TBA
May 27, 2023            TBA
Ideas we're looking at presenting could be any of the following:Gelli Plate PrintingUncial LetteringFraktur BlackletterPencil Press & ReleaseBleach on BlackCarolingian